Welcome to this month's reviews post.
Another four weeks of life in lockdown has resulted in plenty to discuss here, and I'm happy to report there are some rippers in this lot.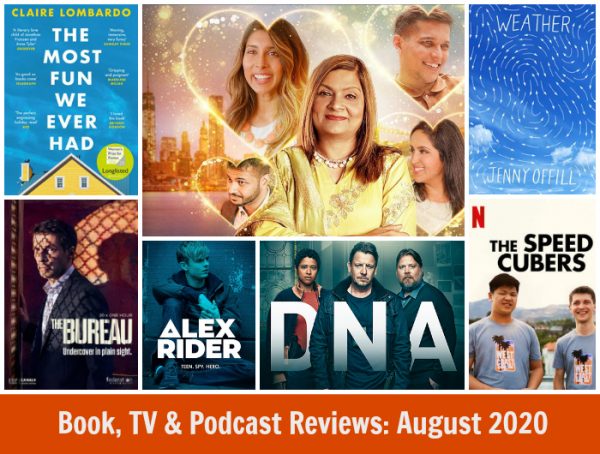 Books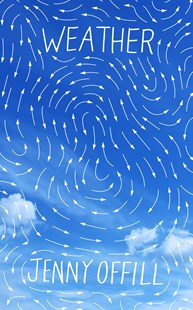 Jenny Offill is an interesting contemporary author whose books are easy to read in their short paragraph form. They are not the usual straightforward, plot drive narrative fiction though, so it's a different reading experience.
In Weather, the story is told in a series of punchy, pithy paragraphs, covering a range of topics including global warming and climate change through to the reality of caring for a sibling with an addiction and the election of Trump. There are no long descriptive passages or endless self reflection or pondering here. It's short and sharp writing which appeals to me on some level right now when my attention span is not what it usually is.
I did enjoy Weather and it was interesting enough but I did not find it as compelling or engaging as her earlier book, The Dept. of Speculation (which I reviewed here).
VERDICT: ***
The Most Fun We Ever Had by Claire Lombardo
The Most Fun We Ever Had came to me highly recommended from several friends, all of whom are avid readers. So it was with high expectations that I embarked on this fictional tome slash family saga of the Sorenson clan.
The Sorenson clan comprises Dr David Sorenson, a GP, his wife Marilyn and their four daughters. When the story begins we meet the four adult daughters and we then move forwards and backwards in time, from when David and Marilyn meet in college through to life as empty nesters, and everything in between.
What is notable about David and Marilyn is that they are madly in love with each other and have an intense physical and emotional relationship, to the extent that their daughters are often busting them for one thing or another and feel excluded from their dynamic. It sets up an interesting question – what's it like to grow up with parents who are so "into" each other? Where do you go when you perceive your parents have the "perfect" marriage? And do they have the "perfect" marriage anyway?
The Most Fun We Ever Had is not a short read – at 532 pages it's the longest book I've read in quite a while – but it is a page turner. I loved the characters, particularly intense Marilyn and the eldest daughter Wendy, although I did think some were more drawn out than others. The writing was very good and I particularly loved the dialogue between the sisters, as well as the nuanced observations and insights into sisterhood and family life.
I really enjoyed this book and thought it had some interesting things to say about the impact a parents' successful marriage can have on their adult children too.
VERDICT: *****
Buy it here
TV Series
Unsurprisingly perhaps, escapism has been my goal lately when choosing what to watch. As a result, I've oscillated between feel good fun and light entertainment and gritty international dramas set in exotic and interesting locations.
For feel good fun and general interest, we absolutely loved Indian Matchmaking (Netflix). The show follows a skilled Indian matchmaker as she meets with clients and potential matches all over India and the U.S. and features a fab cast of people searching for a husband/wife. People's backstories and families – including some seriously formidable mother in laws – are fascinating too. Mr SnS and I both really enjoyed this show.
We also finished watching the third season of the excellent series The Family Law (ABC) too. I heartily recommend this gorgeous, funny and heartfelt comedy drama written by Benjamin Law. It's just fabulous.
I also just caught up on the first four episodes of the latest season of Anh Do's Brush With Fame (ABC). (If you're not familiar with it, each episode Anh interviews a subject about their life while painting their portrait. The portrait is then revealed at the end of the show). I've been a fan of this excellent show since it launched but this latest series – series 5 – is really something. Sophie Delezio, Anna Meares, Lisa Wilkinson and Dr Richard Harris are all extraordinary humans and I feel like I'm a better person for having just listened to their incredible stories and watched Anh Do's creative brilliance and skilful interviewing. I actually cried in each episode and was gobsmacked by the achievements, bravery, humility and courage of these "ordinary" Australians. These thirty minute episodes are great for in between times, or watched consecutively as I did the other night. Watch them on iView here.
In the gritty international drama department, we finished season 3 of the luxe German historical series Babylon Berlin (Netflix) which we really enjoyed. I can't wait for season 4. (For a full review of this series, head to last month's reviews post).
We also enjoyed the Nordic thriller DNA (SBS on Demand), a Danish cop thriller of sorts from the co-creator of The Killing. DNA is set in Copenhagen but then the story takes the characters to various European locations. With only one season (eight forty minute episodes), this made for a great weekend's viewing. Check out the trailer here.
Our latest international binge has been the fab French thriller, The Bureau (SBS on Demand). We've smashed nearly three series (of the five) of this quality production, which is seriously scratching my Homeland itch. There's no Carrie or Saul dynamic going on here, and the cast are somewhat understated in comparison, but they have really grown on me.
The Bureau of Legends or DGSE (the French secret service) features a fab ensemble cast, from the unflappable directors to the protective handlers and brilliant agents, all of whom are living on a knife edge in Paris, Damascus, Algeria, Iran, Iraq and other exotic or war torn locales. Like Homeland, it's unpredictable and suspenseful and each season builds on the next, while introducing new story lines, characters and missions. I've also loved that while the subject matter is full on, there has been minimal graphic violence – things are either implied or happen off camera which has been good for this cushion ready viewer!
In terms of family viewing, we watched the first couple of eps of the new Alex Ryder (Amazon Prime) with the kids but they loved it so much, they went on and watched it by themselves unknown to us! This is a seriously expensive and impressive production, with the action taking place in NYC, London and the Swiss Alps. If your kids have read the book series, they are sure to enjoy this slick production.
Movies/Docos
The kids and I watched the gorgeous Speedcubers (Netflix) which is more about friendship than cubing and competition. We all enjoyed this forty minute doco.
I finally sat down to watch Three Identical Strangers (Netflix), about a set of triplets who were adopted by three separate families and didn't know of, or meet each other, until they were nineteen years old. While initially an unbelievable, incredible tale, the backstory was not what I expected and was terribly sad, maddening and bewildering. A sobering, compelling doco.
Podcasts
I've managed to listen to a few pods lately which has been very pleasing indeed.
I've enjoyed the Televisionaries, a podcast in which TV critics discuss and review TV shows and series (thanks to the SnS reader who recommended this to me – this was how I got on to the new Alex Ryder series). It's great if you want to broaden your options and find out about what else other people are watching and loving outside of your normal crew or tastes.
I've also been enjoying the new season of Trace (ABC) which focuses on and actually features the infamous former gangland lawyer, Nicola Gobbo.
The Strong Songs ep featuring the song 'Satisfied' from the musical 'Hamilton' was terrific too, and I think any Hamilton fan would appreciate the deep dive into this fab song/soundtrack.
Finally, I've begun listening to Nice White Parents, a pod about what happens when a group of 'nice white parents' decide to send their kids to a mostly a public school in Brooklyn at which there are predominantly African American and Hispanic families. It's definitely thought provoking and is making me think (and concentrate) a lot. The episodes are on the long side too, so I need to find the right time/head space, but so far, I'd say it's well worth a listen.
This post contains affiliate links. You don't pay any extra and I earn a small commission. Read more in my Disclosure Policy here.
So over to you, what have you been reading, watching and listening to lately? Anything fab we should know about?