Welcome to this month's reviews posts, where I give you the Larry Lowdown on all the things I've been reading, watching and listening to lately.
As you'll see below, my offerings for August reflect the fact that I've been up to my eyeballs in packing/moving/cleaning, so I've had less time to relax and read and had more time to do mundane tasks to the soundtrack of various and sundry podcasts.
At nights, after the kids have gone to bed, I've collapsed on the couch for only an episode two of a TV series before l crash for the night. It was always going to be hard to beat last month's reading record of seven books anyhoo.
So find yourself a comfy spot and your beverage of choice and prepare to dive in to this month's reviews. Don't forget to share your latest recommendations too!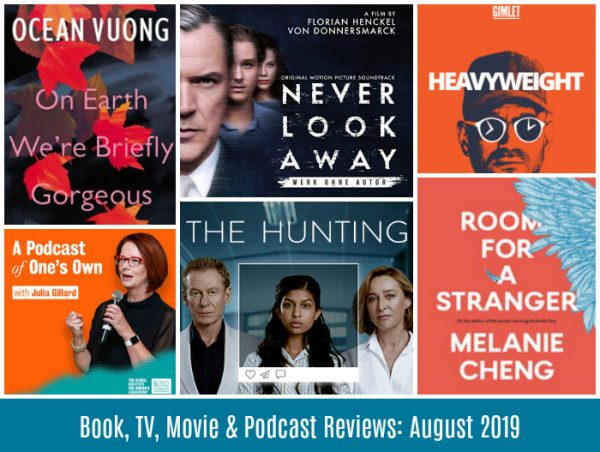 Books
On Earth We Are Briefly Gorgeous by Ocean Vuong
I'd been recommended 'On Earth We're Briefly Gorgeous' by a long time reader/contributor, whose tastes are similar to mine. Thanks Susie!
In recommending it, she commented on the beauty of the writing, which is undeniably poetic, captivating and eye-wateringly poignant. Subsequently discovering that the author, Ocean Vuong, is a critically acclaimed poet was no surprise.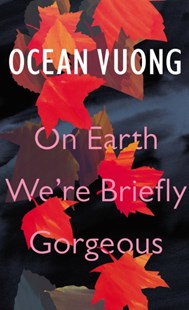 So what's the book about?
This novel is written as a letter from an adult son to his mother, both of whom fled war torn Vietnam for a quiet and safe life in rural Connecticut. Despite the beautiful and poetic writing, I should warn potential readers that there is some very confronting material covered, including animal cruelty and savagery in war, sexual violence in the context of a consensual relationship and, from a laywoman's perspective, behaviours that appear to stem from PTSD.
That said, there's so much beauty, tenderness, love and honest soul searching in this novel as well, which combined to make it a compelling read for me.
VERDICT: ****
Buy it here.
Room for a Stranger by Melanie Cheng
I was so confident that I would like this book that I snapped up tickets to see Melbourne GP slash writer Melanie Cheng at the Melbourne Writers Festival before I'd even read her book!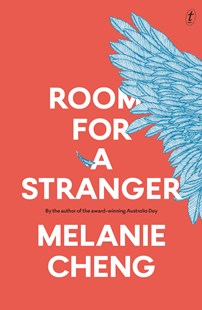 The premise of 'Room for a Stranger' is what happens when an elderly woman (Meg) who is accustomed to living alone, decides to make a room available for an international student (Andy), in exchange for company and some jobs around the house.
It's an easy to read and not overly predictable journey from here, and one which kept me interested and engaged throughout.
What elevates this novel above some other middle of the road slash popular contemporary fiction is that Melanie Cheng introduces interesting layers to her characters by virtue of their different ages, experiences and perspectives.
What is most at play here though are the observations her characters make through and about their own cultural lens, as Meg and Andy tell their stories through alternating chapters.
We see what life is like for Andy in Melbourne, having come from Hong Kong to study biomedicine, with the weight of parental pressure for performance and success. Meg's perspective is told through her backstory, her interactions with Andy and her various friendships.
While this isn't a groundbreaking or exceptional book, it's certainly very readable and a good one for discussion for book clubs.
VERDICT:  ***
Buy it here.
TV Series
Now that the brilliant The Handmaid's Tale (SBS/SBS on Demand) is finished, I've been looking for some other TV series to deep dive into.
I've been fortunate to find some absolute rippers.
On free to air, I thought SBS's new four part Australian drama, The Hunting was excellent and should be compulsory viewing for teachers and parents of teenagers trying to navigate the world of sexting, sex and social media. It's not easy to watch – the material is confronting – but I felt like it accurately depicted the issues and pressures teenagers face today. It even reminded me of what it actually feels like to be a teenager.
If you need some debriefing about it, this article by my great mate Martine at The Modern Parent is well worth a read too.
Before my Foxtel subscription ended, I made sure to watch the second season of Big Little Lies (HBO, Foxtel) which I absolutely loved and would highly recommend. It is every bit as excellent as the award winning debut season. Meryl Streep is faultless as Perry's mother Mary-Louise and is a great addition to the already stellar line up. Laura Dern was also particularly fabulous this season too, reprising her role as high powered Renata. She has some of the best lines and scenes.
If you read my last  reviews post you might recall I watched the much lauded series Fleabag (Amazon Prime) last month but wasn't gushing about it. Well, I take that back.
My curiosity and desire for redemption led me to check out Fleabag Season 2 which turned out to be rather fabulous and highly binge-worthy. It was ACE. The 24 minute episodes are tightly and cleverly scripted and viewers can expect to feel everything from total Awkward Town and hilarity through to feelings of fondness and tenderness for Fleabag, repulsion for minor characters as well everything in between. I am also a fan of the HOT PRIEST.
In between times, I've also loved watching various eps in the new version of Queer Eye (Netlfix). Sure it's formulaic and a bit over the top, but the stories of ordinary Americans and their unbelievable transformations thanks to their Queer Eye makeovers make for surprisingly compelling viewing. I especially loved the episodes with Mrs Dooley (the first ep in Season 4) and God Loves Gay. This is such a great show and perfect for when you want to watch something light or you're in between series. I dare you not to bawl!
Thanks to Mr SNS, I've also watched a few episodes of The Loudest Voice (Stan) which is a series which traces the beginnings of Fox News in the '90s and follows the rise and fall of a hard nosed, right wing, misogynist TV executive (played by Russell Crowe) who finally gets his comeuppance thanks to the #MeToo movement.
While it's interesting on a few levels (especially the links to the Republican/Right side of politics), I can't say I'm enjoying it mostly because Russell Crowe's character makes my skin crawl and is almost unbearable to watch.
Movies
I'd been hearing rave reviews about Never Look Away for months, so the minute I possibly could, I popped down to our nearest arthouse cinema for some much needed R&R and good old fashioned escapism.
At over three hours, watching this film is like binge watching a whole TV series in one session but it's well worth the commitment. You might want to pack snacks and make sure you book a recliner though. I should say it's also in German (with subtitles) but I didn't know I was reading subtitles a short way in to this absorbing film.
As well as covering life in pre and post WW2 Germany, it's a fascinating exploration of art, history, love, creativity and power. I won't spoil it by saying anything more, but this is a wonderful movie.
Podcasts
I've listened to some terrific interviews this month.
My favourites include the interview with Min Jin Lee (author of the historical epic Pachinko which I reviewed here) on ABC Conversations as recorded at the Byron Writers Festival. If you've read Pachinko, you will especially enjoy this.
I also really enjoyed Mia Freedman's interviews with Alison Brahe, Tully Smyth and Susan Carland on No Filter, which I missed when they first came out a while ago.
A friend also put me on to Stories behind the story podcast, and I enjoyed the interview of Paullina Simons, author of the fabulous The Bronze Horseman and Tully, among others.
After listening to a couple of episodes ages ago, I deep dived into Heavyweight and have been absolutely loving these fascinating and often moving stores of people looking to have a weight lifted, from somewhere in the past. There have been so many stand out episodes in Seasons 1 and 2, but if I had to pick favourites, I especially loved the episodes titled Gregor, Milt, Galit and Christina. The one about his mother, Dina, was really funny yet moving too. Season 4 is about to launch, so I'm drip feeding myself Season 3 in the lead up.
I've been riveted to The Australian's new podcast, The Nowhere Child about the baffling, unsolved mystery of the disappearance of little William Tyrell, although it seems to have diverged in recent episodes to cover material outside the investigation, which has been less compelling.
I've also dipped in to Julia Gillard's podcast series, A Podcast of One's Own, in which she interviews outstanding women in various disciplines from comedy, TV and politics and explores women and leadership. I particularly enjoyed her interview with Tanya Plibersek.
My true crime fix this month has been listening to the new US series The Clearing which has been interesting enough but not one of the best crime podcasts I've listened to.
Finally, I've listened to Julie: Unwinding of the Miracle about a young Mum in Brooklyn who documents her life as she is in the process dying of cancer. It's sad but beautiful in equal parts.
I'm also update to date with all my favourite podcasts series which include Eyes on Gilead, Chat 10 Looks 3 and Too Peas in  Pod. 
This post contains affiliate links. You don't pay any extra and I earn a small commission. Read more in my Disclosure Policy here.
So over to you, what have you been reading, watching and listening to lately? Anything you'd recommend?