Welcome to my latest reviews post, where you'll find a comprehensive wrap on everything I've been reading, watching and listening to lately.
Thanks to a super relaxing holiday in Bali plus some good old fashioned winter hibernation, it's been a cracking couple of months on the couch slash banana lounge.
I've read, watched and listened to loads, and am thrilled to report there are some absolute rippers in this month's lot, including a couple of books and shows that will no doubt feature in my top tens of 2019.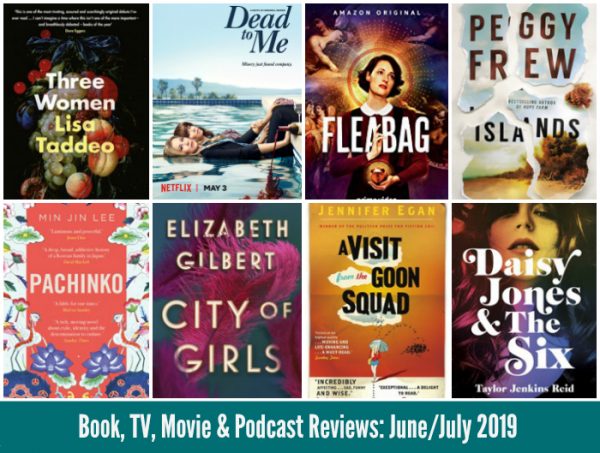 1. Books
I was very much taken by the premise of this book, not to mention the fabulous cover: a friend dies, leaving his dog to his bereaved friend, with an unlikely friendship forming between the gifted hound and the grieving friend.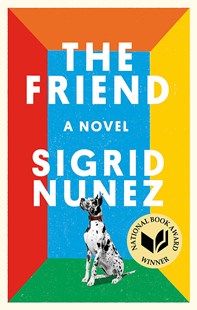 I initially thought this was a book about grief and accidental canine companionship but it was so much more. While it's only a short book, this beautifully written novel covers so many different topics aside from the impact of grief on both people and pets, and I really enjoyed the thoughtful reflections on writing, academia and relationships.
This is an easy to read book which manages to strike that delicate balance between giving the reader plenty of food for thought without being too heavy-handed, preachy or just plain hard work.
VERDICT: ****
I really enjoyed and rated Peggy Frew's Hope Farm, so I was very keen to read her follow up novel, Islands.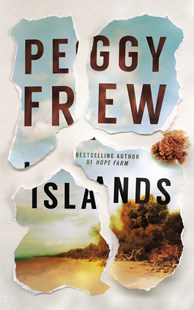 Told in different voices across time and in various styles, Islands isn't told in a linear narrative. One chapter, for example, reads like a script from a counselling session while another is a description of artworks featured in an exhibition.
I know some people really enjoy a story told this way, with plenty of movement in perspectives and time, but I didn't love it so much this time around. (In contrast, I enjoyed and thought A Visit from the Goon Squad – which I've discussed below- was a more successful example of this style). 
The story centres on a family of four, and the events leading up to the disappearance of the youngest child, and the impact of her disappearance in the days, years and decades that follow.
I did enjoy the chapters set in Phillip Island, but overall, I found I wasn't especially fond of any of the characters, so my investment – and therefore interest in them – wasn't great. That said, while I didn't enjoy Islands as much as Hope Farm, it's still a very well written novel and I'll still be sure to read whatever Peggy Frew serves up next.
VERDICT: ***
Daisy Jones & The Six by Taylor Jenkins Reid
I'd heard great things about Daisy Jones and I was not disappointed.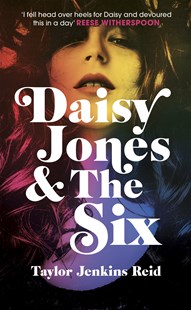 This book is such a pleasurable, rollicking ride, with all the drugs, heartbreak and shenanigans you'd expect from a story set in the Californian music scene in the '70s.
Told as a series of interviews from various band members, the story follows the band's rise to fame and fortune and beyond, with all the highs and lows that go with it.
From the craft of song writing to the intensity of recording, touring and band politics, Daisy and Co. was also a great insight into life in a band.
In fact it was so evocative, I almost felt like I was riding in the tour bus and hanging back stage with Daisy, Billie and the rest of the crew, just like that kid in the brilliant film 'Almost Famous'. Man I loved that movie, and this book is the perfect companion piece.
If you can't get enough of Daisy Jones & The Six, check out the lyrics at the back of the book and the Daisy Jones & The Six Spotify playlist which is full of all my faves – Fleetwood Mac, Tom Petty and Bruce Springsteen.
I absolutely loved Daisy Jones & The Six. This is a great read but especially great for holidays.
VERDICT: *****
And the prettiest cover award of the month goes to Pachinko …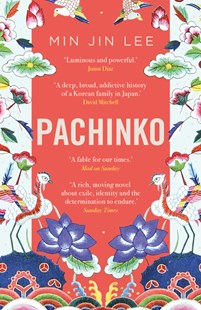 Pachinko is an ambitious epic that follows the fortunes and misfortunes of a Korean family living in Japan over three generations, as wars are fought and Korea is divided.
At the heart of the book is the complicated relationships Koreans have with Japan, particularly those who are born in and grow up in Japan who still find themselves to be legal aliens in their "homeland".
While it's a big commitment given its length, Pachinko is an easy to read, plot driven book with many characters to fall in love with, each of whom provide another perspective of this complex situation.
I love a bit of history and learning something new, and I learned a lot about the plight of Koreans and the Japanese reading this book.
At over 500 pages, it's a long read though, so settle in and enjoy the ride.
VERDICT: ****
City of Girls by Elizabeth Gilbert
Not everyone is a fan of Elizabeth Gilbert so I start this review by declaring I really didn't like Eat Pray Love one bit but I loved her wonderful novel The Signature of All Things and, I'm very happy to report that I also really enjoyed City of Girls.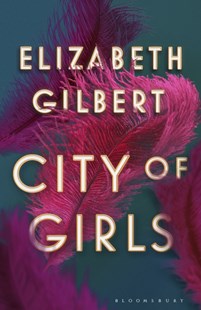 City of Girls is a surprisingly funny and at times tongue in cheek story which delves into the lives of New York showgirls in the 1940s.
The story is told by the central character Vivien in a series of letters to 'Angela'. This is an effective narrative structure as the letters take us through Vivien's life from a young, naive woman who arrives in NYC to stay with her aunt, through to her late life and all the loves, losses and life in between.
I particularly enjoyed the first half of the book and the well drawn characters at the theatre. The witty banter between two of the characters – you'll know which ones once you've read it – was a particular highlight.
The second half of the book shifts gears noticeably and while still very readable and well written, for me it did not reach the heights of the first half of the book. On reflection, without revealing too much of the plot, I felt like the first half of the book was dedicated to demonstrating that "you don't have to be a good girl to be a good person", while the second half of the book led the protagonist into a series of relationships and situations where her singular "goodness" seemed to be the main idea at play.
Still, overall, I thoroughly enjoyed City of Girls and would recommend it as a very welcome escape from everyday adulting, especially in these very strange Trump/Johnson times.
VERDICT: *****
A Visit from the Goon Squad by Jennifer Egan
My brother – who reads very broadly – recommended this book to me, so when I began it, I was committed to seeing it through, which was a good thing, because it took me a few chapters to work out what the hey was going on.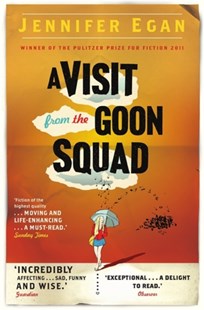 As it turns out, A Visit From the Goon Squad centres on two main characters – Bennie Salazar and his kleptomaniac assistant Sasha, both of whom we are introduced to in the first couple of chapters. The book then begins to cleverly weave a web around them, with chapters written from the perspectives of several other, associated characters, at different moments in time.
All of these chapters shed light on Bennie and Sasha's stories, as well as being almost stand alone short stories in and of themselves. One of the more interesting chapters towards the end of the book was a chapter written in powerpoint. I've gotta say, it was one of the better things I've seen in that format!
By the time I realised what was going on I was hooked, and committed to seeing what became of music producer Bennie and Sasha.
This is a very well written book where I think the author demonstrates impressive control and mastery of both the form and the subject matter of the story. I think it will appeal to those who enjoy literary fiction.
VERDICT: ****
If there is a book being touted as a book of 2019, it's Lisa Taddeo's Three Women.
I heard about it well before it's publication, thanks to rave reviews and endorsements from Elizabeth Gilbert and Leigh Sales and have since heard Mia Freedman describe it as the best book of the year. So was it?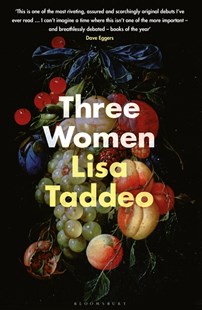 There's a lot to love about this book which explores women's desires, as expressed by three women.
Firstly, the writing is excellent and very readable, and I was hooked as soon as I started reading.
Lisa Taddeo gives us an incredibly in depth insight into the motivations, decisions and experiences of three women in differing circumstances. What they have in common is a desire of some sort – to be loved, valued, needed or touched.
While it's a non fiction book, with the author spending years with some of her subjects and their friends and families to fully understand them, it reads like fiction, with the stories of the three women told in alternating chapters.
The detail and care with which each story is told is exceptional, although also confronting, given these are real women, whose deeply personal information, experiences and emotions are laid bare.
Of the three women, I thought Sloane was the most interesting, while I felt a lot of sympathy for Maggie. I enjoyed Lina's chapters the least and, FYI, her chapters are also the most explicit. Let's just say I will never be able to look at a Cadbury creme egg in quite the same way.
While I felt privileged to have heard the truth of these women's stories, I was also left with an overall feeling of sadness as I reflected on these women and some of their experiences. Others may feel differently.
This is definitely a thought provoking book and one that requires extensive discussion and debriefing. It is very explicit though, so if you're squeamish about reading intimate details of sex, this one isn't for you.
VERDICT: *****
TV
There's so much great TV but my highlight of late is definitely Season 3 of The Handmaid's Tale (SBS/SBS on Demand). Everything about this show from the set design, costuming, lighting, sound, cinematography and acting is absolutely Next Level.
For me, every episode (except that awful one set in Ofmatthew's hospital room) is a visual, mental and auditory feast. I can't get enough of June and co. and I'm beginning to feel bereft that the season is almost over already.
For some lighter relief, I thoroughly enjoyed the dark comedy Dead to Me.
Christina Applegate and Linda Cardellini are both brilliant in this fabulous series all about grief, friendship, family and so much more. I can't wait for season 2.
I'm a bit late to the party but I've also loved watching seasons 1 & 2 of The Letdown (ABC). This is such a funny, clever and poignant show and I wish it was around when I was in the throes of babies and young children. I think I would have laugh/cried through every episode.
Following recommendations from Chrissie Swan and Leigh Sales, I also watched Season 1 of Fleabag, starring the comedienne/writer de jour Phoebe Waller-Bridge. I can't say I loved this as much as some and I seriously do not relate to her on any level, but I did enjoy the scenes with her family, especially with her step-monster played by the fab Olivia Coleman. I watched it on Amazon Prime, but it's available on ABC iView for a limited time.
Movies
It feels like forever ago that I saw Rocketman. While I did enjoy this and though Taron Egerton was fab as Elton, I didn't think Rocketman landed as well as Bohemian Rhapsody did last year. The costumes and music is fab, but it's Taron singing not Elton and I think something was lost in this.
On the plane to Bali I finally watched The Wife, starring Glen Close. It was as excellent as I had hoped and reminded me of the brilliant French film Mr and Mrs Adelman.
I also watched 'Can you ever forgive me?' with Melissa McCarthy which was terrific too.
Podcasts
I've listened to loads of podcasts lately but my faves over the last two months have been the brilliant Eyes on Gilead and my new fave Too Peas in a Pod.
I've dipped in and out of Bang On and Casefile and am up to date with Chat 10 Looks 3.
I have also listened to a number of outstanding and thought provoking episodes lately too, including:
Will Anderson's interviews with Andy Lee and Clementine Ford on his Wilosophy podcast;
Oprah's interview with Elizabeth Gilbert on Super Soul Conversations;
Andrew Denton's interview with Madonna on 'Interview';
Mia's interviews with Amanda Keller, Benjamin Law and Lisa Taddeo on No Filter;
Richard Fidler's interview with John Marsden on Conversations.
I've also kept up to date with the latest instalments of The Shrink Next Door, Who the hell is Hamish? and The Lady Vanishes.
This post contains affiliate links. You don't pay any extra and I earn a small commission. Read more in my Disclosure Policy here. 
So over to you, what have you been reading, watching and listening to lately?