Welcome to this month's review post of everything I've been watching, reading and listening to lately.
Interestingly, I've been mostly in Podcast and TV Land this month.
With all the end of year busy-ness gaining momentum, I'm almost at the point where I'll park the books for the summer holidays and focus on things I can listen to and watch while I'm multi-tasking. Term 4 is Crazy Town around here and I'm sure many of you can relate.
I've still covered a lot of ground though  – I've listened to and watched a LOT lately, and there's plenty of great stuff I'm happy to recommend too.
It never ceases to amaze me how much great stuff there is out there and that so much of it is free. In fact, with the exception of the books I've read and one series I've watched on Foxtel, pretty much everything I've watched and listened to this month has been free.
How amazing is that?
So what have I been reading, watching and listening to lately? Step right this way …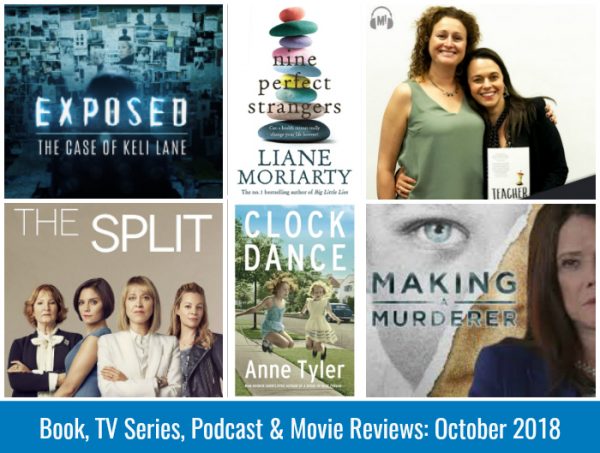 1. Books
I think I'm the only person on the planet who hasn't read an Anne Tyler novel, so I thought I'd remedy that post haste by picking up her newly released novel Clock Dance.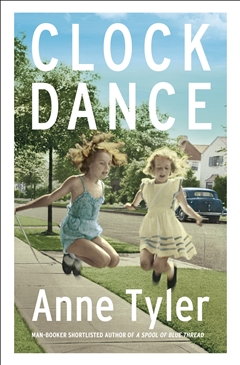 Spanning three different time periods, Clock Dance is the story of Willa, a woman whose life choices have been largely determined by other people. The back half of the book follows her now – an older woman, thrice married, whose sons are now adults. Willa finds herself responding to an unusual call for help from her son's ex girlfriend, propelling her into a new state, neighbourhood and household, with interesting results.
I found this book easy to read and enjoyable – it's certainly not onerous and is easy to dip in and out of. It picked up pace when the "now" section started and I was interested to find out where things would land for Willa and her new friends. On the surface of it, this novel almost seems light and somewhat superficial, but I think Leigh Sales' comment in a recent Chat 10 Looks 3 episode was on the money – Anne Tyler is an excellent observer of families and there are nuances in her writing and story telling which reflect this.
Overall, I enjoyed this book.
VERDICT: ****
Nine Perfect Strangers by Liane Moriarty
Readers, I have to confess that I'm finding Nine Perfect Strangers a bit of a slog. I'm only a third of the way in but I've been reading it for weeks and I just can't get enthused about it. When I've reflected on why this is, I think it's because I just don't care enough about any of the characters yet. I'm hoping this might change as things go on, so I'll continue to read it, and will come back and let you know how I go. Has anyone else read it? I'd love to hear your thoughts.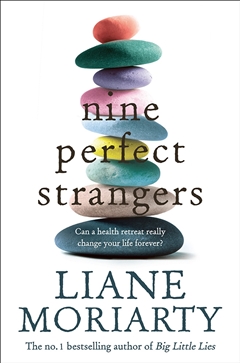 2. TV Series
I've spent a lot of time this month on the couch watching some great TV. Mr SnS's ten day stint in the US over the holidays gave me the perfect excuse to stay home and get stuck in to some excellent drama.
I really enjoyed the The Lawyer, (on SBS on Demand), a nordic thriller set in both Stockholm and Copenhagen. It's not the best crime thriller I've ever watched but it was certainly easy to watch, compelling and unpredictable although it does have subtitles so you do need some level of concentration.
On ABC iView, my favourite series this month was the excellent three part crime doco series Exposed – The Keli Lane Case. This is like a great true crime podcast in TV series form and is absolutely fascinating. I inhaled this three part series in a day and would highly recommend it.
Afterwards, you'll no doubt be reeling and needing a debrief, at which time you should listen to the excellent interview by Mia Freedman with the investigative journalist Caro Meldrum-Hanna on the podcast series No Filter. Mia asks all the questions I would have asked.
I also finished watching Killing Eve (also on ABC i View) which I really enjoyed. Sandra Oh is a corker in this quirky crime series.
Following many of you recommending it, I also watched the British drama series The Split. It took me a few episodes to get into it but it was definitely worth watching. Nicola Walker is terrific in it. Unfortunately it's no longer available on iView though. Can anyone recommend an alternative place to watch it?
Over on Netflix, I've just started the series Manhunt – Unabomber (Mr SnS has already watched it so I'm catching up on the nights he is out) which I'm enjoying although the way it's edited – alternating between the past and future is a bit annoying. I'd prefer we track the investigation through to it's conclusion chronologically. Maybe I'm just too used to Casefile!
We're also watching Season 2 of Making a Murderer (also on Netflix). This is such a well made doco but despite my fascination with the legal elements of the cases and the plights of Steven Avery and Brendan Dassey, it's pretty heavy and heartbreaking at times. Being one hour episodes, I can only watch one per night. In other words, it's a slow drip as opposed to a binge watching series for me but it's well worth watching.
Lastly, we've just started watching the new Netflix series The Body Guard (featuring the actor who played Rob Stark in Game of Thrones) about which I'd heard great things. We're two episodes in to this 6 part series and it's got the makings of a thriller!
I'm also keen to watch Ozark Season 2 before House of Cards Season 6 drops next week.
3. Podcasts
I've listened to some great podcasts this month.
The best thing I've listened to this month was without doubt the excellent interview by Mia Freedman of Gabbie Stroud (author of the book Teacher) on No Filter. It was an excellent but heart breaking interview and I'd highly recommend it. It also made me want to race out and buy the book.
I also really enjoyed Mia Freedman's interview of Leigh Sales about her new book, Any Ordinary Day although I feel like it covered a lot of her book which I've already bought and am looking forward to reading soon.
As I mentioned last month, I really really enjoyed Slow Burn Season 2 and Doctor Death and have listened to all the bonus episodes. If you haven't checked out these series, I'd highly recommend them both – unless you have spinal surgery coming up!
I also listened to the whole series Uncover – Escape from NXIVM which was so disturbing but fascinating.
I've listened to loads of series on Casefile including the Toy Box series and East Area Rapist series. I'll give you the hot tip too, after 5 episodes of the East Area Rapist, they still haven't solved it but do Google afterwards, as they arrested someone following a DNA match a few months ago, after the series was recorded.
A friend also recommend the series Heavyweight (by Gimlet) and I've listened to three episodes already (Jeremy, Julia and James) which I've enjoyed. Each episode is a story of a person and goes for about thirty minutes and they cover a range of topics and life issues.
4. Movies
I've banged on about it all over Facebook and Instagram all weekend so I won't go on about it again here but I really really loved A Star is Born and would highly recommend it. I should warn though that some readers noted the language in it and there are some heavy scenes/confronting themes. It's a great movie with so much soul though and Bradley Cooper and Lady Gaga are both fabulous in it.
I also CANNOT wait to see Bohemian Rhapsody which is released this weekend.
This post contains affiliate links. You don't pay any extra and I earn a small commission. Read more in my Disclosure Policy here.
So over to you, what have you been reading, watching, listening to this month?