Welcome to this month's reviews post!
Even though we're emerging from our long hibernation this week, October was a loooong month spent mostly in lockdown.
Without an evening or long weekend social life for most of the month, I've spent plenty of quality time on the sofa, and with this "unprecedented" capacity, I've watched a lot more than usual and can recommend a stack of great things to watch on TV.
When it comes to reading, I'm maintaining my lockdown average of three books a month, which isn't terrible but not up to my usual levels. There's no doubt that CoVid has impacted my attention span and reading mojo.
Anyhoo, in this post there are plenty of great things I'd LOVE to recommend to you for your reading, listening and watching pleasure, so get comfy, pour your bevo of choice and settle in for all my latest reviews.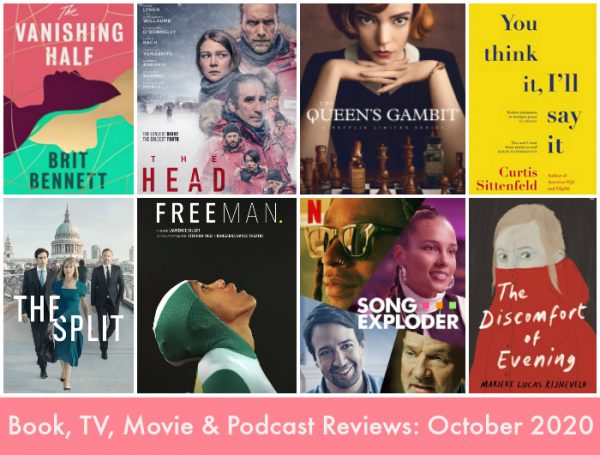 Books
The Vanishing Half by Brit Bennett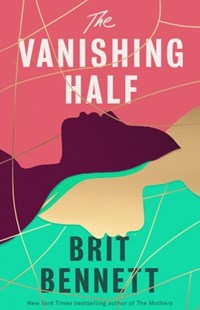 I'm a big fan of Britt Bennett and loved her debut book The Mothers.  I read it in one day a couple of years ago and remember how impressed I was by her writing and story telling.
The The Vanishing Half is her second book and one that was eagerly anticipated by many of her fans including me.
The Vanishing Half  begins with twin sisters Dolores and Stella who are Black but who can 'pass' as white. As teenagers, they run away from home, setting into motion events that play out for the rest of their lives. One goes on to marry the 'blackest' man she can find. The other decides to 'pass' as white and marries a white man. Their lives then diverge and it's through their daughters' stories that we see just how vast the chasm between them has become.
While I didn't devour The Vanishing Half in the same way I did with The Mothers, I did savour it, lingering on each scene or chapter before moving on. I thought it was a compelling story too, albeit unsettling, mostly because of the longing and absence that's palpable throughout the whole book – there's always something or someone missing which left me with those vague feelings of dissatisfaction.
Given the starting point, it won't come as a surprise when I say that The Vanishing Half, through the lives and insightful observations of its characters, has a lot to say about racism, white privilege and opportunity and it's not always easy or comfortable to hear it. It all has the ring of truth about it though, and I think Bennett's writing reflects her thinking and wisdom on these issues.
This is an excellent book and one that would provide plenty of discussion for book clubs too.
VERDICT: ****
Buy it here.
The Discomfort of Evening by Marieke Lucas Rijneveld
Goodness, what to say about this extraordinary and strange novel which won the International Booker prize in 2020?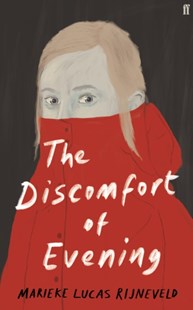 In a nutshell, The Discomfort of Evening is a story of an unravelling following death and neglect.
The protagonist of The Discomfort of Evening is ten year old Jas, the third of four children who live on a farm with their strict Reformed Church parents in the Dutch countryside. Their world is small to begin with, but following the tragic death of their eldest brother, it narrows further. What follows is precipitated by an ever growing grief and sadness which spills out in a variety of confronting and frankly disturbing and grotesque ways that are uncomfortable but perhaps not surprising given all the circumstances.
While there were several scenes that were difficult to read, I did not put this novel down because I was invested in Jas, despite her quirks and proclivities. Rijneveld's writing is also incredibly evocative – reading The Discomfort of Evening is almost a visceral experience as I could practically smell, feel and touch everything that was described in all its beauty or grotesqueness.
While The Discomfort of Evening is impressive on a lot of levels and has received and deserved critical acclaim, I'm not sure it is a book that has broad appeal given some of the content. If you're looking for a talented new voice and have the mental and emotional bandwidth to deal with some of the content though, I think you'll seriously rate it.
VERDICT: ****
Buy it here.
You Think It, I'll Say It by Curtis Sittenfeld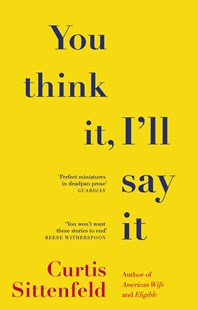 Since devouring Rodham a few months back, I've decided Curtis Sittenfeld is now one of my favourite authors.
Her book of short stories, You Think It, I'll Say It  confirmed this sentiment. Every single one of her short stories is great – beginning with The Nominee on which Rodham was based – and I reckon, many if not all of them could easily be further developed into full length novels.
Each story is a contemporary tale in which people fundamentally misunderstand each other in some small or significant way. The stories include mothers meeting at pre natal yoga class, a woman and her friend's husband, two brothers and two former college office holders.
I just love Sittenfield's clever, insightful observations and dialogue many of which are set in familiar situations and feature totally relatable characters.
I would highly recommend You Think It, I'll Say It.
VERDICT: *****
Buy it here
The New Yorker
I treated myself to a digital subscription to the New Yorker during lockdown 2.0 and it has been fabulous. I am particularly enjoying reading their feature articles and long form interviews and can highly recommend the following:
TV Series
I've watched truckloads of TV this month and covered everything from family and period dramas, a mystery thriller set in Antarctica, cowboy shenanigans, Parisian pleasures and chess prodigies.
My favourite TV series this month was The Split Season 2 (ABC). I totally rate and recommend this quality British drama series. Set in London, the second series again focuses on leading family lawyer Hannah Stern, her two sisters, mother and their colleagues.
I was glued to this six part series, and thought that season 2 is even better than the first season. Nicola Walker is incredible as the reserved, talented but fraught Hannah as is Stephen Coogan as her barrister husband Nathan. I've included the trailer for season 1 above as the season 2 trailer will have too many spoilers for those who haven't watched the first season.
We've also been glued to seasons 2 & 3 of Yellowstone (Stan). As I said last month, this series is worth watching for the breathtaking scenery of rural Montana alone. Season two built on the first season and around about episode 7 or 8, things went up several notches in the dramatic stakes. This series offers compelling characters, some ridiculous cowboy shenanigans and stunning scenery. What's not to love?
This week we also started and finished The Queen's Gambit (Netflix) which is a series following the rise of a (fictitious) troubled child chess prodigy from her very tragic and humble beginnings through to international success in the 1960s. We enjoyed this series – and were genuinely fascinated by the subject of chess – although it felt a bit Hollywood overall. Still, it's entertaining and gripping TV and I'd recommend it. This trailer shows a bit too much though so don't watch it all if you're planning to watch the actual series.
We also enjoyed watching The Head (SBS on Demand), a six part TV series set in a substation over a long, dark Winter in Antartica. Featuring an international cast and plenty of twists, this (sometimes graphic) thriller is a suspenseful ride and an easy weekend binge.
For something lighter, I enjoyed Emily in Paris (Netflix) which I enjoyed for its sublime fashion and scenery even though it was full of all the usual French and American stereotypes and cliches. It's easy viewing though and if you do get caught scrolling or reading someone's social media post – is that just me? – it's easy to catch up.
We also watched the first six episodes of The Great (Stan), a very tongue in cheek and somewhat bawdy period drama set in Russia which I know a lot of people really enjoyed. We persisted with this for longer that I wanted, but I couldn't keep going beyond six episodes, despite our investment. Should we persist with the remaining four episodes? I'm not sure I can.
For something completely different, we really enjoyed Song Exploder (Netflix) which is based on the popular podcast of the same name. We all need short, entertaining shows to watch in between major binges and Song Exploder ticks that box nicely, with it's short twenty or so minute episodes which delve into the creative artistry, ideas, lyrics and music behind some of the best music of our generation. We watched the first three episodes which covered Alicia Keys, Lin-Manuel Miranda and REM and I love love loved them all. Highly recommended.
I also dipped in to The Home Edit (Netflix) but frankly, I found seeing other people's messes (before the transformation) to be a bit stress inducing when I could barely leave the house (and my own mess!).
Movies & Docos
Like my love for reading non fiction, I do enjoy a quality doco from time to time. I had the great pleasure of watching the fab RBG (Netflix) around the time she passed away. What an incredible woman and pioneer!  It certainly put the current debate about the next appointment to the U.S. Supreme Court into context too. I'd definitely recommend this doco.
We also sat the kids down one night and watched Freeman (ABC iView) which essentially provides the back ground and context to Cathy Freeman's stunning gold medal winning race at the Sydney Olympics. This is an excellent doco, one appropriate for kids too, and I'd highly recommend it. Our kids didn't know anything about Freeman or the race, so we also felt like we addressed a serious gap in their historical, sporting and cultural knowledge and understanding by watching this together.
We've also been watching "family movies" over lockdown. Over the holidays we watched the delightful Enola Holmes (Netflix) which was my choice. We all enjoyed this mystery of sorts and I loved it's English setting and costumes.
When it was their turn to choose, our boys have chosen The Empire Strikes Back, Pirates of the Caribbean: The Black Pearl and the Johnny Depp version of Charlie and The Chocolate Factory. Of these, Pirates of the Caribbean was my pick, although it's probs suitable for older kids.
Podcasts
I've been back on the podcast wagon since the kids went back to school which I've been loving. It is so good to have the time and space to listen to a whole episode in a sitting. A WHOLE EPISODE!
I've devoured and am completely up to date with Hedley Thomas' new investigative pod The Night Driver into the disappearance and suspected murder of Bathurst local Janine Vaughun twenty years ago. I find his reporting to be refreshingly thorough, fair and considered which is a breath of fresh air in a world of heavily editorialised, biased and sensationalist journalism.
I've also just begun The Nurse which delves into the sordid and disturbing details of an alleged paedophile nurse in Launceston over decades. It is confronting and shocking to hear of the breadth and brazenness of this alleged behaviour.
On a lighter note, I've enjoyed regular instalments of Chat 10 Looks 3 although I'm not sure I can continue to take Sales' recommendations if she doesn't get on board the Schitts train stat (and on that note, I'm currently watching the series through for the third time).
I've also thoroughly enjoyed several recent episodes of Too Peas in a Podcast, particularly their recent interviews with Pea friend Becky (an old, dear friend of mine and one of my bridesmaids) and Meshel Laurie.
I also went back and listened to Mia Freedman interview Curtis Sittenfeld (who I gushed about above) on No Filter which was excellent and covered RBG, Hillary and Trump.
This post contains affiliate links. You don't pay any extra and I earn a small commission. Read more in my Disclosure Policy here.
So over to you, what have you been reading, watching and listening to lately? Anything fab we should know about?