Welcome to this month's reviews post, where I share everything I've been reading, watching and listening to lately.
This month, similar to last, has been heavier in the podcast and TV series departments.
I wonder whether it's because they are "easy" media more conducive to binge-ing at this time of year when it feels harder to carve out time for an early night, slow morning or lazy afternoon for reading or the co-ordination involved in arranging a trip to the flicks.
Or is it just me?
I am seriously looking forward to the languid days of the post Christmas exhale to get stuck in to some serious holiday reading, but in the meantime, I'm looking for a new podcast series. What would you suggest?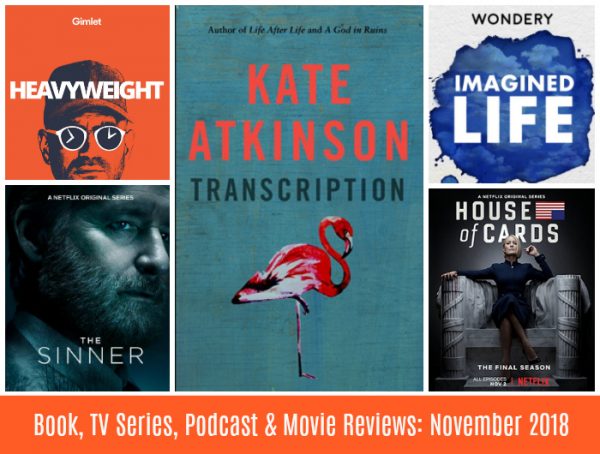 Books
So I was halfway through Nine Perfect Strangers when I wrote my last reviews' post and yep, I've finally finished it.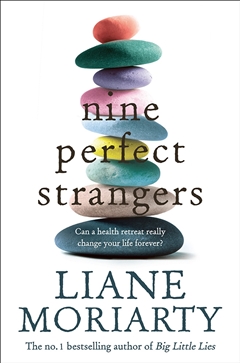 As  some of you know, I wasn't a huge fan of the premise to begin with and now I've finished, I can say that I didn't really enjoy this book at all.
Despite being a fan of some of Liane Moriarty's other books, overall, I found Nine Perfect Strangers too long, a bit ridiculous and un-relatable. It just didn't land for me on any level.
If you did enjoy this though, good for you though – there is no shame in that and I wish I could say I was in your camp.
If you're interested in my much more detailed review, check out our family podcast, which you can catch up with here.
VERDICT: **
2. Transcription by Kate Atkinson
I was looking for a quality page turner after Nine Perfect Strangers and I think I chose well with Kate Atkinson's Transcription.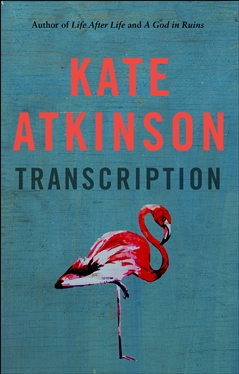 Set across three time periods – but largely WW2 and it's after effects – in London, Transcription tells the story of accidental spy Juliet Armstrong and an intriguing cast of duplicitous and mysterious characters with fabulously English names like "Perry" and "Godrey" who are busy spying and conducting covert operations with and for each other.
I'm just over halfway through but I'm enjoying it so far – I'd love a weekend away or a decent slab of time to finish it off instead of ten minutes here and there though. That said, I'm still following the plot – and the cast of characters – and am really enjoying Kate Atkinson's writing, humour and oh so English turn of phrase.
TV Series
This month we knocked off all of House of Cards Season 6 (Netflix) and Barrenjoey Rd (ABC iView).
It's tricky to review House of Cards without spoilers but I kinda feel this fell into the same hole as Nine Perfect Strangers in that it went from the vaguely relatable to the downright ridiculous.
I was prepared to stay with it for the first few episodes – enjoying the typical frenetic, layered and intricate story telling we've come to expect from HoC- but then a time jump and a strange final couple of episodes took it from the realm of the slightly fantastic into the bizarre and unbelievable.
That said, most of the loose ends were tied up though and I guess that was the main aim for the final season of this otherwise excellent series.
I will miss the well dressed – very military slash commander in chief in style this season – and menacing Clare Hale, creepy Doug Stamper and their entourage of morally bankrupt players but hope that in real life, the Zoe Barnes' and the other hard working journalists of the world have a much happier ending …
I also finished watching Manhunt – Unabomber (Netflix) which was well done but surprisingly sad in the end. This is such a strange and interesting tale, very well told. Sam Worthington was great too as was Mr Big aka Chris Noth.
We are now halfway through The Sinner Season 2 which I am LOVING. Season 1 was a hard act to follow, but so far, Season 2 has a similar pace, mystery and intrigue as the first season, with more of Detective Ambrose's (Bill Pullman's) back story. Gosh I love that man!
Next on my list – there are always so many great new things, it's hard to choose – is the brand new series of Narcos, one of my faves, which is situated in Mexico instead of Columbia where the first three seasons were based.
Podcasts
It's been a big month in Podcast Land, probably because I can listen while I do the many routine, boring household tasks that always need doing. Like folding clothes, tidying up, folding clothes and tidying up. You too?
I smashed the whole series of Unravel Season 2: Barrenjoey Road (ABC) in a matter of days. Told in a very similar style to ABC's Trace and the documentary series Exposed: Keli Lane, it follows two investigative journalists in their quest to uncover who was responsible for 18 year old Truddie Adams' disappearance from the northern beaches of NSW – coincidentally and creepily in the same area in which The Teacher's Pet is set – in the 1970s. It's done quite well and while I was super excited to find a TV show of the same name, by the same people, watching the three episode doco wasn't nearly as interesting as listening to the podcast. You can listen to the first episode here.
On a totally different note, I've really enjoyed episodes from the new podcast series, Imagined Life (from Wondery) and Heavyweight (Gimlet). Both tell people's stories, although Imagined Life features the stories of the well known/famous/celebrities while Heavyweight tells interesting stories of every day people.
The most recent episode of Heavyweight I listened to was 'Sven' which was really moving. I like that these episodes are around 40 minutes long too – perfect for a walk or a couple of car trips.
You can read more about Imagined Life here and Heavyweight here.
In between times, I've also kept up to date with erstwhile favourites – Casefile as well as the occasional Chat 10 Looks 3. I'd love a new series though if anyone has any recommendations?
Movies
It's been an epic month of movies, hasn't it?
I wrote about A Star is Born which I absolutely LOVED last month, and I've continued to play the soundtrack on high rotation. Seriously, how good was this movie and when can I see it again?
More recently, I went to see Bohemian Rhapsody which was awesome too. Having grown up with Queen and loving their music, I went in with high hopes and was not disappointed. The actors were all amazing – especially Faux Freddie – with the detail and care taken in replicating the band and it's performances nothing short of Next Level. Having watched a doco on Freddie Mercury on SBS and Queen's Live Aid performance after seeing the movie, I could not believe the attention to detail and similarity between fact and fiction, even down to the half filled Pepsi cups on the piano at Live Aid.
Next on my list is Boy Erased and probably, if the kids have a say, The Grinch. When it comes to Christmas movies, I'd be happy to watch Elf on high rotation!
This post contains affiliate links. You don't pay any extra and I earn a small commission. Read more in my Disclosure Policy here.
So over to you, what have you been reading, watching, listening to this month?