Welcome to the latest edition of Everyday Style at Shenanigans HQ.
In today's post, I'm very happy to be sharing with you three pieces from Elk Accessories' Summer 17 range.
Inspired by several different artists, the Summer 2017 Collection, MUSE, is inspired by pioneering creative women who, in their time challenged art to move in new directions. Loving that.
The result is a range full of beautiful, signature prints and the on trend shapes, luxe fabrics and styles, we've all come to love from Elk Accessories.
So you can imagine, when I visited Elk's Preston store recently, that I was like a kid in a Lego/Beanie Kids shop. SO many beautiful pieces to choose from and ogle over.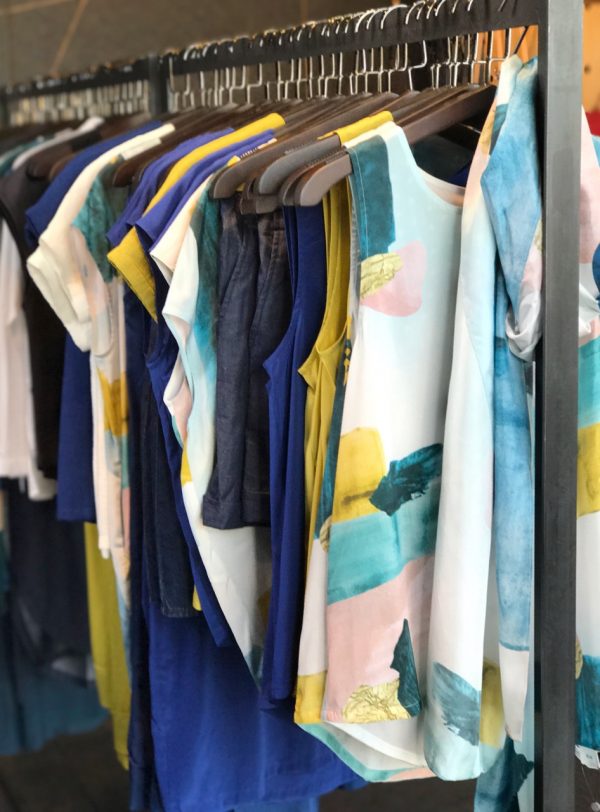 In the end, I took home* three incredibly versatile pieces and three pairs of co-ordinating earrings, all of which are under $150. Each piece is a modern update that slots into my wardrobe perfectly and works back with what I already have effortlessly.
The first piece is this smart Linen Shift Dress, $135.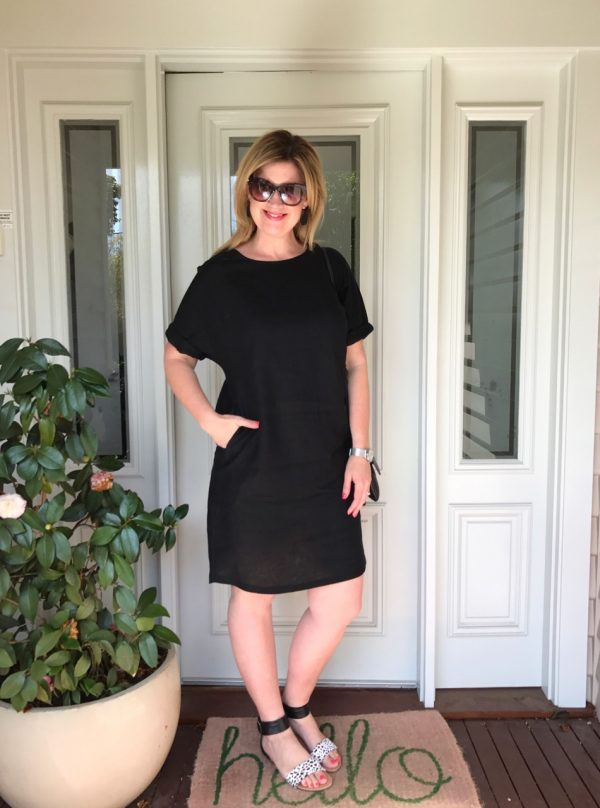 Made from 100% linen, this dress feels great to wear, dries quickly and is always a chic option on a hot day.
Don't be deceived that this is just another black dress though. In terms of it's design, it features a seamless drop shoulder, curved shaped panels along each side to create a flattering silhouette and rolled cuff sleeves add a touch of casual style. Pockets are a practical inclusion and the above knee length is a flattering feature for most.
In terms of sizing, given it's linen, it doesn't have any give but it is a relaxed fit. I tried on both a size 12 and 14 in this dress, and both fitted well but I ended up going for the 14 for that extra bit of room around my bottom half. If you're straighter than I am – I'm curvy – opt for your usual size.
This gorgeous dress also comes in black, lunar grey and moss green and is an ideal addition to any work or smart casual wardrobe, particularly if you're looking for an easy wearing LBD over the summer months. I've teamed mine with my MADDiE wedges in black spot for a smart casual look, but I'd also wear this dress with espadrille wedges, a block heel for work or even trainers for relaxed weekend style.
At $135, I think this dress represents very good value too.
The next piece I'm wearing is this drop dead gorgeous Northern Print Maxi Skirt in Mono, $145. While I initially gravitated to this skirt in the alternative colour way (featuring blues, pinks and moss green), the simplicity of this print in the mono and the pops of light coral were just so striking and won me over in the end.
What do you think?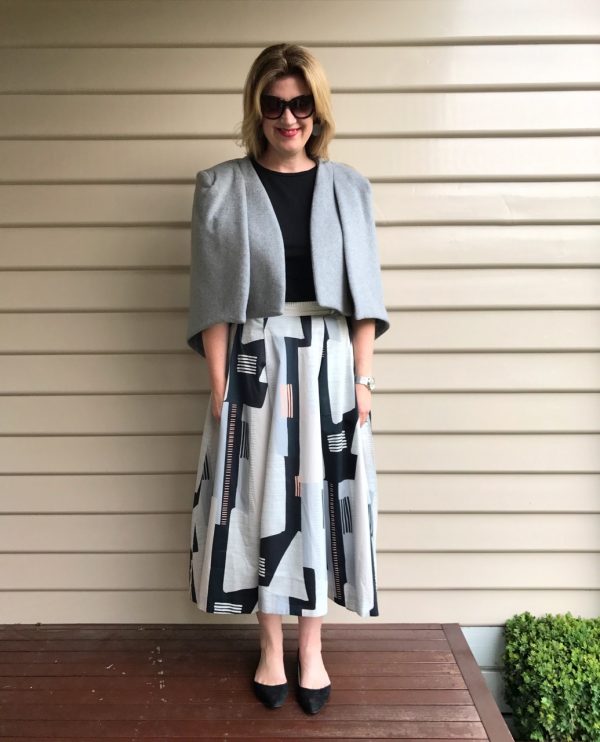 Made from a beautiful polished cotton, the Northern Maxi Skirt has subtle pleats at the waist which create volume – but not bulk – through to the hemline. It's slightly longer at the back too, with the hem accommodating different heights.
The elasticated back waistband allows for variations in styling and a comfortable fit; wear on the hip for a casual look or high on the waist with a top tucked in as I've done above and below.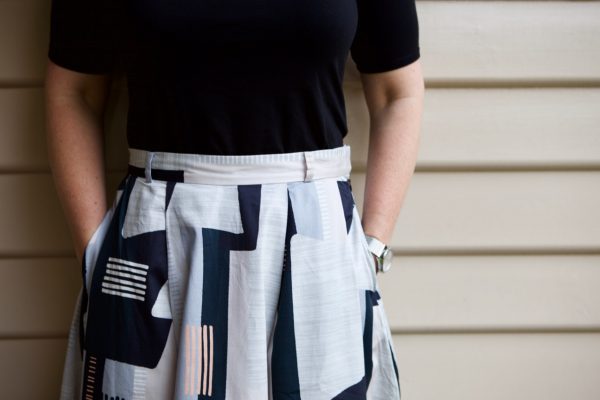 I'm wearing a black tee above and dressed it up with pointed flats and a cape and these gorgeous Wave Disc Earrings, $35 – I love them so much I've got them in grey and black – but I'm also planning to pair this maxi skirt with a white tee and trainers for a more relaxed, athleisure look.
I'd say it's true to size too – I'm wearing a size 12 which fits perfectly. The elasticised band means there is some give too, which is good to know with the silly season approaching!
The last cab off the rank is the Speckled Denim Maxi Dress, $149.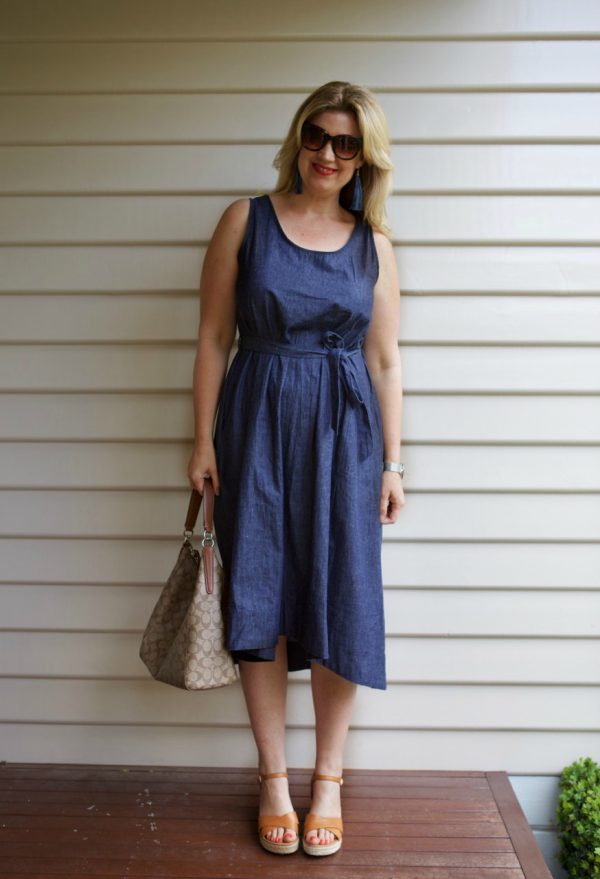 I love to have a denim dress to throw on over the summer months – they go with everything and are a perfect canvas upon which to mix and match shoes, statement or simple jewellery and handbags. This version, the Speckled Denim Maxi Dress, is a smart, modern update on this classic style and is easily dressed up – as I've done above – or down.
Made from 100% cotton, it's a lightweight piece designed to take you through the warmer months and beyond. The trans-seasonal weight fabric is ideal for layering and features a coloured speckled detail throughout.
I also love how the removable tie allows you to cinch in the waist of the dress and tie it at the front or back depending on how you feel – or before or after Christmas lunch. Without the belt, it's a flowy a-line shape with a cascading hem. The below the knee length is a nice feature too and a flattering length for people of all heights.
With it, I'm wearing the fabulous Ombre Tassel earrings in Blue, $40 and my ALYCE Espadrille Wedges from FRANKiE4 Footwear.
In terms of sizing, I'm wearing a size 12. The size 10 also fitted well but with my 14DD bust, I opted for a slightly looser fit on the top, especially given I could cinch in the waist to still maintain the same shape. With it's a-line shape though, there is some room to move, so perhaps size down from your usual size if you have a smaller bust or check the measurements if you're not sure.
*Thank you to Elk Accessories for gifting me the clothes and earrings featured in this post. 
Have you checked out Elk Accessories lately? What's your pick of the above?