Sponsored by Soul Song
With the summer holidays in my very near future, part of me has already mentally checked out of the Christmas shenanigans and is lying in a hammock on some glorious white sandy beach, book in one hand, cocktail in the other. My content and well behaved children are frolicking nearby, playing co-operatively and not requiring constant trips to the toilet, referee-ing and endless applications of sunscreen too.
Back in reality – a girl can dream – it might not surprise you to hear that I'm also already mentally putting together my beach holiday wardrobe too.
It's not all a fantasy though – we're changing things up and heading to Western Australia this January and I'm already preparing myself for the searing heat of the West Coast, balmy nights and hopefully not too many sharks.
Cottlesloe and the quokas of Rottnest Island, I'll be seeing you soon.
So with all of that in mind, you can probably imagine how thrilled I am to be able to collaborate with Sunshine Coast based independent fashion label, Soul Song, whose clothing is perfectly designed for the Australian climate.
Especially our long hot Australian summer.
If you're not familiar with Soul Song – I first came upon the label when I bought two of their beautiful flamenco dresses at the Eumundi Market on our Noosa holiday last September – the clever creative behind the SoulSong label is Donna Thordarson.
Donna began SoulSong in 2002 after several years of playing around with textiles, fabrics and designs. She began doing small productions both here and on her travels, bringing home interesting and colourful textiles and clothing. 
Donna told me, "I love cotton and a passion for hand block prints is the inspiration behind the creations which are designed to be beautiful, comfortable, attractive women's clothing in styles that suit a variety of body shapes and the Australian climate. Soul Song's clothing range is unique & original and we currently produce six collections a year".
Soul Song also manufacture in happy, worker friendly, fair trade production environments In India which Donna regularly visits, which is great to hear too.
Today I'm delighted to share – and wear below – four Soul Song outfits that I love for different reasons. What they all have in common though is that they're made from 100% breathable cotton and they're beautiful, unique and versatile pieces to pack for a beach holiday or to add to your smart casual summer wardrobe.
First up, I'm wearing the Mauritius dress in Indigo Sunflowers, $98 in size L.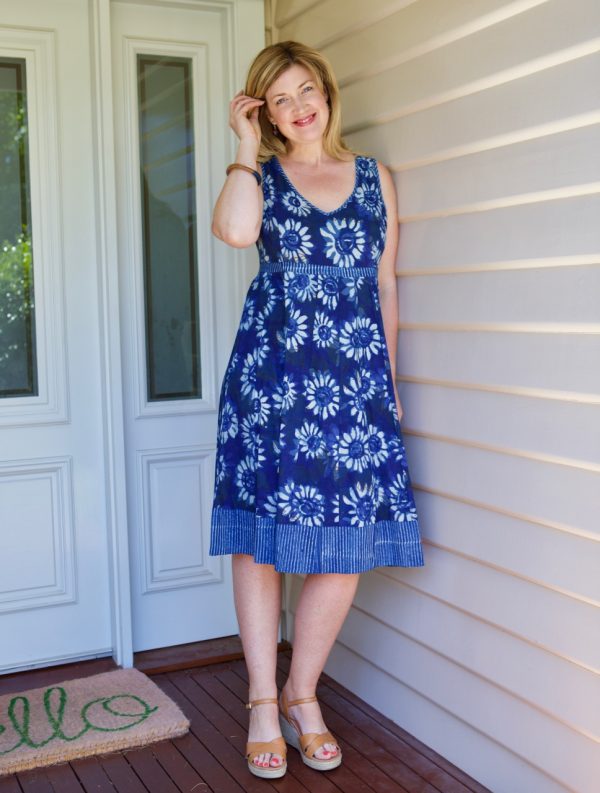 How lovely is this pretty sundress?
I'm a big fan of it's flattering fit-and-flare style shape, which is especially flattering for those of us with curves  or a pear shape.
It features a fitted V neck bodice and a beautifully shaped skirt, with horizontal paneling detail. The deep indigo hand block print is just beautiful too and works back perfectly with tan sandals or espadrilles and is an easy frock to dress up or down on holidays.
This dress also has a side zip which helps to ensure the perfect fit, and beaded tassel ties complete the elegant open back feature. It's little details like this that elevate this smart casual dress into much more interesting territory.
This dress is also available in an Aqua Floral print.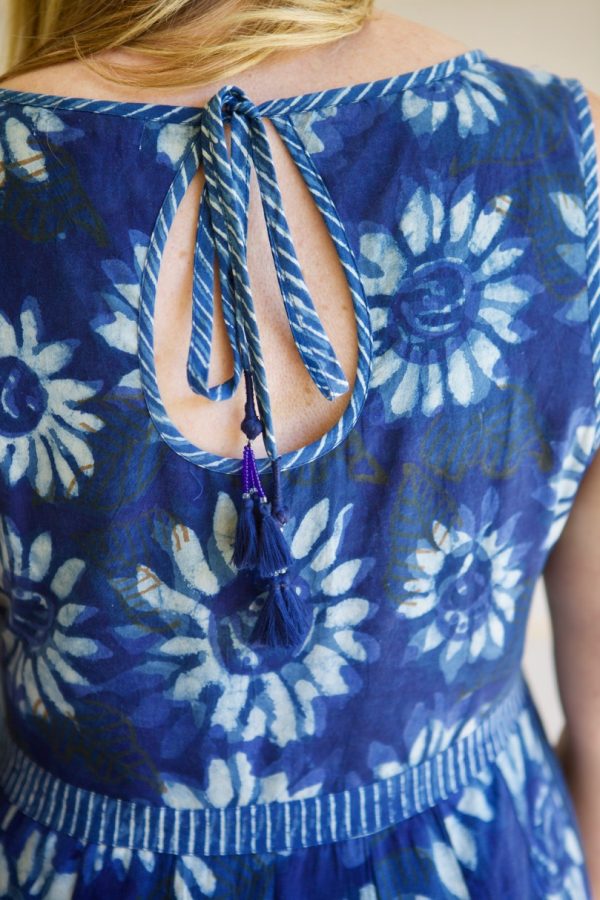 Now I know many of you, like me, are fans of the wrap dress, which is super flattering, and this pretty Maisi dress in Peach Carnation, $95 – I'm wearing size L – is a very happy addition to any summer frock wardrobe.
Isn't this print – a floral peach/red on white – lovely and something a bit different too?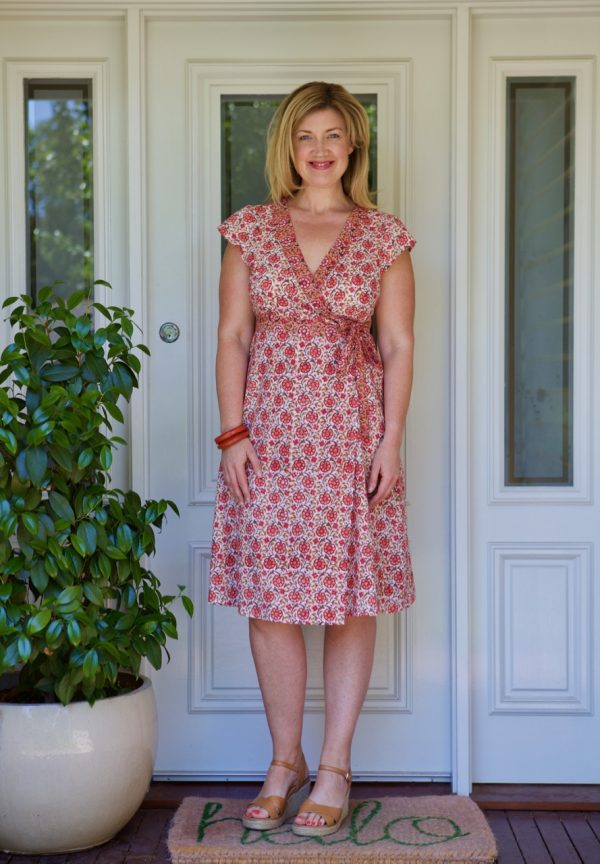 The fit-and-fall design of this pretty dress is super flattering too and the details – the slightly curved V neck and elegant little cap sleeves – add that extra bit of interest too.
Bigger busted ladies will be happy to hear it's a style that also accommodates a decent size bust too – I'm usually a size 12-14 and 14DD and there was enough length in the wrap for me too, with the front of the dress sitting neatly.
In terms of the logistics, there's a discreet tie on the inside and contrast print trim tie on the outside making it easy to pop on or off.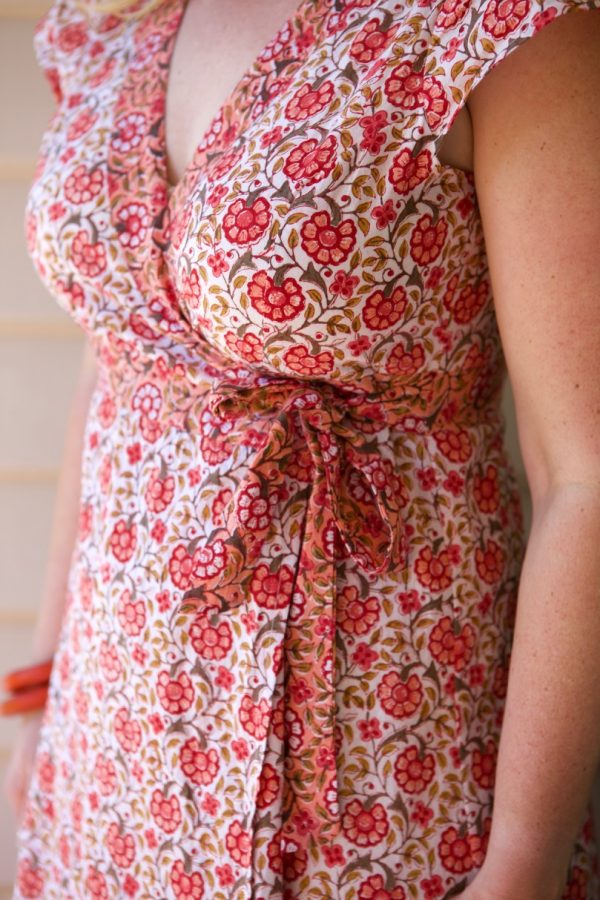 It's dead easy to style too – I've teamed mine with my favourite espadrille wedge but you could easily add a sandal or coloured wedge for a different look too.
Again, this dress is made from 100% cotton and is hand block printed. It's also available in two other prints – Indigo Birds and Floral Fiesta.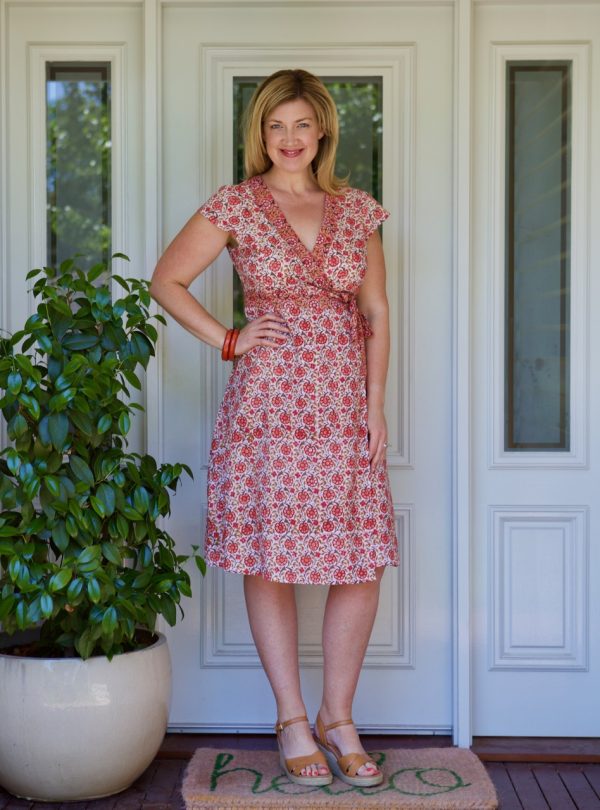 The next dress is a longer style and has lovely details too – the Thai dress in aqua paisley, $89. Again, I'm wearing size L.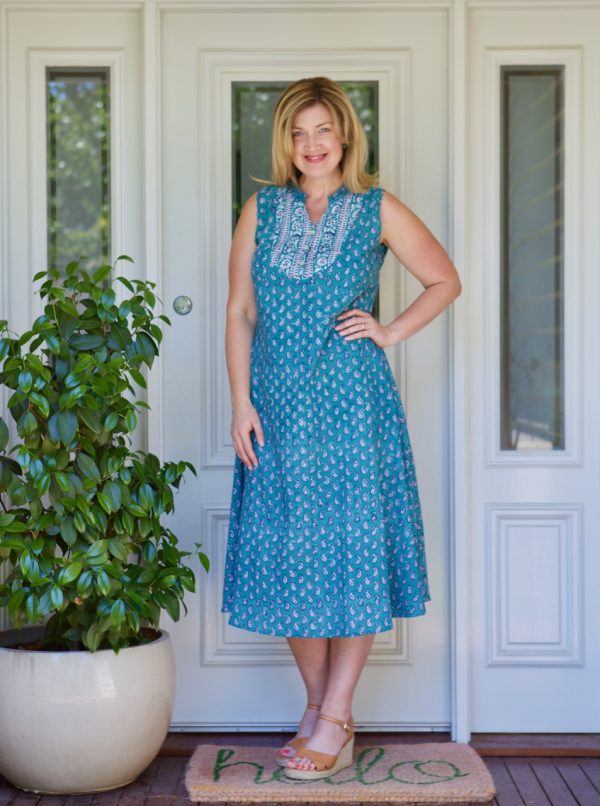 Made from 100% cotton, this style is semi fitted with a flattering fit and flare design which gracefully flows over the body and finishes mid calf. I do love to have a couple of longer cotton dresses for those days when I'm overdue for an exfoliation, wax or I just want that extra leg coverage.
The modest mandarin neckline and contrast print offers a pretty point of interest too. While I'm a big fan of the aqua and navy print, you might be interested to know that this dress also comes in an indigo pearl print as well.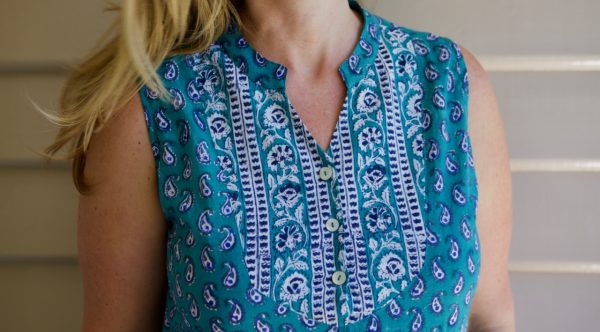 This final outfit was a surprise to me. I don't often wear a shorter, unfitted top with a skirt but this combination felt and looked so good together, I was completely sold.
Below I'm wearing the Lokah top in Indigo, $65 (in size Large) and the CoCo skirt in mustard, $89 (I'm in S/M which fits sizes 8-14). How good is navy and mustard together?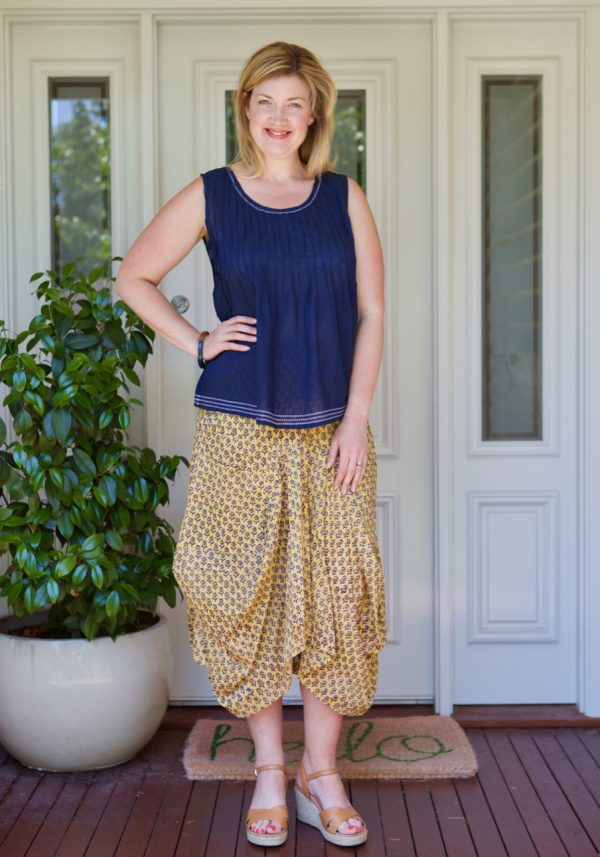 This sleeveless blouse is such an easy breezy high summer option with it's relaxed fit and soft lightweight cotton. It's the perfect top to wear with a skirt or your favourite pair of shorts.
It also features detailed contrast cotton stitching which outlines the delicate pleating, neckline trim & hem finish. I really like the indigo with white stitching but it's also available in white with indigo stitching and turmeric with indigo stitching.
Now finally to the fabulous and super popular Coco skirt.  The shirring on the top of this skirt means it's not only comfortable but you can also wear it at your preferred point – high on the waist for me but you might prefer lower on the hips. It's also a great option for pregnant or new Mums too as the skirt will accommodate pregnant bellies and changes in shape without fuss.
The skirt has an uneven hemline which creates interest and – fabulously – pockets. Available in 12 other beautiful prints, this skirt is a Soul Song favourite and I can definitely see why.
Have you checked out the lastest range at Soul Song? Which of the above is your fave?