I love Spring fashion and boy oh boy, do I love Spring Racing fashion.
The frocks.
The fascinators.
The colour and the fun.
I LOVE it all.
I've never been to the races though, so it's very lucky that I have a suburban equivalent – our school's Ladies Race Day, where we frock up for the day in a suburban backyard to raise money for the school while we have a fun time together.
This is what I wore to this year's event, which Mr SnS and I hosted.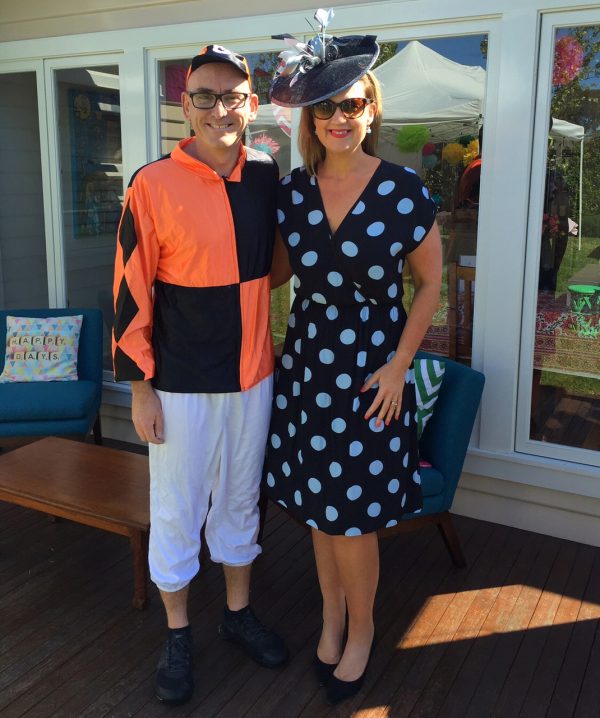 Loving Mr SnS's race themed threads
When I spotted this Polka Face frock at Gorman recently, I really tried hard not to love it – I already had my eye on so many prints and I wore spots to last year's Race Day too.
But then I tried it on, there was a storewide sale and the rest, as they say, is history.
And it certainly appeared, from our event anyhoo, that spots are spot on again for the races this Spring!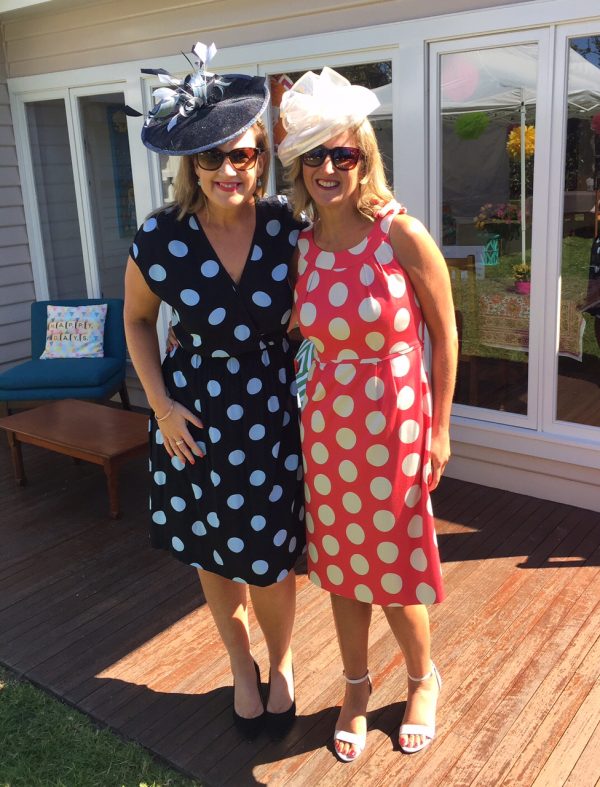 Me and the fabulous Martine/The Modern Parent
I love the drapey, flattering cut of this dress and it's little hook which prevents the deep V opening too low. I reckon it's a versatile dress too – it's dressy enough for the races but it could also be worn to work, a party or dressed down, depending on your footwear.
The rayon fabric felt lovely to wear too and better still, it's machine washable. Always loving that.
I also loved the pale blue spot, a change for me from my usual black and white.
Size wise, it's relaxed fit. I'm wearing size 12.
I was also thrilled to have talented local milliner, Annalese Fowler of Annalese Fowler millinery, offer to make me a bespoke headpiece to match my dress. Didn't she do a fabulous job? I absolutely love it and her crafts-women-ship and attention to detail are stunning.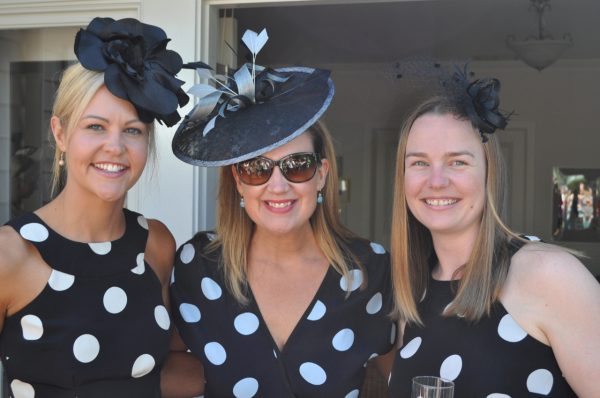 Me with fellow spot loving lovely friends Suse (of Style Bundle), left and Bec, to the right. Thanks to Bec's husbo Jeremy for taking this photo.
In the accessories department, I kept things simple with some rose gold jewelled drop earrings from Mariana which I picked up on my recent trip to Noosaville (similar styles available here); a rose gold bangle and ring from Mimco and mid heels from Country Road, all picked up on sale earlier this year.
Are you off to the races or a races themed do? What are you wearing?! Are you loving spots too?