Last Saturday night, Mr SnS and I went all glam for a "Vintage Glamour" themed dinner dance for our boys' school.
It was quite the do, with 260 people hitting our local town hall for a night of celebration, fun and, of course, dancing!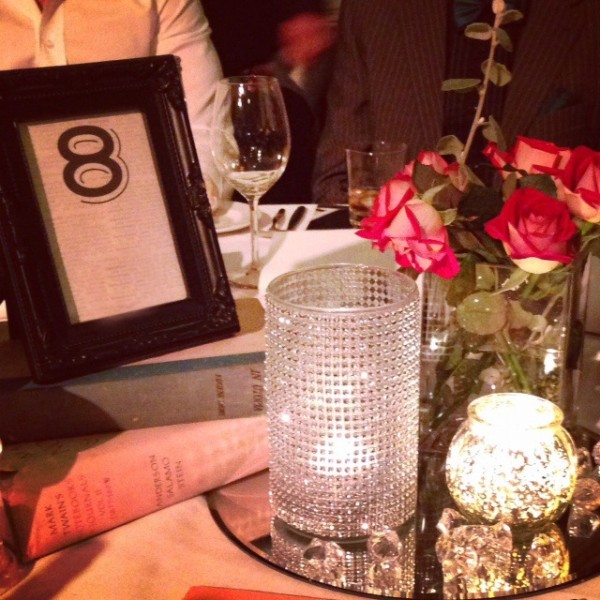 As far as dress up themes go, vintage glamour was a bit of fun and not difficult to work with.
When I think vintage glamour, I think movie star siren: a vintage coat, pretty heels, a classic frock and plenty of sparkle. Mr SnS didn't have a particular vision in mind and tried in vain to find an old bowler or top hat. He ended up borrowing a friend's cravat which I thought looked rather debonair.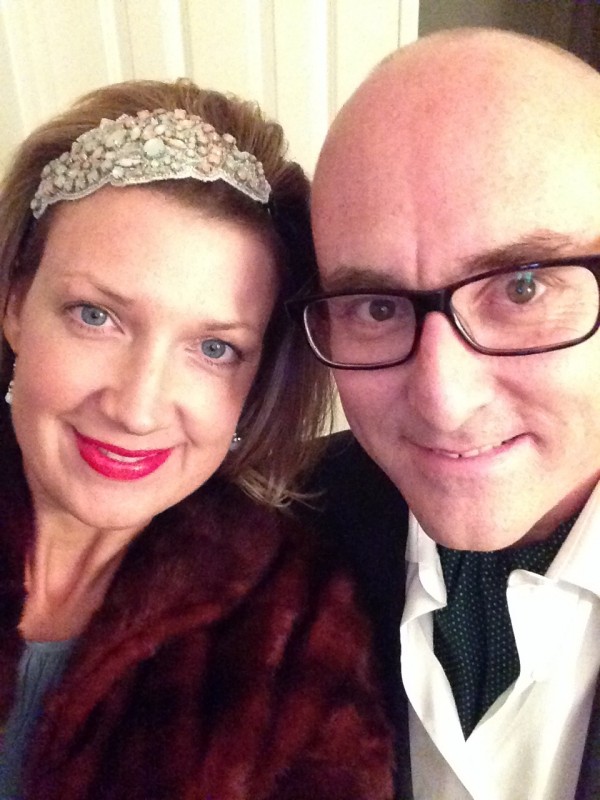 After a bit of to-ing and fro-ing, my outfit was finally comprised of sale items, a couple of fabulous op shop finds and a sentimental favourite. And of course, the mandatory red lip.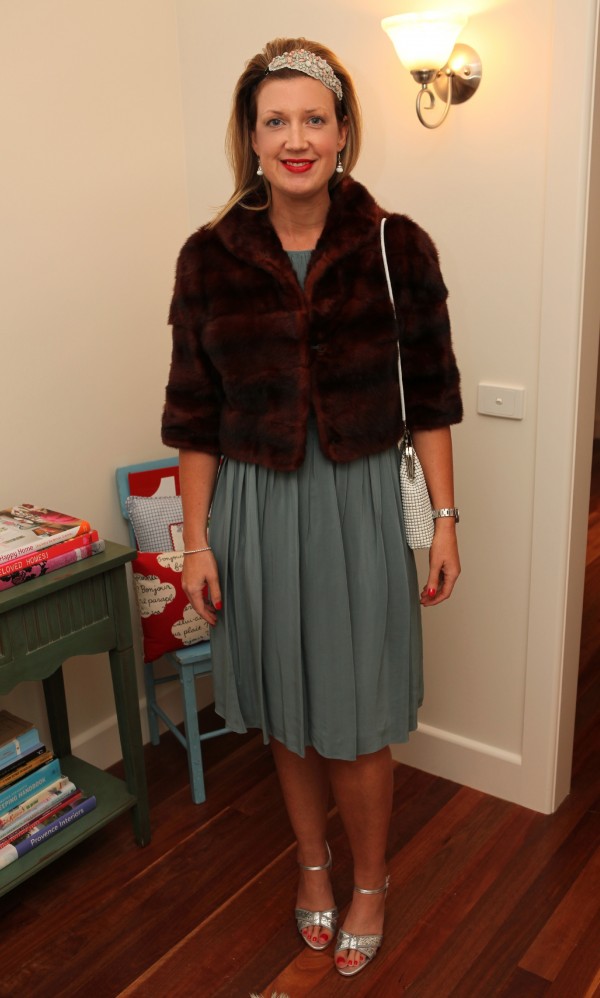 The Frock
I'm wearing the Selina dress, from Boden, a UK online/mail order store. I picked it up in their Spring sale twelve months ago, just waiting for the right occasion to wear it. A successful style stalk if ever there was one. Have you ever done that before?
It was the colour more than the style that I fell in love with. I'm not sure the photo does it justice, but it is the most beautiful duck egg blue/green. It's a bit unusual and, I like to think, sophisticated. I've not seen anything like it on these shores.
The style is what I'd call "modern bridesmaid" – classic and understated.  I can see it with a string of pearls and a bouquet.
While it's probably not the most flattering neckline for me, I thought the overall shape of the dress, with it's waisted detail would work. It would probably look better on someone with a smaller bust more than me though.
Even though it's from Boden's last Spring's range, it was such a popular style and sold out so quickly, they've brought it back this (northern hemisphere) Spring in ten colourways (4 prints and 6 block colours). You can shop it here. It's also currently 30% off but further discounts are likely in the end of season sale in the new few weeks.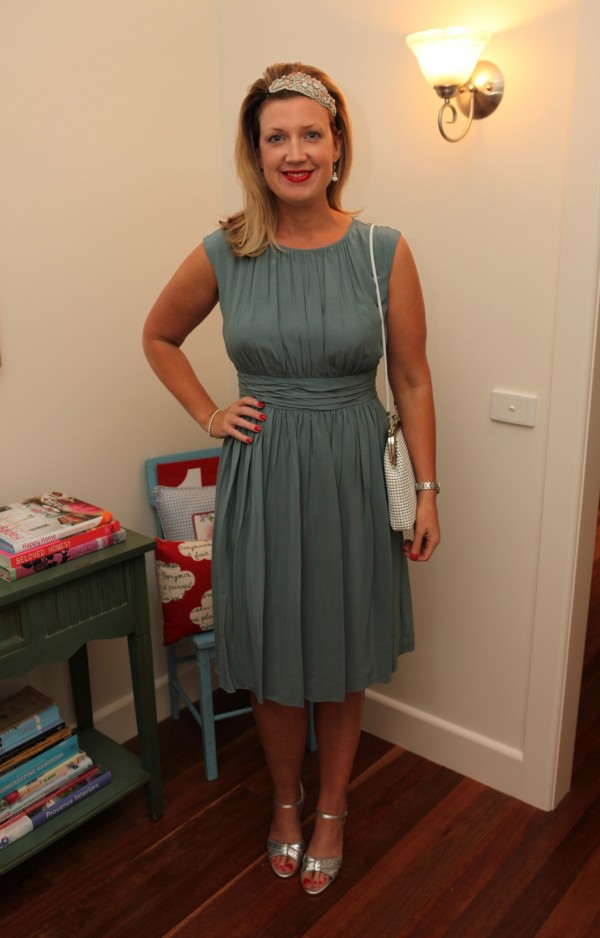 Accessories Central
I also picked up my silver party shoes from Boden on a recent promotion. You can shop them here. Unfortunately they were not conducive to all night dancing – I had burning soles after 2 hours on the dance floor. This was very disappointing as I had to sit on the edges toe tapping like those ladies in the bleachers in Grease for the last dancing hour. I was also relying on a solid night on the dance floor as my cardio for the weekend. I'll be popping on a pair of gel pads before I head out dancing in them again.
I am a huge fan of Boden but depending on the exchange rate, it can be expensive. A few years ago, when the Australian dollar was very strong against the Pound Stirling, shopping at Boden was considerably less expensive than shopping at Witchery or Country Road, even with international delivery. I still shop there but I've learned to shop smart. I never, ever buy anything full price and given their range is two seasons/6 months ahead, I'm happy to stalk my favourites and pick them up in one of their regular promotions. The delivery fee is 12 pounds per order (approximately $25)  so I usually buy a few things in an order to spread the cost across the items. That's my justification anyway!
To add some authentic vintage to my outfit, I popped in to a local op shop (on the search for a hat for Mr SnS actually), and was lucky enough to hit the jackpot – this amazing coat from Seymours of Melbourne was $50 and the bag was $10. I love that they are one of kind, true vintage finds which will come in handy for many a future dressy do.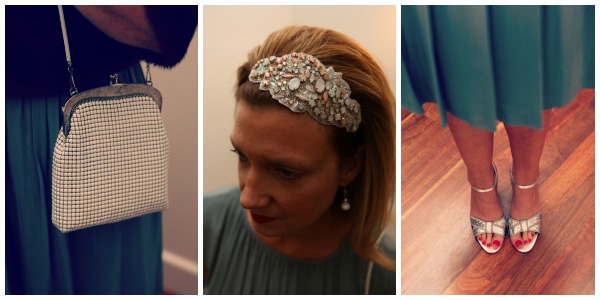 Jewellery wise, I picked up the Isla headband from Mimco on a 20% off promotion a couple of months ago. It is still available and you can find it here. This was the showpiece so the rest of my jewellery needed to compliment not compete with it. I opted for a pair of short drop earrings – a Witchery bargain find from last year. For a similar style, try these.
The finishing touch was a very fine bracelet from Tiffany & Co., a gift from Mr SnS last Christmas. I think he must have read this post.
Have you been to a themed party lately or do you have one coming up? Have you struck gold at an op shop before?