Welcome to Friday's Frock, a new and hopefully regular series over the warmer months where we can share our frock intel and stock up on some fab frocks for summer.
We made our debut last week on Facebook and there was much excitement and sharing of intel, so I thought I'd add a little more to Friday's Frock this week by including a post here on the blog.
If you've been reading this blog for a while you'll know I am mad about frocks and find any excuse to write about/wear them. (If you missed my post earlier in the week on linen dresses, you can catch up here).
Today's Friday's frock is a lovely casual smock dress – the Flower Print Smock Dress to be precise – from Target.
It is $40 and available in sizes 6 – 18 online.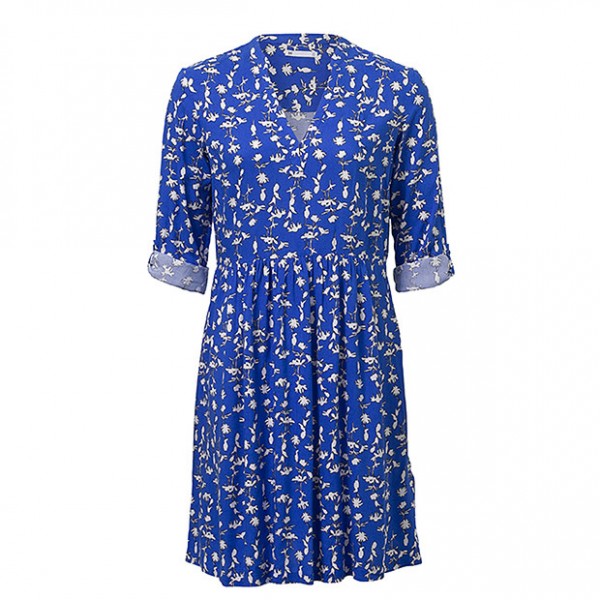 I bought this a few weeks ago and I've found it to be a very comfortable, flattering and easy dress to wear. The material is soft and feels nice; the cut gives shape but is also forgiving and perfect for those days when you don't want to wear anything fitted or figure hugging. You know the days I mean.
I'm wearing a size 12. I love the colour and print of this dress – it is bright but still casual and works back with black shoes and accessories.
The tab detail on the sleeve is a nice touch so you can wear it rolled up to the elbow or as a full sleeve. I'm also a fan of the V neck neckline which is flattering without being cleavage central.
I've been wearing mine with tights and ankle boots or in milder weather, leggings and Zara ballet flats.
So far, I've worn it to a child's birthday party, out to the local pizzeria for a Father's Day catch up, to swimming lessons and everything in between. It's also pretty low maintenance – I washed it and just hung it up, dried it and wore it again and it looked fine. No need to iron.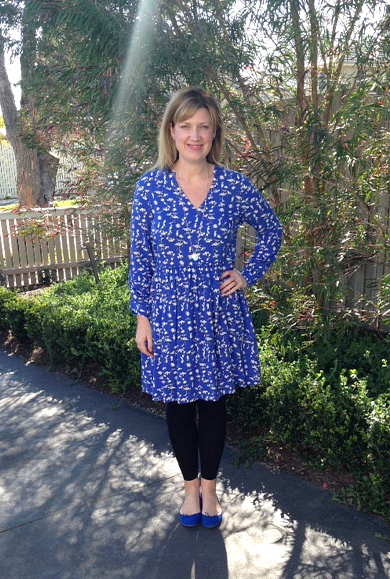 If you find a great frock in your travels, feel free to link to it in the comments below or over on the Style and Shenanigans' Facebook page. If you hang out more over at Instagram, feel free to tag your fabulous frock with the hashtag #snsfridaysfrock and we'll find you.
Have you found a great frock this week? What are you looking for in a frock right now?