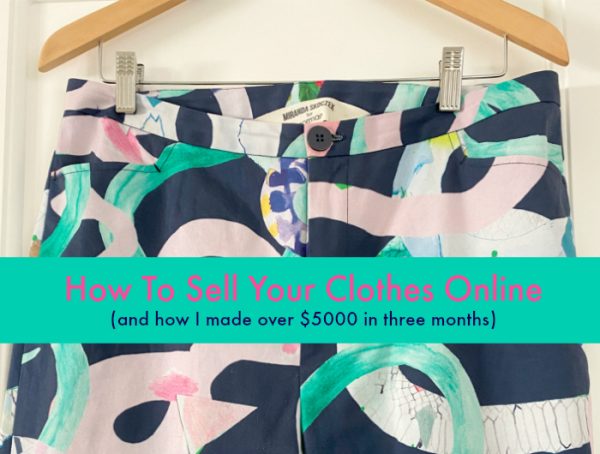 When life serves you lemons, you're supposed to make lemonade, right?
Well life in lockdown has been a non stop lemon-fest, but lately I've been trying to find a new, positive and productive #iso project that doesn't involve carbohydrates. Or beverages.
One of my (many) frustrations about this year has been missing the opportunity to hold a stall at my fave second hand clothes market to both declutter and streamline my wardrobe, re-home some old favourites and earn a bit of cash on the side. (I did this twice a couple of years ago with great success which you can read about in this post.)
In the last little while, however, I've found a great #iso alternative – selling my stuff online.
And it's been a great little biz for me in lockdown.
When I sat down to do the sums for this post, I was stunned to discover that I've made over $5,000 since the start of June.
That's around 500 bucks a week over the last ten weeks.
Overall it's actually a few hundred more than that, but I've deducted postage and PayPal fees.
Not bad for a little lockdown side hustle slash DIY Job Keeper.
So what are my tips and tricks for selling your unwanted or preloved clothing online? I've included all my intel in this post, along with all the lessons I've learned so far.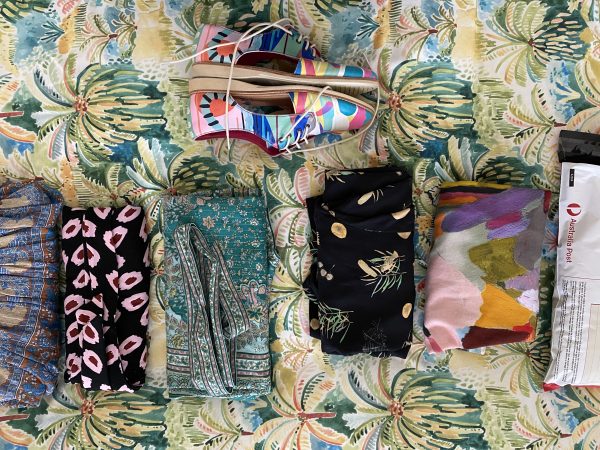 Getting ready to post the weekend's sales
1. Edit your wardrobe and ask yourself the following:
What do you want to sell?
What have you got that doesn't fit now and probably won't any time soon? It might be time to farewell those aspirational pieces that are taking up room in your wardrobe.
Do you have pieces that are brand new with or without tags? Is there a reason you haven't worn them? Did you buy them off season or not worn them when you could have? It might be time to relinquish them.
Do you have clothing that no longer fits or suits that is in excellent condition?
Are there items you've loved but you're just ready to move on?
Think more broadly than just clothes. Branded and vintage accessories, shoes and even homewares may have great resale value.
2. What WILL sell?
In my experience, branded or unique clothing sells the best. While I sell branded clothing in excellent used condition (or very occasionally, new with or without tags), I've seen vintage pieces, such as 70s style saddle handbags, sell as well.
3. When preparing to sell
It's critical for a quick and successful sale that your clothes are clean, washed (if pre-worn) and ironed. Clothes that look ready to wear and in excellent condition are much more likely to sell. Both you and prospective purchasers can also see the clothing clearly, and identify any faults (tears, pulls, stains etc) as well.
4. Join some buy and sell groups on Facebook
In my experience, brand specific buy and sell groups are ideal as you're selling to people who already know and love the brand, are familiar with the sizing and styles, and understand the quality and price point. They may also be there to find their coveted 'unicorn'. To join the group, do a search in the groups section on Facebook.
I'm in several Gorman, Spell and Mister Zimi buy and sell groups, as well as size specific sub groups (for example, sizes Gorman Buy Sell Swap 12+ or Mister Zimi size 14-16 Buy and Sell). There are also Facebook groups for styles or groups of similar brands, such 'non-Gorman but Gormansesque clothing' or 'Nancybird, Obus and Elk'. I've seen plenty of sales and interest on these pages.
There are buy and sell groups for Country Road, Witchery, Seed and other high street retailers but I don't see as much buying and selling activity or interest on these pages unless it's a current, highly sought after item. I have sold a couple of Seed items on my local area buy and sell group though. This can be an effective alternative (if restrictions allow) too, as people may not want to pay postage on an inexpensive item, whereas they may be able to pick it up if it's a local buyer, saving time and expense for everyone.
Buying and selling quality branded shoes is big business too. I'm a member of several buy and sell groups including FRANKiE4 Footwear, Bared and Rollie Nation for which there seems to be endless demand and supply and plenty of sales happening every day. If you want to sell shoes though, make sure you're upfront about postage costs and method though (box or bag), to avoid any issues or unexpected costs.
5. Do your research 
Once in the group, do some research by scrolling and seeing what people are looking for, what is in demand or what is selling well. Think seasonally too – selling high summer items in Winter might be a gamble.
Responding to someone's else's Wanted to Buy (WTB posts) is a great option too. This saves you doing some of the work associated with selling as you have a buyer already. All that's left is to negotiate the price. The purchaser will generally want to see a couple of snaps of course but you're in a better bargaining position price wise when you know someone really wants something.
To give a couple of examples, in response to a WTB post, I recently sold a pair of Rollie Nation shoes for $160 which I bought for $199 three years ago and worn a few times. I also sold an Arnhem Clothing blouse I'd worn once for the RRP plus postage.
6. Taking photos
Taking good photos can make a huge difference to your sale prospects.
Take your photos in natural light if possible and lightly edit to improve light if necessary.
I also hang my clothing on wooden hangers to avoid unsightly and misshapen wire hangers and clothing.
I generally take a photo of the whole garment back and front and close ups of the size, inside tag (with fabric and washing info) and the front of the piece. This gives prospective buyers a good idea of the quality of the garment and this  full disclosure can also prevent any disputes about condition/quality down the track. Not everyone does this but I think buyers feel more confident if they can see the whole garment too.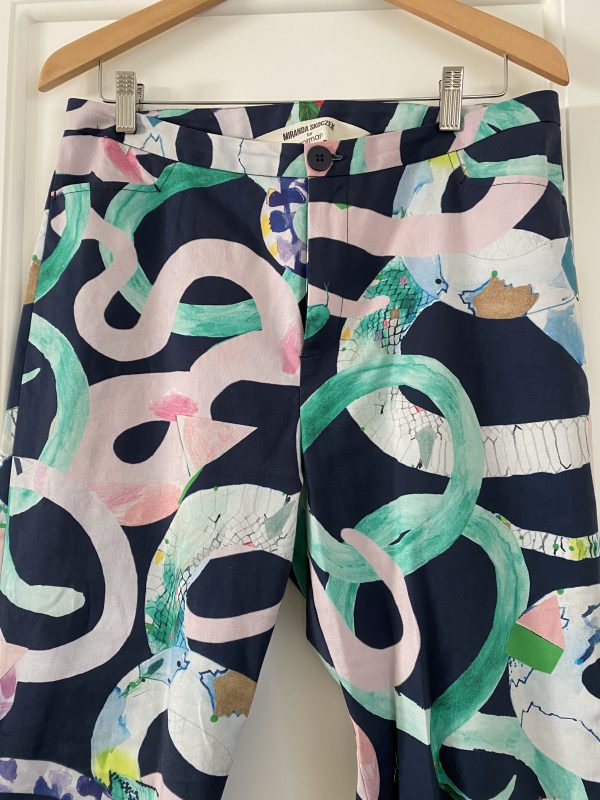 I bought these Gorman pants in 2015 and recently sold them for $120
7. Pricing
Pricing can be tricky and is an inexact science. To avoid feeling ripped off or stuck with something you want to offload, think carefully about what you're happy to sell something for.
Do you just want to clear space in your wardrobe and get some cash? Then you might pitch on the low side just to get rid of it.
Is it a reluctant sale? Pitch a little higher.
Do you need to recoup what you've paid and are only prepared to sell for close to what you paid? Set your price but realise it might take longer to sell.
It is also worth checking the market as well by searching similar buy and sell pages and eBay to see what comparable items sell for. If it's current and sold out online, it is acceptable (and common) to ask for what you paid or the RRP – recommended retail price – plus postage. (This is the ultimate win/win as you don't have to pay for return postage and someone gets what they missed out on). This often happens just after a launch when there is a frenzy on some buy and sell pages. Most buy and sell pages won't let you charge for greater than RRP though as they prohibit profiteering. There are people who buy bargains on these pages and then go and sell for higher prices on eBay. They are usually subsequently barred from the group.
8. Write the description/copy and upload your ad
You don't have to say a lot but you should always include the following:
Brand – only necessary if selling in a non branded or multi label buy and sell group. If you can specify the style and print of the item, this is awesome and helps sell as people may search for a specific item.
Size – I'm amazed how often people omit this critical information. If it's a small/neat or generous fit, I might also include this information, along with bust or waist measurements for a fitted style.
Price – again, some people omit this accidentally. State whether the price includes postage/fees or whether they are additional.
Quality – brand new with tags (BNWT), brand new without tags (BNWO), excellent used condition (EUC) or very good used condition (VGUC). If preloved and well worn, you should disclose this too. Any stains, pulls and general wear and tear etc should also be disclosed and photographed. Full disclosure is important. These items still sell but the price will generally reflect the condition.
Payment method – Many pages have rules about payment and will only allow PayPal as a payment method, so make sure you comply with them or your post will be deleted. Some also allow for PayPal fees to be added to the purchase price while other pages ask sellers to include this in the asking price. (PayPal fees are calculated on a percentage of the sale. For a $100 item, the PP fee is $2.90).
Postage fees – include an estimate of the postage costs.
LOOP – Are you listing your ad on more than one page? Make sure you include LOOP (listed on other page) on your ad so buyers know this (and don't complain if someone on another page buys before they do).
Review – re-read your ad and check your photos before publishing.
Some people say why they are selling, but I don't necessarily. Sometimes, depending on the item, I may include any selling points e.g. the date if relevant or any features e.g. organic cotton etc.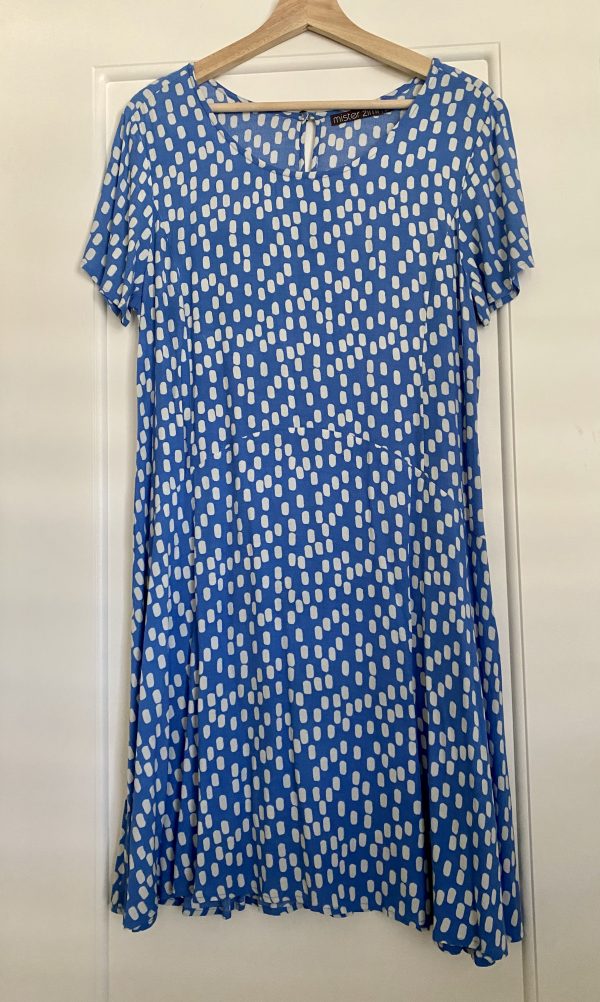 Here are a couple of examples.
This is the ad I wrote for the Mister Zimi dress pictured above which I bought for $150 brand new in 2017:
"Cyprus Sadie Dress, size 14, $90
Flattering dress in a great summer print.
In excellent used condition.
Size 14 but a neater fit, so would also suit a 12.
Please add postage and PP fees. LOOP."
I wrote this ad for a group item post in a Gorman Buy and Sell Group. When it comes to Gorman, generally speaking, some prints and collab items are highly sought after, which is reflected in the pricing:
"Vintage Gorman circa 2015 in sizes 12/14 all in excellent condition
Various items in excellent used condition with no discernible marks, stains or wear:
1. Leisure Ladies Pink Dress, size 12: $70 
2. Snake Charmer Pants (part of Miranda Skoczek collab), size 14: $120
3. Striped Pants, size 12: $30
4. Blue silk dress, size 14 (brand new, without tags): $50
5. Black & yellow dress, size 12: $70 
6. Cerulean blue silk top, size 12: $40
Please add $12-$15 (depending on size) for postage and PayPal fees. LOOP.
(I've included a couple of pics of me wearing the dresses to give an idea of how they look on too)."
When posting the photos, if it's a new or current item, it may be worth searching online for stock photos. This can show  the item in its best light (on a person) not on a hanger in someone's bedroom. A couple of times I've included photos of me wearing the item too. Occasionally I've also uploaded screenshots of measurements to pre-empt any "sold subject to measurements" offers.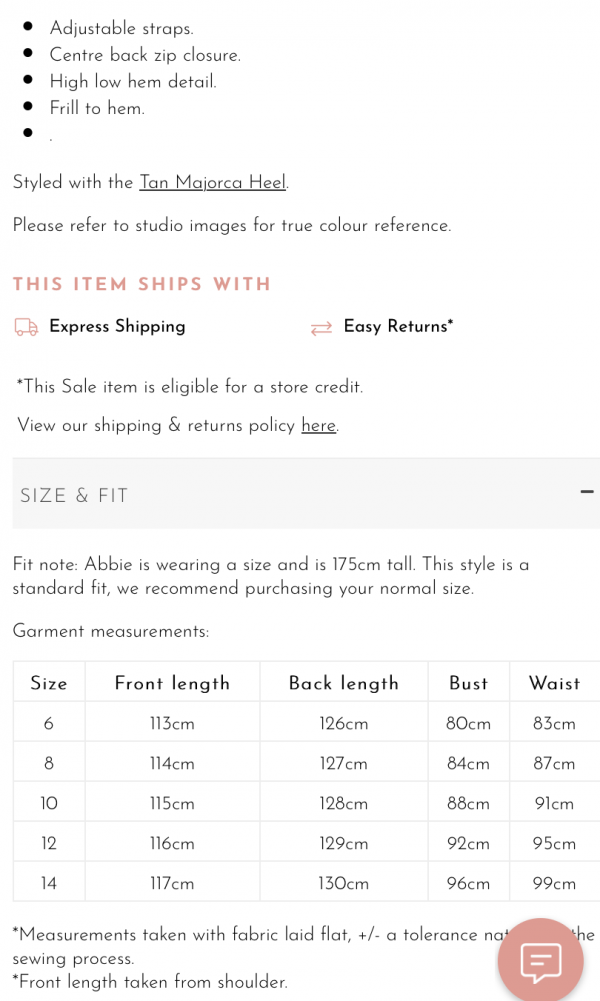 A screenshot of sizing info for a Mister Zimi dress I was selling
Just a note on LOOP. Listing on other pages is common to increase your potential pool of buyers but it can be tricky to manage, as you have to work out the order of the online queue. Most group rules state first in with SOLD, then NIL (next in line) and so on. If someone responds SOLD pending measurements, my advice would be to include the measurements in your reply on the post, for the benefit of other potential customers. Once the sale is confirmed, then arrange to DM each other to confirm postage/addresses etc. I usually send the DM instead of waiting.
9. Post sale 
Confirm payment has gone through by checking your PayPal account and ask the buyer for their postal address. I try to send items the next day or even the same day if the sale is in the morning.
Before sending, especially when I sell several items over a weekend, I cross check items with addresses as I'm afraid I'll send the wrong item to the wrong person. Also double check and confirm postal addresses. I had an incident recently when I sent an item to a person's address as recorded in PayPal which was different to the one they had sent me in messenger. They don't live at that address any longer so I refunded the payment and am hoping the parcel is returned to sender.
Lodge parcels at the post office to get a lodgement receipt. I then photograph and send this to the purchaser so they can track their order. You can post at a local post box but you won't get the lodgement receipt.
If you're selling a few things and there's a bit to keep track of, try and keep a record of who bought what, the tracking details and when it was sent as well as all the lodgement receipts, just in case there's an issue with delivery. I have most of this info on my phone (photos and in Messenger and Facebook) but it's also easier to have a piece of paper with everything in one spot.
10. Lessons Learned
Selling my clothes online has really opened my eyes up to what holds it value and what doesn't. Well known designer and boutique brands like Gorman, Mister Zimi, Arnhem Clothing and Spell generally hold their value, particularly when people are chasing their "unicorns". This makes me more inclined to buy these labels in future too, knowing I can potentially recoup a significant portion of what I paid, sometimes years after, subject to demand of course. Generally speaking, chainstores items don't maintain their value.
Moving things on is a great feeling and a win/win. The buyer has found well priced second hand clothing, the environment is better off and you get to declutter and earn some cash.
Spending time on buy and sell sites can actually lead to spending as well as selling – I've bought a couple of great pieces, both new with tags, for well under the RRP but I'm also trying not to spend my earnings.
Buy prepaid satchels in bulk to save a couple of dollars and minimise trips to the post office. I fold things neatly and can fit nearly anything in a small satchel except for chunky knits, multiple items and shoes.
Individual sale posts are easier to manage but I've begun listing several like items (e.g. Gorman organic cotton items or Vintage Gorman circa 2015 included above). If doing this, try and include at least one sought after item so that the post (and all the items) pop up in more people's feeds more often. This is harder to keep track of, especially if you list on other pages, but can make it easier to get rid of more in one go.
Have you had any luck buying or selling online? Do you have any tips and traps? Please tell us everything!