It's a tough gig being a Victorian right now.
SIGH.
With the re-instatement of remote learning, soaring stats and concerning community transmission, and most recently, the introduction of strict stage 3 and 4 restrictions, it's been an anxious and uncertain time around these parts.
The financial and economic impact has been massive.
The toll on mental health has been huge and will likely play out for some time.
I never in a million years would have thought that my mood and outlook for the day/week would be so dependent on a Dan presser, but lately, like a lot of Victorians, it has been. While some news days have been "better" than others – it's all relative and nothing can diminish the devastation of the mortality rate, whatever the number – there have been days and days when we've all felt flat.
There's been a palpable sense of a collective heaviness and weariness.
The dread of another press conference and yet more bad news.
The anticipation that comes with an afternoon press conference – it can't be good.
An arvo press conference AND Dan in a suit? We're in BIG trouble.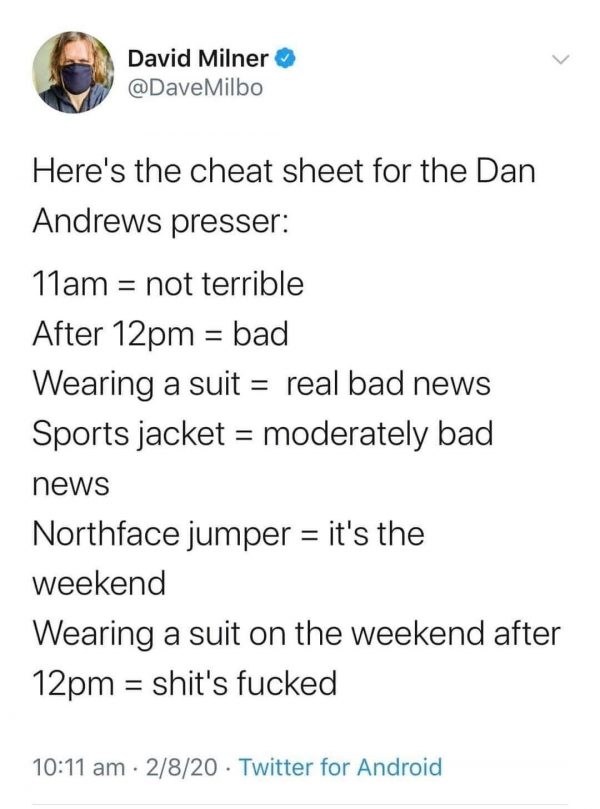 On the up side, we're already four weeks into Lockdown 2.0, so there's an element of familiarity and routine.
And while the new stage 4 restrictions feel stricter and it's weird having a curfew, from a practical perspective, we are very lucky that nothing has really changed here at Shenanigans HQ. We're just staying home, as we were before. We are very aware though that the new stage 4 restrictions have had a significant impact on many though, including friends, as their small businesses have had to close, which has been an extra challenge and caused more stress on top of everything else.
The biggest hurdle right now for many of us – and let's face it, there are a few to choose from – is the mental game. There's just no end in sight. The finish line has already shifted from 20 August (when Lockdown 2.0 was announced in early July), to a new date of 13 September. But we all know restrictions won't end that day, or the day after.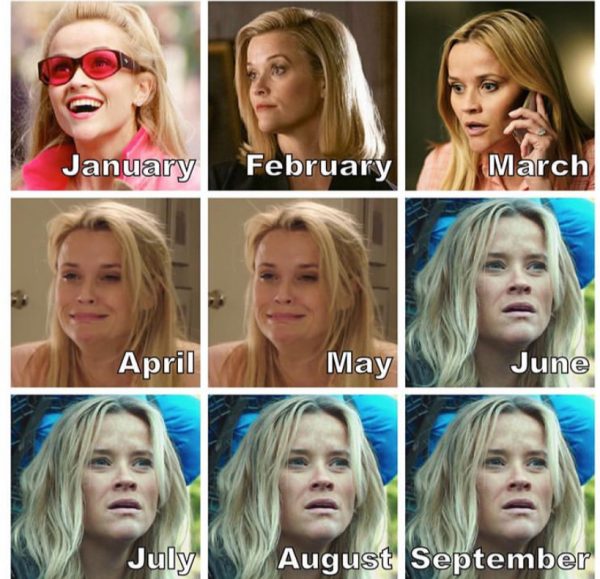 It is likely to be weeks, if not months, before we will realistically live anything approaching even our in between Lockdown lives, let alone anything remotely resembling pre CoVid19 normality.
AND this has already been going on since March, nearly six months ago.
So what's a girl to do between juggling supervising remote learning and working and trying to maintain some sort of mental equilibrium?
In the moments not spent binge watching Netflix, menu planning (for fun!), walking around the neighbourhood for one hour or taking that weekly pilgrimage to the supermarket?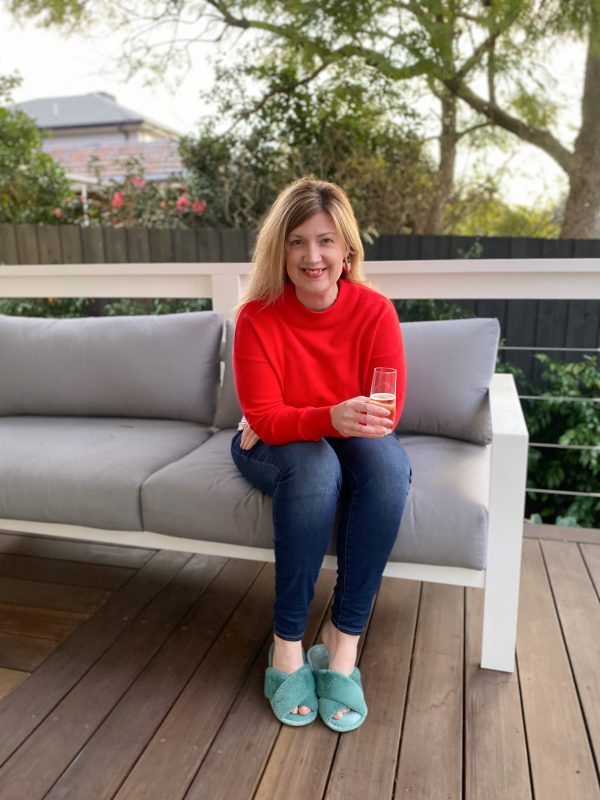 Aside from avoiding doom-scrolling and getting used to wearing a face mask, I've been really trying to take my mind off all things pandemic related.
And though our physical and social contact with our favourite people and our usual daily activities are severely limited, there really is still plenty of good stuff.
Here are some things that have made me feel good or brought the joy and the laughs I've been needing lately.
Things That Make Me Feel Good
Getting outside in nature every day – whether it's the vitamin D on sunny days or the crisp fresh air on grey ones, being in nature is good for my soul. Seeing budding flowers and smelling the distinct scent of gum after the rain are especially pleasing right now.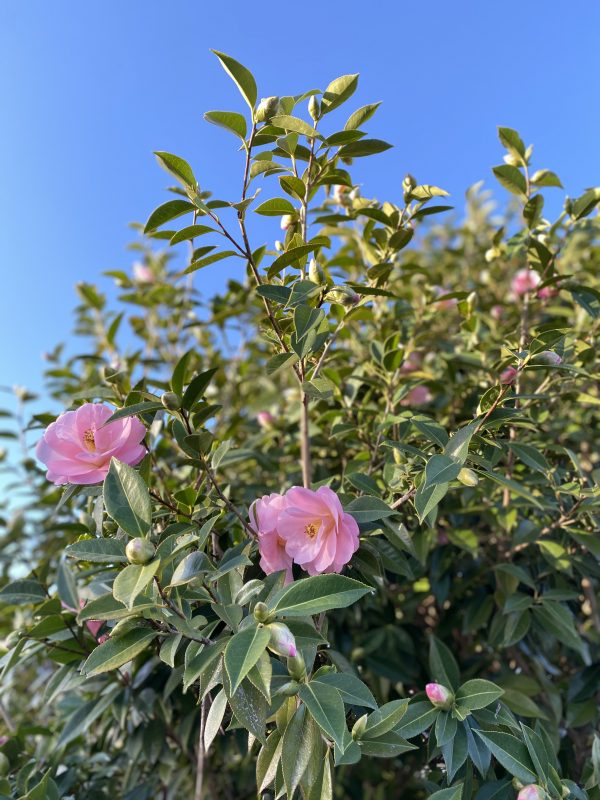 Exercising – I'm not walking for as long or as often as I did pre stage 4 as I haven't mastered wearing a face mask and exercising for longer than 30 minutes at a time, but I have been practicing yoga a few times a week and walking most days as well. This definitely helps my mindset and offsets the food we've been eating!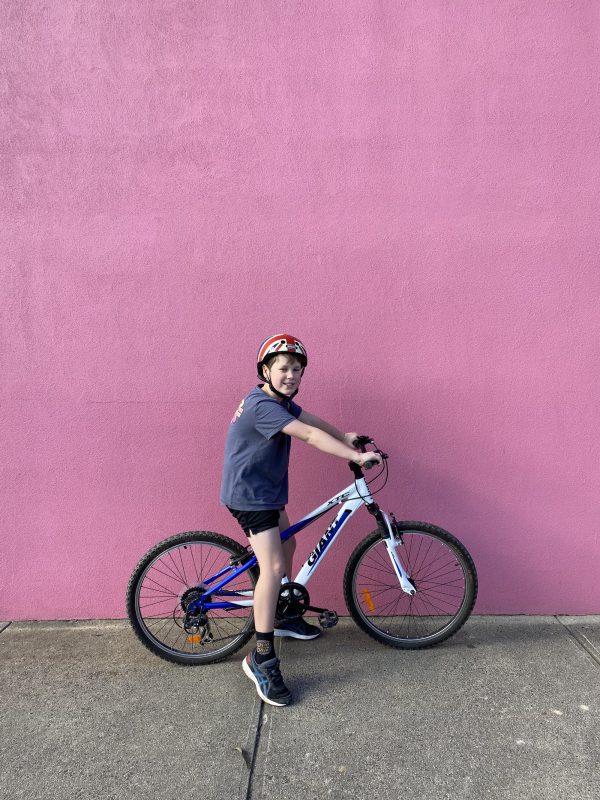 Eating well most of the time – planning meals, baking and cooking have become increasingly important and a focus of energy and creativity. If I'm feeling meh, knowing I've had a decent breakfast and eating well across the day definitely prevents me from feeling worse.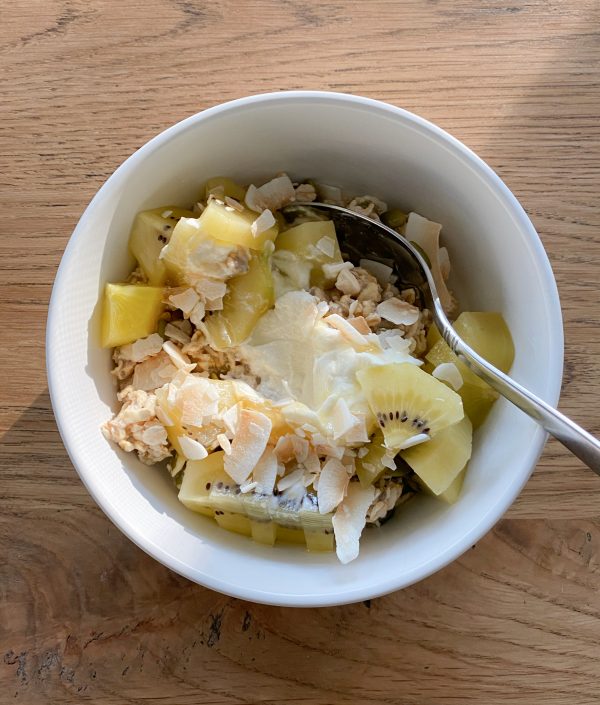 This kiwi, coconut and lime bircher by 28 with Sam Wood is a fave
Limit alcohol to weekends. It's easy to booze your way through #ISO but these days I'd rather eat my calories than drink them (see below).
Create a calming, welcoming space at home. For me this looks like fresh flowers (I love a $10 bunch of gum that lasts a couple of weeks), changing up bed sheets for colour and comfort and scented candles. Our gas fire has been awesome for creating a cosy warm space on weekend afternoons and on weeknights too.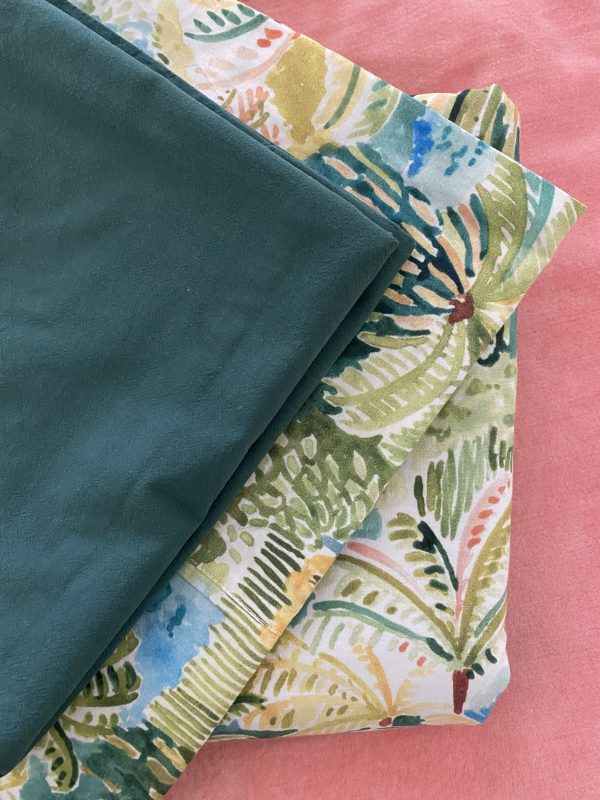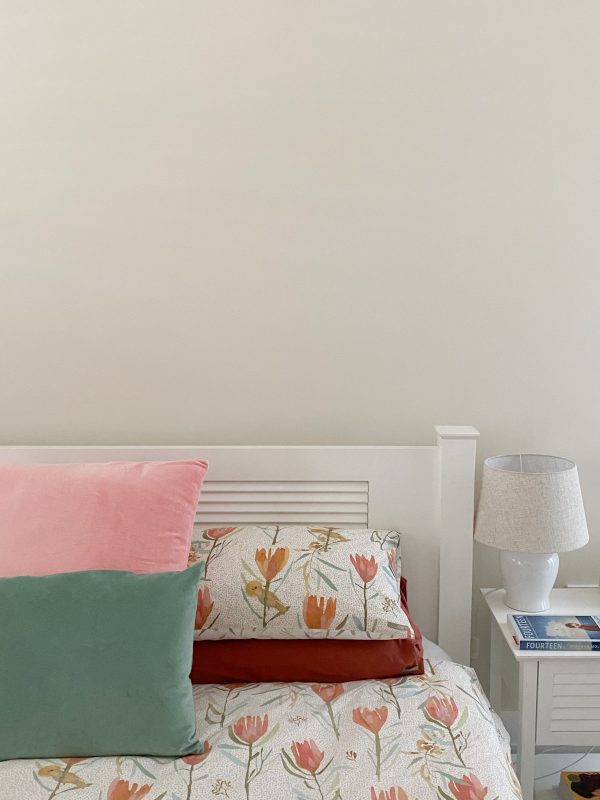 Check in on friends – I admit I have limited capacity for phone calls and ZOOM catch ups right now but I've been trying to send group and individual texts and stay in touch on social media. I've been lucky to have friends checking in on me too, with one bringing me home made loaves of sourdough every week and another popping this hand made note in the mail …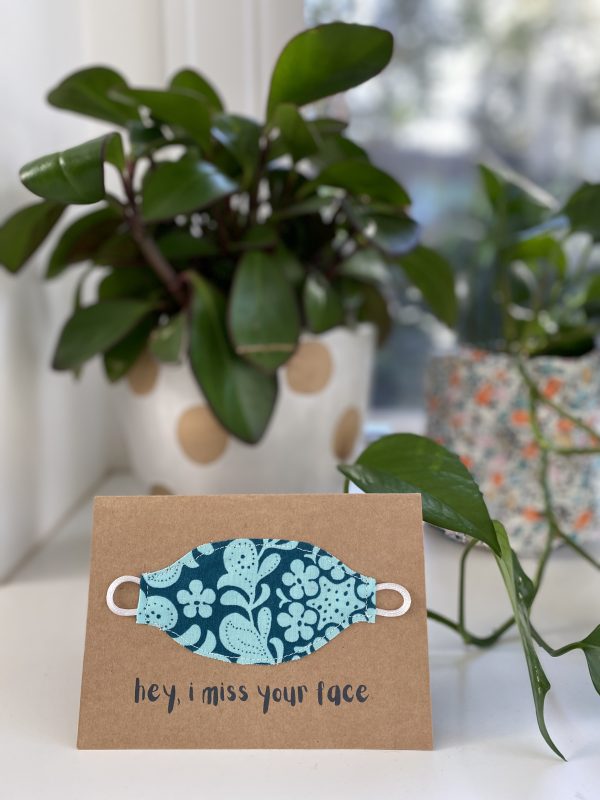 Keep some kind of routine – Even if it's just dinner at 6pm or yoga classes at the same time each week, these rhythms create some sort of familiar routine and help to keep those feelings of chaos and lethargy at bay.
Still plan for the future – as a planner and forward thinker, this is not easy to do during these "unprecedented times" but I've been trying to do it in more of a general sense e.g. researching local, regional and interstate holiday options.
Good Things
I am happy to report that despite all the doom and gloom, there are plenty of good things happening right now.
One of my favourite things right now is the late afternoon Winter sunshine. It is BEYOND glorious and we're lucky to enjoy it all arvo thanks to our north facing living area.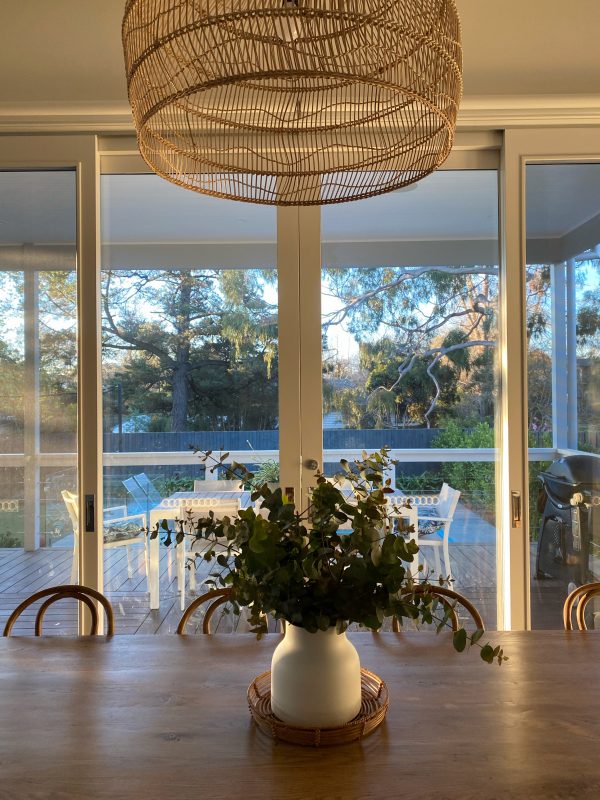 As I've been living in activewear slash loungewear, I'm very happy to report that I recently added the Cotton On full length core leggings to my growing stable of leggings. They are an absolutely awesome fit and feel and a bargain at $29.99. The sit high on the waist and don't fall down which is what I'm looking for in leggings.
My sour dough making girlfriend also put me on to the best invisible socks ever – these Ell and Voo ones from Rebel. I've tried a lot of different styles and these are the best I've tried to date and you can buy a three pack for under a tenner. You're welcome.
On a completely different note, I've used some of my endless time at home going through and selling some clothes and shoes that I'd normally sell at a second hand market.
Over the last couple of weekends I've sold close to $1500 worth of stuff, which I'm pretty happy with, all things considered. Here's a pic of what I was packing to ship off last weekend.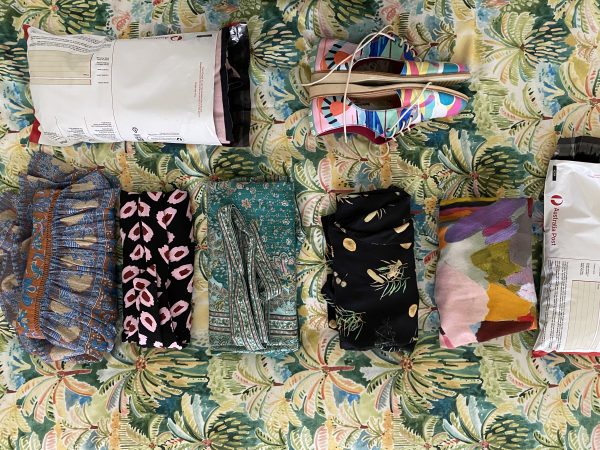 To do this, I've joined various buy and sell groups on Facebook. I have had the most success so far for branded clothing and shoes in excellent condition, especially Spell, Gorman, Arnhem Clothing and Rollie Nation shoes.
Mr SnS has sold a few household items too, with success on Facebook Marketplace and local buy and sell groups. Contactless payment and collections are easy to arrange too.
I'm not spending all my proceeds but if I were to consider a purchase, I'd be heading first to retailers such as Trenery and Witchery, who are currently offering free returns.  This is a great service for those of us stuck at home (or for general convenience really). All you need to do is print the returns label and affix to the original packaging and post in your local post box. For Trenery, this extends to sale purchases which essentially creates a home change room experience.
Other retailers (such as Forever New) provide a contactless courier pick up from your home of returns parcels for $7.99.
Kmart has extended and relaxed their returns policy, with a 60 day period beginning when stores re-open.
Favourite Food
We've been eating our way through #ISO, rediscovering some golden oldies as well as trying some newbies.
I wrote about these golden syrup dumplings back in this post, and we recently reprised them on a cold Winter's night. Even better, we made a double batch and I enjoyed them again the next day!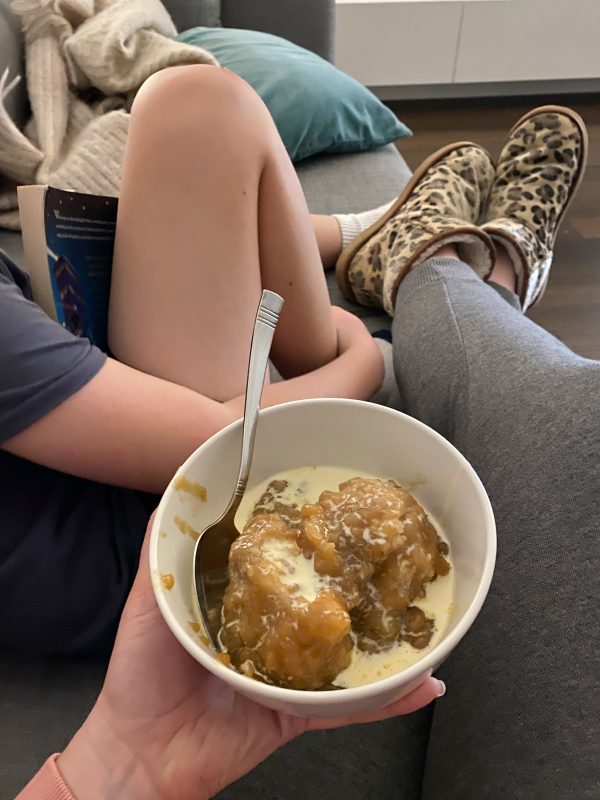 This week I tried a new recipe – Create Bake Make's caramel date slice pictured below – that looked delicious and also used up some months old Medjool dates and a few other pantry items. I used the thermie recipe and it was easy and quick, not to mention yum. The kids dug it too, although they couldn't work out where the caramel bit came from!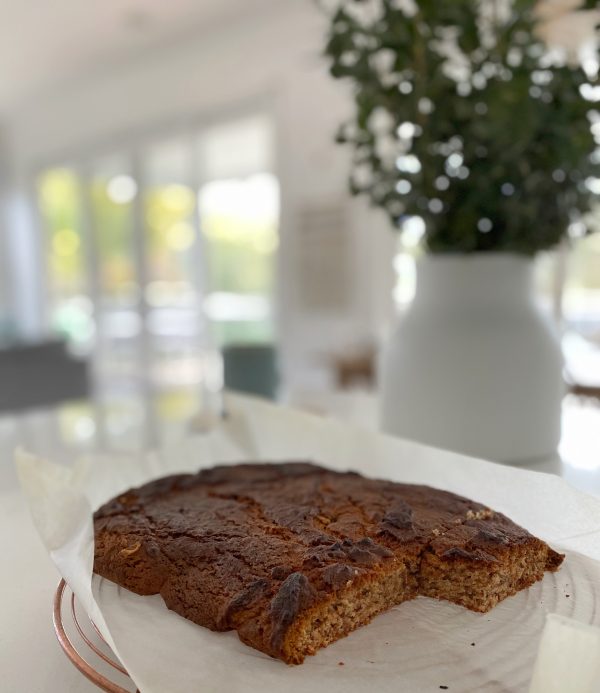 In the savoury department, when I'm craving a hearty, flavoursome and veggie packed soup, I've been making this hearty bacon, lentil and vegetable soup. It serves 6 so Mr SnS and I enjoy it over days for lunch as well (the kids won't eat it though).
We've also been in Mash Land and, as all the kids are fans, we've been mashing anything in endless combinations: pumpkin mash; potato mash, sweet potato mash; potato and sweet potato mash; pumpkin and sweet potato or potato mash; and our new fave, sweet potato and carrot mash. It's best served with snags (we cycle through chicken, pork and beef varieties) or BBQ-ed lamb chops and whatever greens you have. For us, this always has to involve peas.
I've also been obsessed with roasts and we've had one most weeks. My new fave budget option is a free range chook which I can buy for under $10. It only takes 90 minutes to cook, so they've been a weekday favourite too. I bung a chook and some cut up veg in the oven around 4pm and we're ready to eat sometime between 5.30 and 6pm. Add some steamed greens and gravy and you're sorted.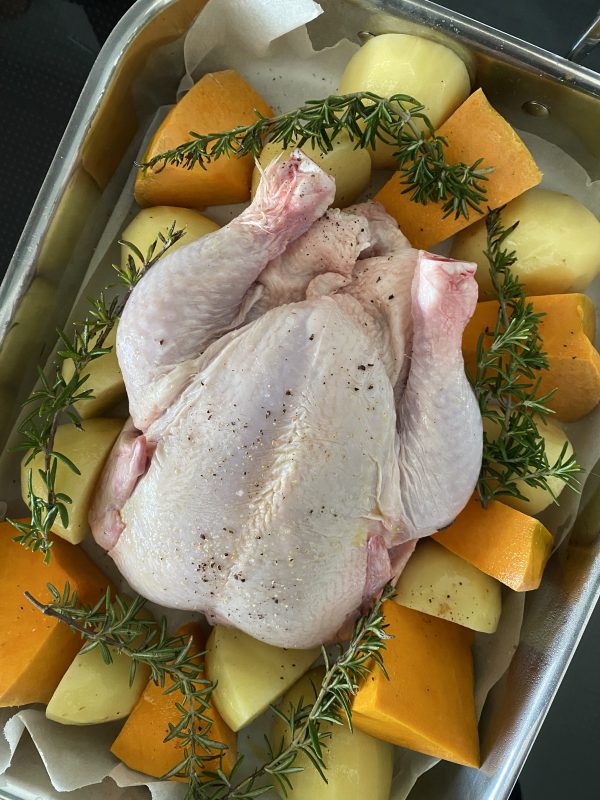 Fun Things
Last but not least, I hope you enjoy these things that have brought me some much needed joy and laughs lately:
For Melburnians in need of a laugh (i.e. ALL OF US), you MUST read this article and tell me what Melbourne experience you'll be recreating this weekend in the comments below.
For Schitts Creek fans, check out this brilliant Moira impersonator Michael J Berry who I discovered in the Schitts Creek Fan Club on Facebook who I am now completely obsessed with …
I also LOVED watching Lin Manuel Miranda's wedding toast and his cameo on James Corden's Carpool Karaoke was great too.
The Melbourne Writer's Festival launches this weekend and it's all online and most is free. I've signed up for 5 events and you can pay as much or as little as you can afford. There are some awesome sessions available, including Elizabeth Strout and Brit Bennett and local authors Jessie Tu and Kate Grenville.
So that's me – how are you going? Is Life in Lockdown bearable?  What's been great lately? If you're interstate, enjoy the good life while you can!