Along with white dresses, this Summer was all about shoulders.
Off the shoulder and cold shoulder tops and dresses were EVERYWHERE.
One of my blogging pals, Nikki/Styling You is the number one ticket holder of the off the shoulder fan club (read all about it here), while I'm loving it's shoulder exposing but lazier sister – the cold shoulder option.
For me, with only one semi decent strapless bra (which is OK for the odd evening but definitely not an all day option), the cold shoulder has been the practical alternative as I can wear my usual over the shoulder boulder holder for the job.
It's always a good thing when a trend has an entry level option, right?
So when I found this super easy wearing cold shoulder number from Witchery before Christmas (the Split Dress), I promptly invested in both black and navy striped options.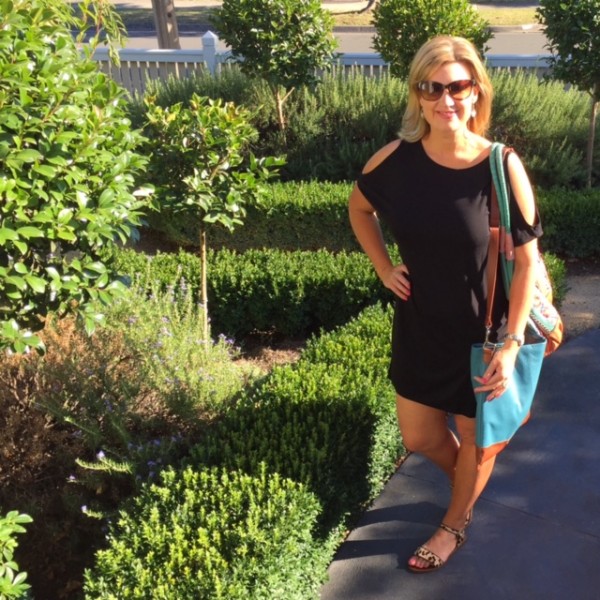 Above, I'm wearing Split Dress, $89.95 from Witchery (available in very limited sizes online so best to check in store or at David Jones); sandals from Style Tread (same style in different colours available here); Otta Large Bag from Elk Accessories and colourful bag from Toko Emporium; sunnies from Coach.
This is essentially a drapey dress that could very easily move into shapeless territory were it not for the flattering split sleeves which show off a bit of skin and break up all the fabric. This is also complemented by the high low hemline which again manages to flatter while covering up.
Don't worry if you think you've missed the All Things Shoulder Revealing Train though – there are plenty of Summer options still available, at a range of price points as shown below.  It's also a trend which is being carried over to Autumn.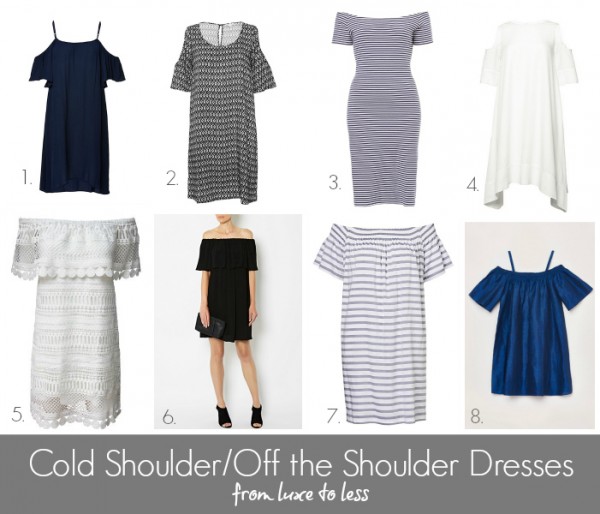 ABOVE: 1. Cold Shoulder Swing Dress, $39.95 from Target; 2. Cold Shoulder Dress, Geo Print, $39.95 from Target; 3. Off the Shoulder Stripe dress, $59.95 from Sportsgirl; 4. White Lace Overlay Off the Shoulder Dress, $75 from Shabby Sisters; 5. Cold Shoulder dress, $79 from Target; 6. Frill Front Dress, $99.95 from Witchery; 7. Off the Shoulder Stripe Dress, $119.95 from Witchery; 8. Aden dress, $249 from Gorman.
Both styles are immensely flattering although you'll need a well fitting strapless bra for off the casual shoulder styles.
Wearing your hair up can further accentuate your decolletage if you're game.
If you're still searching for the right strapless bra, perhaps start with cold shoulder styles like 2, 5 and 8 above which have some strap coverage.
If you are a big fan of this style or looking towards your Autumn wardrobe, check out these new season styles below. The key features here appear to be the knitted fabrication, full sleeve and the length – both knee and midi length.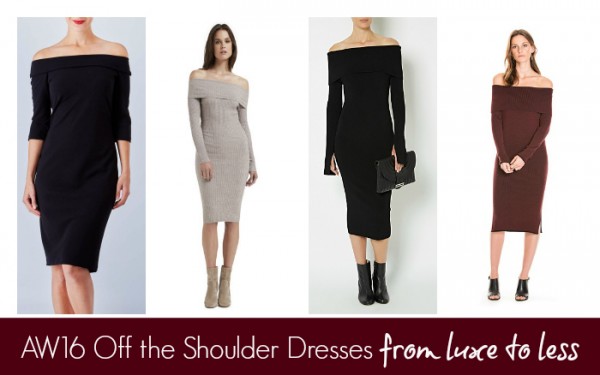 FROM LEFT TO RIGHT: The Off the Shoulder dress by Bird Keepers, $99.95 from Birdsnest; Off the Shoulder dress, $129.95 from Seed Heritage; Off Shoulder dress, $169.95 from Witchery; Off Shoulder dress, $179.95 from Country Road.
This post contains affiliate links. You don't pay any extra and I earn a small commission. Read more in my Disclosure Policy here. 
Are you a fan of the off the shoulder or cold shoulder approach? Would you wear this style in Autumn and beyond?