So last Thursday, I was in the city for a couple of things and happened to walk past The Gap shop in Melbourne Central.
GASP.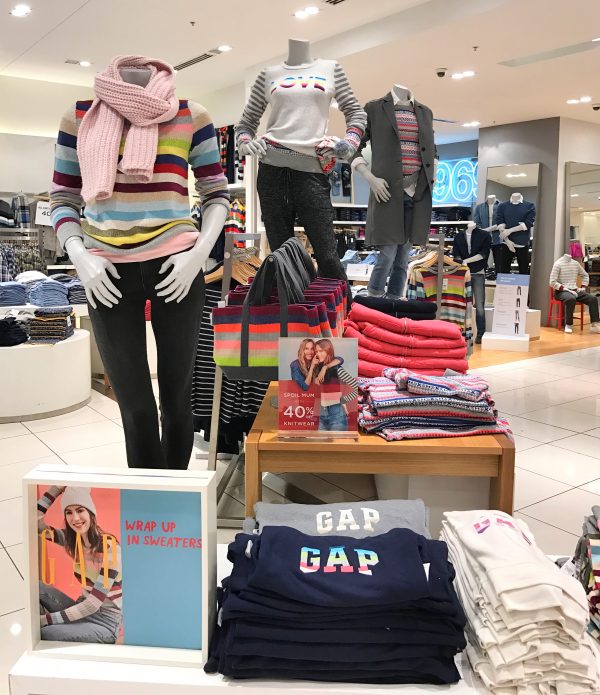 Having not shopped at The Gap for yonks, I was overwhelmed by the colour, the discount – hello 40% off – and all the choice. I also had a little smile to myself as I realised how happy seeing all this glorious striped colour made me feel.
SO HAPPY.
In the end, I bought my boys a few bits and bobs (stripes for them too) for their upcoming birthdays as well as a couple of gorgeous new season knits for moi including this little ripper …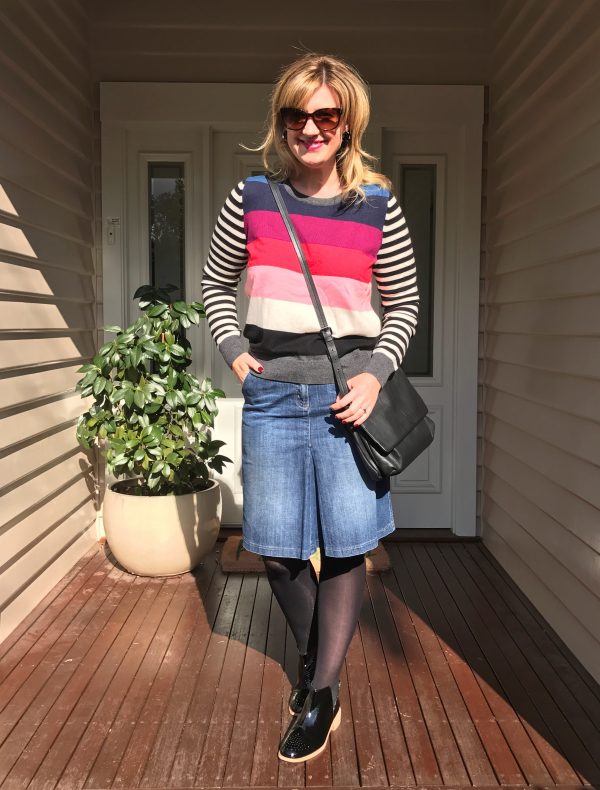 Wearing current season knit from The Gap Australia with Boden denim skirt, Tretten ankle boots and Loen Bag from Elk Accessories (both current). I can't link to this knit online as they don't have an online store here but here's the link to the website where you'll find store locations.
Now if you've been reading this blog for a while, you'll know I'm rather partial to a stripe or three.
You'll also know that I've devoted some significant wardrobe real estate to black and white stripes and the classic nautical navy and white combo – dresses, knits and tops are all covered at Shenanigans HQ.
In Winter though, as the skies become greyer, I really gravitate to colour and I've found, over the years, that a coloured stripe really is a fabulous addition to any cool weather wardrobe.
Fortuitously, there are plenty of great options in store right now. And, as you can see below, they're also available across a number of retailers and a range of different price points …
ABOVE: 1. All Sorts Stripe Jumper, $49.95 from Dotti; 2. Long Sleeve Stripe Pullover, $49.95 from Jeanswest; 3. Colour Palette Stripe Jumper, $49.95 from Dotti; 4. Briana Stripe Knit Tunic, $69.99 from Jeanswest; 5. Wagon Jumper, $99 from Gorman; 6. Block Stripe Merino Knit, $139 from Country Road; 7. Block Stripe Merino Knit, $149 from Trenery; 8. Rainbow Jumper, $189 from Gorman.
In terms of styling them, I reckon slouchy styles like 5, 6 and 7 work best with jeans. Either go for a skinny style to balance out the proportions on top or keep the casual vibes flowing with a drop crop, jogger or boyfriend jeans.
More fitted styles, like 1, 2, 3 and 8 above also look great with denim or block coloured pencil skirts for a dressier look.
I also wear mine under dresses – to see that, and some more styling ideas, check out this post.
Longer, tunic styles, like 4 above, work well over ponte pants or skinny jeans.
For a dressier metallic variation on the classic stripe knit, I'm loving this Dewy Garden Stripe Knit, $139.95 from Marcs.
If you like a roll neck style for extra warmth and neck coverage, check out this Rollneck Stripe Jumper, $69.95 from Portmans.
If a striped cardy is more your thing, I've got you covered too. Again, you'll see below there's a style to suit everyone, from longer to more cropped or boxy styles.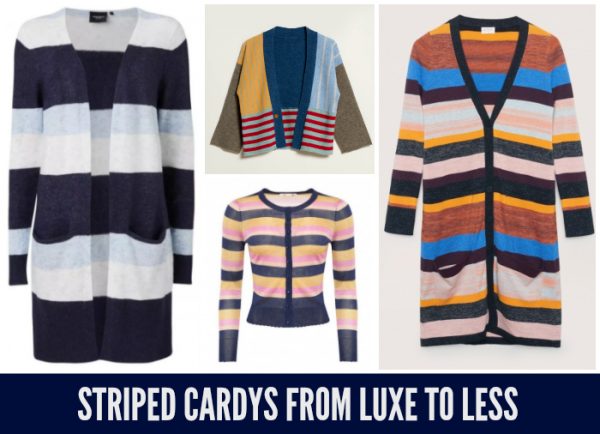 ABOVE, CLOCKWISE FROM TOP LEFT: Kennedy Long Sleeve Stripe Cardy, $69.99 from Jeanswest;Salt Lake Cardy, $169 from Nancybird; Fields of Gold Cardi, $129 from Alannah Hill; Joy Sparkle Cardigan, $229 from Gorman.
In terms of how to style them, I'd wear the longer or shorter boxy styles with a fitted tee, cami or tank in one of the colours featured in the knit with either jeans or pants or even with a block coloured dress underneath.
I'd wear a cropped fitted style, like the Alannah Hill style above, with an a-line or pencil skirt and a fitted cami or tank.
This post contains some affiliate links. You don't pay any extra and I earn a small commission. Read more in my Disclosure Policy here.
Is there a striped knit (or cardy) or three in your wardrobe? Which of the above styles is your pick?