And just like that, autumn has arrived in Melbourne.
Over the Easter long weekend it was cool, with cloudy days and the odd spot of rain.
The perfect weather in which to curl up on one's bed with a chocolate bunny, a cup of tea and a good book.
Or for pottering around in the kitchen, baking, making soup and toasting bread.
Along with the odd food slash chocolate coma and some fun times with the extended fam and friends, that's pretty how I spent the Easter long weekend!
A taste of things to come no doubt.
While I don't particularly love these grey, overcast days, they did provide an excuse to wear a couple of new purchases and a return to the faithful trans-seasonal knit and jeans scenario.
And I was really looking forward to wearing my new spotty knit from Trenery, picked up in a recent storewide promotion, with my new biker jeggings which I wrote about last week.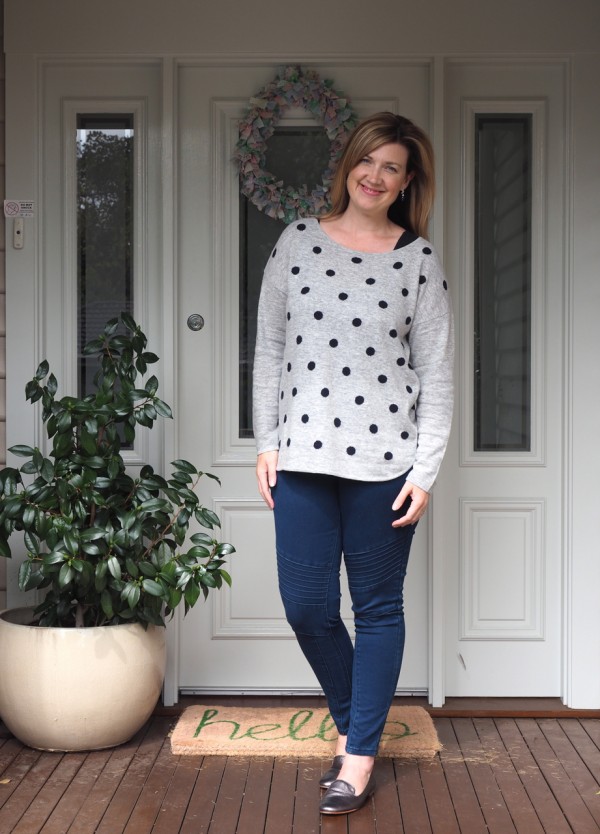 Above, I'm wearing the Spotted Curved Hem Knit, $119 from Trenery, Indigo Biker Jeggings, $49.95 from Rockmans (in size 12, which I bought with a voucher given to me); and loafers from Coach, picked up in the US last year.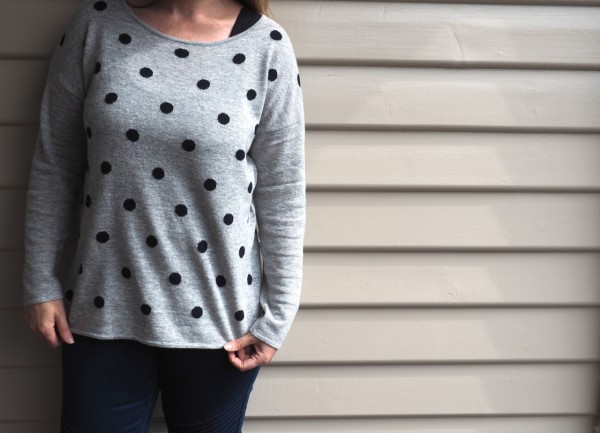 I'm always on the look out for wearable, soft knits and tops to add some interest (not to mention warmth) to my everyday wardrobe and I find it hard to go past a spotty option.
Like their stripey sister, they're not really breaking new ground fashion wise, but they are a classic and an easy way to add a bit of variety to a predominantly neutral or block coloured wardrobe.
Indeed, this autumn/winter, you'll spot plenty of dotty tops (soz – I couldn't resist), from striped bretons through to luxe knits.
Below are some of my faves, from luxe to less …

ABOVE, LEFT TO RIGHT: Long Sleeved Spotted Tee, $49.95 from Seed Heritage; Sequin Spot Tee, $59.95 from French Connection; Glitter Spot Breton, $69.95 from Boden; Penny Spot T-Shirt, $79.95 from Trenery; Dot Tee, $89 from Gorman.
As you can see from the edit above, sequins and metallic accents are on trend embellishments which add some glam to an everyday tee and jeans combo.
Spots and stripes are worked back together a bit too this season for something a bit different, such as this striped Breton above from Boden. I'm also loving this brand new spots and striped tee with metallic blue spots by Marcs.
Metallic accents are also being carried through to new season knitwear along with felted spots and tonal and textural detailing.

ABOVE, FROM LEFT TO RIGHT: Felted Spot Jumper, $89.95 from Sussan; Lurex Spot Knit, $99.95 from Country Road; Spotted Curved Hem Knit, $119 from Trenery; Spot Intasia Knit, $129.95 from Witchery; Tres Magnifique Jumper, $139 from Marcs.
In terms of styling, a spotty top or knit is playful and fun and will work back nicely with denim and trainers for casual days or weekends.
More fitted or luxe styles can also be smarter, dressier options for work or evening, dressed up with a pair of skinny jeans and boots or perhaps a wide legged pant and pointed flats.
This post contains some affiliate links. You don't pay any extra and I earn a small commission. Read more in my Disclosure Policy here.
Do you love a spot? What's your pick of my new season edit?