Recently, I was scrolling through my Facebook feed and chanced upon something fabulous.
It was a series of photos of four local friends/mums from my sons' school. The photos were of the four of them with some amazing looking food and the title, "Donna Hay Club". Being a Donna Hay fan, lover of her recipes and great styling, I was intrigued. I was inspired. And a bit hungry.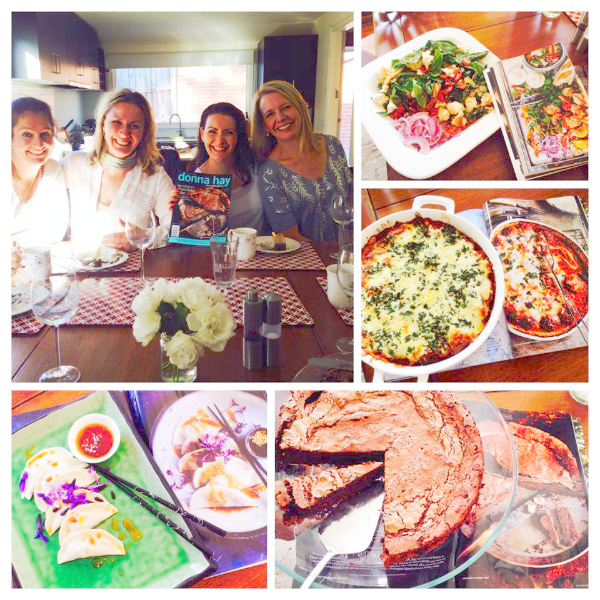 So I bailed these gorgeous ladies up at the very first opportunity to find out all about it. Having got the basic jist, shortly thereafter, I spoke to four of my foodie friends (our children all attend a weekly music playgroup together) and the second chapter of the Donna Hay Club was born.
We had our inaugural dinner this weekend past which was fabulous. I'll share our menu and some snaps in Friday's post.
But in the meantime, here's the larry lowdown on how to start your own Donna Hay (or other) food club. It's such a great idea if, like me, you'd love a prompt and an opportunity to transition from collecting beautiful foodie magazines to actually making some of the recipes and sharing a meal with friends.
Why did you start a Donna Hay Club?
Liz: I was given a 12 month magazine subscription from Renee, Di and Carolyn for my birthday – which I loved! And whilst I was flicking through it I thought, when am I ever going to make any of these recipes? That's when the idea came to me to have a Donna Hay lunch each time the magazine came out (which is bi-monthly) and who better to do that with than the ladies who gave me the subscription in the first place!
Carolyn: I have been a Donna Hay mag subscriber for over 5 years, and have always enjoyed her recipes. They are fast, usually fresh and tasty, and I also love her food styling. In fact for me, the look of the food is equally as important as the taste. Donna does the presentation thing so well!
I loved looking at the magazine every month, but this looking didn't always translate to food on plates. Young, fussy kids didn't provide me with a lot of opportunity to test Donna's recipes.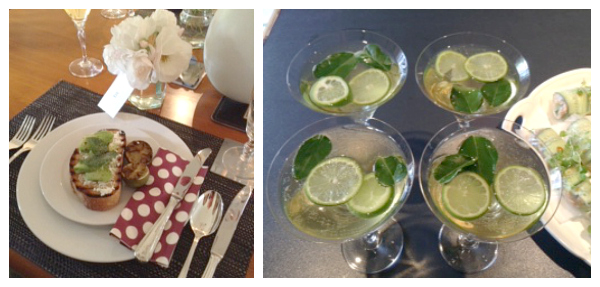 But now, thanks to the Donna Hay club I look forward to the magazine appearing in my letter box with such eager anticipation! Whoever receives the mag in their letter box first will send the others a viber message along the lines of "Guess what arrived in the mail today?" and then the messages start coming thick and fast. "What's on the cover?" "I love the look of what is on page 37!" "I think I will cook the dessert on page 88, will that go with the main you have planned?"
Donna Hay club challenges us to cook things we may not have cooked before, and to present them in a way that would make Donna proud.
Sounds fab! So what's involved? 
Liz: We all take in turns hosting the lunch (sometimes it might be a dinner with the husbands and kids or just the husbands), but lunch is usually just the girls on a Sunday avo. Also champagne is definitely involved!
How do you decide who cooks what?
Liz: The host cooks the main meal and the other ladies decide what they will  bring to the host's house already cooked (there might be a bit of prep work to do or a little bit of cooking to finish off but essentially you take your completed dish to the host's house) –  i.e. an entrée, a salad or the dessert.
Then we rotate each time the magazine comes out to a different person's house – the new host – so we all get to do a different course each time we meet. The host also prepares a welcome drink from the current magazine.  After four times, we have come full circle again.
What have been your most memorable meals/dishes?
Liz: I think the first one was pretty memorable!  I made rice paper rolls. It took me a long time to master it! I think we would all have different highlights –the Christmas Magazine was great with the BBQ ribs.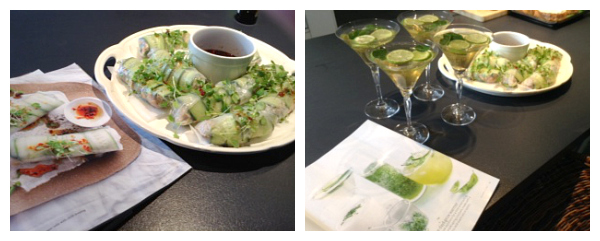 Carolyn: My favourite dish that I have cooked so far would be dumplings. I probably wouldn't have thought to make them before but they are now a regular in our weekly meal plan and a particular favourite of the kids after Thursday night swimming. Another favourite was lime martinis. I gave them a good crack for the remainder of summer! All the girls have created some amazing dishes, and each meal has been a huge success.
What tips would you give anyone wanting to start something similar? 
Liz: Stick to only four ladies.  Choose a chef/cook book that you love i.e.  I think a "Jamie Oliver Club" would be a great choice or a "Delicious club". Palm off the kids if you are doing a Sunday lunch. Take lots of photos and try and plate up just like it looks in the magazine – we get a little fanatical about this!
We also have had a "DH Master Class" at Christmas time to try and emulate her Ginger Bread Houses. It was a total disaster, but we had a great time doing it!  We are going to do this every Christmas to try and master them. We had such a great time doing it though, with lots of laughs and of course lots of bubbles to help us along the way.
We now have matching Donna Hay aprons with our names on it just to give it a more "club" feel. We love our time together and I can see this going on for years to come – even if we have all parted ways because of different schools or living in different areas – I'm sure we will come together to catch up and keep our "DH Club" alive.  All in all, it is a recipe for long lasting friendships – good food, good champagne and good laughs.
Carolyn:  We finish each DH meal with very full and happy tummies, having shared amazing food with beautiful friends. It honestly doesn't get much better! We have promised ourselves that we will continue until we are very old!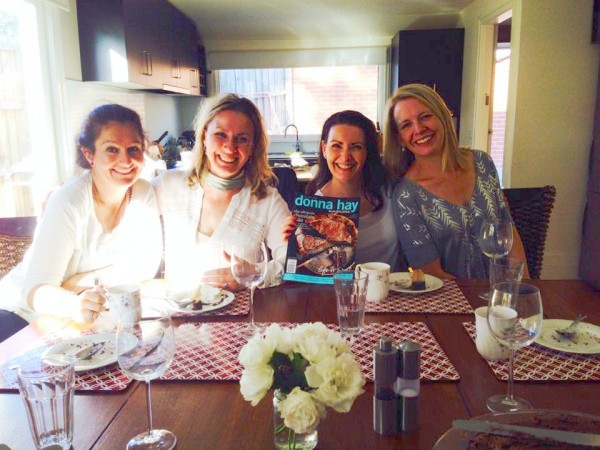 So there you have it. I love entertaining but realistically and practically because of time and other commitments, it's hard to do it as often as I'd like. By starting a Donna Hay Food Club, I'm looking forward to trying new recipes, having a gourmet home made meal every couple of months, taking turns in hosting (and cleaning the house) and spending time with my foodie friends.
So, over to you. What do you think?
Are you a recipe collector? Do you find time to try new recipes and entertain often? If you started a food club, what cook/chef/magazine would you use for your inspiration?