Welcome to this week's edition of A Few of My Favourite Things.
Last year, one of you lovely readers – thanks Sam! – told me you enjoyed these posts because you felt like you were catching up with a girlfriend over a coffee.
I can't tell you how much I love love love that idea, and when I write these posts, that's what I picture in my mind. Indeed, I'm sharing here what I've usually been banging on about to my long suffering family and friends all week!
So feel free to boil the kettle and make yourself comfy while I fill you in on some of the lovely things I've discovered and/or enjoyed this week. I'd love it if you shared yours in the comments below …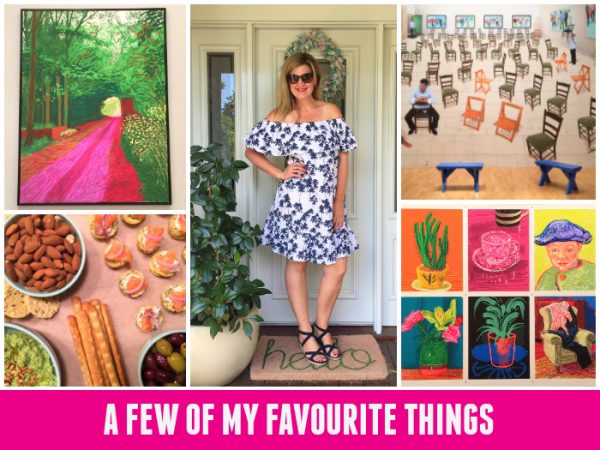 1. David Hockney Exhibition at NGV
Last week I was catching up with a girlfriend for her birthday and we decided to visit the David Hockney exhibition at the NGV International for something a little bit different.
It was up there with my greatest ideas!
How we adored this wonderful exhibition – the colours, the technique – many of these drawings were created on an iPhone or iPad – and how David Hockney has elevated ordinary objects and people into something beautiful.
His landscapes in particular – which filled two entire rooms and whose scale was, well, off the scale – were amazing.
Here are some photos I took on the day.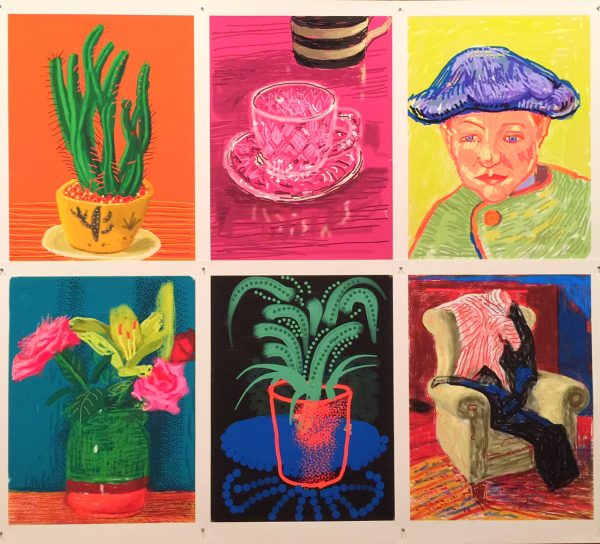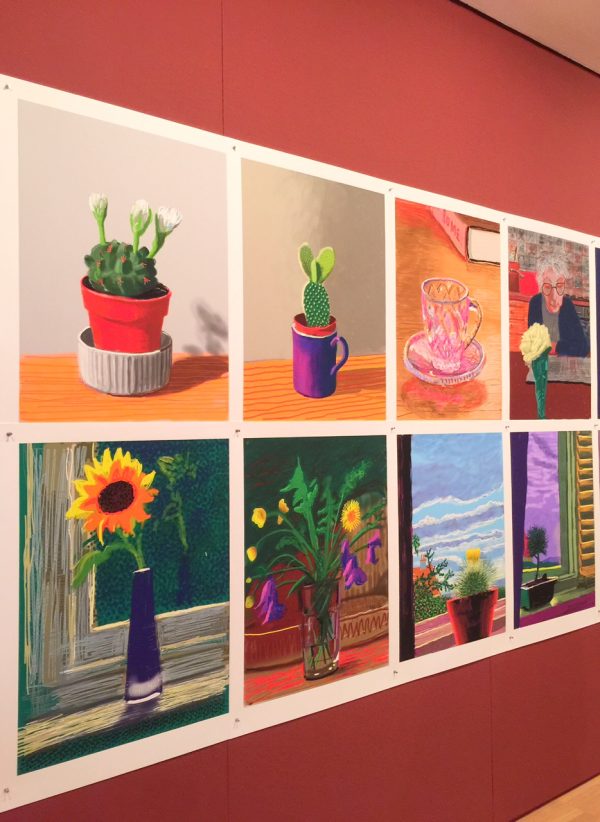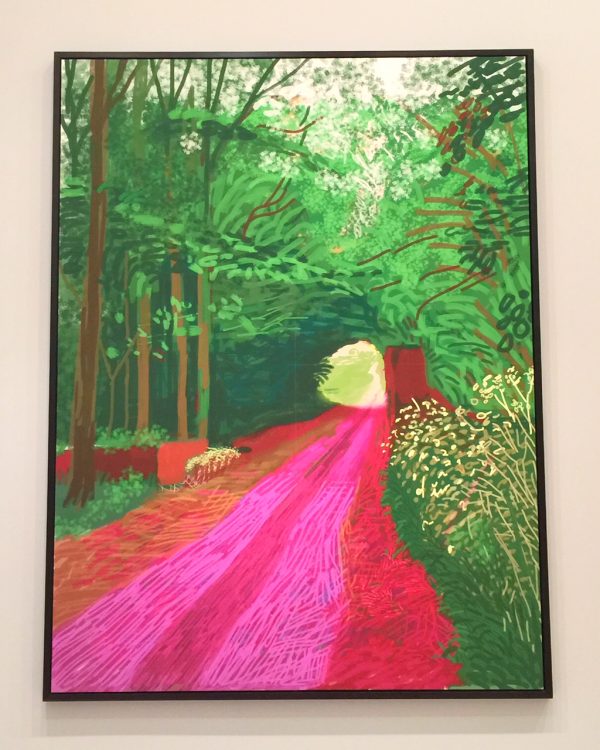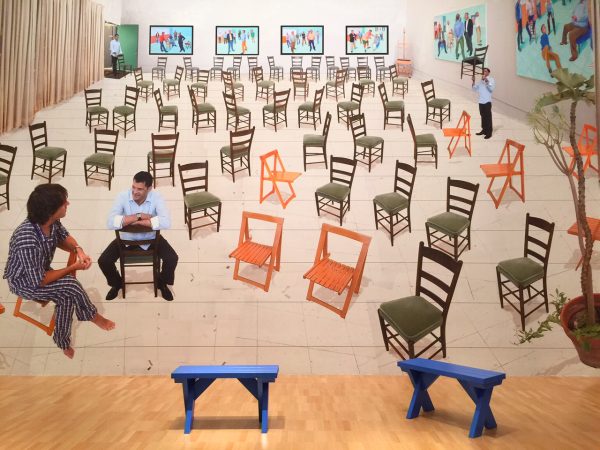 If you don't regularly go to the gallery, I reckon this would be a great place to start. The exhibition is not a big one – it fills 5 rooms so totally manageable size wise – and would be great for kids too.
Get there ASAP though as the show closes on 13 March. More details here.
If you don't live in Melbourne and surrounds, have you checked out what's showing at your local gallery? I'm sure it's well worth checking out.
OTS Reprise
We've had more cool days than usual down here in Melbs this month, so opportunities to wear high summer frockery have been few and far between.
I'm totally not complaining about the absence of February heat waves for one second – especially with a Prep in the mix – but still, it's been a much milder February than we've had for some time and working out what to wear everyday is necessarily preceded by checking the weather app.
I bought this lovely Surafina frock – The Gardenia Dress in Tall Palm – a few weeks ago (you might recall it from my What to Wear in February post – buying said pieces has become a well documented OH&S here) and I've been looking forward to wearing it since. I'm wearing a size L.
Finally, this week, we celebrated a friend's birthday with a lovely lunch and it was all Shoulders A Go Go.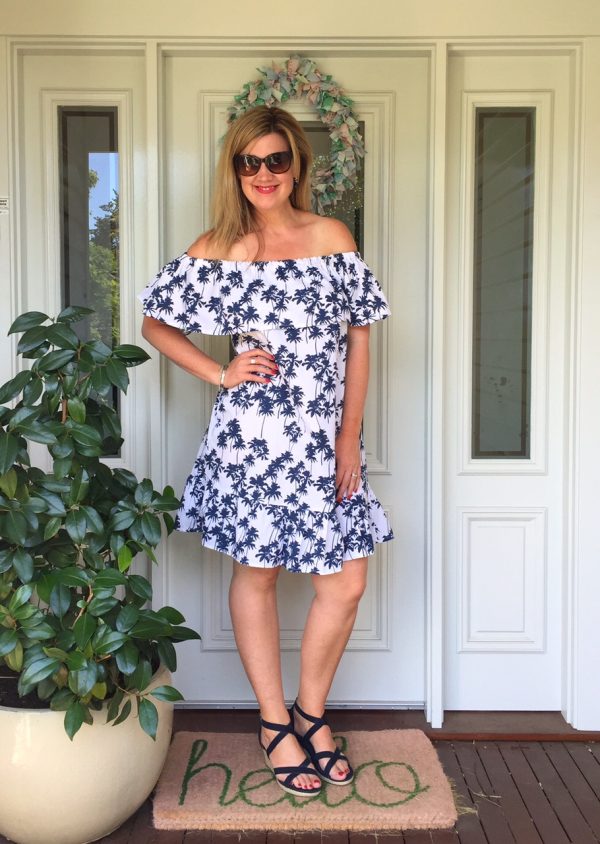 No surprises that this frock will be coming with me to Bali in winter too!
3. Donna Hay Dinners
Nearly three years ago, a group of local friends and I began the second chapter of the Donna Hay Food Club (inspired by a group of lovely ladies from our school who you can read about here).
Since our inaugural dinner, the five of us have met consistently for dinner five times a year, rotating the hosting and which courses we each bring to share.
In a nutshell, the idea is that we each choose a recipe from the current Donna Hay mag with the host cooking the main dish, which we all try to complement with our respective entree/sides/dessert/welcome cocktail.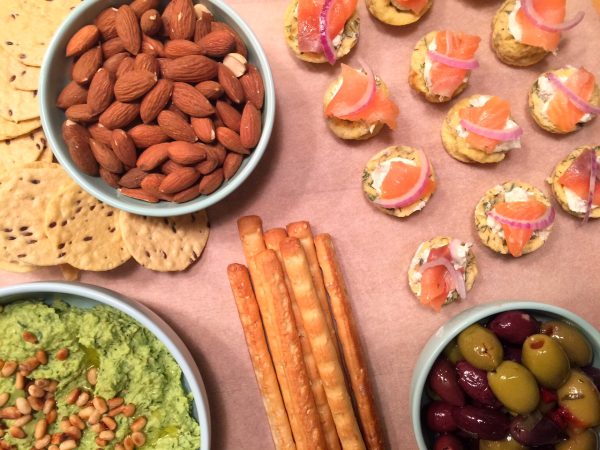 Above: I was on nibbles last week so I prepared a Spinach, Fetta and Dill Hummus with Pinenuts and these Smoked Salmon on Herb Frittatas – both from the Donna Hay website as the most recent mag was light on in the entree department.
I cannot tell you how much I enjoy these dinners and what a pleasure it is to cook for fellow foodies not to mention eating a restaurant quality meal (including a welcome cocktail and a lift home from the host's husbo) without paying a premium.
If you're a foodie and have friends who are similarly enthused, I'd highly recommend you try your own variation of this idea. Choose or rotate favourite chefs/cooks or themes/cuisines and work out how often you'll get together. It's not only enormous fun and a great regular catch up with girlfriends, it's a fab way to try new recipes and eat a delicious meal.
For more details, head here and to read about our very first dinner back in 2014, head here.
This post contains an affiliate link. You don't pay any extra and I earn a small commission. Read more in my Disclosure Policy here.
So over to you, what have you been loving lately?