Reading about real people and real events can be interesting, inspiring and informative.
After all, it's one thing to watch the news or read an opinion piece.
It's another thing to step inside the story and hear it from those who have lived it.
That's why I love reading non-fiction books from time to time. I love fiction of course, but it's nice to break things up every now and then with something that, well, actually happened.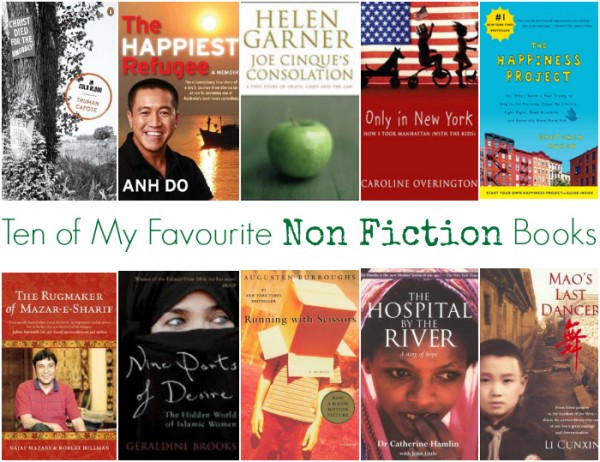 So today, I'm sharing ten of my favourite non fiction books. I think they would all make great book club books and generate some interesting discussion too.
As you can see, I generally gravitate to memoirs and stories set in foreign lands. Tales of triumph over hardship, resilience in the face of struggle, humour in trying circumstances – I can't get enough of it. It gives me great perspective and a reality check when I'm struggling with the usual run of the mill Western issues too.
I don't mind the occasional true crime story too if it's told well. I find such stories horrifying, repellant and compelling all at the same time.
I also love reading a book set in a foreign city, particularly when I'm travelling. The scenes come to life and it's as though you have a local taking you around the city. I loved reading Almost French in Paris, The Alchemist in Spain and Only in New York (below) when I visited the Big Apple myself.
So, here are ten of my favourite non-fiction books. Are any of your favourites among them? Have you read any of them?
1. The Happiest Refugee by Ahn Do – I read this book a couple of years ago and it has stayed with me since. Ahn Do and his family came to Australia from war torn Vietnam in the '70s. His story of arriving and growing up in Australia is inspiring, revealing, funny and insightful. It's an easy read and I've yet to meet anyone who didn't love it. It's a book I often give as a gift.
There is also a children's version of this book which I've bought for my kids and they love it.
2. In Cold Blood –  A True Account of a Multiple Murder and its Consequences by Truman Capote – I read this book when the movie Capote, starring Phillip Seymour Hoffman, was released back in 2005. The murder – the central event of the book – of a Kansas farmer and his family is random and seemingly unexplained. Truman Capote, goes to investigate and writes this incredible book, having met all the protagonists (including the murderers) and studying the events. It's a book in which the author almost becomes one of the characters in the book. It's a classic and it's worth watching the movie after you've read it too.
3. The Rug Maker from Mazar-e-Sharif by Robert Hillman and Najaf Mazari – I loved reading this incredible story of Najaf Mazari's journey from Afghanistan to Australia. He now owns his own rug shop in Prahran, Melbourne and speaks at community events. This is a great read and my book club loved it. We keep meaning to visit him too!
4. The Happiness Project by Gretchen Rubin – I found this book fascinating. Essentially, it's the journey that Gretchen, a wife, mother of two healthy children, living in New York City with a successful career, takes when she confronts her own unhappiness (with the full acknowledgement that as an educated Western person she has much more than most) and her quest to try different ways to find happiness. An interesting read and an easy book to dip in and out of with it's discrete chapters.
5. The Hospital by the River – A Story of Hope by Dr Catherine Hamlin – This book made a huge impression on me. Reading about the horrific conditions that Ethiopian women give birth in and the devastating impact of a fistula on a woman's life was confronting. Thankfully, Dr Hamlin and her dedicated team are changing lives and the community. It's her life's work and it's incredibly inspiring. This honest account also touches on the impact Dr Hamlin's work has had on her family and the sacrifices she has made to continue her work.
6. Nine Parts of Desire – The Hidden World of Islamic Women by Geraldine Brooks – Geraldine Brooks is one of my favourite authors. Aside from writing fiction, Geraldine spent six years working as a foreign correspondent in the Middle East. She met royalty and all sorts of interesting women during her time there. Her writing is excellent and her observations astute. An easy and engaging read and a great pick for book clubs.
7. Joe Cinque's Consolation by Helen Garner – Hailed as a true story of death, grief and the law, Helen Garner shines a light on the death of young law student Joe Cinque in 1997. He died after a massive dose of Rohypnol and heroin. His girlfriend and her best friend were subsequently charged with his murder. Helen Garner's writing is always unflinching, observant and searching. I think this is one of her best books although I've yet to read her latest, The House of Grief.
8. Only in New York – How I Took Manhattan (With The Kids) by Caroline Overington – I loved reading how Caroline Overington, a journalist who lands the plum job of foreign correspondent for an Australian news outlet, managed life in NYC with her toddler twins. Her husband becomes a stay at home Dad while she travels around the US reporting on the big stories including Bill Clinton's book launch and the Iraq war. It was funny, interesting and a great insight into life in the Big Apple with kids with interesting reflections on the differences between raising a family in the US and Australia.
9. Mao's Last Dancer by Li Cunxin – This is an incredible story of how a young boy from a poor Chinese family came to fame and eventually Australia through his career as a ballet dancer. Although I knew the ending before I began, it was fascinating to see how his life took a turn and the events that led to his eventual arrival in Australia.
10. Running with Scissors by Augusten Burroughs – If you ever thought your childhood or family was dysfunctional, you need to read this. Told with great humour and honesty, the events of this book are frankly almost unbelievable and often jaw dropping. It begins with Augusten's mother (who is very mentally unwell) giving him away to live with her psychiatrist and his family in their rundown house.
This book won't work for everyone though, it's pretty full on, so perhaps read the reviews first. If you do enjoy Running with Scissors though, his brother, John Elder Robison also wrote the very good, "Look Me In the Eye: My Life with Asperger's" which I also enjoyed and tells of their family life from another perspective.
But wait, there's more – I also loved The Tall Man which was one of the best books I read last year (you can read my review here). I'm currently also reading Hugh Mackay's The Art of Belonging and Annabel Crabb's The Wife Drought. I'm also supposed to be reading My Story by Julia Gillard for book club which I'm told, by friends who've never read a political autobiography, is actually excellent (except for the chapter on mining).
Do you like reading non fiction? What's your favourite non fiction book? Have you read any of these? What did you think?