Updated October 2017
This weekend just gone, I held my second stall at a baby and kids market to sell some of the kids' stuff now my baby is 6 and in his first year of school.
It's hard to believe – I'm still getting my head around it – that after ten years, we're finally out of the baby/toddler/preschooler stage.
For Good.
As many of us know, the amount of stuff that comes with babies and kids can be phenomenal. We've given nearly all of our baby and toddler clothing and gear away to our sisters and then St Kilda Mums, but every time I go through the boys' bedrooms or the garage, I realise we've got even more stuff to clear out.
So I decided it was high time that I had another stall – my first was in July last year – and somehow, despite a super busy last week, I managed to get organised and do it. The first time I held a stall, I made around $500 profit which is not bad at all considering I didn't sell any big ticket items and all my items were $20 and under.
Last weekend, it was a similar story but I made over $600 which I was very happy with, plus I managed to offload around two thirds to three quarters of what I had to sell.
In this post, I'm sharing my tips for how to have a successful stall at a second hand market. I know many of you are seasoned stall holders and market goers so I'd love to hear your tips and ideas in the comments below.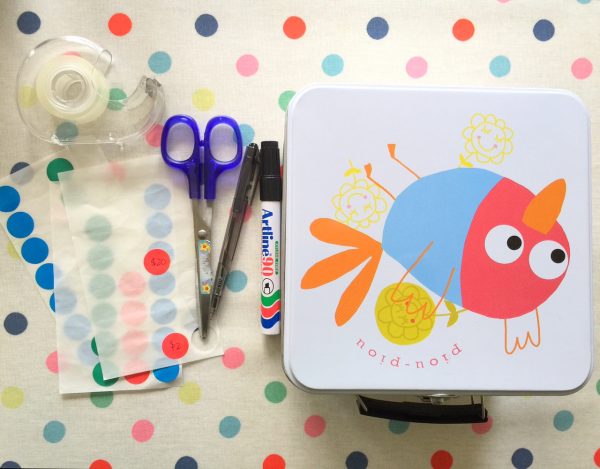 1. In the weeks/months before …
Find a market and a date that suits. Both times I've chosen one that I'd been to before (The All for Kids market), as it is well established and has a mix of new and second hand stalls, they provide free entertainment and treats for the kids (which draws in the crowds) as well as some stalls selling new products. I knew other friends frequented this market too. I booked online a couple of months before hand and it was an easy, user friendly process. Last weekend's venue was unique too – a one off pop up market at Eastland shopping centre. The location of the market next to H&M was a winner and there were fewer stalls too – and most of the secondhand stalls were selling girls clothes – so I think that added to my success this time around.
If you can, find a friend to do it with do it with, or arrange to have tables next to each other. This way you can help mind each other's stalls for toilet/lunch breaks and break bigger notes. It will also give you someone to talk to during quiet periods!
Think about what you want to sell. First time around, I sold clothing, books, DVDs and CDs (The Wiggles, Fireman Sam, Yo Gabba Gabba, Justine Clarke etc)

, puzzles and mostly wooden toys, bowls and plates and some crafty things, a feeding chair and some baby gear. This last time around, I sold mostly soft toys, clothes, musical instruments, board games, puzzles and shoes. Other items that are ideal for this market include licensed toys, shoes, outdoor toys, bikes, a cot, a change table, prams and strollers.
Make time to sort and, if necessary, clean your products. I washed jackets that had hung on hooks in our garage; baby baths and chairs so they looked clean and ready to use/wear. I spray and wiped all the musical instruments. I also ironed the shirts. This way the look clean, presentable and ready to use.
Hide said products because if you're kids find them, they will unpack them or swear an undying attachment to them – that's my experience anyhoo!
2. In the days before …
Use social media to advertise the market so friends and family can spread the word or attend;
Organise a float – you'll need to be able to break a $10, $20 and a $50 note. I was presented with a $100 which I could thankfully break mid market too. Plenty of gold coins also help. I made sure I had a stack of $5 and $10 notes too. Count your float so you can work out your profit at the end;
My friend Charity gave me some great advice about pricing – think about what you're happy to sell for and don't go below that. You might like to price just above that so you can reduce your price if need be and still feel comfortable. After an hour of selling, you'll know if you're prices are too high and you can adjust accordingly.
Pricing is a personal thing. I thought about what I paid (I pick up a lot on sale but had also paid international postage on some pieces), how much wear they'd had (one season or two or only once or twice) and how many of my kids had worn them (all or only one or two). I also only sold branded, unstained, washed and ironed clothing in excellent condition from Country Road, Gap, Mini Boden, Seed, Ralph Lauren and Rhubarb. In the end I decided on $20 for winter weight puffer jackets and coats; $12-$15 for puffer vests; $10 for hoodies and light knits; $8 for shirts and long sleeved tees; $5 for t-shirts. I thought my prices were very reasonable – I could easily have charged more but would have probably sold a lot less – and didn't change my clothing prices at all throughout the market and managed to sell two thirds of what I took.
Think about how you want your stall to look and plan accordingly. I wanted my stall to look reasonably attractive, organised and inviting, so I packed a striped IKEA table cloth to go over the trestle table and used coloured plastic tubs and other storage containers for books, DVDs and baby clothes. I also packed a cheap IKEA clothes rack for the clothing and used wooden coloured kids' clothing hangers so the rack would look ordered and uniform.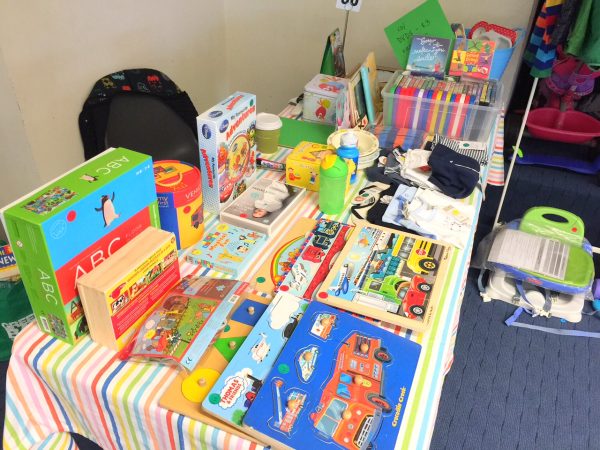 3. The night before …
Put price stickers on as many things as possible. I used coloured round stickers from the newsagent's. For the clothes, I put the sticker on the coat hanger so it was clearly visible.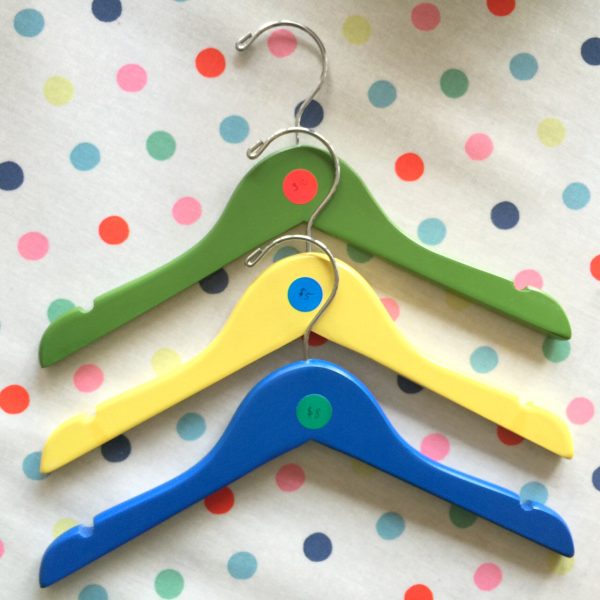 Pack some pens, a notepad (to keep track of purchases), scissors and some paper/cardboard for signs. I put this in a tin with my float.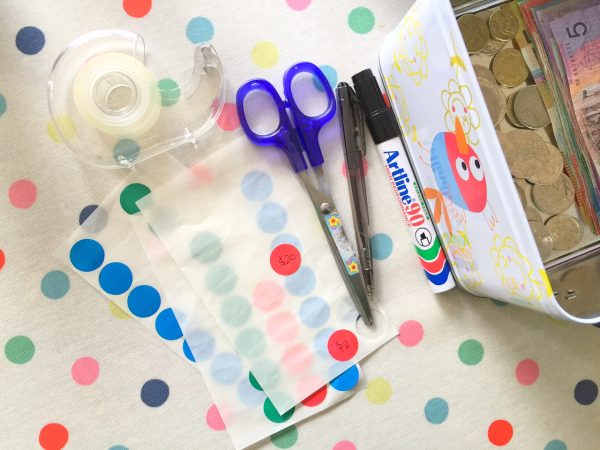 If you want to keep the prices fluid (i.e. negotiable), put things of a kind in a basket or box and write a poster/sign instead of pricing them individually – it's less work and means you can change the price/sign when you want to. For example, I had three boxes of books and a box of DVDs and CDs which I advertised as $3 each or 4 for $10. In the last hour, I charged $2 then $1 each. I was desperate to get rid of a whole lot of soft toys – Peppa Pigs, Iggle Piggle, Peter Rabbits and other licensed toys – so I sold them for $2 each. I sold all but one of them and I was very happy not to bring them home.
Pack some snacks and a water bottle. The first time around I only packed an apple and forgot my water bottle so I got through the morning on three coffees and an apple – I was starving and strung out on caffeine by the end!
4. On the day …
Get up early but don't miss breakfast – you may not have time to eat or leave your stall if you're manning it alone.
Allow yourself enough time to bump in and unpack. It took me a good hour to unpack and set up. I was pricing a fair bit as I went though so I could've saved some time by doing more prep.
Get your family to drop you off and help you unpack the car – it'll only take twenty or so minutes but will help you enormously- there's a lot to bring in and it's so much easier if everyone helps to carry everything in while you set up. When the kids were little, Mr SnS helped me unpack and set up the clothes rack for me while the kids sat in the car watching a DVD. This time around, the boys all helped carry the bags in. At the end, they all came up at the end and helped me pack up and carry everything back to the car. It only takes ten or so minutes with everyone helping which was terrific. If you're on your own, it's a massive task.
Put out enough but not too much – people need to be able to sort through what you're selling or see it at a glance so don't put everything out at once as it can be overwhelming. I had half a suitcase of clothes left when I set up which I gradually took out and put on the clothing rack as things sold.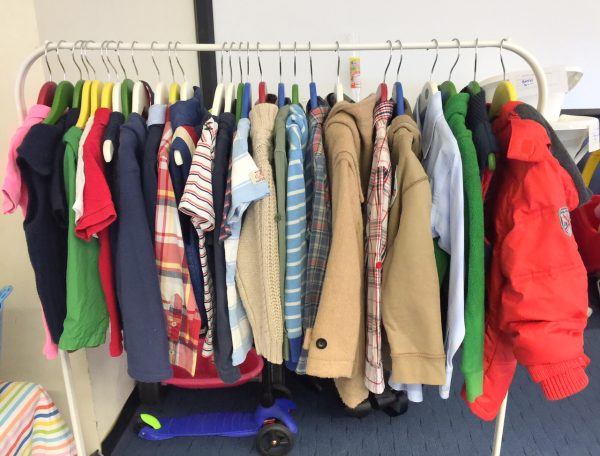 Acknowledge people as they come in to your stall and say hi but don't do the hard sell. I offered to help if people are clearly looking for something or give them a heads up about how things are ordered and what sizes I was selling.
Expect a few keen people to turn up early and start fossicking too. They will also probably only have a $50 note.
Other reflections
Location can have a big impact on foot traffic but is usually out of your control. My stall was upstairs, which at first I didn't think was ideal but my stall was next to the big items which attracted people looking for cots, prams and other big products so I think that definitely helped;
Attractive presentation and clean, well ordered products seem to attract customers;
The first time I had a lot of books I wanted to offload, so I did a book with purchase deal – everyone who bought something could choose a book to take for free. This helped me offload two of the three boxes of books I took as well as encouraging literacy!
Disclose any imperfections or things missing. I sold a set of books with a DVD but made sure the purchaser knew one of the books was missing;
Do the puzzles or count the puzzle pieces at home so you make sure all the pieces are there before you sell them;
Think seasonally – I sold all the puffer vests and all but one of the coats I took. The tees, being so well priced at $5, also sold out. So for example in Spring, I'd pack more shorts and t-shirts as well as bathers to sell;
Popular items for me across both markets included musical instruments, wooden toys, clothes – especially shorts, raincoats and puffers, games and puzzles.  Soft toys were also very popular with the little ones.
If you'd like to Pin this for later …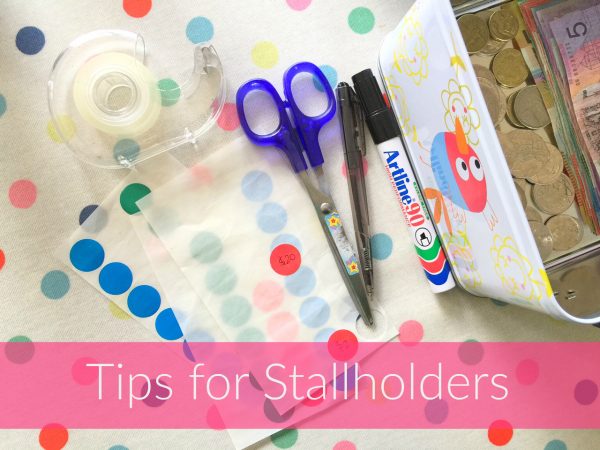 Have you had a stall at a market lately? What did you sell? Any tips and traps for young players?