Well hello December!
It's great to see your face, even if we're socially distanced, or wearing a face mask because we're inside.
Sure, things are not completely back to normal, but here in Victoria and no doubt in other places around our beautiful brown land, it feels SO good to have a smattering of the usual December social commitments, from graduations and work Christmas parties through to extended family catch ups and end of year soirees with your favourite people. Especially when you haven't seen them for months and months.
Did I mention that I missed your face?
Whatever you have on this December, I hope you'll find some outfit inspiration in today's post.
I've included dressier options for cocktail parties, drinks with the girls, Christmas Day and the like, the components of which can be mixed and matched to create different looks.
There's also the usual smart casual and casual options to cover more laidback affairs such as BBQs, picnics in the park or informal family dinners or end of year beverages.
So without further ado, here are some festive looks for December …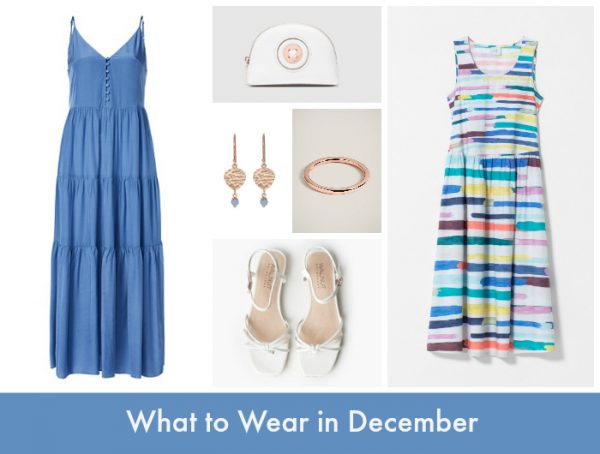 ABOVE, FROM LEFT TO RIGHT:
Tiered button front dress, $119.95 from Witchery;
Pouch, $89.95 from Mimco;
Earrings, $89.95 from Nicole Fendel;
Bangle, $49.95 from Witchery;
Leather sandals, $159.95 from Walnut;
Elme organic dress, $269 from Elk.
As the above pic shows, a great dress is almost an outfit. Simply add a complementary accessory or two and you're good to go.
For warmer days and balmy nights, I'm loving this blue tiered button front dress from Witchery. The colour is refreshing and summery and is the closest I'll be getting to the Aegan sea (yes I missed a trip to Greece this year and yes I bought this dress).
Fine jewellery is your friend here, and while I've included a white pouch and shoes, you could also go with your favourite metallic accessories instead. Gold, rose gold and silver would all work well here.
On the subject of footwear, I'm tall (175cm) so I would usually wear flats with a dress like this, but an espadrille wedge would also look fab.
If you prefer a print and slightly more coverage, I've also included above this new season Elme organic dress from Elk which is a bit more of an investment but a winner nevertheless. Simply pick up a colour from this print – say yellow, coral or aqua – for a piece of statement jewellery or shoes – or stay neutral by wearing white or tan shoes and let the dress to do the talking.
This beautiful print is also available in a tank or a skirt if that is more your thing. Shop the print story here.
This next outfit is a bit sassier and incorporates bold colour and mixed prints worked back with pops of orange and black basics. I would wear either of these combos to my work Christmas lunch, birthday drinks or my book club end of year dinner.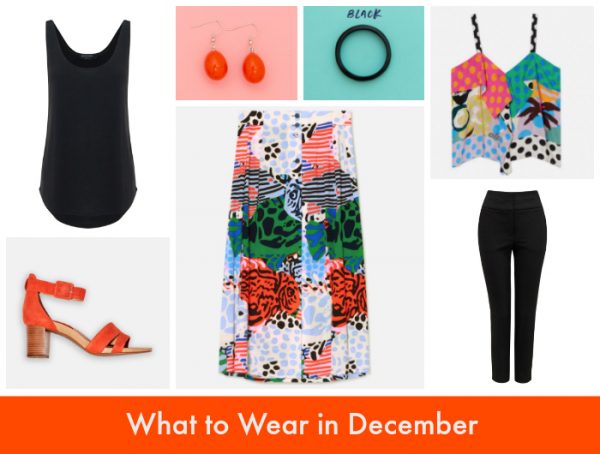 ABOVE, CLOCKWISE FROM LEFT TO RIGHT:
Modal tank, $39.95 from DeCjuba;
Orange earrings, $22 from Ruby Olive;
Black bangle, $22 from Ruby Olive;
Cami, $189 from Gorman;
High waisted crop pants, $89.99 from Forever New;
Swim good skirt, $199 from Gorman;
GRACiE heels, $229.95 from FRANKiE4 Footwear.
If separates are your thing, the two outfits above may be speaking your name.
Maybe you're a printed top or cami and pants kind or girl? This is also a great option if you don't want to draw attention to your waist or midriff. A simple black bangle and black strappy heels will keep the attention on your top half too.
Or you might prefer a cami tucked into a printed skirt, a gorgeous seasonal look which emphasises the waist. A scoop neck cami breaks things up and will draw the eye away from arms too. Complete the look with a statement heel or earrings – orange you loving this approach? – and you've got a fab outfit.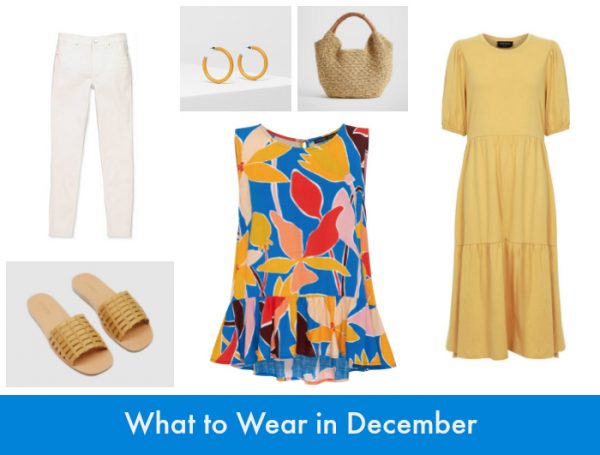 ABOVE, CLOCKWISE FROM TOP LEFT:
White jeans, $99.95 from Country Road;
Earrings, $39.95 from Elk;
Slouchy tote bag, $99.95 from Witchery;
Tiered Midi dress, $89.95 from Decjuba;
Celeste top, $119 from Mister Zimi;
Leather slides, $69.95 from Jo Mercer.
This final look comprises two more casual but still on trend looks for less formal occasions.
The printed Zimi cami and white jeans is a lighter toned variation on the look above, while the mustard tiered dress reflects this Summer's obsession with tiered dresses and skirts and elasticised half sleeves. I'm a big fan of this style this year, particularly given the #coronakilos.
While I've included a pair of leather slides above, I'd also pair this frock with white trainers on milder days and dress up the jeans/cami combo by adding a tan block heel or espadrille wedge. I'd totally rock this outfit on Christmas day too.
A great pair of hoops and a slouchy tote complete these breezy, holiday looks.
Looking for more ideas?
In the course of researching this post, I also came across these budget friendly winners:
I'm also loving the latest drop from Decjuba which features pops of hot pink and plenty of textured pieces. If you're keen, it's best to shop online because this drop is selling like hot cakes in stores. I am also trying very hard not to buy this hot pink tiered maxi which is an online exclusive.
This post contains some affiliate links. You don't pay any extra and I earn a small commission. Read more in my Disclosure Policy here.
So over to you – what's on your social calendar in the next few weeks? And more importantly, what are you going to wear?