Ned Stark was on the money.
Winter IS coming.
Around these southern parts lately, that means wet days, cold nights, ugg boot reacquaintance and the heater a crankin'.
I also predict flannelette sheets in my near future.
If you're finding yourself standing in front of your wardrobe waiting for inspiration to strike every morning, I hope this month's What to Wear post will provide some new season fashion inspo for you.
Perhaps a new way of wearing an old favourite; an accessories update to give those block coloured winners a new lease of life or some ideas of where to shop for some new basics or statement pieces for these cooler months.
As usual, I've put together three outfits to cover a range of occasions. The first is an outfit that is versatile enough to transition from work to an occasion, whether that's a date, party or other fabulous soiree. A simple change of bag from work tote to statement clutch is all that's needed.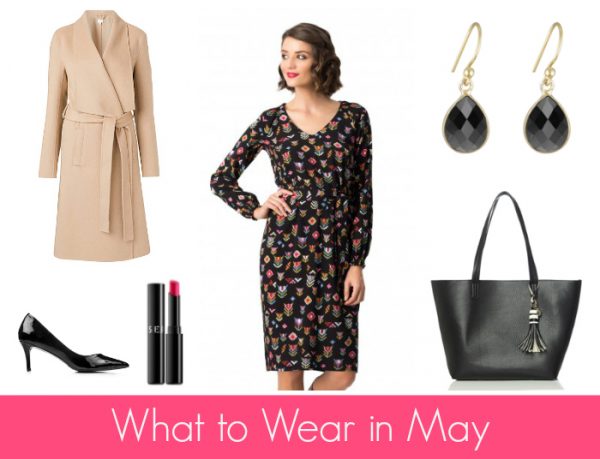 ABOVE, CLOCKWISE FROM TOP LEFT: Wrap Coat, $399.95 from Witchery; Maisy Dress, $189 from Leona Edmiston; Aurora Earrings, $49.95 from Nicole Fendel;  Reversible Shopper, $129.95 from Marcs;  Colour Last Lipstick in Daring Pink, $19 from Sephora; Hostage Court Shoes in Black Patent, $159.95 from Jo Mercer.
If you're looking for frocks that are both versatile and practical, Leona Edmiston is well worth a look. I find them easy to wear, care for (usually machine wash and dry on the hanger – no ironing required) and always flattering. Each print usually comes in a variety of styles too, so it's well worth trying on a range in a print you like to see what suits. As well as their stand alone boutiques and the Leona Edmiston online store, you can shop Leona at some Myer department stores.
I'm a big fan of this pretty Maisy Dress – it's print introduces plenty of colours to play with in the accessories department while the black background means you can wear it with all your favourite black basics.
A bold lip and coloured earrings/clutch/coat would "party-ify" this outfit too or you could simply keep things classic and sophisticated with this beautiful wrap coat from Witchery. If you prefer a coloured or a shorter style coat, check out the fab range at Marcs here – coats are currently 25% off.
This next outfit is a super casual combo which is perfect for weekends, working from home or running around after the kids.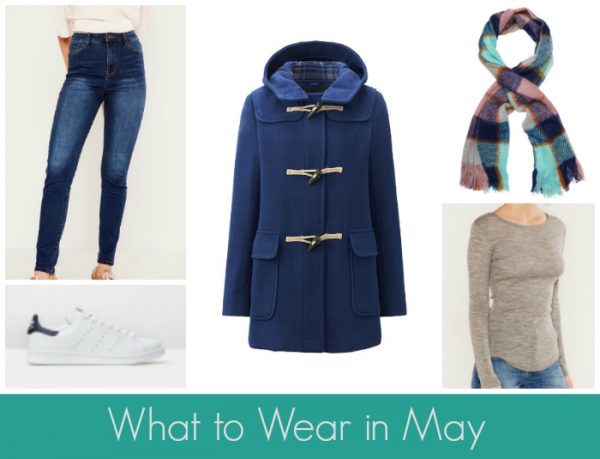 ABOVE, CLOCKWISE FROM TOP LEFT: Super Slim Jeans, $39.99 from Glassons; Wool Duffle Coat, $129 (on sale) from UNIQLO; Colour Check Scarf, $39.99 from Sportsgirl; Merino Knit Crew Neck, $39.99 from Glassons; Stan Smith Adidas trainers, $130 from The Iconic.
I'm always on the look out for casual jackets that look great and keep me warm. This fab Wool Duffle Coat from UNIQLO (which comes in 5 other colours) definitely ticks those boxes for me.
Paired with a simple knit, jeans, trainers and cosy scarf, this is an outfit combo I come back to time and time again. As it get's colder, I'd add a heavier, wool blend knit and a beanie.
I know many of you, like me, are fans of Glassons' 100% merino range. This new ribbed, fine knit style pictured above – the Merino Knit Crew Neck – is perfect for layering at this time of year. It also comes in camel and black.
Finally, this outfit below is for all those smart casual occasions that crop up – family or friends' birthdays, school functions or lunch/dinner with the girls. It would also suit less formal workplaces.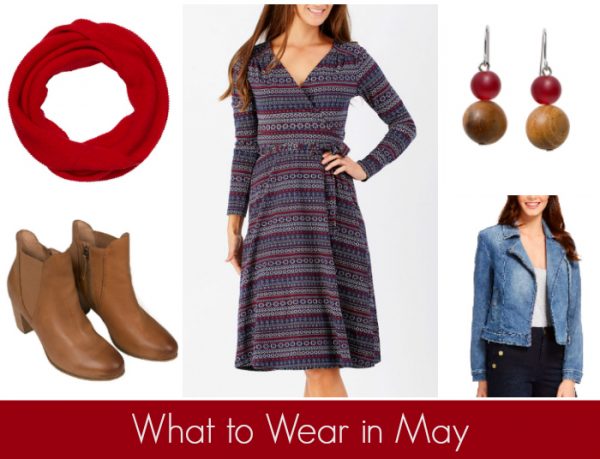 ABOVE, CLOCKWISE FROM TOP LET:  Red Essential Snood, $29.95 from Sportsgirl; Emily Wrap Dress by Boom Shankar, $110 from Birdsnest; Frosted Sphere Earrings, $22 from Elk Accessories; Amaze Biker Jacket, $109.95 from Just Jeans; iZZY boots in tan, $299 from Frankie4 Footwear.
I'm a long term fan of Boom Shankar's wrap dresses and this latest version doesn't disappoint. (If your size isn't available at Birdsnest, it'd be worth checking out the Boom Shankar online shop here).
I've dressed this pretty Emily Wrap Dress down here but it could easily be dressed up with heels and a contrasting coloured coat or jacket, like this bright red Lisa Crombie Coat from Forever New (I'd wear a more neutral coloured scarf with this).
For a more boho, milder weather alternative to this dress, also check out this Merida dress from Adrift here. It's gorge.
In the accessories department, I've picked up the red in the print with the snood – how divine is this red – and with the simple but chic earrings. Both add interest without fuss. Tan boots and a denim jacket complete the look.
If you're looking for a bag to suit this outfit, I reckon this Ringo Bag by Louenhide would be perfect.
This post contains some affiliate links. You don't pay any extra and I earn a small commission. Read more in my Disclosure Policy here.
What's your daily uniform at the moment? Which of the above outfits would fill a gap in your wardrobe?