Welcome to this month's What to Wear post, a monthly post around these parts where I play the modern version of Paper Dolls by putting together outfits that not only look great but will hopefully provide some new season fashion inspo as we roll into another month.
May Day indeed!
This month we are certainly facing into Winter in Victoria, with arctic breezes, chilly mornings and rain here in the southern states. I know it's a slightly different story in the northern states and I can't say that this post will cover Perth with its mid twenty temps well into May. I can't even! I think all these outfits still work though, but you may well need to lose the top layer for at least another few weeks.
When I thought about what I'd want to wear this month, it was pretty straightforward.
A pop of bold colour to break up grey days and All The Neutrals.
Autumn florals that work back with denim, boots and textured layers.
Easy outfits that are comfortable to wear, flattering and wearable across a range of scenarios.
So with that in mind, here are this month's outfits …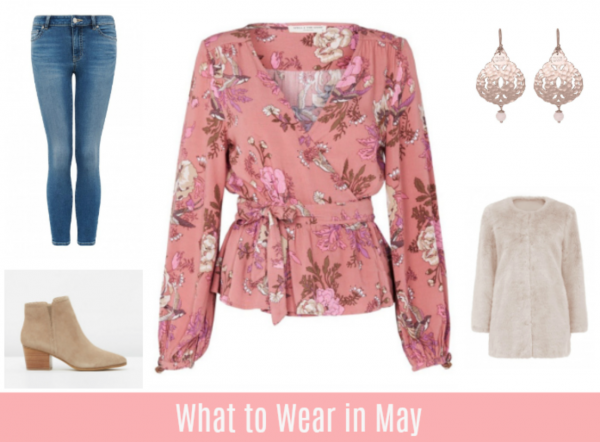 ABOVE, CLOCKWISE FROM TOP LEFT:
Poppy Jeans, $89.99 from Forever New;
Rosa Wrap Blouse, $169 from Spell Designs;
Lola earrings, $119 from Nicole Fendel;
Tabitha Faux Fur Coat, $149.99 from Forever New;
 Larissa Ankle Boots, $110 from The Iconic.
This pretty pink wrap top is part of Spell Designs latest collection, Rosa, which dropped last week to much anticipation and the usual cultish enthusiasm, as several pieces from Rosa were worn by selected festival goers at Coachella recently.
I'm a fan of pink however it comes – from blush pink through to fuchsia – but this muted dusty pink is a refreshing alternative that works back beautifully with denim, tan and creams. I've paired it here with skinnies, a faux fur jacket and statement earrings but it could also be dressed up with a pencil skirt and nude pumps a la Duchess Kate or dressed down with sandals and distressed jeans or shorts in milder climes.
I'd wear this smart casual outfit to a family birthday do, dinner with the girls and date night.
The hero of this next outfit is this budget friendly monochrome frock from Target.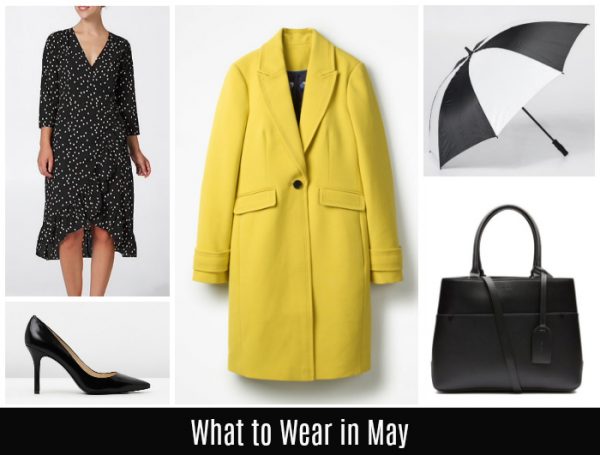 ABOVE, CLOCKWISE FROM TOP LEFT:
Midi Wrap dress in black spot, $30 from Target;
Aileen Coat, $160 (on sale) from Boden;
Golf Umbrella, $19 from Target;
Kiara Work Bag, $119.95 from Witchery; 
Martina Heels, $149.95 from The Iconic.
This outfit is a classic work outfit updated for a new season. With investments in a great pair of shoes and an all round bag, an easy new season update is a well priced frock that will work back with all your monochrome faves.
To add some interest and a serious pop of colour, this beautiful statement coat from Boden is a winner if you're not afraid to stand out from the crowd. I love this acid yellow against black and white in the corporate space but it's also a winner paired back with denim, trainers and lighter neutrals come the weekend.
Oh and if you're not sure about yellow in general, it's not too late to get on board. It was definitely THE colour of the royal wedding, with all shades from lemon through to banana and chartreuse getting a guernsey from everyone from Duchess Kate through to Amal Clooney and HRH The Queen herself.
Come the weekend, I'd add some blinged up earrings and a clutch to this dress for a party or other dressy do. As it gets colder too, I'd add tights and boots and a scarf. To dress it down, I'd add a denim jacket and flats.
This final outfit is a weekday, working from home staple for me: a relaxed jersey dress paired with trainers and a denim jacket. If you follow me over on Insta, you know this is a look I love all year round.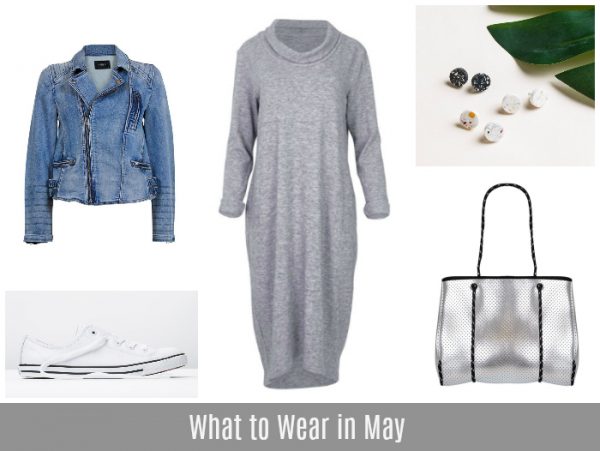 ABOVE, CLOCKWISE FROM TOP LEFT:
Biker Denim Jacket, $139.95 from Decjuba;
Roll Neck dress, $89.95 from Birdsnest;
Studs, $24 from Ruby Olive;
 Neoprene Tote, $69.95 from Decjuba; 
Chuck Taylors, $99.95 from The Iconic.
Grey is a perennial favourite all year round but I particularly love it in the cooler months as a lighter alternative to black. Paired with white and denim, it's effortlessly stylish. I've dialled things up a notch too with a metallic tote and fun studs which add an extra something to an otherwise low key approach.
For another jersey dress along these lines, check out this post.
This post contains some affiliate links. You don't pay any extra and I earn a small commission. Read more in my Disclosure Policy here.
So over to you, which of the above outfits is your pick? What's your May "uniform"?