With Christmas Day fast approaching, and NYE not far behind, I've been thinking about what to wear, now the presents are mostly bought and most of our end of year functions are done and dusted.
Truth be told, I have a few requirements when it comes choosing what to wear for these celebratory days.
For a start, I like to wear something colourful and fun. It might be a new take on the traditional green or red, or something fresh and fun or bold and striking.
The second non negotiable is that whatever I'm wearing has to be floaty and flattering to allow for the ensuing food coma slash baby and various other festive indulgences. No tailored or fitted frockery or button up pants or skirts for me. If it has a waist, there must be an adjustable tie or elastic involved.
Finally, as our festivities tend to cover most of the day and go well into the evening, comfortable shoes are an absolute must. As I'm hosting Christmas lunch, I will be spending a lot of time on my feet, so I'm already thinking of what I can wear that will look fab but not add to my fatigue. Wedges or a block heel are the high watermark of dressy-ness for me, with slides, sandals and espadrilles a more relaxed alternative.
I've also included some togs and headwear for those of us lucky enough to be spending Christmas alfresco with optional poolside or beachside shenanigans.
Here are a few outfits that channel that relaxed, colourful and fun celebratory vibe we love so much here at Shenanigans HQ …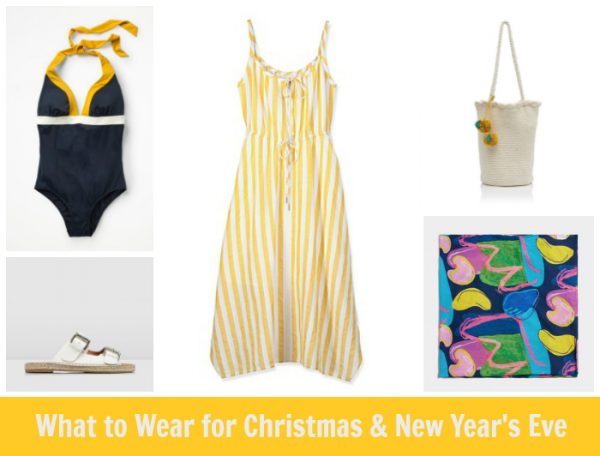 ABOVE, CLOCKWISE FROM TOP LEFT:
Swimsuit, $110 from Boden;
Ladder stripe maxi dress, $199 from Country Road;
Lemon Tote, $29.95 from Sportsgirl;
27 years beach wrap, $89 from Gorman;
Espadrilles, $79.95 from Jo Mercer.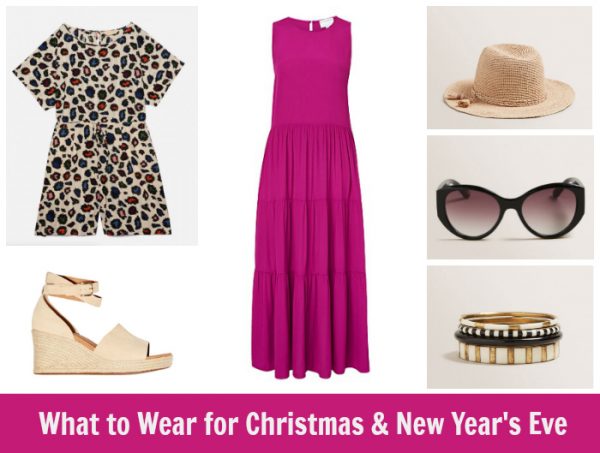 ABOVE, CLOCKWISE FROM TOP LEFT:
Juicy Fruit Playsuit, $199 from Gorman;
Tiered Crepe Dress, $99.95 from Witchery;
Panama hat, $59.95 from Seed Heritage;
Stella sunglasses, $39.95 from Seed Heritage;
Bangle set, $24.95 from Seed Heritage; 
Nadia wedges, $219.95 from FRANKiE4 Footwear.
ABOVE, CLOCKWISE FROM TOP LEFT:
Nazar skirt, $229 from Gorman;
Tina dress, $150 from Mister Zimi;
One shoulder t-shirt, $59.95 from Country Road;
Half Moon beaded bag, $79.95 from Seed Heritage;
Ines sandals, $89.95 from Country Road.
I've bought a few of the pieces I've included above (including the Mister Zimi and Witchery dresses), so if you have any questions about anything I've included including fit, hit me up in the comments below and I'll answer you ASAP.
This post contains some affiliate links. You don't pay any extra and I earn a small commission. Read more in my Disclosure Policy here.
So over to you, what's on for you for Christmas and New Year's Eve and more importantly, what are you wearing?