Once upon a time, Valentine's Day was a rather significant event on my social calendar.
Back in the day (AKA my early twenties), I'd either hang out with my single buddies (we'd throw a very fun dinner party at my friend Andy's place) or my beau and I would go somewhere on a "hot date".
And it was often was a very hot date.
I remember sweltering through many a Valentine's Day date with the temperature often nearly topping 40 degrees. Melbourne in February can be brutal. Hence the need to locate a venue with aircon, a cold bottle of bubbles and find a frock that ticks the loose, light and of course fabulously flattering boxes.
I remember one memorable Valentine's Day night, Mr SnS and I had dinner at a local Thai restaurant which was not air conditioned. Let's just say that no amount of well placed desk fans could counter the multiple effects of 40 degrees and our hot green curry!
These days, with our wedding anniversary in early March, our Valentine's celebrations are pretty low key. This year, however, we have a dear friend's 40th birthday party so I'll be frocking up and toasting love, life and friends. Oh and of course the forecast suggests it will be a hot one.
So, this Valentine's Day (or any day for that matter), find someone you love, whether it be a group of fab friends or your current beau and celebrate life and love. Those celebrations might range from a simple exchange of cards, a picnic in the park, a quiet dinner at home after the kids have gone to bed, through to dinner out somewhere fabulous or a date at a local outdoor or rooftop cinema.
Below, I've styled three outfits to cover these scenarios and any other do you might have coming up.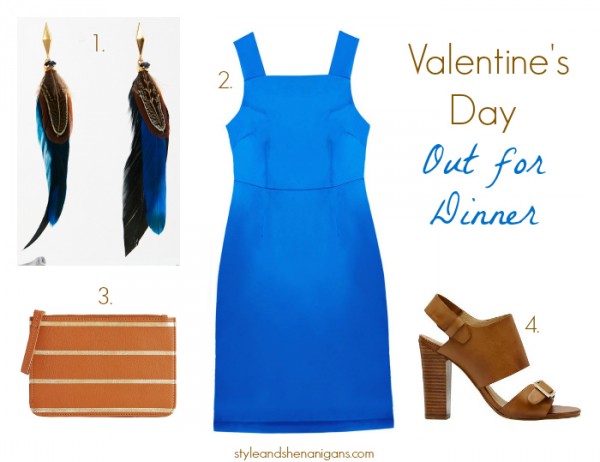 1. Bena Feather Earrings, $68 from Peter Lang; 2. Magic Hour Apron Dress, $249 from Gorman; 3. Leather Pouch in Tan/Gold, $30 from Target; 4. Buckle Block Heel, $169.99 from Seed Heritage.
This stunning blue dress is part of the new Gorman Autumn 2015 range. Paired with simple but striking accessories, you'll certainly make an impression on your date. This outfit will happily cover you for any upcoming parties or weddings too.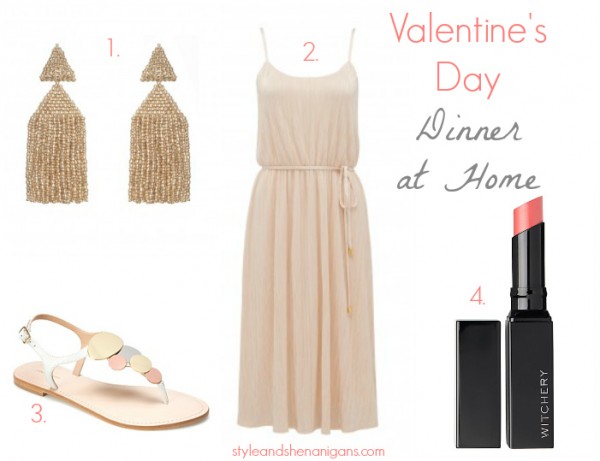 1. Hangin' Out earrings, $79 from Gorman; 2. Lucy Pleated Metallic Dress, $99.95 from Forever New; 3. Bettina Sandal, $129.00 from Country Road; 4. Lipstick in Shell, from Witchery, $16.95.
If your Valentine's Day is likely to be local and low key, a sophisticated yet relaxed look like the one above may be more your thing. Put the kids to bed, pop on a frock, dim the lights and open a bottle of wine without having to worry about babysitters, bills and curfews.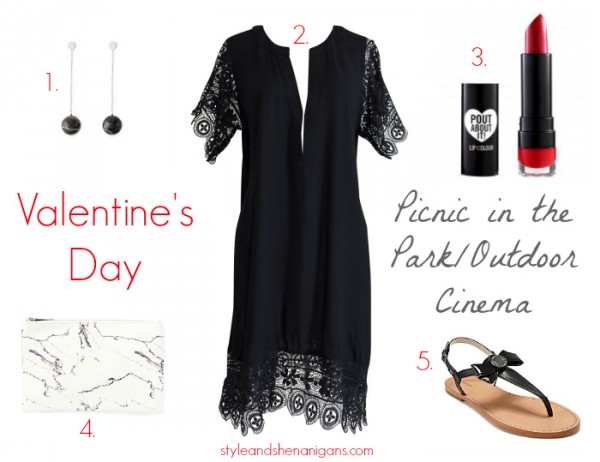 1. Drop Stone Earrings, $49.95 from Country Road; 2. Dreamer Dress in Black, $139 (currently 25% off) from Bohemian Traders*; 3. Pout About it Lipstick in Bombshell, $9.95 from Sportsgirl; 4. Marble Print Clutch, $79.95 from Country Road; 5. Tightrope Thong, $149 from Mimco.
If your date involves an outdoor cinema or a posh picnic, a floaty, flattering and feminine dress like the Dreamer dress above may be just the ticket. Paired with dressy flats for walking through the city or the park, these on trend marble accessories and a bright lip will keep the glam stakes high.
For the finishing touch to your Valentine's Day look, Redcliffe Style has put together a DIY guide to soft pink make up.
For gift ideas for your Valentine, check out Styling You's gift guide (she has the self gift covered off too) and Sonia Styling's Valentine's gift guide which includes gifts that don't cost a cent. Bubbles, Baubles and Style has sourced a range of non cheesey gifts too in this post.
Do you celebrate Valentine's Day? What are your plans for Saturday?