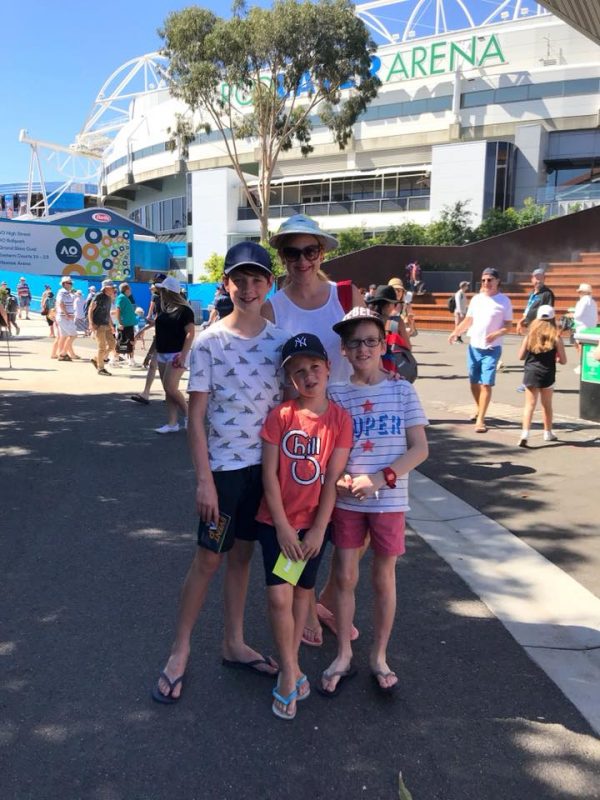 I'll never forget my first visit to The Australian Open back in '89.
My German school friend Stephanie, who was a great tennis player and keen tennis fan, invited me along that summer. Despite having zero clues about tennis, I happily accepted her invite and found myself with a $20 ground pass and needing a thorough heads up on the actual rules of the game.
Ground pass in hand and ten bucks in our pockets for the day, we found seats on Court 2 and literally within minutes my teenage love affair with Stefan Edberg tennis had begun.
Since that great first impression, I've followed the tennis every summer – although I confess my interest did wane in the Sampras years – and especially loved going to night games on balmy summer's nights in the halcyon days before kids.
Since we've had kids though, the logistics involved in going to the tennis proved tricky given it can be such a long day or night when unpredictable five setters are involved and it's a big day or night for anyone looking after the kids.
So when I thought about how we'd manage it this year – as I was determined to go again – I booked tickets for all of us to go together. I figured if our youngest – who is six and a half – has managed New York City and a 2km walk around The Nut in Stanley, Tasmania as a preschooler and most recently, a ride on a jet boat in W.A., he's as ready as he'll ever be for a day at the tennis.
Of course the one detail I couldn't have fully anticipated was the extreme heat – on Thursday last week when we went it was 39 degrees for much of the day, including when we walked home from the train station at 7pm. Very hot times indeed.
Nevertheless, five tickets and a significant outlay later, we were determined to make the best of it and have a great day. Despite being in full sun for four hours – when spectating becomes an extreme sport – we had a terrific day out and in this post, I'm sharing a couple of outfit ideas and tips which helped us the day we visited. I hope they might also be relevant if you're watching other summer sports – including the kids' sport once term one starts – too.
Tips for a Great Day Out at The Australian Open
Comfort is key in the heat – wear light, breathable fabrics such as linen and cotton that drape and don't cling and shoes you can comfortably walk in all day;
Cover Up – this is the tricky one – as well as staying cool, try to cover up as much as possible – it will  not only protect your skin from the unrelenting rays but save endless sunscreen application. This might mean a tee instead of a tank or a longer, but light dress. I did see some spectators using light scarves to protect open back clothing and shoulders in full sun;
A hat is a MUST – as wide brimmed as possible without obscuring the view of the people behind you. Likewise, don't leave home with your favourite pair of shades. The glare off the courts is fierce.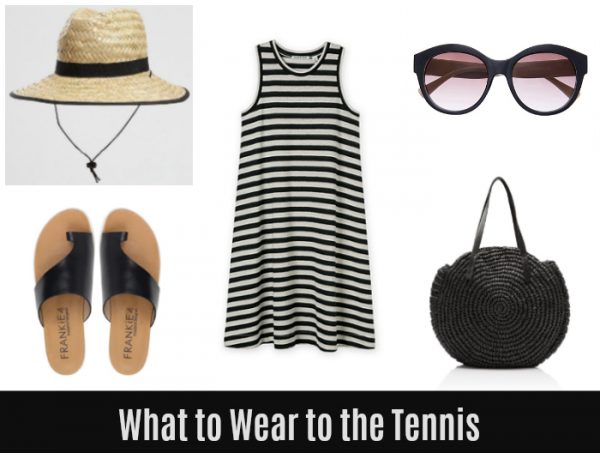 ABOVE, CLOCKWISE FROM TOP LEFT:  Hat, $10 from Target; Swing Stripe Jersey Dress, $139.95 from Country Road; Casey Sunglasses, $69.95 from Witchery; Round Woven Tote, $49.95 from Sportsgirl.
Pack a big drink bottle – there are several water refill stations you can use during the day;
Pack snacks – while there's plenty of food available on site – it'll save you some cashola. We packed loads – wraps for lunch, grapes, apples, chips and sweet treats for five people but it's a long day. We bought ice creams during a break and as we were still there at dinner time – our last day game finished around 6pm – we tucked in to kebabs from Biggie Smalls on the lawn. I feel confident we sweated and walked off everything we ate!
Don't forget to pack sunscreen and reapply more regularly than you usually would to avoid getting burned. As some who hasn't sunbaked in twenty years, I found sitting stationary in the sun very intense.
If you're going with your family, a backpack is a great idea. We loaded up two backpacks with five drink big bottles, wraps, fruit and snacks for all five of us as well as sunscreen. If you're going on your own, a decent sized handbag will probably suffice.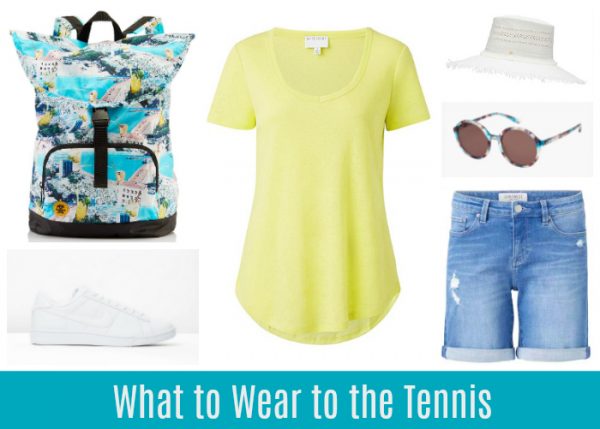 ABOVE, CLOCKWISE FROM TOP LEFT: Cache Stowable Backpack, $55 from Crumpler; Linen V Neck Tee, $29.95 from Witchery; Hat, $79.95 from Witchery; Roxy sunglasses, $99 from The Iconic; Bermuda Shorts, $59.99 from Jeans West; Nike Tennis Classic trainers, $120 from The Iconic.
If it's going to be a scorcher – as it was the day we visited – think about how you'll cope with the extreme heat. For four hours our seats were in full sun, during which time we drank lots of water and had regular snacks and had regular breaks outside the court where we continued to watch the game in comfort on the TVs. We saw others with face washers and towels that they wet in the toilets or refill stations to wear across their necks and keep them cool.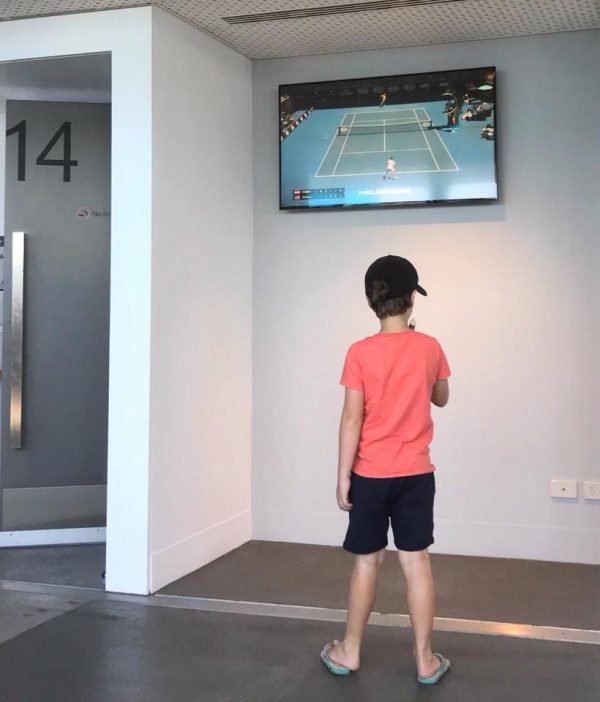 Expectation management – with kids, it's important to let them know what the day will involve, especially when they haven't been before. We thought we'd done this but the heat made the conditions rather extreme. One of our kids found the first hour or so tough but then loved it, while another cracked it when we didn't leave after the first game – he didn't realise our tickets entitled us to three day games and thought that was the end! In terms of the rules, we also made sure they'd watch a few games before they went so they knew what was going on, although I still had to field some questions about why it's called "JUICE" from Mr 6.
Plan to stick around at the end of the day or arrive a bit earlier before the night game. There is SO much on at the tennis besides the tennis – great pop ups and food outlets, bars, activities for the kids, an entertainment area with live music as well as the very civilised Aperol Spritz bar, where you can pick up said Spritz for $13. For all the details, head here.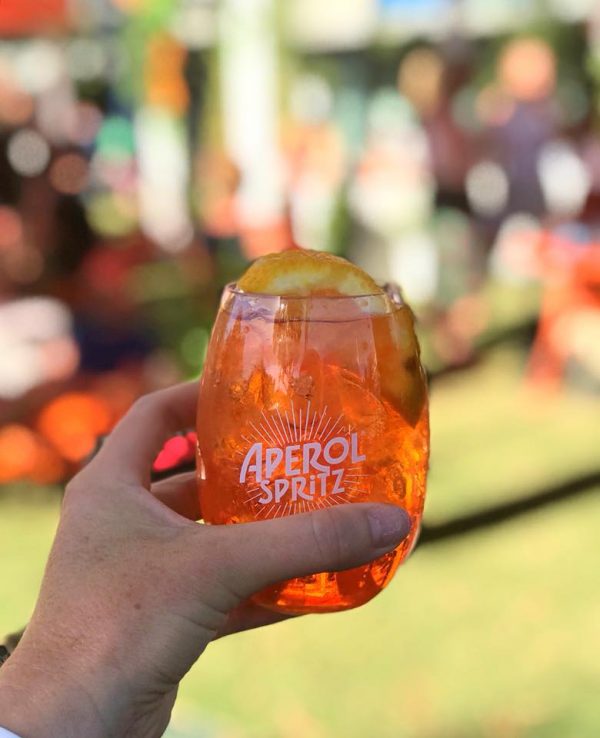 Think about how you'll come and go – we priced city car parking for the day ($85) so we opted for instead for public transport which meant some more walking at both ends of the day but saved us time and money.
Next time, when buying tickets, I'd recommend reconnaissance on where the sun/shade falls – there were many seats at Margaret Court (and similarly no doubt for Rod Laver Arena) which were in full shade for the whole day. While we had great seats from a viewing perspective, the full sun wasn't ideal and I would definitely be seeking these out next time around.
This post contains some affiliate links. You don't pay any extra and I earn a small commission.
Have you been to the Australian Open or one of the lead up tournaments? What advice or tips would you add to mine?