Last weekend, our boys' primary school held it's bi-annual dinner dance.
Unlike school formals – hello awkward dates, teenage angst and burgundy dresses with rosettes (ok I might be projecting a bit here) – it was a rather fabulous affair.
At our local town hall, nearly two hundred or so guests turned up – we love a big night out around these parts – for a four course dinner and the awesome DJ Rob on the decks.
We'd been looking forward to it for 6 months and there was much anticipation and excitement in the lead up.
So you can imagine how bummed I was to find our big night fell on my annual – and much loved – book club weekend away.
So I struck a compromise to avoid major FOMO:* I spent most of Friday and Saturday morning with my book club girls down the coast, then I fanged back up the freeway after lunch on Saturday arvo, straight to the hairdresser for some pre party prep.
Thankfully, the faux tan and nails were sorted on Thursday night. Hashtag Organised.
I was still undecided what to wear even at 5.30pm on Saturday night, but I ended up wearing this blush pink and silver lace Alannah Hill frock – The Special Little Darling Dress – which I picked up in the summer sales nearly 18 months ago, in an end of season buy two sales dresses, get one free.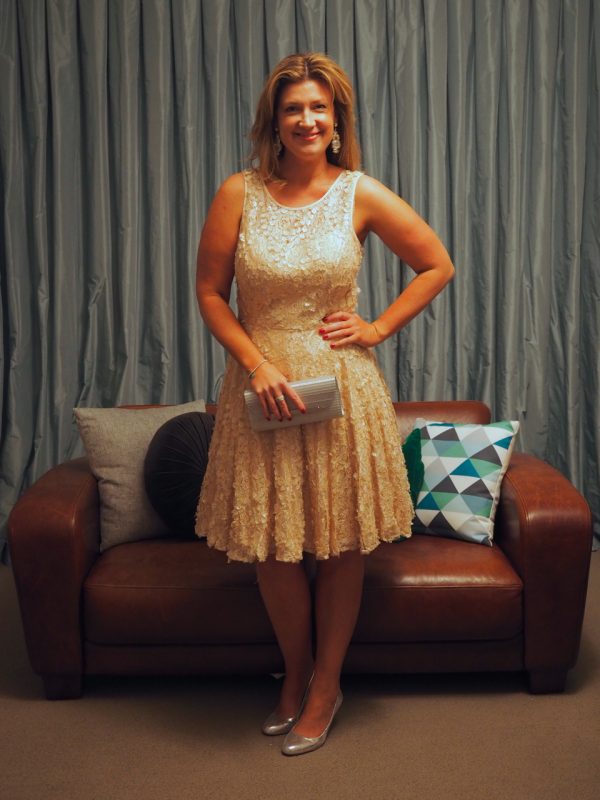 I love the classic fit and flare of this style, the beautiful fabric with it's silk satin lining and also, that it was certainly dressy enough but not the usual after five option.
I paired it with a beautiful pair of earrings given to me for my birthday a couple of years ago from my friend Jane who runs Hello Sailor Accessories, and a ring and fine bracelet from Tiffany & Co., given to me by Mr SnS on anniversaries past.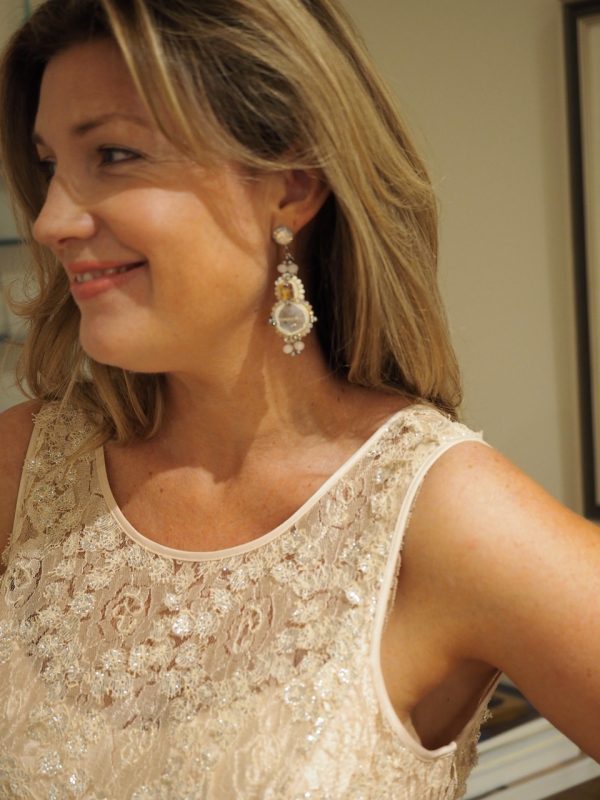 I picked up the silver Mimco clutch on sale a while ago. I've found a metallic clutch is always a good thing to have and invariably comes in handy for dressy do's. Even better if you have shoes to match.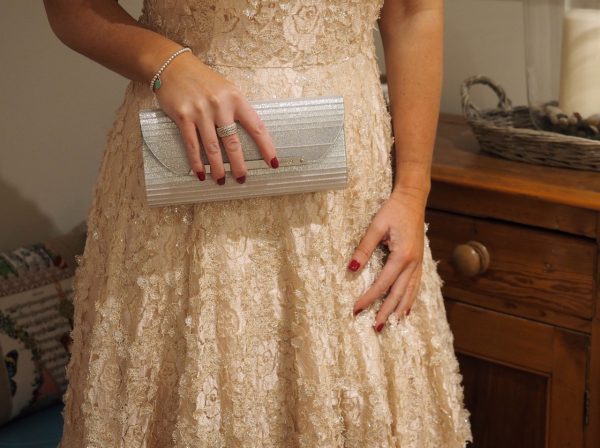 The only new thing I bought for my outfit was a pair of silver heels – the Daniella Court Shoes – from Joanne Mercer, now on sale. They were perfect for my outfit and I lasted nearly four hours in them, which is pretty good going for me after I fractured my ankle 5 years ago.
Halfway through the night though, I ditched them for my silver derbys – bought last winter from Country Road – so I could dance all night. There was no way I was sitting out for Jessie's Girl.
FYI, these pretty heels also come in gold.
The silver in the dress and my accessories also worked in with the theme of the night – a touch of sparkle.
Apologies for the quality of these pics – we missed out on the natural light given the sun had already set but I've included pics with different light to show more of the detail …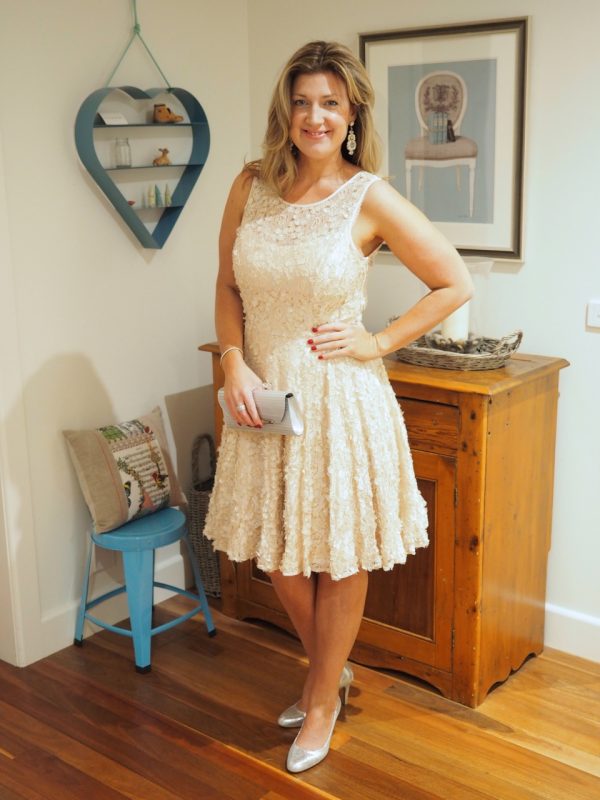 If you have a big night out coming up, here are some tips that you might find helpful:
– Try on your entire outfit before the day of the event – including bra/underwear/hosiery – to make sure everything looks and feels good;
– A blow dry can easily make you feel a million bucks – book in early, for as late in the day of the event as you can;
– Getting your nails done or DIY-ing is a lovely finishing touch;
– In winter, we can all feel a little on the white side. A faux tan can be lovely if you're wearing a sleeveless dress or peep toe shoes but if your dress has sleeves and your shoes are closed toe, wearing sheer hosiery can give you the look of a tan without the hassle;
– Don't feel like you need to buy an entire outfit – go through your wardrobe, borrow from friends and family or look for a bargain. Most of my friends either borrowed some of part of their outfit or wore their 40th birthday frocks again;
– You can find plenty of bargain dresses and not just on sale. One of my girlfriends found a gorgeous formal maxi for $40 from Dotti. Forever New, Portmans and Target also do well priced formal wear;
– In the same vein, if you've splashed out on the dress or the shoes, buy less expensive costume jewellery and a clutch from places like Lovisa, Sportsgirl, Portmans and Collette Hayman;
– Make sure your clutch can fit your mobile phone, lipstick, money/credit card for getting home;
– Depending on the formality of the do and how familiar you are with the people at the do (I wouldn't do this for a wedding or a corporate do for example), pack a pair of flats – if you love to dance or there's walking involved – if you're not sure your heels will make the distance. I packed flats the same colour as my heels and spent most of my night dancing – winning!;
– Finally, make sure you drink plenty of water on the night and when you get home. If possible, schedule in a quiet day after the big night. I can personally recommend a day of Netflix, couch time and home made soup on that front. The kids don't mind a movie marathon too after a big night out at Grandma's.
* Fear of Missing Out
This post contains some affiliate links. You don't pay any extra and I earn a small commission. Read more in my Disclosure Policy here.
Have you had a formal do lately? Any tips you could share?