Last Friday it was our school annual's Ladies Race Day, one of my favourite days of the whole year.
You can read here more about that involves here, but in nutshell, it's an excuse for the ladies of the school community slash neighbourhood to frock up, have fun and fundraise for our school.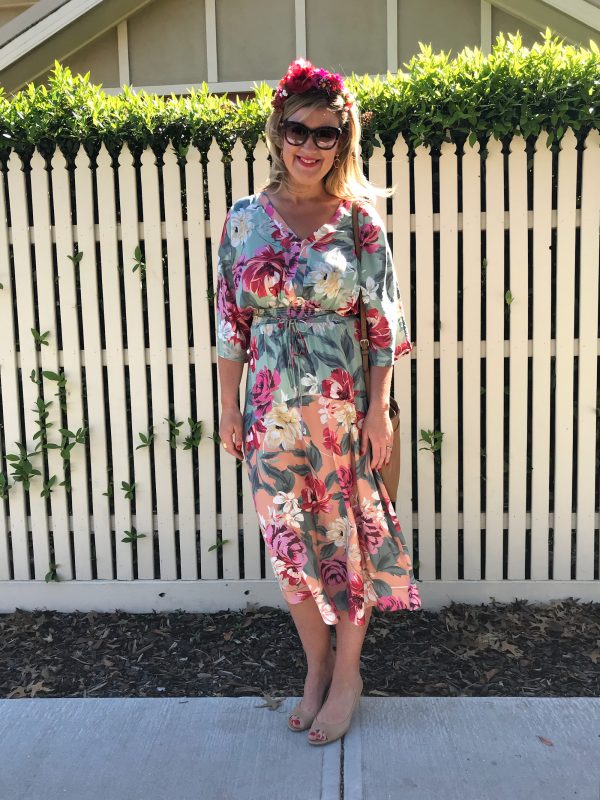 Above I'm wearing a Leona Edmiston dress from last summer with an Alannah Hill floral crown (it's still available in a different colour way here), Bohemian Traders earrings and Nine West wedges.
It's as close as going to the races as I come, but it totally gets me in the groove of the Spring racing festival here in Melbourne and all the fabulous fashion that goes with it.
Speaking of which, this year's race wear is just as good as we've come to expect, although there are always new takes on race wear tradition from year to year.
This year, turbans and floral crowns are on trend in the head wear department and there is more choice than ever when it comes to frockery, with asymmetrical styles and all shades of pink being key looks this season.
So whether you're off to the races, just love fashion or planning your outfits for the fast approaching silly season, today's post has a great round up of dresses and accessories, drawing on the fashion codes of Derby Day, Melbourne Cup Day and Oakes Day.
Derby Day
I reckon the monochrome dress code of Derby Day is the most accessible for the ordinary punter. There are loads of black and white dresses in stores right now, and no doubt in most wardrobes, and it's the easiest option from a styling perspective too.
Simply pick a monochrome dress, a comfortable pair of heels and add some statement accessories – I've gone to town with some beautiful new season pieces – and you're good to go.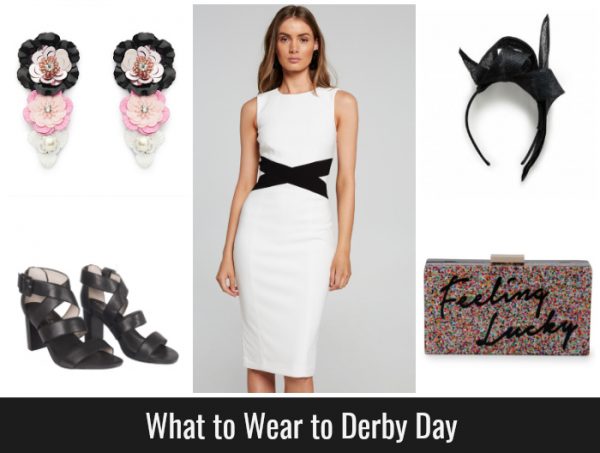 ABOVE, CLOCKWISE FROM TOP LEFT:
Santana Earrings, $149.95 from Mimco;
Spliced Dress, $129 from Portmans; 
Twist Fascinator, $49.99 from Forever New;
Feeling Lucky Clutch, $149.95 from Olga Berg;
Lisa Heels, $219.95 from Frankie4 Footwear.
For more show stopping Derby Day accessories, check out the following:
Melbourne Cup Day
The dress code for Melbourne Cup Day is officially bright colour and bold prints, or, as I like to say, Go Hard or Go Home.
There's nothing subtle or neutral about fashion for the day that stops the nation; it's fun, out there and no holds barred fashion. Think citron yellow, cobalt blue, emerald greens, classic navy, bright oranges and corals, deep pinks and post box reds plus all the statement prints from geometric through to spots, stripes and bold florals.
For Cup Day, I love to take things up a notch by playing with contrasting colour and prints. For example below, I've used this modern floral dress from Marcs as a base and picked up the orange and fuchsia in the accessories department.
Other striking combinations are those on opposite sides of the colour wheel such as blue and yellow or side by side, such as red and pink, green and blue.
All of these looks also translate perfectly to other end of year events such as Christmas parties, milestone birthdays, weddings and other soirees if you sub in a great pair of statement earrings for the headwear.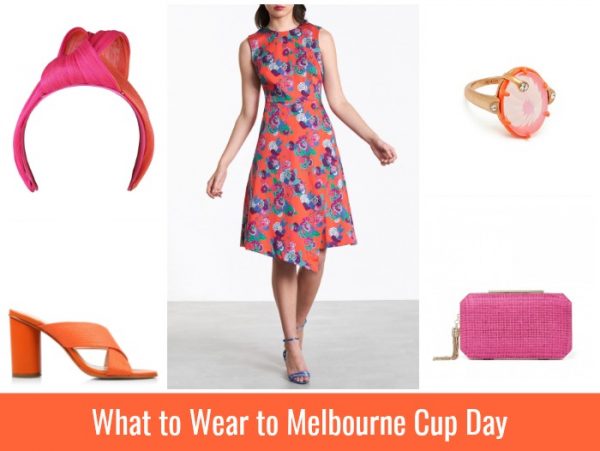 ABOVE, CLOCKWISE FROM TOP LEFT: Turban, $149.95 from Morgan & Taylor;
 Garden of Eden dress, $269.95 (but currently 20% off) from Marcs;
Ondine Ring, $79.95 from Mimco; 
Jayda Clutch, $49.99 from Forever New;
Sandals, $179.95 from Jo Mercer.
Some other striking Cup Day pieces include:
Oaks Day
If you prefer a more subdued palette or muted tones, try channeling some Oaks Day loveliness with pastels such as baby blue and lemon through to rich creams, blush pinks and anything floral. Texture wise, consider lace, beading and other luxe detailing. Traditionally Ladies Day, Oakes Day is an excuse to wear your prettiest pieces.
Ditch the headwear and you've also got a great outfit for a wedding, engagement or other daytime soiree.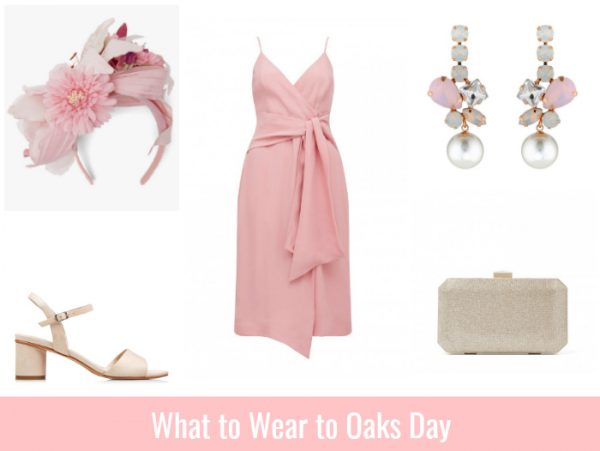 ABOVE, CLOCKWISE FROM TOP LEFT: 
Fascinator, $129.99 from Alannah Hill;
Dress, $99.99 from Forever New;
Ballet Earrings, $79 from Peter Lang; 
Clutch, $49.99 from Forever New;
Mid Heels, $159.99 from Jo Mercer.
The Practical Bit
Finally, style aside, it's important to factor in comfort and practicality for race day (or any occasions really) as well.  You're looking for a frock that is long enough for you to sit down in and shoes that are comfortable enough to wear all day, including standing up for long periods and walking to and from public transport, in which case a wedge or block heel is likely to be a better option that sky high stilettos which sink into lawns and will have you reaching for your thongs.
If you're considering shape wear, a new strapless bra or wearing a new pair of shoes, have a practice run before hand so you know you'll be comfortable wearing them all day.
Last but not least, don't forget your sunscreen, sunglasses, entry tickets, lipstick and Myki too.
This post contains affiliate links. You don't pay any extra but I earn a small commission.
So over to you, are you off to the races or a races themed event? Which dress code is the most 'you'?