Last Friday I hosted our School Ladies Race Day.
While we do like to entertain and often have friends and family over here at Shenanigans Central, it's the first time we've ever hosted an event on this scale – 75 or so guests – and it was a big project over many months.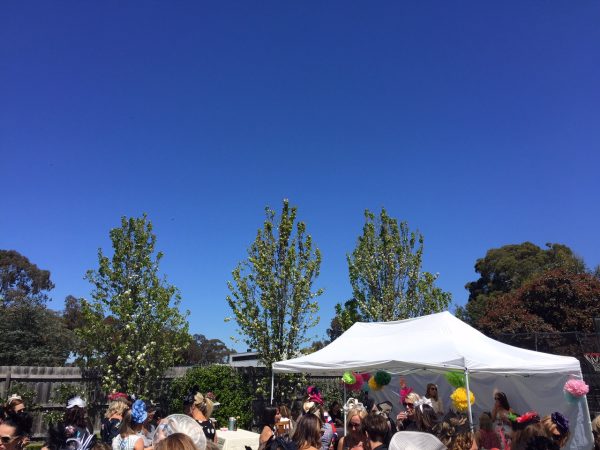 I had been to several local Ladies' Race Days though over the last few years, so I had some idea of what was involved.
I also had the excellent fortune of having a great committee so many tasks were delegated, ideas shared and resources pooled.
As I've reflected on the day, I've realised many of the things that helped the day be a success can be applied to a range of functions held at home – birthdays, anniversaries and other milestone events.
In fact, after Friday Mr SnS and I looked at each other and said, 'Well, now we know we can do an 18th or 21st here'. Heaven forbid!
In this post, I've set out some of the things we did that I think can be applied to a range of functions, and will hopefully help you to be a relaxed and organised host who can enjoy his or her day. I'd love to hear your tips and traps in the comments below.
Get organised – The best thing I did at the beginning was to write a very comprehensive To Do List which covered everything from start to finish, including the pack up. Mine included everything from emails, requests, logistics, re-confirming details the week before and so on.
I also worked out what things could be done well in advance (book caterers and waitresses, order cake and drinks, gardening, work out what to wear); what needed doing the week before (Costco shop, pick up and label glasses, clean windows, confirm catering and arrangements with waitresses); and what had to happen in the days before the event (vacuum, dust, tidy, move furniture, set up marquee, pick up flowers).
This helped me to mentally pace myself, delegate and tick boxes, preventing major last minute stress. I also had plenty of people on board (our Race Day Committee, Mr SnS and a couple of friends' husbands) who shared all of these jobs in the week before.
Book those appointments in early – it's an easy thing to knock off the list so do them early. Here, I'm referring to things like a hair appointment, waxing,  spray tan, nails or whatever you like to do in preparation for a special event. The weeks will slip by but at least you know you're sorted while you concentrate on everything else.
Don't reinvent the wheel – Looking for caterers? Or a cake, waitresses, glass hire, DJ or other logistical support? Ask a friend who has hosted a party lately or put the call out to local friends on Facebook.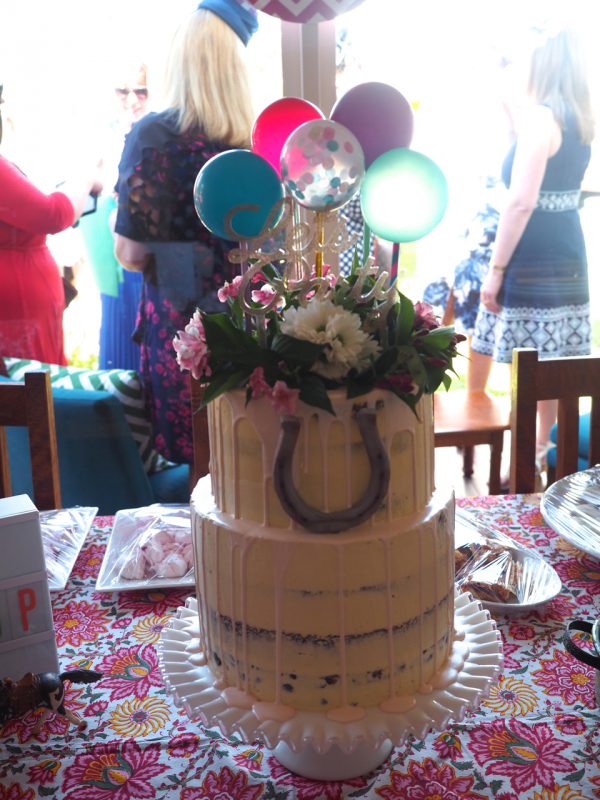 Many people have friends or family members who can help out or who know some tried and tested options too and they can easily tag businesses or friends who can help.
My friend Kelly makes awesome cakes and did a great job with our Races themed cake, pictured above. (She also made my awesome 40th cake – check her out on Insta at @Illbakethecake).
Have a budget and stick to it – from catering to decorations, drinks to music, it's good to have an idea from the outset of what you can afford. We had a set budget to work with so we had to be creative and think carefully about how funds were allocated.
Supplement any paid catering – with a modest budget, we decided to 'top up' the paid catering ourselves. We bought some bulk supplies from Costco and made slices and sausage rolls ourselves. This kept the price down and spread the load. It also alleviated my fear of under catering!
Likewise, for a party, accept offers for help and allocate small things – a cake, slice, block/s of cheese, crackers etc. They are small things which en masse, save money and divide the labour.
Music – Music is a big thing for me at any event and I enjoyed putting together a Spotify list in the months before our event.
Depending on your budget and taste, you might like to hire a DJ, band, classical musician/s to add that extra element to your event.
Again, ask around for recommendations or start working on your own playlist.
Have a Plan B – if you're planning an al fresco event, you'll need to have options in the event of rain, wind and extreme cold and heat.
This might involve limiting numbers from the start to what you can comfortably fit inside your home or you can look at hiring a marquee, outside heaters or fans if your budget can cover this.
Ask for or accept offers of help – from an offer to pick up glasses or to mind your kids, accept the help offered to you from your family, friends and school/kinder/church community.
It may seem like a small thing to them, but for me, those last minute offers to pick up strawberries and grapes for the cheese platter and to look after my son after kinder, made a huge difference to me the day before the event.
Empty the fridge – you'll need space in the fridge and freezer to store the food and drinks for your guests. In the weeks before, I tried to run down our supplies so I had a shelf and a half free for the caterers.
We also emptied out our old fridge in the garage for the drinks.
Arrange to have the kids out of the house as much as you can the day/night before – once the house was cleaned the day before our event, I tried to keep the kids out of the house. We took them out for dinner and then straight home to bed and asked them to use our bathroom. Once things are clean and tidy, you want to keep them that way!
Allow time to set up on the day – before our guests arrived, I had a couple of hours before anyone arrived which gave me time to give the bathrooms another going over, set out all the trays, baking paper, disposable gloves, tea towels and other equipment our waitresses might need.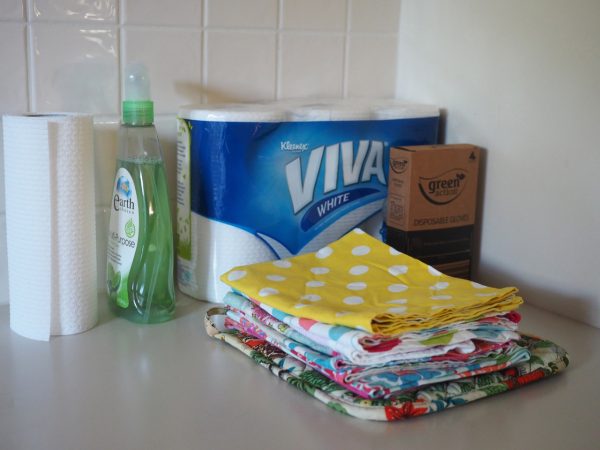 I also put together a stash of things just in case there was a spill – paper towel and a spray cleaner. Having a mop/dustpan and brush handy is a good idea too.
The platters and serviettes were all on the table too, ready to go as were little dishes for sauces.
Flowers and candles – a home that looks and smells good creates a welcoming space. Flowers add some colour and interest to any room and a scented candle can mask domestic odours amazingly well!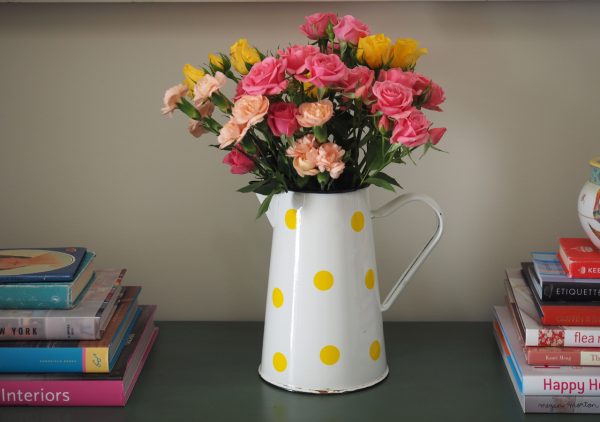 As well as ordering flowers, I also cut some blossoms off our Ornamental Pear tree and a pretty pink blossom tree.
Rosemary and other cuttings work well too.
For evening events, tea lights and fairy lights add a lovely ambience to any party and a few well placed citronella candles can be a great idea too.
Label glasses – if you don't have loads of extra glasses, it's worth labelling your guests' glasses. You can DIY tags, like these pretty ones we had or you can buy some colour coded sets from home wares stores.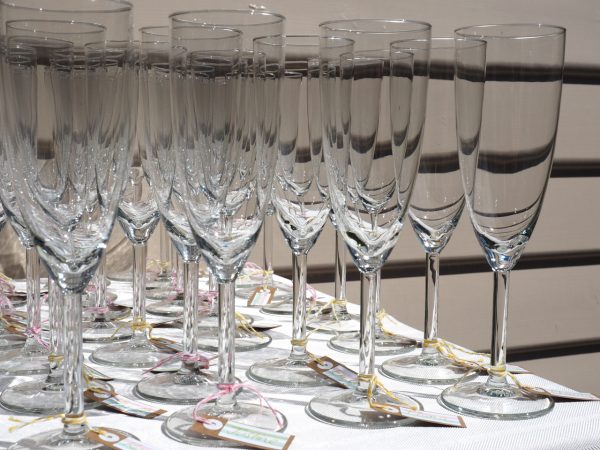 Thanks to Kirsty on our committee who made our lovely labels which tied in to our colour theme for the day.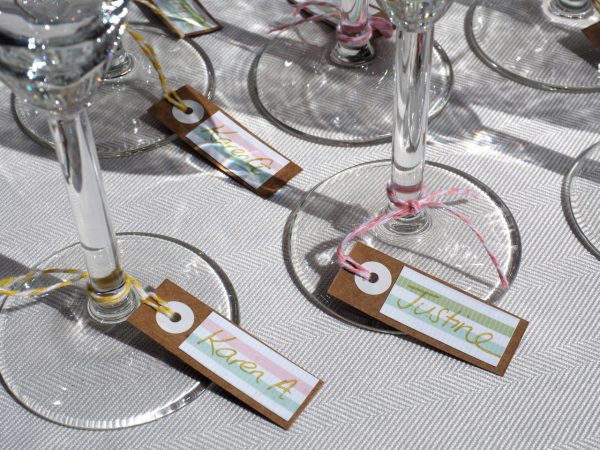 Self serve water – it's a good idea to have a drinks station happening so guests can serve themselves water during the function. A large water/drinks dispenser is a great option or have jugs of water available, if you have the space.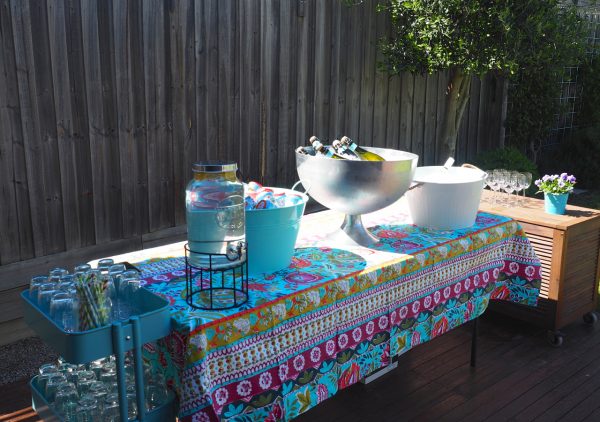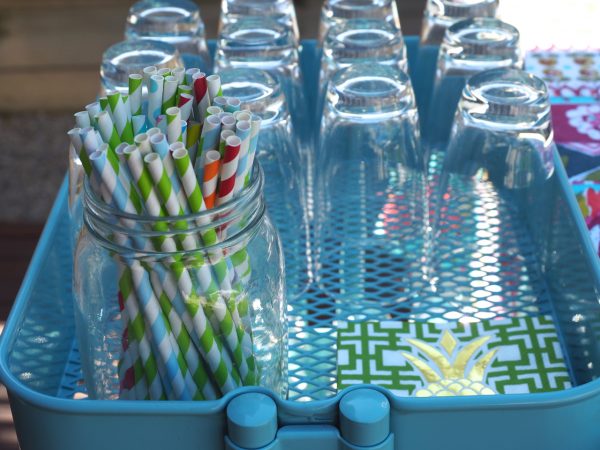 Have a running sheet for the day/night – this can detail when food is to be served; announcements or speeches are to be made and so on.
This helps you to enjoy the event, knowing that important info has been shared, so you're not the go to person all day/night. It also makes sure you don't forget anything. Jotting down who you need to remember to thank is a good idea too.
Have a designated photographer – it's almost impossible to take some snaps while you're hosting as you can see below!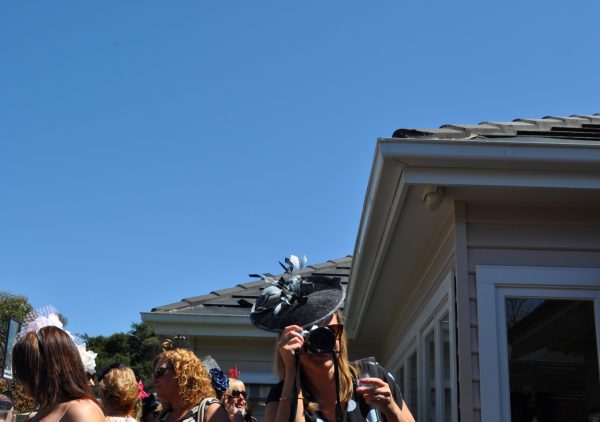 I took nearly all my photos before the guests arrived and was busy chatting and well, hosting. Having someone whose main job is to photograph is a big relief and makes sure you have a record of your special event.
You might also get a great shot like this one, taken by my friend's husbo Jeremy, our designated photographer on the day!
Be creative – for our event, I made the most of what I had – existing linen, chairs and stools from around the house; our outdoor setting. We even took inside furniture outside for more options.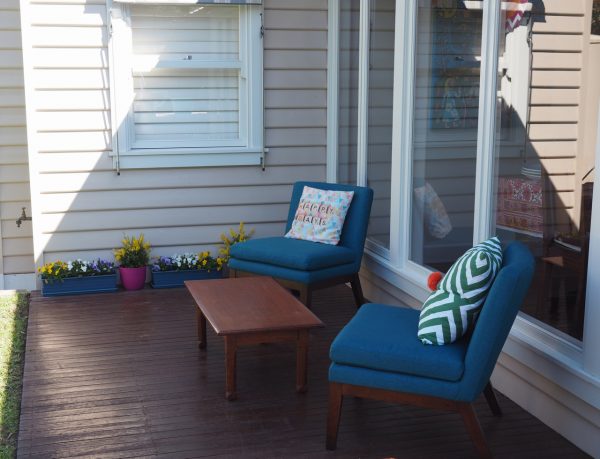 I also used the kids toys and some of my favourite vintage finds as props.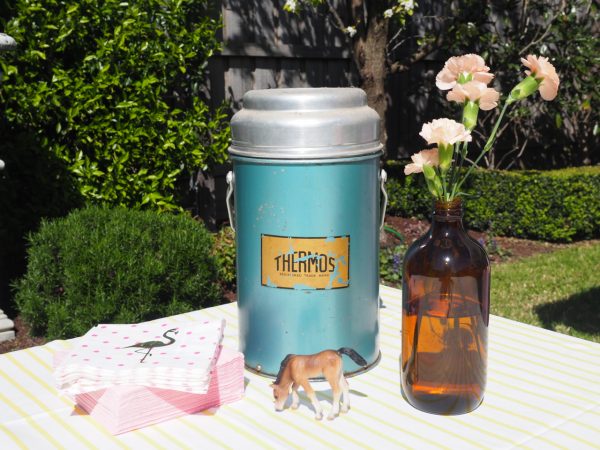 Create nooks for your guests – I tried to create little areas for groups to congregate so everyone wasn't clumped in the one spot. By positioning a few chairs or benches in groups, you can create intimate spaces.
Try and relax – It's easier said than done sometimes, I totally get that. I try hard though because I think a relaxed host often sets the tone of the event.
I also generally find that the more organised I am before the event, the more I enjoy the event itself too which is part of why I like to be on top of everything. If you can try and take last minute shenanigans in your stride – and also acknowledge that this is to be expected – you'll hopefully have a much better time.
Have you ever hosted a big do at your place? What tips and traps could you add to my list?