Sponsored by Melbourne City Mission
I'm SO excited to tell you all about a fantastic fashion event that is coming up in Melbourne.
But before I do that, let me back track a little.
As some of you may know, and as I've written about previously here, I've long supported and worked with people of all abilities.
As a Uni student, I was as an attendant carer of adults and children with disabilities, and later, after I became a lawyer, I worked as a professional advocate in this field.
I am and always have been a strong advocate for everyone having access to the support, care and opportunities they need to reach their full potential.
I also have a deep and abiding passion for fashion and have built this here blog on it.
So when Melbourne City Mission approached me about their upcoming Runway and Cocktail Party event, I leapt at the opportunity to be involved.
So what's it all about?
Melbourne City Mission is fashioning futures every day by providing people with the supports they need to live their life, their way. They are on about supporting people to achieve their potential and realise their big dreams – however ambitious they may seem.
And I just love that.
To celebrate and promote their services, MCM is putting on an incredible fashion event in Melbourne: global fashion superstar Madeline Stuart and other beautiful people modelling on the gala runway. And you can be a part of it too.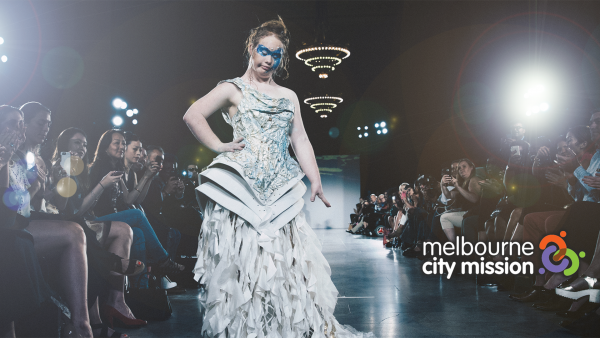 I'm so inspired by and excited to see Madeline in action.
That's because Madeline Stuart knows how to dream big and work hard to achieve her goals. Since 2014, she has been on an incredible journey with her mum Rosanne, inspiring millions of people to think differently about disability whilst changing society's perceptions of beauty – one photo shoot at a time.
You might recall that Madeline shot to international fame in September 2015 when she appeared as a model on the runway at New York Fashion Week. Madeline says 'I hope through modelling I can change society's view of people with disabilities, exposure is creating awareness, acceptance and inclusion.'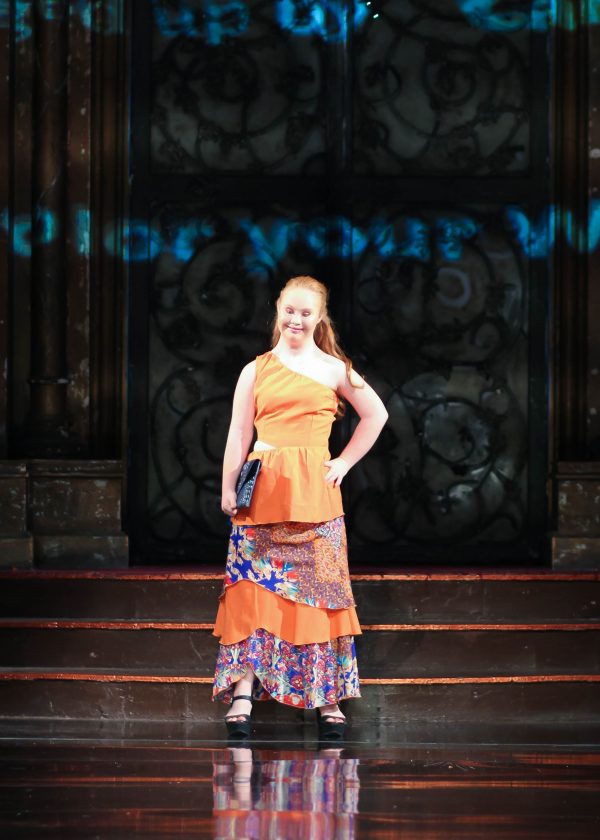 It's going to be a cracker of a night. As well as Madeline and the runway show, Dave 'Hughesy' Hughes is MC-ing so there'll be plenty of laughs and fun times to be had.
There's also a DJ on the decks for some cardio action on the dance floor to work off all those delicious canapes.
If you'd like to come along and join me, your attendance raises awareness and your tickets raise vital funds for Melbourne City Mission so more people like Madeline can reach their full potential in life.
It will not only be a great night out, you'll be making a difference too. I'll be there too of course!
So, come along, perhaps bring some friends (like I am!) and join me for a wonderful night of fashion and inspiration.
I'll be there with bells and I'd LOVE to see you too:
Melbourne City Mission Runway Show & Cocktail Party
Thursday 20th October  from 6 – 9pm
Grand Hyatt – Mayfair Ballroom
123 Collins Street, Melbourne
The Details
Tickets are selling for $100 per person which includes the show, canapes, drinks and the chance to change lives but if you use the code 'SNS', you'll get a $20 discount. Yay!
So that's $80 for a great night out and you'll be making a difference too. Will I see you there? I'd love to!
Buy your ticket/s HERE. Don't forget to use the code 'SNS' to get a $20 discount.
Oh and guests attending this event should be 18 years or older. ID may be requested by venue staff relating to service of alcohol.
So What Will Be Happening On the Night?

Join me for a fun and inspiring night of fashion, cocktails and celebration. You will be supporting an exciting new fund being launched on the night, so people living with a disability can reach for their dreams, just like Madeline. 
The runway show will be stunning, with Madeline leading a company of models of all abilities.
Unbeatable humour too, from MC Dave Hughes, who many of you may know from Before the Game, The Project, The Footy Show and of course radio and stand up comedy.
DJ Fuzzy Logic aka Ryan Schmidtke, a Geelong-based all-in-one music and light experience, on the decks. Ryan controls and operates his sound and lighting show by iPad from his wheelchair. He loves nothing more than getting the groove on and seeing a dance floor full of movers and shakers. I guarantee you, I'll be on the d-floor busting moves and I'd love you to join me. 
Logistics and Other Info
Getting There – The Grand Hyatt is located at 123 Collins Street near the corner of Russell St, near stops for Trams 11, 12, 48 & 109.
Parking  – Enter Wilson Parking via Russell Street or Flinders Lane.
Wheelchair Access – Via the valet parking area on Russell St (south of the Collins St corner). The concierge will direct you to the Ballroom lift.
For More Info – To find out more please call Melbourne City Mission on 03 8265 9902 or email events@mcm.org.au
Is my registration/ticket transferrable? Yes, you can transfer your ticket to another person by simply sending an email to events@mcm.org.au with the names of the guest(s) attending and no longer attending. You can also update your registration info by emailing events@mcm.org.au if you need to update any of the information provided with your booking i.e food requirements, accessibility, names etc.
Do I have to bring my printed ticket to the event? No. There is a guest list. You and your guests will be greeted upon arrival at the venue.
What is the cancellation and refund policy? If you can no longer attend and you do not wish to transfer your ticket to another person, please notify Melbourne City Mission in writing, by email events@mcm.org.au prior to Friday 14 October 5pm for a refund of the ticket price (not including the fees paid). Any cancellations after this time will not be refunded. 
The photos in this post were supplied by Melbourne City Mission and the second photo was taken by Maddie's Mum, Rosanne.
So will I see you there? Would you like to have a great night out AND make a difference? Have you bought a ticket for you and your partner/BFFs? If you could do anything, what would you do?