Last week I attended the Problogger Training Event on the Gold Coast along with 550 other bloggers.
As a "fashion blogger", I wanted to wear outfits that reflected my style, were comfortable, practical and above all, catered for unpredictable air conditioning inside and the mild weather outside.
I overpacked in a serious way (and got hit with excess luggage fees on the way there *insert expensive sad face*) which I attribute to two very fun but heavy pairs of shoes, which I then HAD to wear (and I did – see below).
I also wanted to have plenty of options. Unsurprisingly, I ditched several outfits I had planned to wear and wore what I felt like instead.
In the main, I wore clothes from some of my favourite Australian designers, most of which I bought in the Winter sales recently, and added statement accessories and shoes.  Below are four of the six outfits I wore.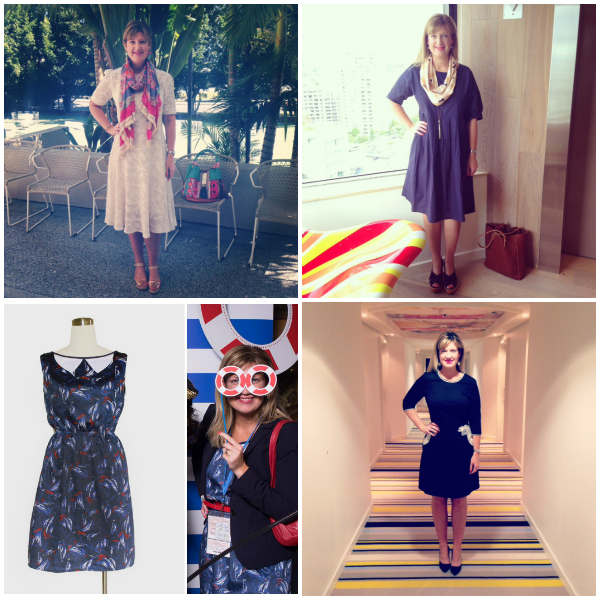 1. FRIDAY 
I can't begin to tell you how much I loved wearing this beautiful Gorman dress. It's oversized fit was comfortable but still had shape. While neutral in colour, the fabric was self patterned and hung nicely over it's slip.
I've also decided that this arm length is supremely flattering and the length worked very nicely too. I felt a bit boho bride actually.
I worked it back with some of my favourite accessories bought in seasons past to introduce some colour. My pre conference lash out were these Copper Clogs from Gorman. They were surprisngly comfortable, gave me more height and had the great combo of wow/neutral factors.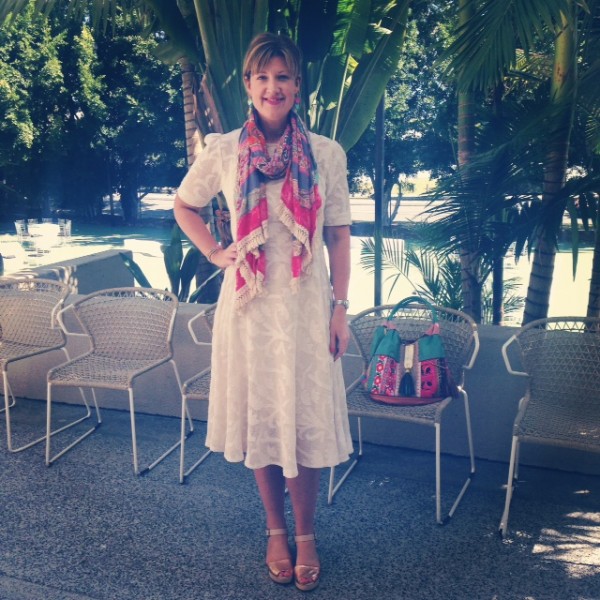 WEARING: Dress of Eliza Day from Gorman (sold out online, sorry but check your local Gorman store or outlet); Seed Heritage scarf from a couple of seasons ago, for similar try here; Stampel Studio earrings; beaded bracelets from Small Vollee; Copper Clogs from Gorman (new Spring Stock).
2. FRIDAY – NIGHT
On Friday night, we headed to the Helm bar for our nautical themed networking party. I wore the "Hello Sailor" dress by Melbourne designers Kindling, which I picked up at The Finders Keepers Market in Melbourne last year.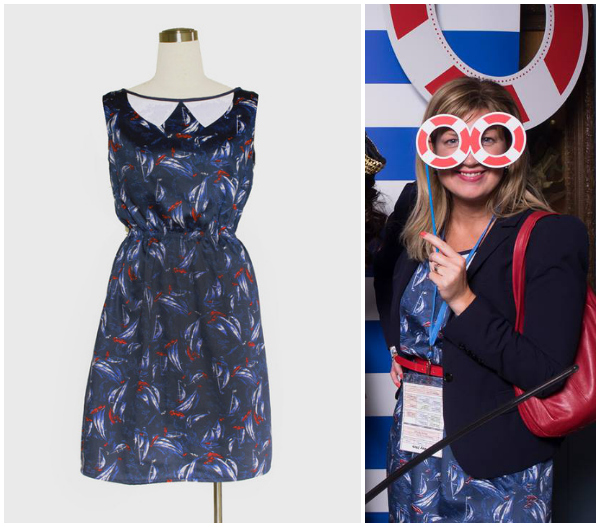 It's peter pan collar detailing, elasticised waist and cute print make it the perfect casual sundress.
To dress it up I added a Zara blazer, a patent red belt from Sportsgirl which I picked up at the airport en route and a pair of patent red Diana Ferrari peep toe wedges from a few moons ago. You can shop this year's almost identical version here.
3. SATURDAY – DAY
By Saturday I was in the groove of the conference.
I opted for this new season Gorman dress with it's light and loose fit which made for a comfortable all day outfit. I picked up the cotton snood at a local market recently as it had a Gorman-y vibe and I thought it would work back nicely back with a navy dress.
To mix things up a bit, I channelled geisha chic wearing these Kutso Clogs from Gorman which I picked up on sale months ago.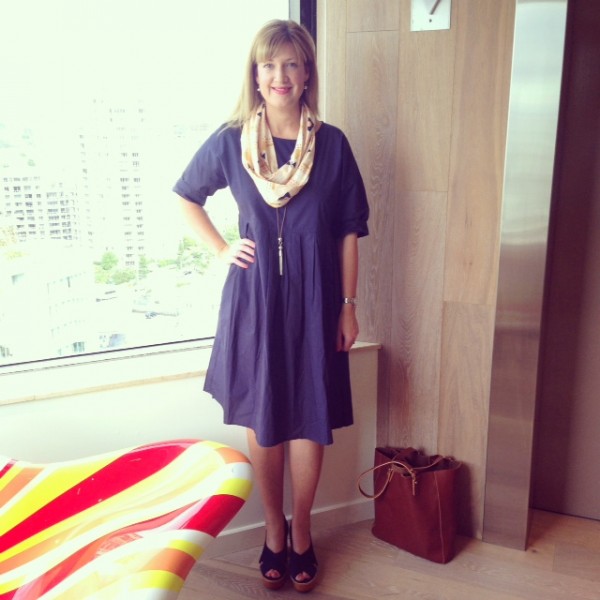 WEARING: Sadie Dress from Gorman (I am wearing a Medium but the Small also fit); scarf from The Fine Design Market; earrings from Silverberry; pendant from Tingo; Kutso Clogs from Gorman (on sale but no longer available online – check local stores and outlets); old tote from Boden.
4. SATURDAY – NIGHT – SPEAKER'S DINNER
I picked this Collette by Collette Dinnigan "Cowgirl Dreams" dress up for a song (nearly 70% off) at the end of the Stocktake Sale from my local David Jones. It had a foundation stain on the white neck braid so I got a further discount. Once dry cleaned, it was good to go. It is a testament to how much I loved this dress that I bought it with make up on it!
From what I can see, it is no longer available online in Australia but the skirt in the same style (with the braid on the hip) is still available. Shop it here. This dress is available in limited sizes from a NZ online store which you can shop here.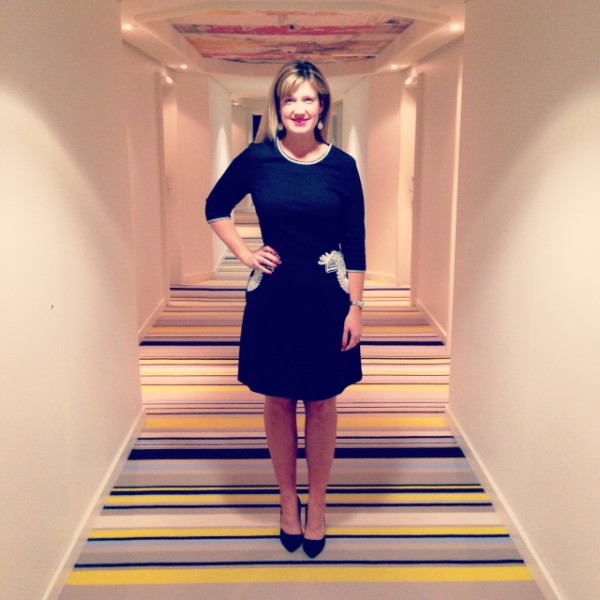 WEARING: Collette by Collette Dinnigan dress; Witchery earrings from years ago; heels from Anthropologie picked up on sale a few months ago. For similiar, shop here.
When I reflected on my outfits, I could see a theme: dress shapes that flattered, interesting/complementary accessories including a healthy smattering of old favourites and killer shoes.
What do you wear to conferences? Who are your favourite Australian designers? Do you have an outfit "recipe"?