Welcome to today's edition of Every Day Style @ Shenanigans Central.
Today I am getting in touch with my inner Agnetha and channelling the cool vibes of Sweden. Or that's what I was telling myself the hot night last week on which I donned this ensemble for dinner out with a gorgeous girlfriend at George Calombaris' latest Hellenic Republic.
This dress is actually made by a local Melbourne designer but I think it has a Marimekko look about it, don't you think? Paired with the clogs, I might be just one herring away from joining a husband and wife quartet.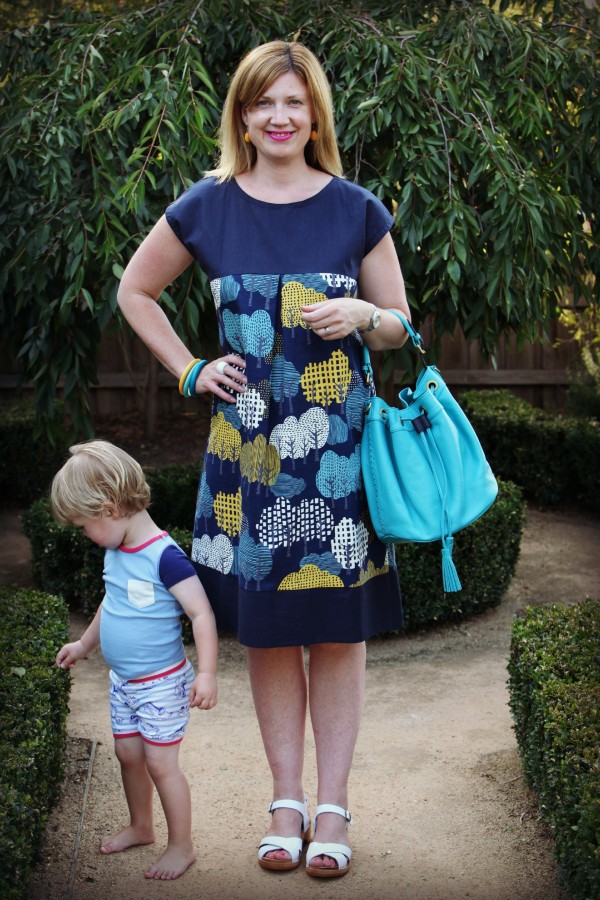 What am I wearing?
I am wearing a Harper & Edie dress, bought recently at Harper & Edie's stall at Red Hill Market.
I have another couple of Harper & Edie dresses and a skirt. All are made with gorgeous statement fabrics sourced from Japan and beautifully made by Michele, the label's creator.
I love the simplicity of the cut of this dress and how the design compliments rather than competes with the print.
Navy can look conservative, but paired with yellow and aqua, it has a fresh, contemporary feel about it and will work back nicely with my yellow Salt Water Sandals for a day time do.
This dress is not available online unfortunately as Harper & Edie do not have an online shop but Melbournites can find Harper & Edie at various markets around town including the Skirt and Shirt Market @ Abbotsford Convent. Check the website for all the deets.
Meanwhile, if you are a Marimekko fan, check out the great range of Marimekko products at Kiitos's online store for a Finnish fix.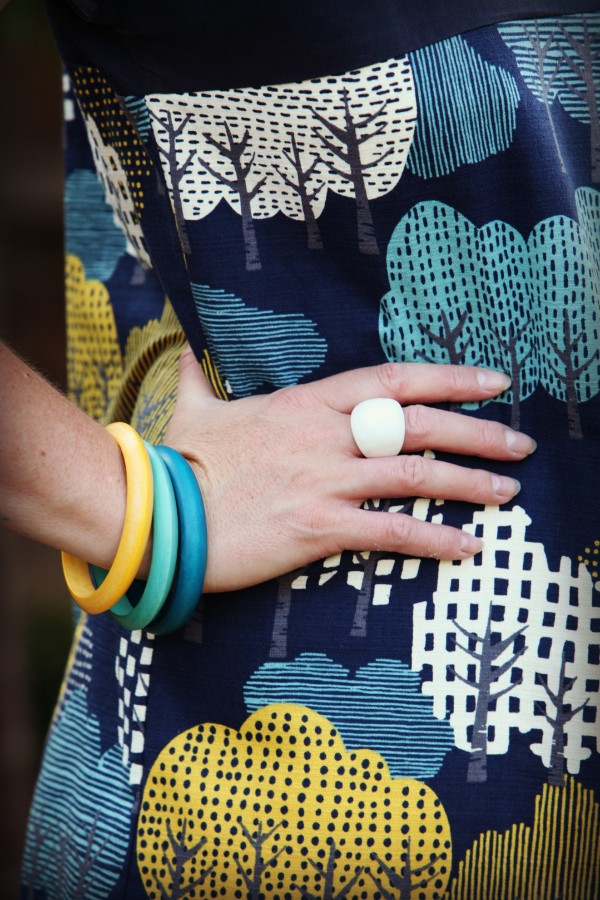 I digress. Back to my outfit. I kept it pretty simple on the jewellery front. I am wearing a pair of Elk Accessories earrings from a few summers ago but which you can still find here.
My ring is from Polka Luka and I am wearing wooden bangles from Cool Coconut. I have two sets of five bangles with different colour tones which I mix and match. I usually opt for a set of 3. Loving those odd numbers.
On my feet are my new Funkis Swedish Forms clogs (low clog Mia in dot white) which I picked up at Emia boutique in Sorrento. (For more about sensational Sorrento shopping, click here).
I have been looking for a fab white clog for a while but was a little unsure about ordering online given I wasn't sure of what size to order. I am glad I waited to try them on IRL. I tried on a size 40 (I am usually between a 40/41) and it was GINORMOUS. I settled on the size 39 which was still generous width wise but the perfect length. If in doubt, size down.
I love the look of these shoes however my husband has declared them to be the noisiest shoes on earth. Therefore, I recommend that you should avoid wearing them for long walks down floorboard-ed hallways in close proximity to light sleepers or in any situation requiring a degree of stealth.
My bag is a leather tote from Boden (UK), picked up in their recent Winter Sales. It has a navy toggle so is perfectly matchy matchy with this dress. I am mad for Boden and will be featuring it in an upcoming SnS series on international online shopping.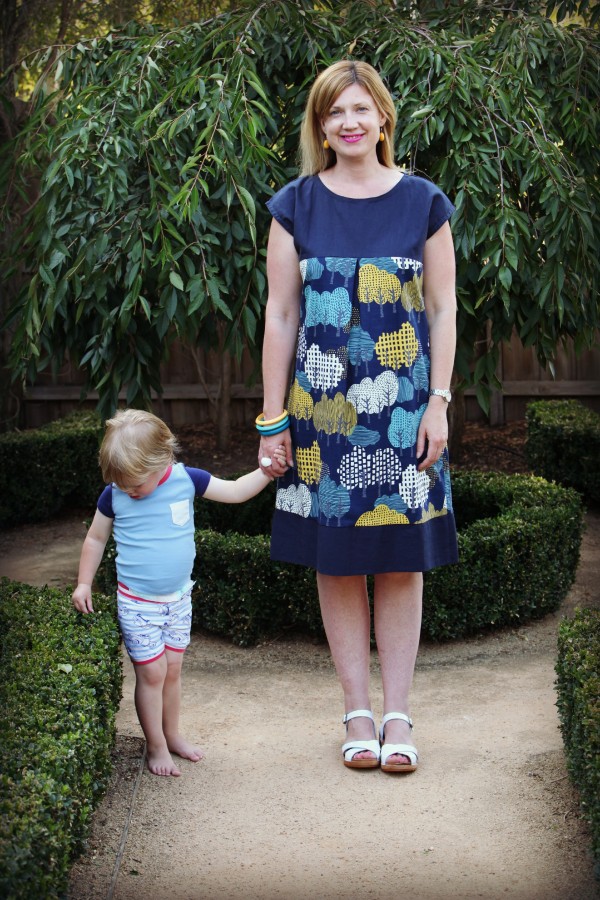 And finally, for those who haven't been introduced, the photo bomber is my Master 2, who never misses an opportunity to crash a photo. We don't mind though and love that he loves being part of the action.
I must tell you though that he was most perturbed about not having his shoes on for the shot (like me), but as it was hot and almost bedtime, we didn't fuss. Just wanted to let you know that he was mindful of his every day stylin' too! FYI, his PJs are from Cotton On Kids.
Who is your favourite local or Australian designer? Where have you bought a "statement" frock from lately? Are you pro or anti clogs?
Thank you for your comments! I love to hear from you.