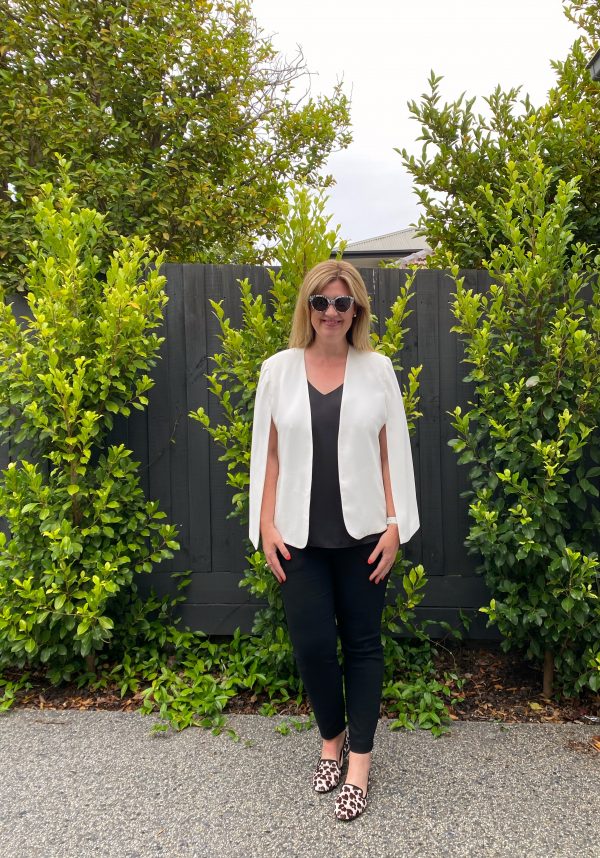 Me on my first day at my new job.
At the start of February, I started a brand new role in a brand new workplace.
After twelve or so years in my last role – with a couple of longish breaks in between – and a year spent mostly wearing activewear and in lockdown, the anxiety of working on site in a new job was predictably funnelled into the Fashion Question: What am I going to wear?
Before the ink on the contract had dried, I'd begun researching corporate wear and auditing my not insignificantly sized wardrobe. Turns out I spent lockdown buying boho dresses and tracksuits so even though I anticipated I'd be working from home from time to time, I knew I had to update my work wardrobe to reflect a professional – albeit more relaxed look post 2020 – look.
Two and a half months into my new gig, I've gradually worked out my new corporate look even though it's changeable depending on the weather and my mood. Along the way I've found some great everyday work staples that work together or to complement my miscellaneous print or colour flourishes. If you too are returning to working on site, starting a new job, or maybe you're just looking to refresh your work wardrobe, I hope you'll find some great work wear options in this post.
Dress Code
Having come from a corporate workplace originally – hello law firms and court work – I've noticed that over the last few years there has been a significant relaxation when it comes to workwear in professional and/or office work environments. This is even more noticeable following the working from home phenomenon of the last twelve months.
While some roles or situations (such as job interviews, presentations and appearance work) will always call for a level of formality, on the whole, I think we are seeing a much casual approach to work attire. Where I once wore suits and heels most days, now I feel comfortable wearing a dress, a shirt/top and pants/skirt combo and flats.
In the same vein, I've also noticed a discernible shift towards shoes you can walk to and from the office in, as well as go for a socially distanced stroll at lunchtime. And yes, being outside in groups is still somewhat of a post lockdown novelty here in Melbs.
Where to Shop
1. Tops
My Go-To for printed blouses, tops and shirts that can be worn to work with pants and then with jeans on the weekend for dinner or a family lunch is Witchery. Witchery always carry prints with each new drop and you can often find a great selection of options in the sale section. I picked up the silk blouse I'm wearing below in an end of season sale in lockdown last year;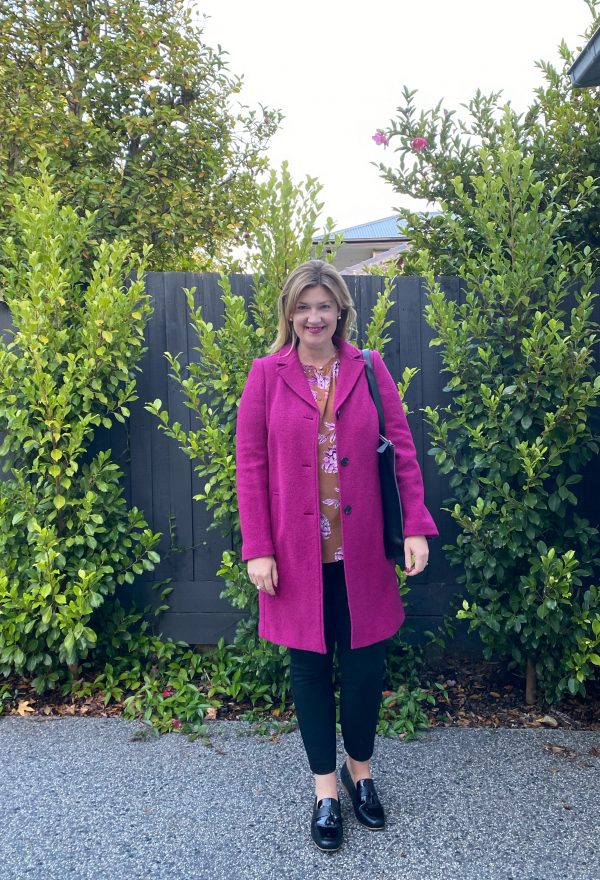 Blouse from Witchery, coat from Boden (last winter), Georgia high waisted pants from Forever New,  loafers (crows) from Bared Footwear.
2. Blazers and Jackets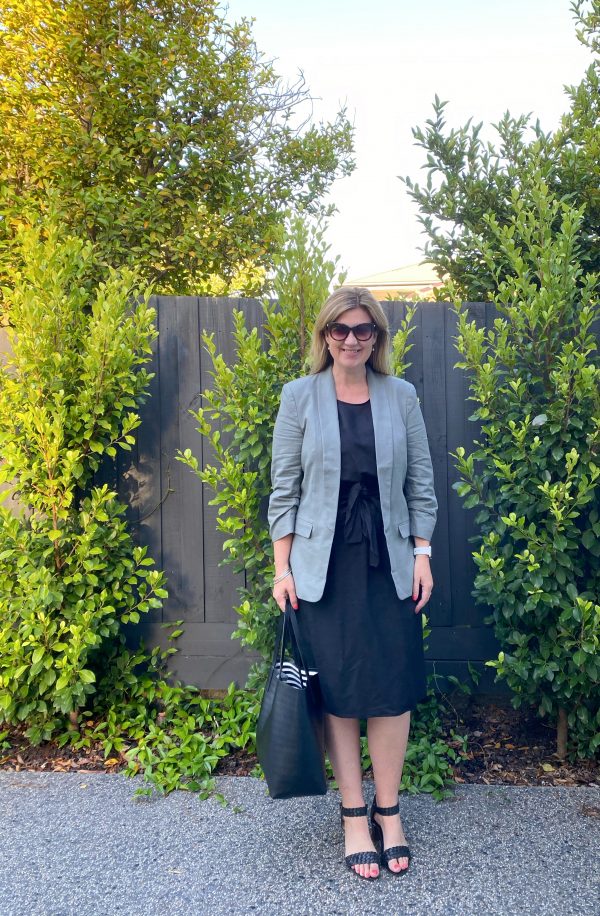 Wearing a linen blazer from Portmans over linen dress from Witchery (both from summer 20/21) with heels from FRANKiE4 Footwear.
I bought a couple of jackets from Portmans on sale recently which have been great additions to my work and smart casual wardrobe. With regular 25 – 30% off storewide sales, you can always nab a great jacket or blazer from Portmans, often for well under $100. My latest purchases were both between $50 – $60 as part of a 'take 40% off the marked sale price' sale. One of my fave Portmans pick ups is this sage green linen jacket – pictured above – which I bought at the end of summer.
I also really like the range of blazers, jackets and Winter coats from Forever New. I recently picked up this Alice fitted blazer which I like to wear with a skirt and cami combo, as in the photo below.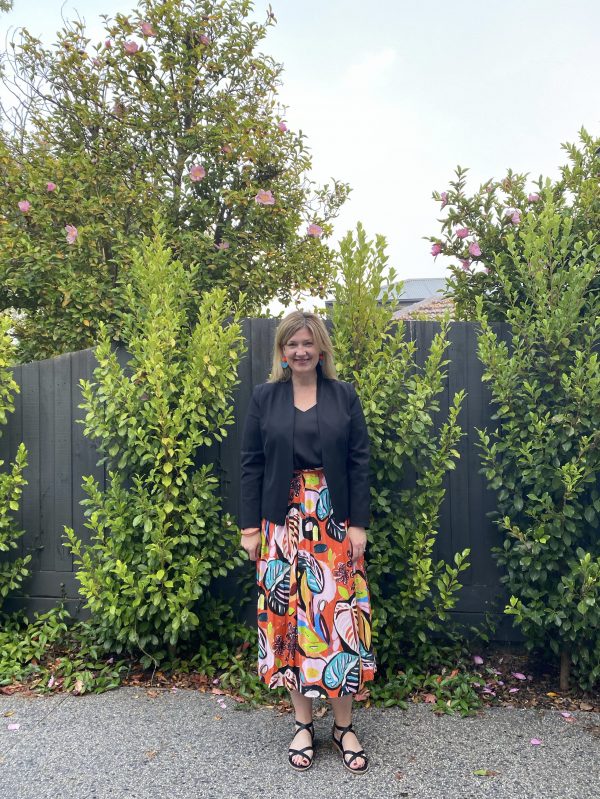 Wearing Basque cami under Alice fitted blazer and Gorman skirt from SS20/21 and loon sandals from Bared Footwear.
My mate Nikki at Styling You The Label also stocks some fab scuba blazers and capes in a range of core and seasonal colours. She regularly adds mini capsules to build on previous collections so this is definitely a great way to build a wardrobe of co-ordinating basics.
For a statement jacket, it's hard to go past the printed jackets and coats at Gorman. I paired a jacket from last winter with a Uniqlo knit in this outfit below ….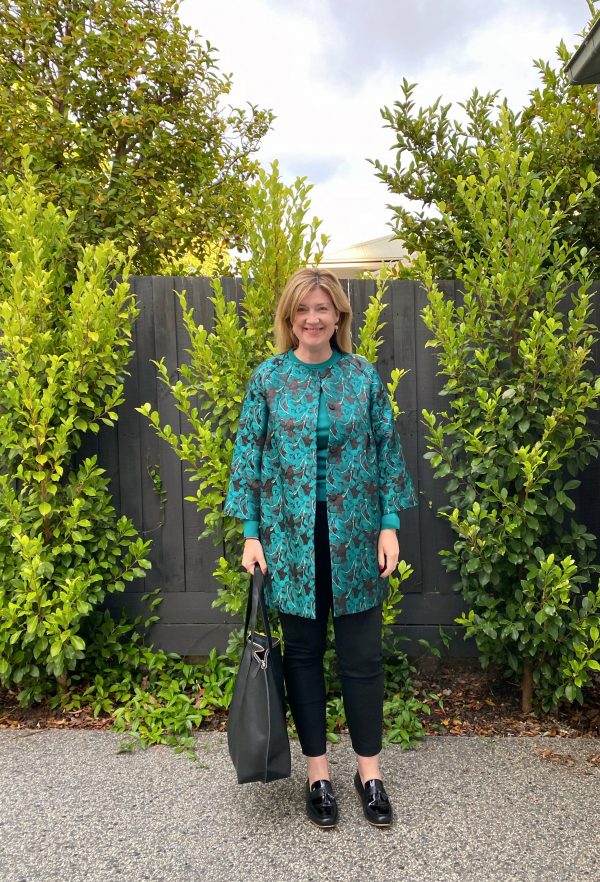 Wearing Uniqlo crew merino knit under Prairie Clover coat from Gorman (now on sale in limited sizes), with Georgia high waisted pants from Forever New and loafers (crows) from Bared Footwear.
3. Pants
If you've been reading this blog for any length of time you'll know that my Go-To for work pants are the Georgia high waisted pants from Forever New. They're well priced, flattering, come in both black and navy and great quality so this is always the first place I go or recommend to friends.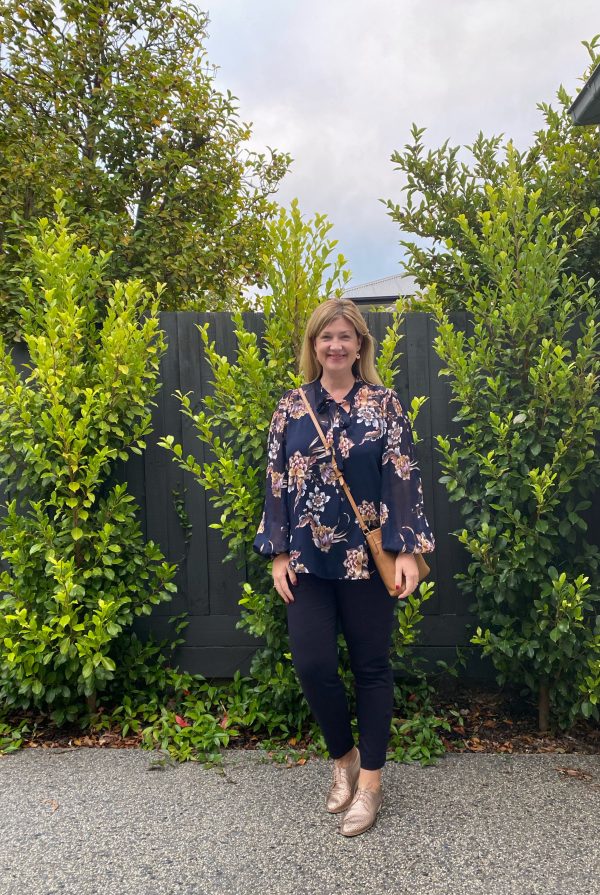 Wearing Witchery blouse bought on sale last winter with Georgia high waisted pants from Forever New and BETH derbys from FRANKiE4 Footwear.
I also rate the pants from Sussan – they also often have printed styles that can work well with block coloured tops or knits.
Depending on your workplace, you might also get away with wearing fun, fashion printed pants to work from brands like Gorman.
4. Skirts and Dresses
For quality work dresses, I can't go past Boden. They have an extensive range of ponte and jersey dresses in an extensive range of colours, shapes and prints. They also always stock a great range of skirts including pencil skirts, pleated skirts and fab printed options.
I've found some of Gorman's shirt dress and shift styles are office friendly and it's been fun to wear something fun yet approps every now and then.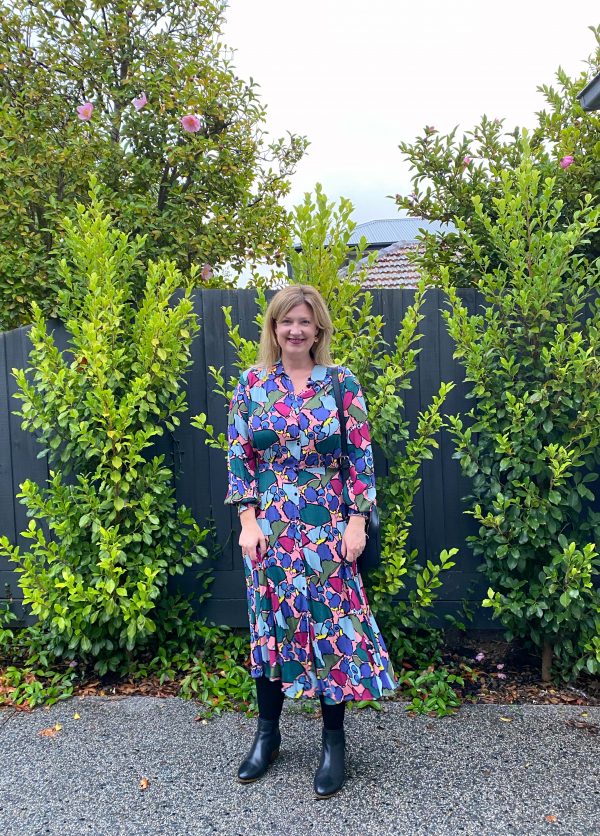 Wearing Gorman shirt dress (a couple of seasons ago) with FRANKiE4 Footwear ankle boots.
I'm a big fan of Birdsnest and find they have excellent dresses and basics for work.
I've also picked up the odd bargain dress from UNIQLO.
5. Suits
If you're in the market for a suit – to either wear together or separately, I'd recommend Portmans, ZARA or Target for budget friendly options;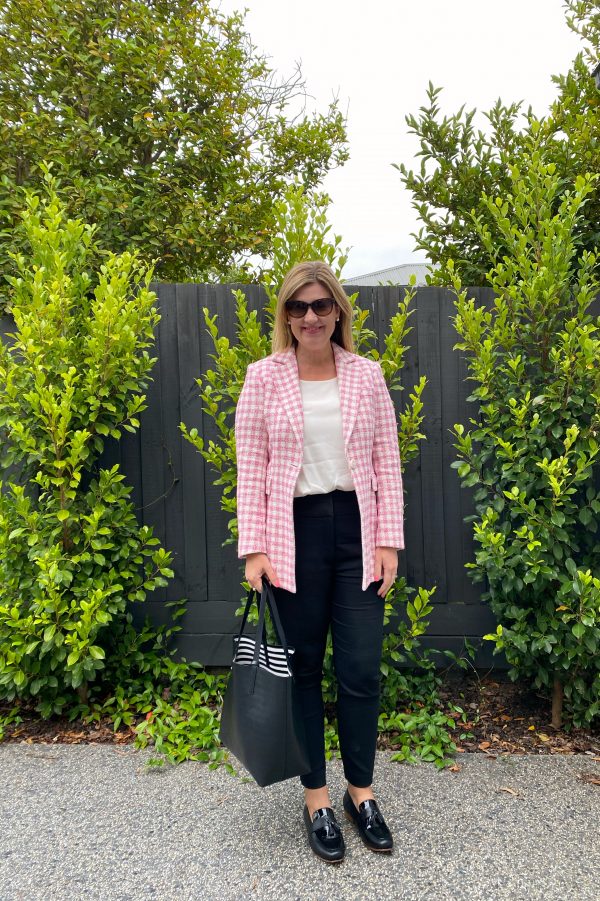 Wearing Target cami under Country Road jacket with Georgia high waisted pants from Forever New; loafers (crows) from Bared Footwear
Country Road also stock corporate wear and suits and I've had great success picking up boucle/wool check blazers there in the end of season sales – like the one I'm wearing above. Aside from these, however, I generally find their suit offerings very high fashion and not super practical over the long haul unless you can find a classic style or shape.
6. Shoes
I do love a heel when I'm wearing a knee length skirt or dress or with some outfits but I have found I am mostly wearing flats to the office. As you can see from the outfit photos in this post, my two Go-To pairs have been my derbys from FRANKiE4 Footwear (I have the Beth, an older style which is very similar to the Olivia) and my black patent Crows from Bared Footwear. Both are investments but provide comfort all day long including walks for coffee and around the neighbourhood at lunchtime.
Now winter is approaching, I'll be reaching for my ankle boots to wear back with tights and winter skirts and dresses. I love the selection of ankle boots at FRANKiE4 Footwear.
So over to you, where have you found the best work wardrobe basics? Have you noticed the dress code at work is more relaxed too?