Even as a frock lovin' lass, I find it pretty easy to go through months of Winter wearing a regular rotation of the usual jeans/pants/leggings situation.
Lately though, I've sought some respite from my routine, and made a point of wearing a dress every now and then to mix things up a bit.
I like to live on the edge like that …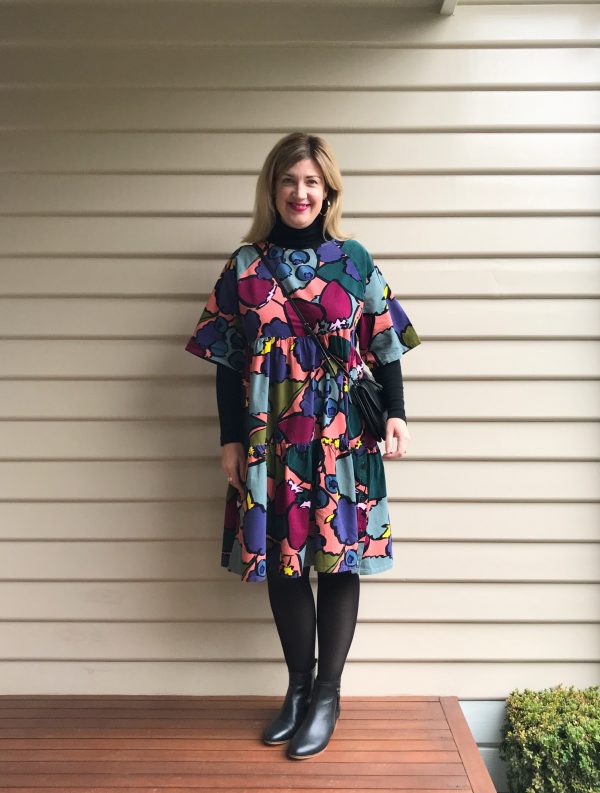 Above I'm wearing the Black Forrest Cord Dress from Gorman with a merino turtleneck from Seed Heritage and LAURA boots from FRANKiE 4 Footwear.
As I've intentionally tried to incorporate some frockery into my every day, I've noticed that I tend to gravitate to a few perennial styles:
The cord smock, which I find super comfortable to wear and easy to layer for smart casual occasions or every day;
The jersey dress, a versatile and flattering style that takes me from the office to date night and comes in a variety of styles from wrap to relaxed swing styles;
A knitted dress, ideal for when I need warmth but don't want to sacrifice style. This style in particular I find really warm and practical for Melbourne Winters and they're also easy to dress up.
Of course there are plenty of other dress styles about but in today's post, I've focused on those mentioned above.
So, after a bit of recon, I've found a whole lot of easy wearing Winter dresses that will cover most casual to smart casual occasions. I can also personally vouch for this, as I own five of these frocks, although some in different colours/prints and from earlier seasons (e.g.  I'm wearing both the Birdsnest bounce dress and fit and flare knit dress in black in this post).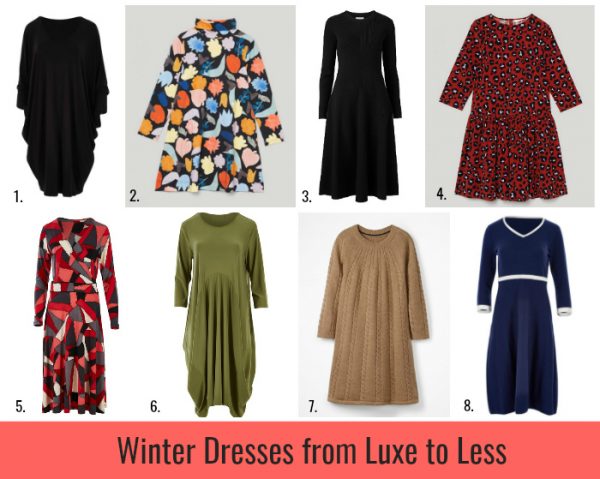 ABOVE: 1. Miracle Dress, $75 from Birdsnest;
2. Pollinate jersey dress, $189 from Gorman;
3. Rib Midi Dress, $169.99 from Witchery;
4. Forget me not cord dress, $249 from Gorman;
5. Printed Faux wrap dress, $119.95 from Birdsnest;
6. Bounce dress, $99.95 from Birdsnest;
7. Knitted dress, $72 from Boden;
8.Fit and Flare Knit dress, $119 from Birdsnest;
Styling Ideas
Invest in some quality opaque tights, and if you need the warmth, some woollen stockings. I've had great success (and durability) with Voodoo and Ambra tights. They keep your legs nice and warm and work back beautifully with flat or heeled boots;
For casual jersey styles, pair with a comfortable pair of leggings and your favourite derbys, brogues or trainers;
Shorter styles of jersey dresses can be worn over jeans, tights or leggings as I've done below;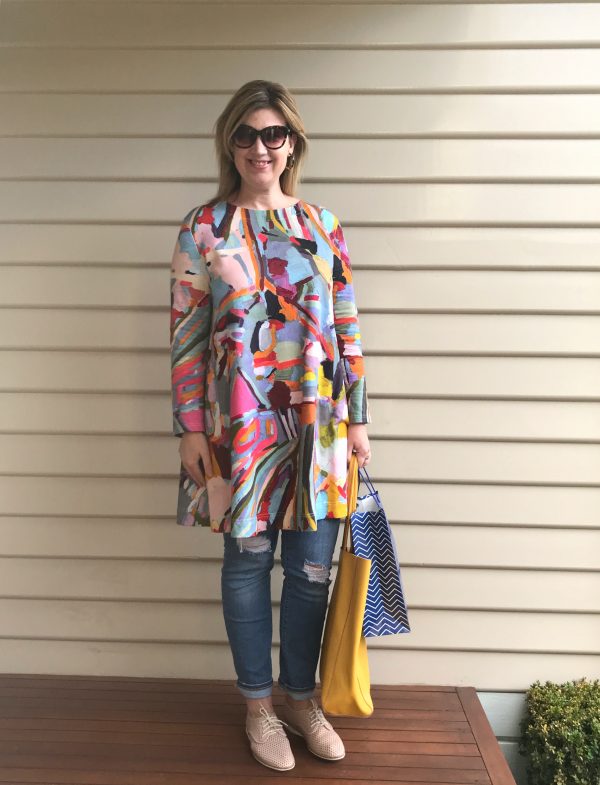 Above I'm wearing Pick Up Sticks Jersey Dress from Gorman over Emmy girlfriend jeans from Forever New with Rollie derbys with leather tote from Hoopla
Layer under and/or over. I wear merino knits under my dresses for an extra layer of warmth, particularly with shorter or elbow length styles. For a long sleeve style, add a scarf/snood, knitted cardigan or gilet and/or coat;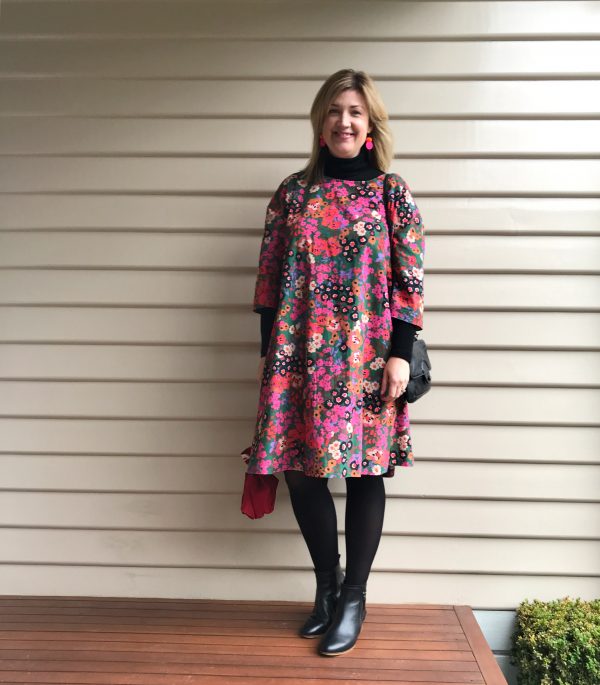 Above I'm wearing Five Senses Dress from Obus with a merino turtleneck from Country Road and LAURA boots from FRANKiE 4 Footwear.
If you tend to overheat but love to wear knitted dresses, look for cotton fabrications or wool blends to keep you comfortable inside as well as outside;
Add printed scarves, statement earrings or coloured jackets/coats to change up the look of block coloured favourites;
For most styles of Winter dresses, including those above, adding a heeled boot or pump, bold lip and accessories will readily dress up the whole look.
Looking for more styles?
If you do have a formal occasion coming up, a good, budget place to start would be the range at Forever New which you can check out here.
There are also always lots of new styles, including printed dresses, at Witchery which you can check out here.
Gorman do fab cord dresses, but if you looking for more budget friendly versions, head to Boden here.
As I was researching this post, these styles also caught my eye: Fiona Cord Dress, $249 from Gorman; Cynthia dress, $90 from Boden; Rib Swing Knit Dress, $149.95 from Witchery; Compact Knit Dress, $199 from Country Road; Wool Knit Dress, $239.40 from SABA.
This post contains some affiliate links. You don't pay any extra and I earn a small commission. Read more in my Disclosure Policy here.
What's your favourite style of Winter dress ? Which of the above would slot easily and happily into your Winter wardrobe?