On the Labour Day weekend a few weeks ago, we loaded up the picnic hamper and set off down the freeway for a day at The Enchanted Maze.
(If you are wondering, the Enchanted Maze is in Arthur's Seat on the glorious Mornington Peninsula, roughly an hour and a half out of Melbourne).
As it was a warm day AND a public holiday, we decided to get there earlyish. It was a good move. We arrived around 10.30am, shortly after the 10am opening, and the place was pumping.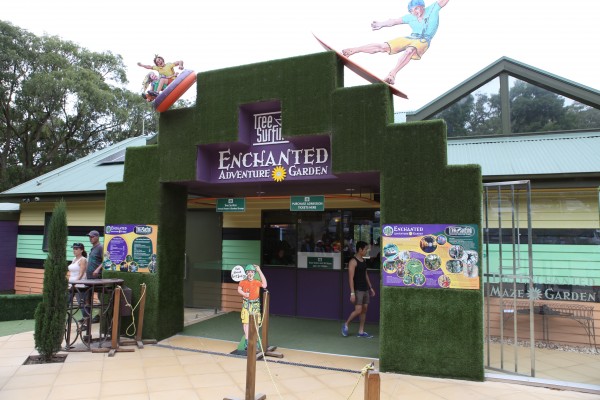 We had been meaning to go for some time. I'd successfully bid for a family pass at the Kinder Trivia Night last year (and paid less than half RRP) but our voucher was due to expire. Without it, it would have been a fair whack to buy a family pass. A family of two adults and three children will set you back $115.
Once inside the maze, we realised that there was heaps to do and see – 7 mazes, countless activities (obstacle course, tube slides) not to mention the add on of tree surfing (for an additional cost). We didn't tree surf this time around as our eldest was just tall enough and he is a tall 7 year old. We'll come back when the two eldest can do it together.
Having collected our map and armbands, we tried to get our bearings and started with the Hedge Maze. We didn't quite make it to the middle but eventually found our way out again and made a bee-line for the tube ride. We'd been told it was a good activity to knock off early as it involved walking up a hill and the little ones get a bit tired later in the day.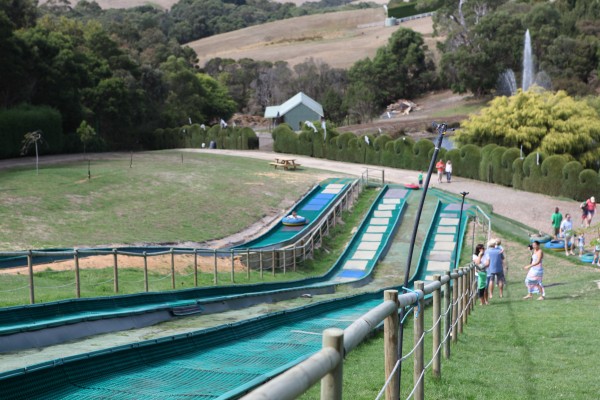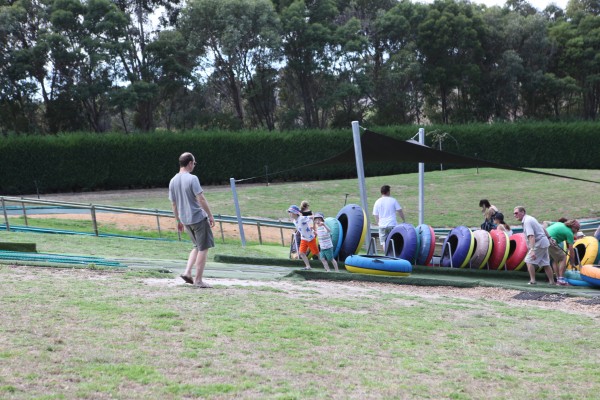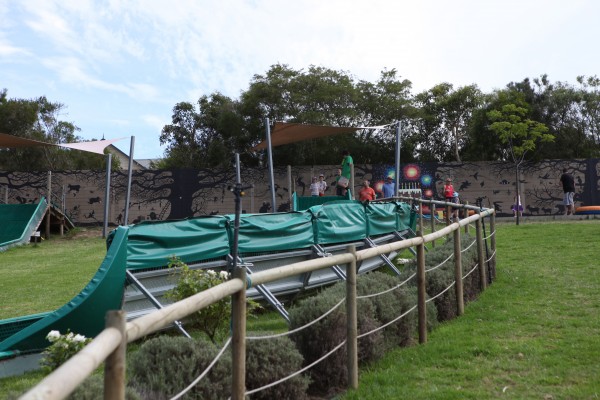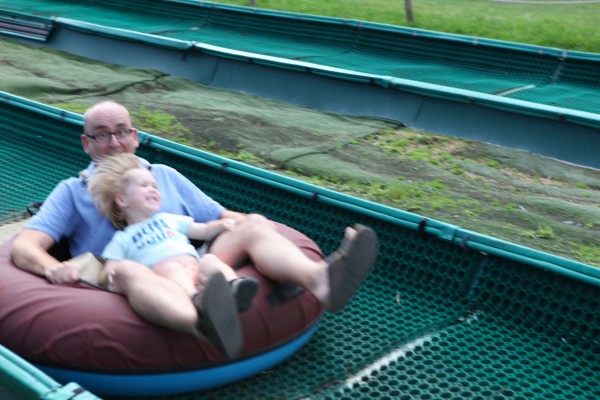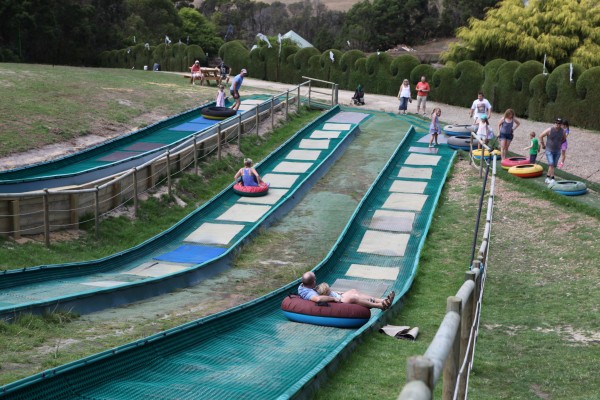 Despite the walk up the hill, our eldest boys had four rides each and Mr SnS and I took Master 2 for a few rides. It was fast, fun and fabulous! We all had a ball.
After our tube rides, we sat at one of the many picnic tables nearby for some morning tea and then trekked through the bush (on a path) towards the Spooky 3D Maze and the Mirror Mazes. The Spooky Maze was pretty spooky. Master 5 decided to sit this one out, but Master 7 and Mr SnS went in and were thoroughly spooked (but no subsequent nightmares or issues).
I wanted to check it out for myself, so Master 7 obliged but we both freaked out after the first couple of turns and hotfooted it out of there ASAP!
The Mirror Maze was next door and was small but fun for all the kids.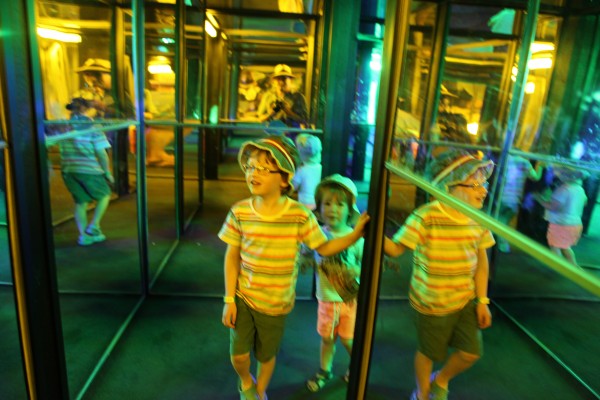 On the way back from the Spooky 3D Maze and the Mirror Maze, we came across the Junior Obstacle Course.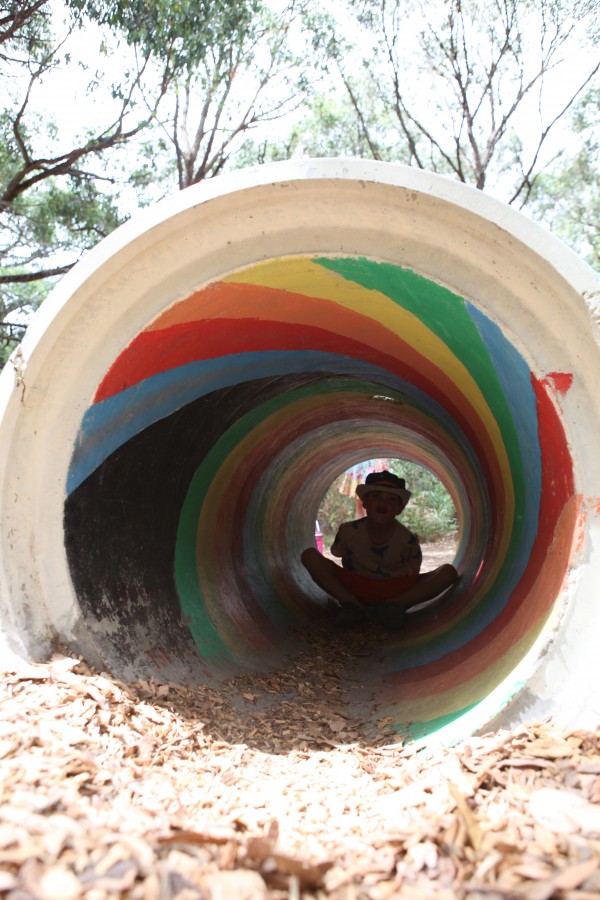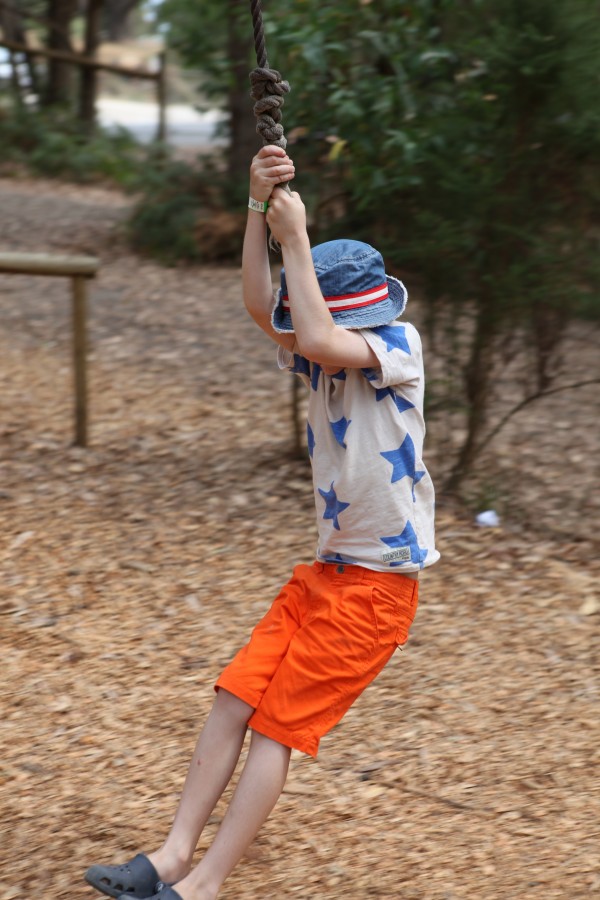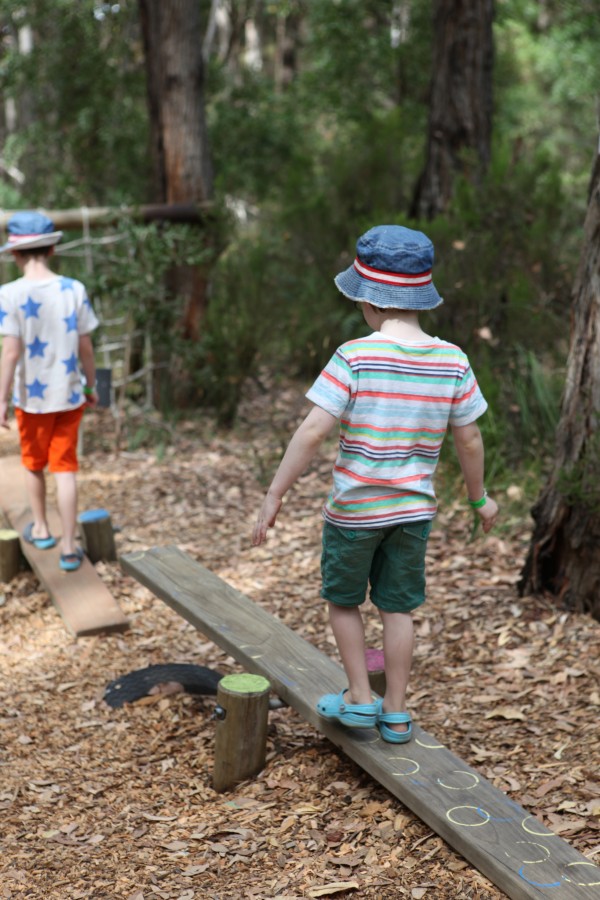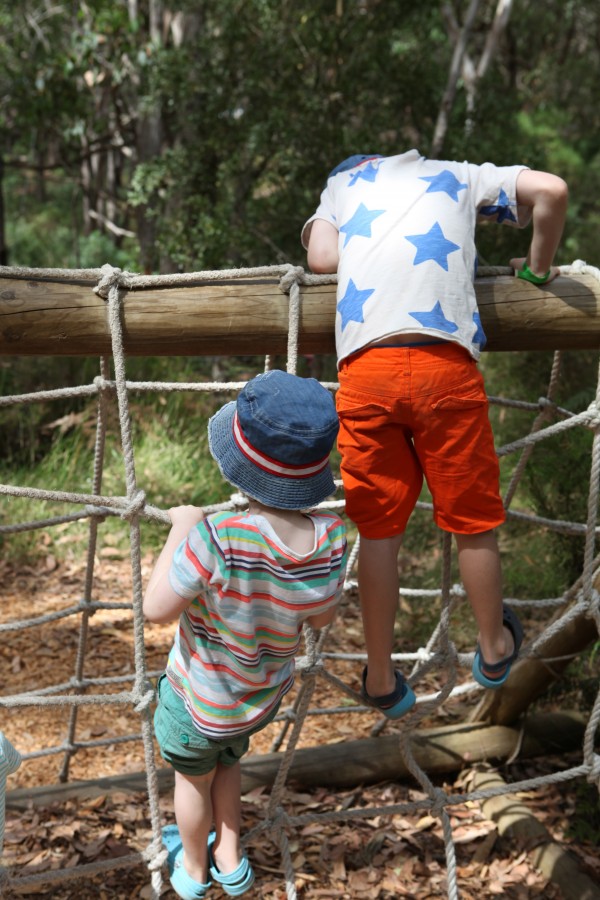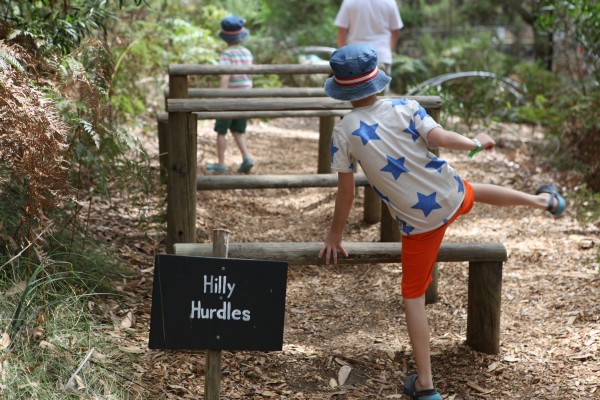 Next to it was the Spring Maze, made from mattress springs. What a great idea!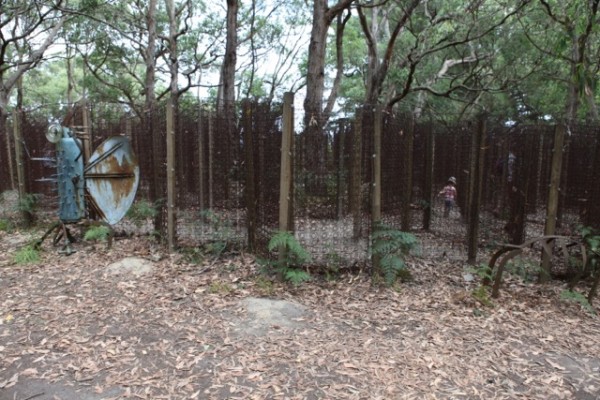 After the obstacle course, we went back to the lawn near the main entrance and consulted the map. It turned out there were another two mazes nearby – the Turf Maze and the Children's Maze. I can't believe we nearly missed them. They were both fantastic and the kids loved them.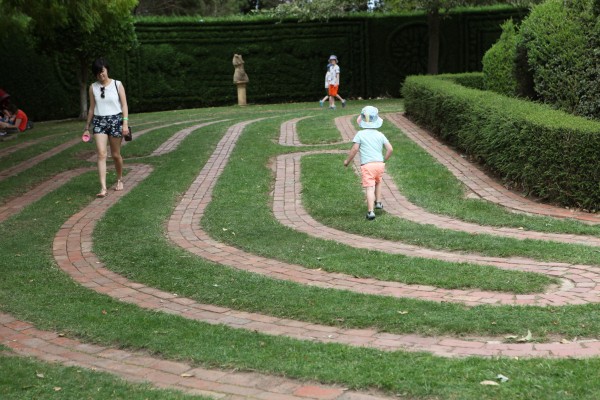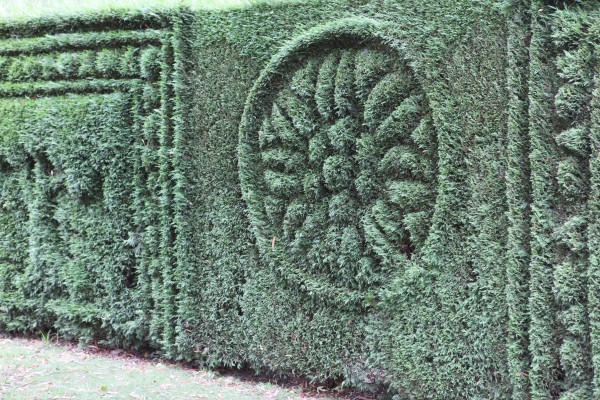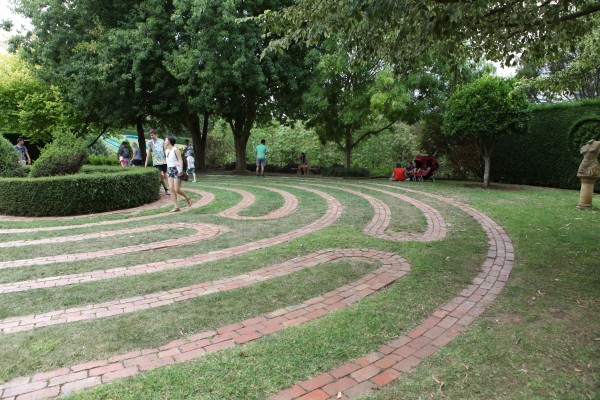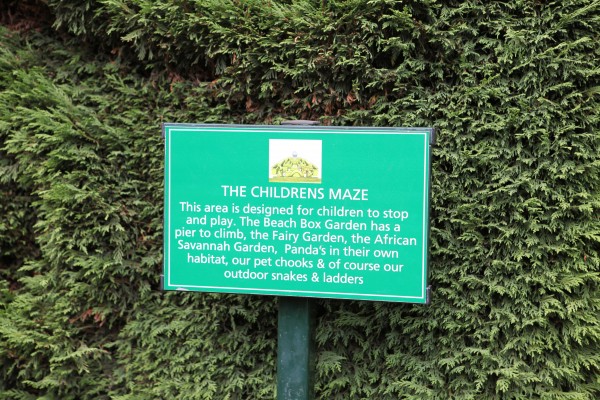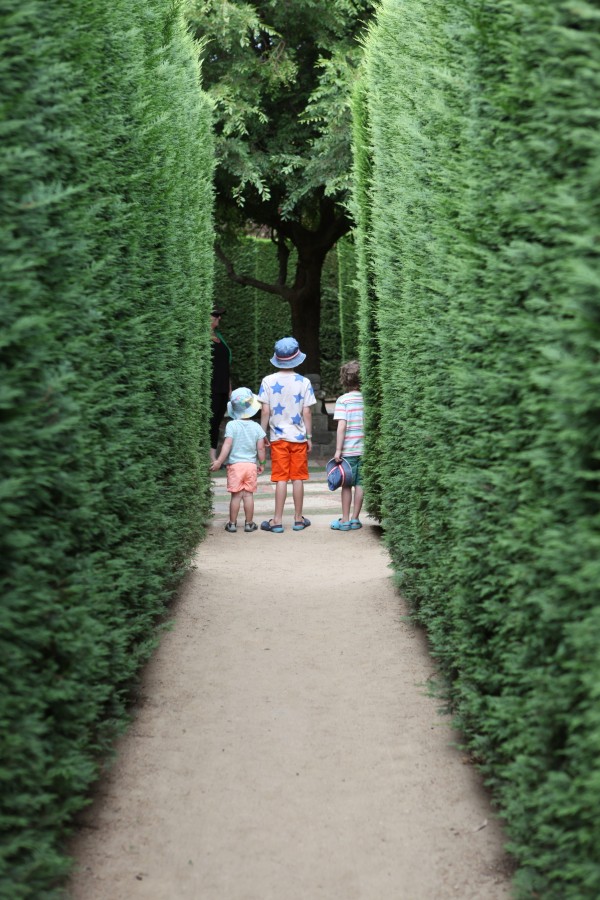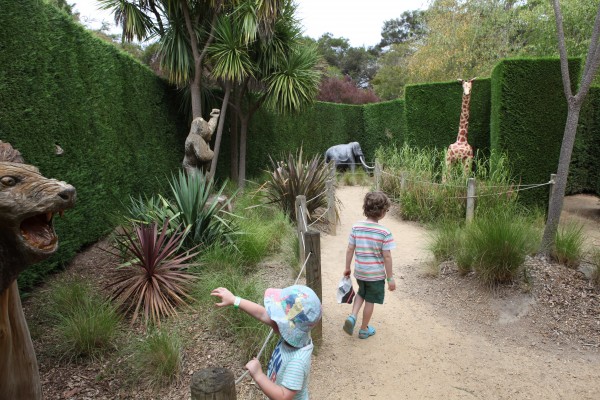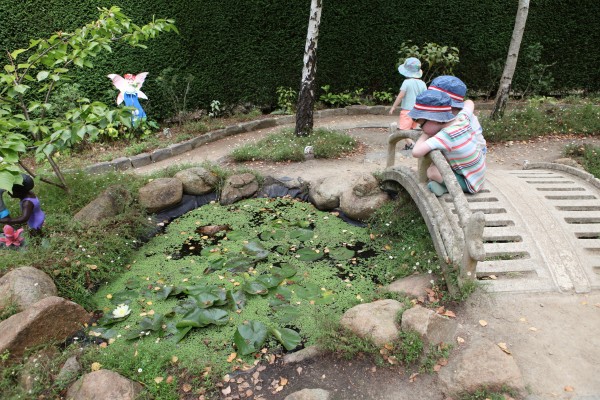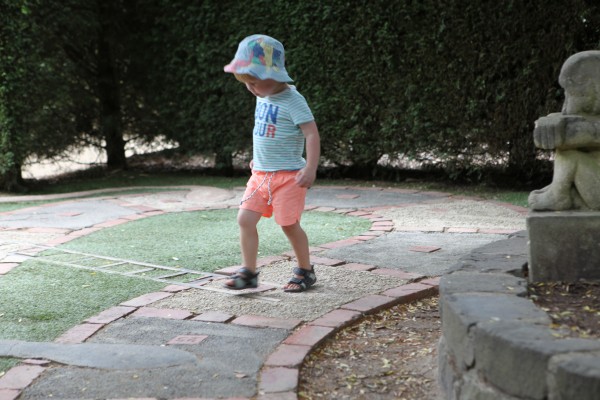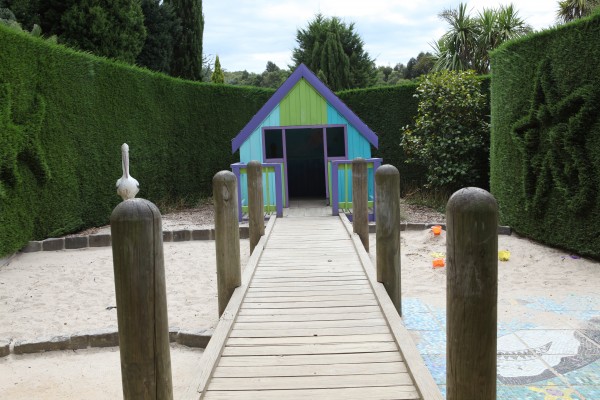 In all, we spent nearly 4 hours at the maze and could easily have spent another couple of hours if we tree-surfed and did a couple of activities that we didn't have time for this time around.
If you are contemplating a visit, here are my tips for a great day out at The Enchanted Maze:
1. Get there early. The entry price is steep and there is heaps to do, so make the most of your day;
2. Do the Tube Slides early on. They are great fun but walking up the hill is tiring for young and old;
3. Pack your own lunch/snacks. Whilst you can buy supplies there (you'll find a cafe at the main entrance and a small kiosk near the Spooky Maze), there are picnic tables and lawns galore on which you can sit and admire lovely views of the lake and hedges;
4. If you have a toddler, it's worth packing the stroller. We didn't realise how much there was to see, that it was reasonably spread out and how long we would stay. We ended up having to carry our toddler after the first couple of hours as he was pretty tired as well as lug a hamper full of our food and drink bottles;
5. Check the map. There is a fair bit to see and do which is not necessarily visible when you are wandering around. The mazes on the right of the main entrance (the Children's Maze and the Turf Maze) were particularly good for younger children;
6. Don't promise ice creams. We made a rookie mistake promising these to the kids after lunch on a hot day. They don't sell them at the main cafe near the entrance;
7. If you are thinking about tree surfing, do your homework. There are two courses (grand course and nippers course), a separate fee and also minimum height requirements. Check the Tree Surfing website for all the details and book online before you go.
Have you been to the Enchanted Maze? Would you like to? Can you share any tips and traps?