Oh sweet relief.
I'm guessing I'm not the only one relieved that Winter is over and Spring is here.
It hasn't been a terrible Winter around here as far as Winters go, but there's definitely something to be said for the scent of blossoms in the 'hood, the prospect of laundry being line dried and the kids being able to play outside after dinner.
It's the little things, right?
While the weather is still all over the shop, the way I figure it, the only way is up.
So in the meantime, my favourite things this week have involved a variety of bits and bobs. I'm hoping that as the weather improves, I can include that too!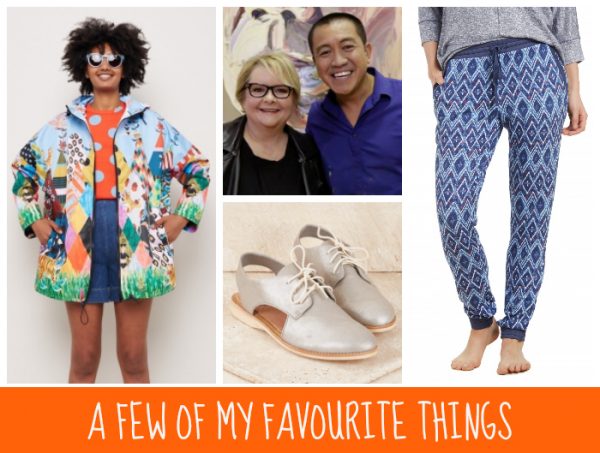 Sussan PJ Pants
Once upon a time, I never thought I'd wear skinny jeans let alone skinny pj pants but Sussan have changed all that.
I bought my first pair last Winter and then added another pair to my collection this year thanks to Mother's Day.
I picked up my third pair on sale recently and once again, it was money well spent, especially if you, like me, tend to spend most of your evenings in your pjs on the couch watching the box. They even kind of look like leisure wear if you have an unexpected guest.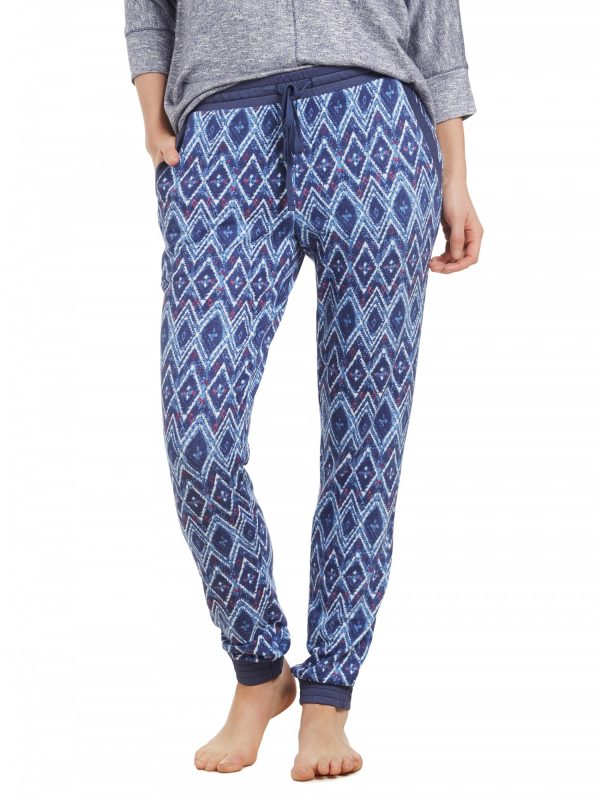 Chevron Print PJ Pant, $34.95 (on sale) from Sussan.
They are seriously the bomb dot com. Snug, cosy and comfortable, you'll never look back.
Anyone else a fan? What's your favourite lounging gear?
Anh's Brush With Fame
This is my new favourite TV show and I'd highly recommend it. I absolutely love it.
It's on ABC on Wednesday nights at 8pm, just before Offspring/The Gruen Transfer.
Anh Do, who many know as a comedian and lawyer, is also a gifted artist.
In his fab new show, Anh's Brush With Fame, he interviews and paints a subject over the course of an episode. It's the art equivalent of Australian Story with the bonus of the great reveal of Anh's portrait of the guest at the end of the show.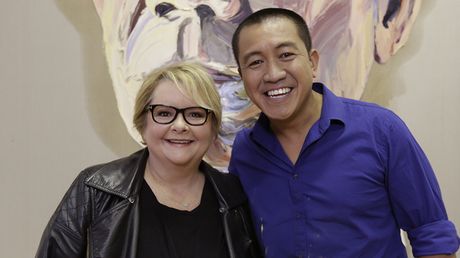 The first two episodes featuring Magda Szubanski and Amanda Keller have been brilliant. This week's ep with Amanda Keller (who I really knew nothing about) was particularly insightful, revealing and well worth watching (you can watch it on iview here). I may have had a teary or three.
I just LOVE this sort of TV. It's inspiring, heartwarming and good for the soul and doesn't leave me wanting to stick pins in my eyes like many other offerings.
New Shoez
I've been trying hard not to add to cart of late but it's been hard to resist the new range of Rollie Nation shoes.
It's a tough call, as there are so many styles to I like, but I reckon these might be my next pair – I'm thinking the metallic, slingback style would be perfect for Spring and beyond.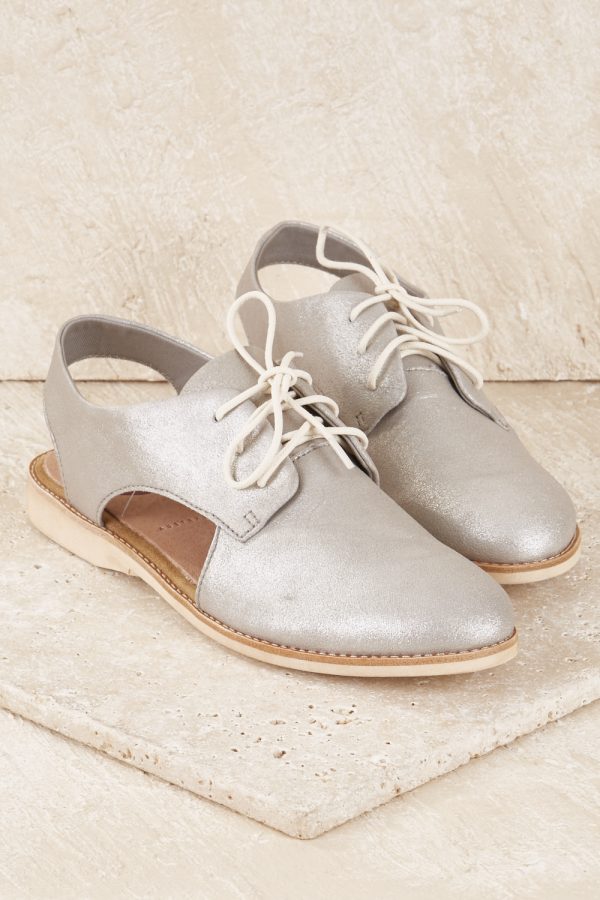 Slingback derbys, $159.95 from Birdsnest
There's only a few sizes left at Birdsnest in this style but more over at Rollie Nation.
If you're not sure of your size, you might like to take advantage of the easy, 365 returns over at Birdsnest though. New styles have been added and older styles (like these super cool leopard sidecuts) restocked too.
The Le Grande Print at Gorman
I've been trying very hard to exercise some restraint around these parts but man oh man, I am LOVING the new prints in Gorman's Spring range.
The Hidden Tiger and Wild Card prints have been colourful and super fun, but the new Le Grande print is seriously everything I love about Gorman in one print.  It's a circus inspired print and is a collage of many of this season's prints. And just quietly, how fab does it look with spotty knit. Love heart eyes!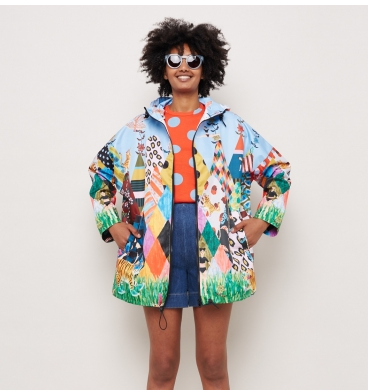 Le Grande raincoat, $99 (available to preorder).
So far this print comes in a raincoat, two dresses, a cami, a skirt and a fabric purse. Which one would be your pick?
Spring Glorious Spring (Plus Spring Frockery)
I've been bamboozled these past few weeks by the launches of several retailers' new Spring ranges.
I'll be sharing more of my favourites in the coming weeks on the blog (and I've already featured some in this post) but in the meantime, let me leave you with a couple that have caught my eye this week.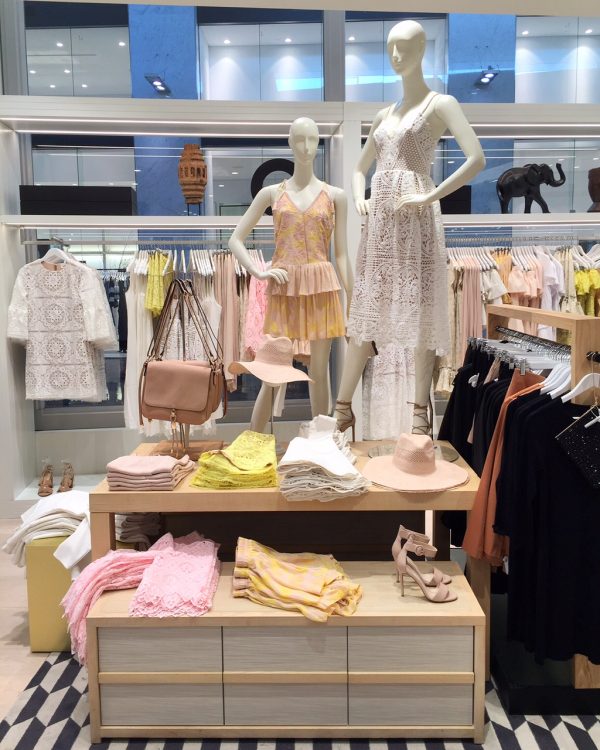 As well as the new season drop over at Adrift (think beachy boho vibes and gorgeous accessories – stay tuned as I'll be wearing a couple of new pieces on the blog shortly), I'm loving the splashes of yellow, pink and all the lace over at Seed Heritage, above, too. These pretty pastels are a welcome change from the neutrals and darker tones of Winter.
This post contains some affiliate links. You don't pay any extra and I earn a small commission. Read more in my Disclosure Policy here.
What have you been loving this week? Anything we should know about?