Welcome to the latest instalment of A Few of My Favourite Things.
It's been a while between posts, but, as it has been a week full of fabulous discoveries, I wanted to share them with you ASAP!
So, without further ado, here are a few of my favourite things this week ….
1. Seriously Affordable Home Wares
Did you know that Kmart have a great range of home wares? You might, but did you know that their latest range includes some rather astonishingly inexpensive versions of modern designer goods? I didn't until The Organised Housewife drew it to my attention this week.
In the latest range, there are great options for living areas, kids' bedrooms and parties –  places where you often need something that looks great now, but you don't want to over invest.
Here are some of my favourites. Check out the full range here.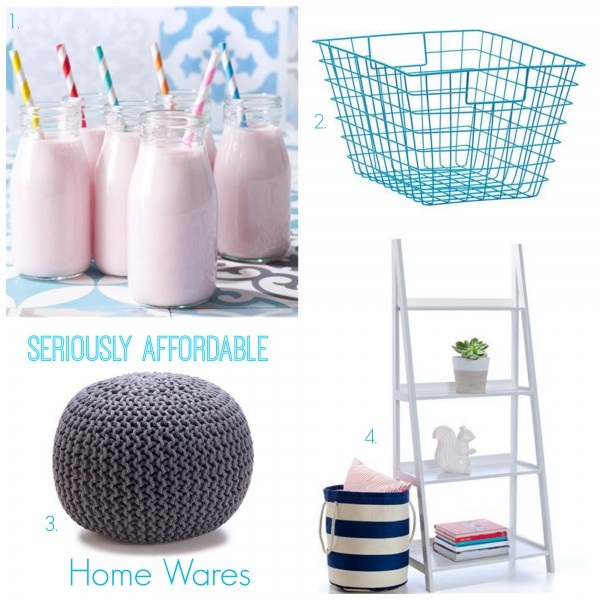 1. Set of 6 glass milk bottles, $6;  2. Wire Storage Basket, $9; 3. Ottoman, $29; 4. Ladder Bookshelf, $39, all from Kmart.
2. Seriously Fabulous Cake
Last weekend, I made the Lemon & Goat's Yoghurt Cake in the June/July Edition of Donna Hay Magazine (p. 82). It was one of the easiest and most delicious cakes I have ever made.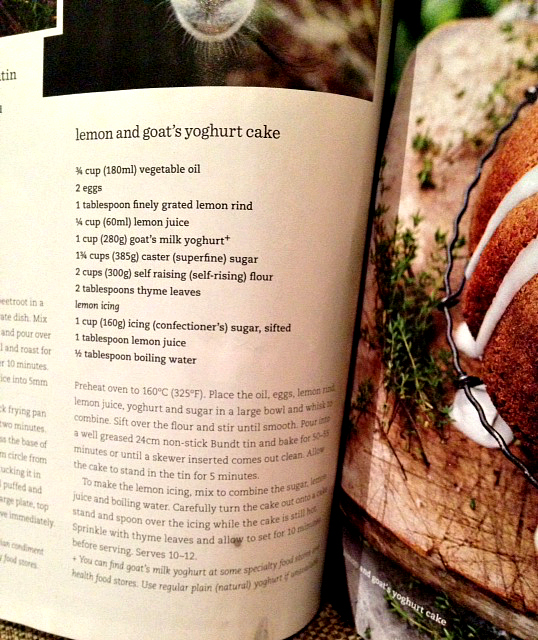 The ingredients and method are simple, although I did use regular Jalna no fat yoghurt instead of goat's yoghurt. There is no creaming/beating involved (vegetable oil instead of butter) and only uses self-raising flour. Win.
The recipe calls for a bundt tin but would probably be fine in an ordinary ring tin. It has the interesting touch of thyme leaves scattered over the icing which is surprisingly pleasant and aromatic.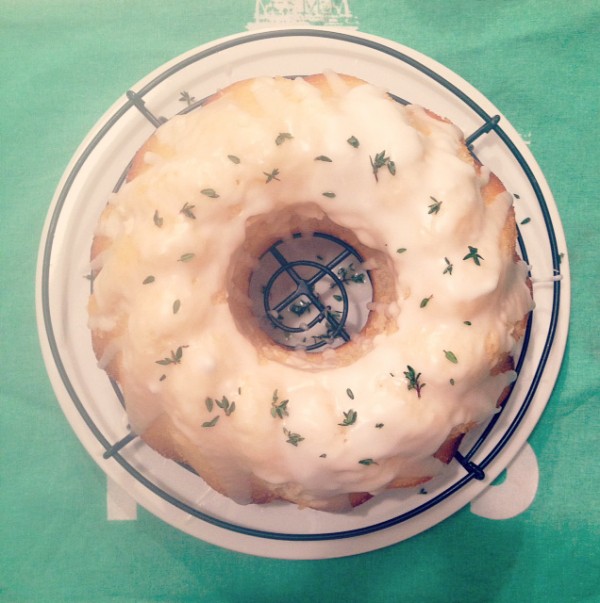 The kids loved it (minus the thyme leaves) and it still tasted moist and fabulous four days after I baked it.
Do yourself a favour and make this cake. I'm making it again tomorrow when friend's come over for afternoon tea.
You can also find a great range of recipes on the Donna Hay website here.
3. Seriously Fabulous News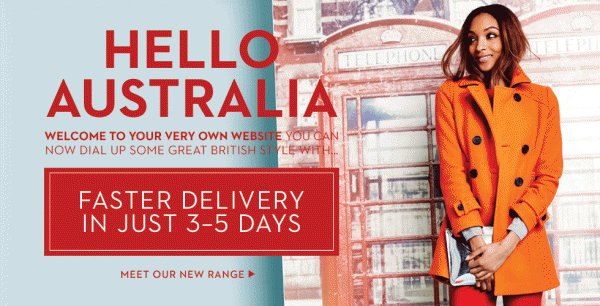 My favourite English brand, Boden launched it's Australian website this week. I've been obsessed with Boden for five years and have spent a small fortune on postage and the occasional return during that time.
With the launch of their Australian website, deliveries are $10 (instead of GBP12/approx$22) and take less than a week. The best news though is that returns can be made in Australia (a massive saving) and all prices are in Australian dollars.
On the downside, I can now see how expensive it is (at full price) although some things, such as women's coats, are still significantly less expensive that equivalent brands in Australia (Jigsaw, Marcs, Sportscraft).
The Autumn 2014 range has just launched featuring women's, men's, children and baby ranges. Boden is not inexpensive, however the quality is excellent and for me, Boden prints and colour are in a league of their own. You can currently get 10% off the entire range if you enter the code  A54U at checkout.
So they are my favourite things this week. What's been floating your boat this week? Made any new discoveries or purchases this week? Have you read a great book/post/article or seen a movie? We'd love to hear your favourite things this week.