Phew.
It's the first week back of term two here in Victoria and it's been a busy one. With some space, quiet and time at last after a very full on two and half weeks of holidays, I've been ticking boxes and adding things to my To Do List at a cracking pace.
Book and publicise dinner venue for kinder and class dinners? Tick.
Ring handy dude to fix wonky sliding door? Tick.
Conduct pre birthday festival audit of present cupboard? Tick.
Visit health fund to go through insurance policy in an attempt to reduce the monthly premium and walk out with extra extras and a higher premium? Tick.
Sort new basketball singlet for son as there's a number double up in his new team? Tick.
Arrange to have bestie pop in to sign passport renewal paperwork only to find the form has been completed in blue ink not black ink? Tick.
It's been that sort of week.
Meanwhile, amongst the endless admin, I've managed to find some lovely things amongst the small print, phone calls and emails.
And I think you might like them too.
1. Puffers
I'm loving all the new season coats and anoraks in stores right now but I'm finding it hard to stay away from the Mother Of All Coats: The Puffer.
I say Mother, because until I became one, I didn't know I needed one SO BAD. With my outside ventures in my corporate days essentially involving getting to and from work and to and from the car on weekends, a trench or other traditional style wool coat pretty much covered all conceivable bases.
Now that my days include pounding the pavement between the magic triangle (home + school + kinder), I'm often out and about during the day and I like to wear a coat that offers wind and rain protection, not to mention a hood for all of the aforementioned. That fact that my puffers provide the same level of warmth as walking around in a sleeping bag is also part of the attraction.
I bought two puffers last year and I am currently trying to restrain myself from adding this beauty to my puffer collection … the Run Zeal Longline Puffer, $249 from Country Road but there's a spend and save on right now. #justsayin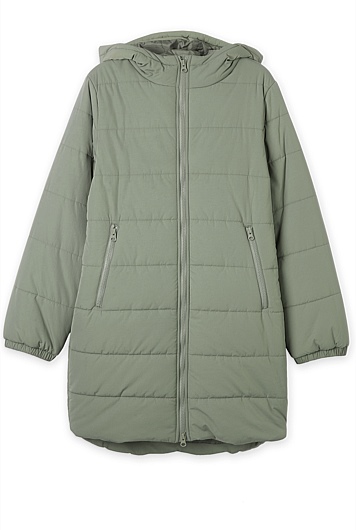 If you haven't seen it before, it's part of the Active range, so if you're looking in store, it's with all the gym gear. It took me a while to find it in the online store too as it's not listed under coats/jackets or sweats under womenswear.
How lovely and refreshing is this muted sage green in a sea of black and grey too? It's lightweight but looks warm and is a great option if you envisage spending much of your winter outside in the elements or if you exercise outside in the morning or night.
2. A New Recipe
I had a moment on Monday afternoon this week when I'd defrosted some chicken thighs and then made the rookie mistake of asking the kids, "Curry or risotto?" Unsurprisingly, they each voted for the other and naturally there was no consensus. I don't even know what I was thinking asking!
Anyhoo, in the end I searched on taste.com and chanced upon this recipe – baked chicken with pumpkin and chorizo – a recipe by Curtis Stone.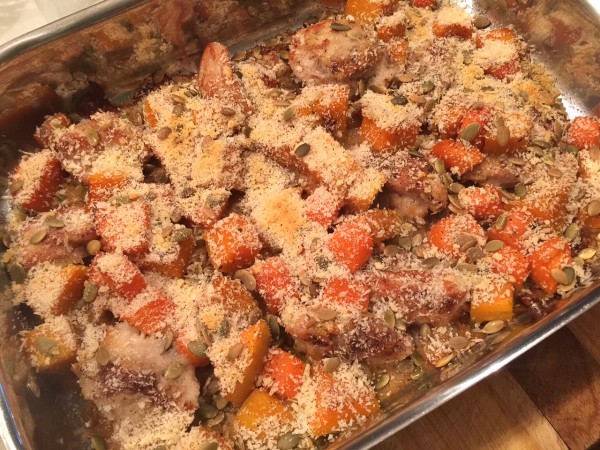 I substituted bacon for the chorizo, sweet potato for the swede and only had 4 chicken thighs instead of 8 but oh my goodness, it still worked and was absolutely delicious.
The panko crumbs and pepitas scattered over the bake created the most delicious crunch and you can never go wrong with a pumpkin, chicken and bacon combo.
I served ours with steamed greens (broccoli, beans and peas) and covered off 5 vegetables (there's pumpkin and carrot in the bake) so I was pretty happy with that.
It was easy albeit a bit fiddly for week night but it was very much worth it and now I know what I'm doing, I'll definitely be adding it to our weeknight repertoire.
3. Skirts
Just when you think you'll never wear anything but jeans for the next 6 months (is that just me?), Melbourne turned on the most stunning autumn weather late this week, giving me just the excuse to trot out my new Boom Shankar Cleo skirt.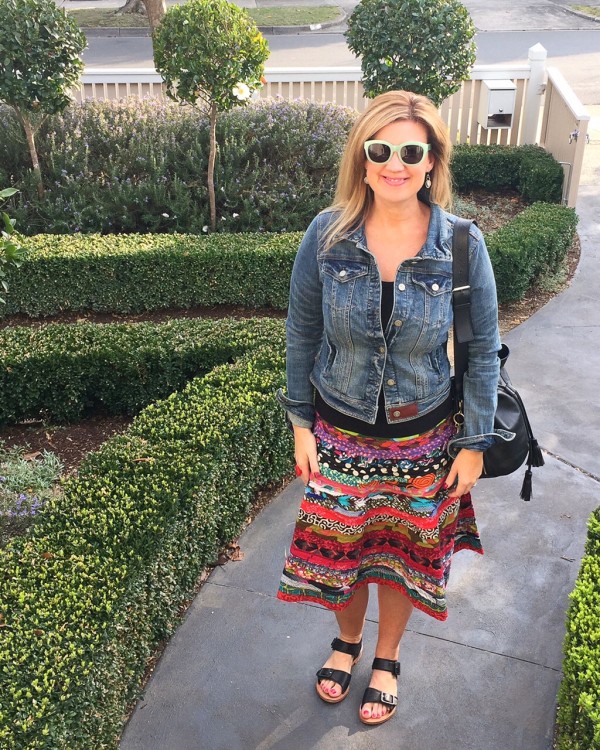 I'm wearing a new multi coloured version featured in Birdsnest's winter catalogue which is now sold out (soz!) but it's still available in black, red and blue colourways.
I've got both the blue and red from previous seasons and I love them – they are vibrant, beautifully handcrafted skirts that are without peer. I haven't seen any like them anywhere else.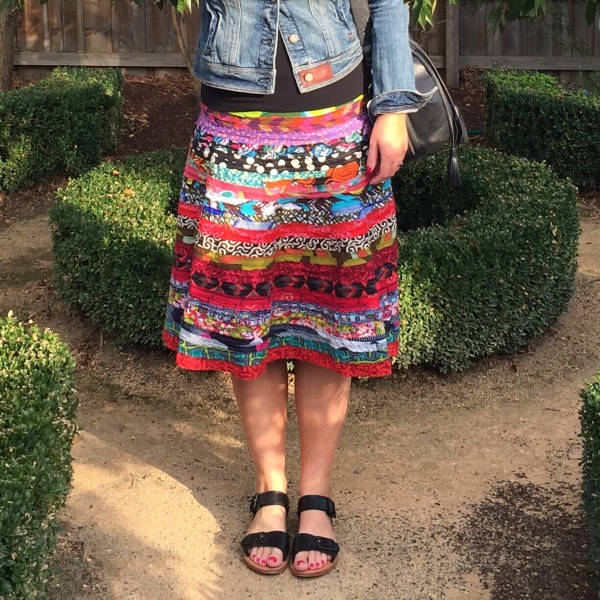 I thought it's debut would involved tights, boots and a merino knit but all of a sudden I back in sandals and a tee. Loving that!
4. Autumn
Gosh how lovely are the colours of Autumn? I've been looking up, down and all around this week and marvelling at the changing of the season and the natural beauty in my suburban 'hood.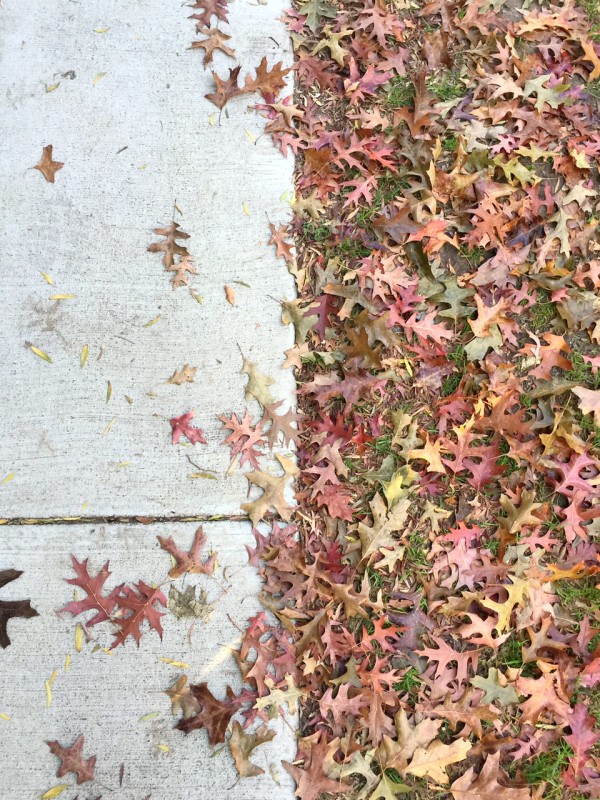 We have mostly evergreen trees at our place, so it's once I'm out in the 'hood that I'm seeing all these glorious colours. Against a brilliant blue sky, it really has been something else.
This post contains an affiliate link. You don't pay any extra and I earn a small commission. Read more in my Disclosure Policy here.
What have you loved this week? Got any new or old favourites we need to know about? Is anyone else up to their eyeballs in admin too?