Happy Friyay!
Have you had a good week?
Ready for some downtime? Or perhaps some wine time?
Or are your weekends crazier than your weeks these days? Sometimes, it feels like ours are, especially when we have a basketball game before 9am, and need to factor in a coffee stop en route. #earlytimes
Anyhoo, the usual early starts aside, it's been a quieter week here after the Mother's Day Festival of Fun last weekend. Missing a day of household admin though has had a ripple effect though – I've felt like I've been pushing up hill all week – but in amongst all the usual, I've come across some lovely things.
Dots and Spots
It's hard work being a grown up sometimes. Some weeks all the adult-ing we have to do is super exhausting. When I'm feeling a bit blah, it's nice to put on some fun clothes to brighten things up a bit.
And nothing says fun to me like a polka dot. It's not possible to feel blah wearing dots, right?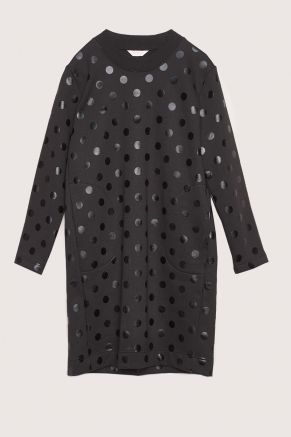 I finally picked up this Dot Sweater dress, above, from Gorman in this week's Vogue Online Shopping Night promotion. After all, an oversized tracksuit top that's a dress? No brainer.
I also spied this fun top (pictured below) – the Spot Linen Top, $79.95 from Trenery. It's currently 25% off too … watch this space.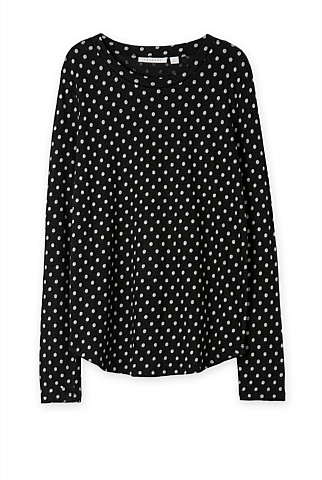 My Thermie
I know there's been some thermie controversy this week but hear me out.
I resisted All Things Thermie for some time. I didn't need one and was quite happy without one, thank you very much.
It was only when all my appliances happened to break down at the same time last summer, that I finally could see a need for one.
So I eventually bought one.
Then it took me months to find time to use it. I was busy and didn't have time to work out how to do my usual things a new way.
Slowly but surely though, I've found my thermie mojo and I'm using it more and more often as time goes on.
Now, I use it most days.
Lately, I've been using my thermie to make soup although, yes, I do take great care when it's blending at the end as the soup, when it's finished, is Hotter than Hades. I usually leave it to cool for 5 minutes before I eat it too.
I usually make a batch at the start of the week, which generally sees me through four lunches, or three if a girlfriend pops in for lunch.
Along with a sourdough roll (I bought a pack which I stash in the freezer and pull one out to toast on soup days), it's hearty, healthy comfort food at it's best.
My favourite recipes include Louise Fulton Keats' zucchini, pea and mint soup (I add some bacon though because everything tastes better with bacon) and this easy cauliflower soup, pictured below.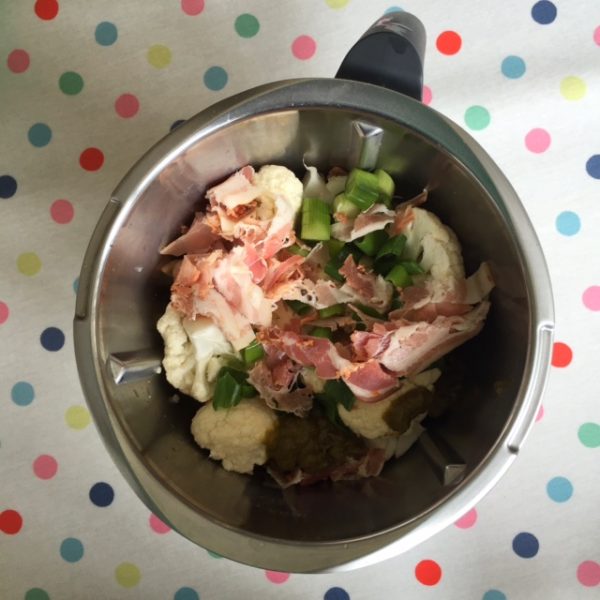 To make this cauliflower soup, simply throw half a big cauliflower or so, one or two spring onions, a couple of slices of hot pancetta (I like a bit of heat but mild pancetta or bacon would also work), 600 grams of vege stock into the thermie and cook, at 100C at 1/2 to 1 speed, for fifteen minutes. Once cooked, blend to your desired consistency and add some ground pepper to serve.
I've also been going nuts making variations on mashed potato (pumpkin and sweet potato making regular appearances) although I've learned to buy the right potato as not all potato are easy to mash.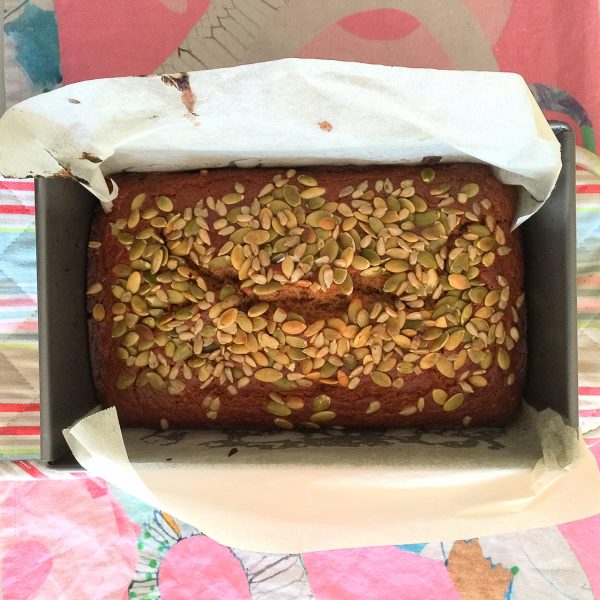 I make banana bread most weeks too – it's super moist and delicious, lasting five days easily if we somehow don't eat it before then. I use the recipe from the Thermomix Basics Cook Book but I've been using different sugars (coconut or rapadura) which haven't altered the consistency or taste much at all. I add some sunflowers and peppitas on top for some crunch and extra yum too.
The Gift of Giving
I had a lovely Mother's Day last week but I've gotta say, the best thing about it is seeing the pleasure the kids take in giving.
From their carefully selected gifts from the school Mother's Day stall through to their thoughtful words in their own hand made cards, it's great to see them derive so much enjoyment from the simple act of giving.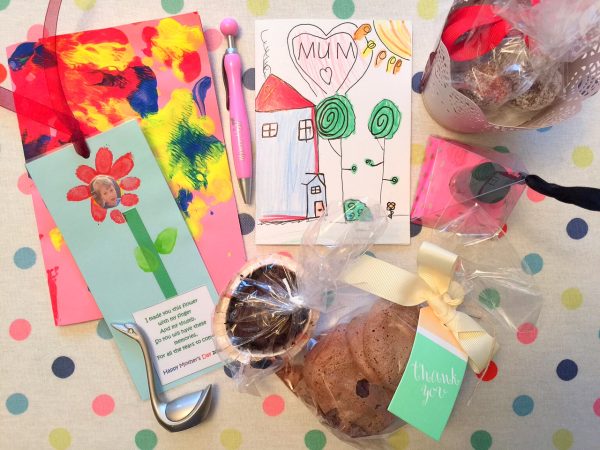 I was also very happy to receive these Peter Alexander leoparo slippers from Mr SnS. Score!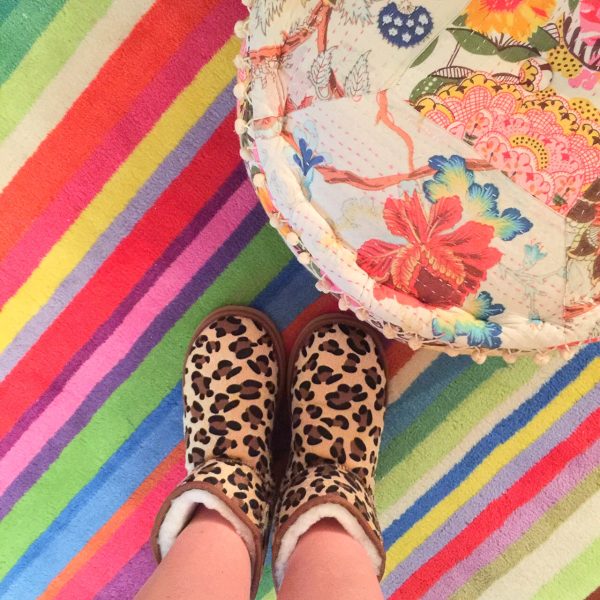 You can shop them here* if you're in the market – I sized up from my usual 9 to a 10 though, FYI.
Almond Croissants
I've been slightly obsessed with almond croissants this year and am on a mission to find the best almond croissant in Melbourne.
Not the world's healthiest hobby perhaps, but an enjoyable one nevertheless. I just need to increase my exercise three hundred fold and I'll break even.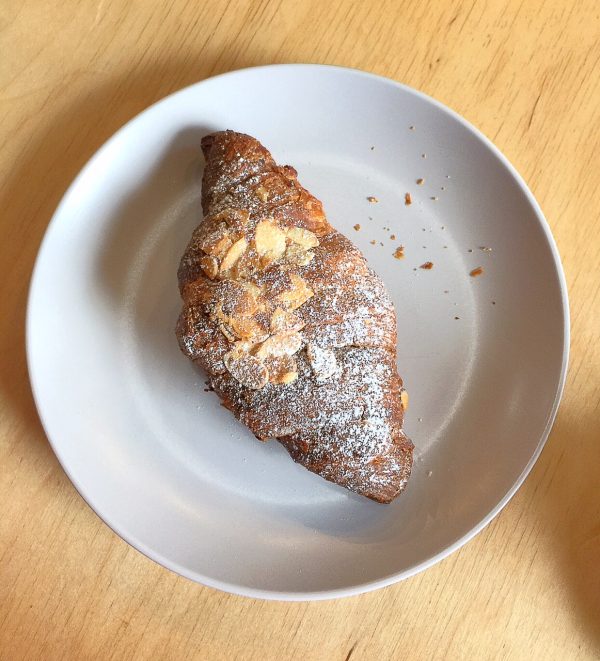 The best morsels I've had so far are from Babka and Rustica Sourdough, both in Brunswick St, Fitzroy. This version, above, from The Honey Thief, was also very good.
The search continues.
* denotes an affiliate link. You don't pay any more and I earn a small commission.
What have you been loving this week? Where have you eaten the best almond croissant? What are you cooking in your thermie? Is there anything else we should know about?