Well hello and Happy Friyay one and all!
Wow, another week almost done and dusted.
Is it just me or have things gone from Go to Woah very quickly lately?
It's hard to believe, but at the start of last week we were still on school holidays.
Yep.
Now, a mere eleven days later, I feel like we are well and truly up and running, across all departments: notices galore, uniforms, rosters, information nights, party invitations not to mention all the extra curricular activities already.
I'm almost counting down to the Easter holidays already. Almost.
So, if you're looking for a breather amidst the new term craziness too or just up for our usual weekly debrief, find a comfy spot and your beverage of choice, and I'll fill you in on what's been ringing my bell this week. I'd love to hear what you've been loving in the comments below too.
1. Our Custom Illustration from Oh Baby Bird
For my 40th birthday a little over a year ago, I received a voucher for a custom illustration by Erin of Oh Baby Bird from all my lovely in laws. It was such a gorgeous gift and I was very much looking forward to seeing us in illustrated form.
Some of you may recall that I put out the call on Facebook a few weeks ago to ask what I should wear in the photo. I took on board all your excellent suggestions and gave Erin 5 outfits to work with, giving over ultimate creative control.
This week, we received the finished product: TA DAAA ….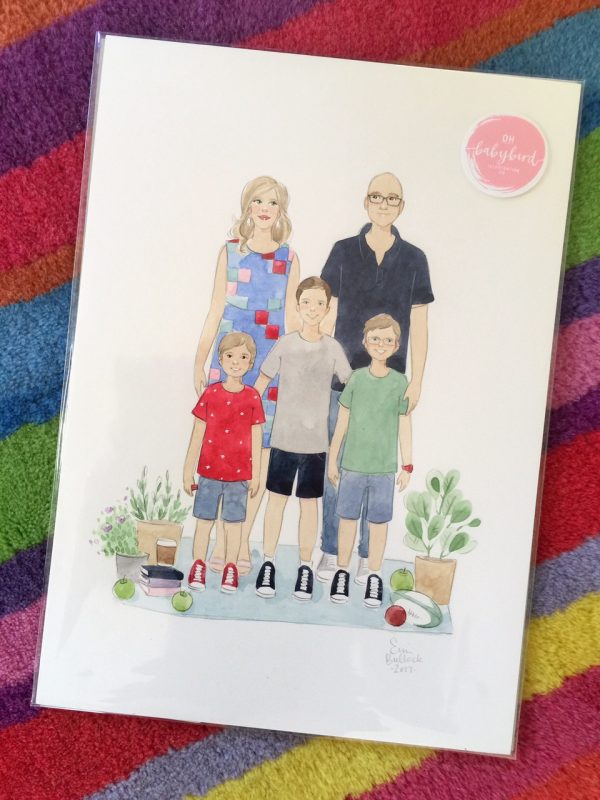 I'm so happy with the finished product! Didn't she do a great job?
I'd given Erin outfit specifics and told her some of the things we loved as a family – reading and books; apples – my boys go through at least a kilo every day or so; playing at the park – hence the greenery; footy and cricket – hence the balls; Lego – my youngest son is holding a piece; and coffee, because my takeaway coffee often feature in my daily outfit photos.
I'm wearing this Mister Zimi dress if you're wondering too.
This is such a special memento and I can't wait to frame it and hang it in our home.
2. New Season Gorman
I briefly popped in to Gorman this week and when I did, my eyes nearly popped out of my head.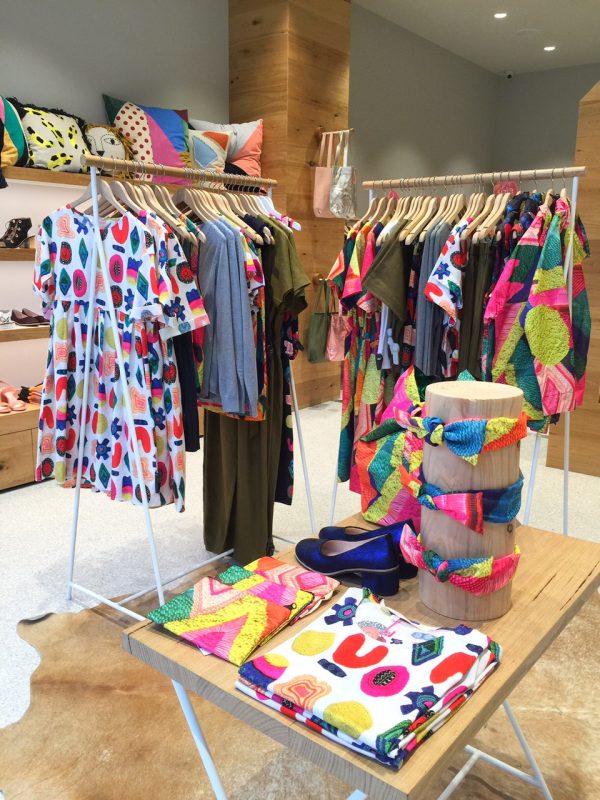 Without any prior promotional or Instagram warning, I'd walked in to the just released new collab between Gorman and Sydney artist Liz Payne. Isn't it Fabulous with a Capital F! I'm loving all the colour and I may have accidentally bought the Ode Dress on the left. Stay tuned for it's debut.
In addition to the latest collab, more new Autumn prints and knits have dropped.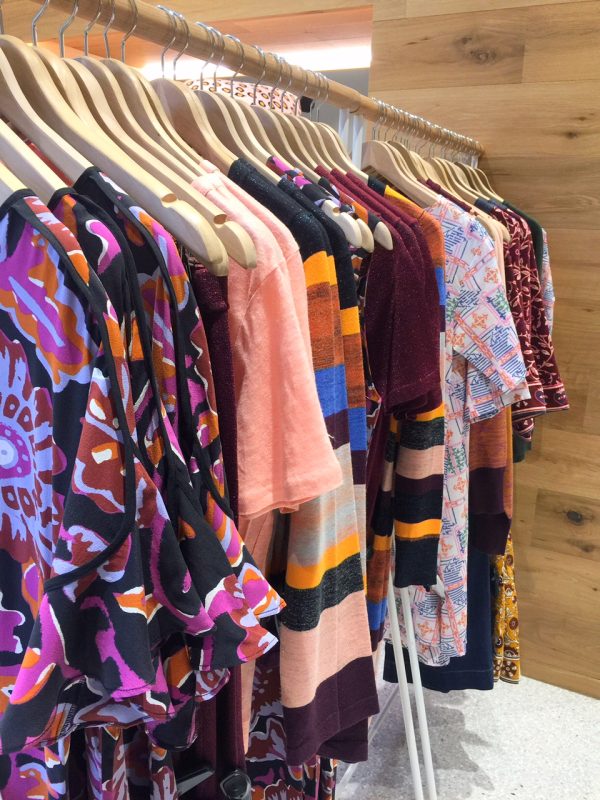 I tried on several pieces and it was all gorgeous. I was also happy to see some new shapes and styles alongside some tried and true favourites.
If you're a Gormie fan, you'll find plenty to love. Better start saving!
3. Lion
One of my goals for Term 1 was to go to a cheeky mid week movie and this week I achieved that when I went to see Lion with a couple of girlfriends.
It's a hard movie to describe – Lion is such a powerful movie on all levels – the acting, the story, the cinematography – all of it was first class.
Here's the trailer …
There were so many scenes and moments that made a huge impact on me and while I bawled my eyes out, it's not just a sad movie either. It's a powerful story of identity, belonging, connection, displacement, the depth of family bonds with both biological and adopted families and the complexity of all of the above.
In terms of the actors, I just loved the tiny, streetwise Saroo at five years old – my heart burst for him in his little Tasmanian t-shirt. Dev Patel did a brilliant job as the adult Saroo too. Nicole Kidman was terrific as was David Wenham.
There wasn't anything I didn't love about this film and I'd highly recommend it. Some of my friends with older kids have taken them to see it or plan to do having seen it themselves. Mine are still a bit young to see it but when I got home, we all watched the two part feature on Sixty Minutes instead.
4. More Maxi Love
I went to my first 50th this week and boy, it was just lovely.
We had lunch at a local winery, Olivignia, enjoying a Prosecco as we looked across the vines.
As I mentioned earlier this week, I'm all about the Maxi Dress presently, and I was thrilled to have an opportunity to wear my Ruby Ya Ya Primrose Crossover Maxi with my new Bohemian Traders Crystal Beaded Hoop Earrings in Wine for the celebration. (This dress is still available in cream in several sizes here – take note it's a super generous fit. I'm wearing the Medium and it's roomy).
My trusty gold sandals and clutch finishing things off nicely.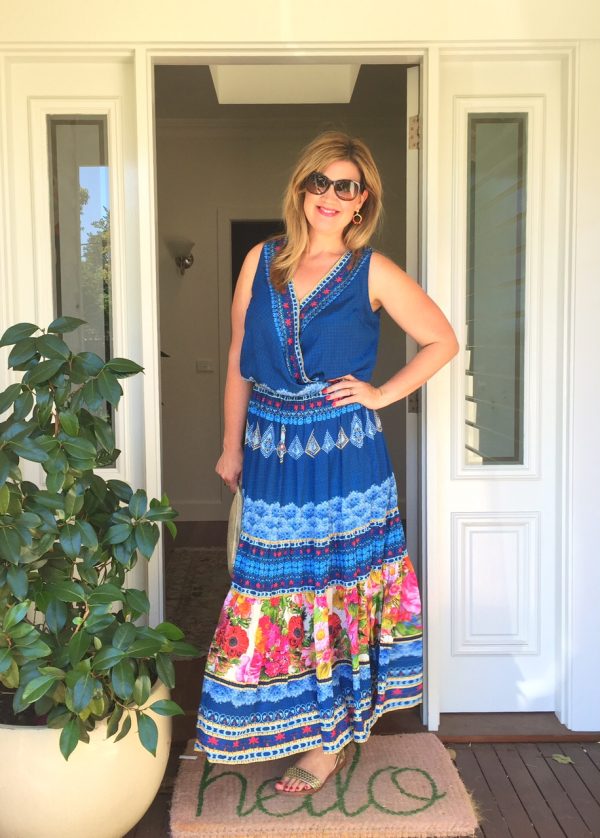 This post contains some affiliate links. You don't pay any extra and I earn a small commission. Read more in my Disclosure Policy here.
So over to you, what have you been loving this week? Have you seen Lion?