Hello and happy Friyay.
I hope it's been a good week for you. It's certainly been an eventful one around here.
Meetings, hosting book club, new old work – more on that below – and the usual working from home/running around after the kids before and after school/managing All The Things on the domestic front and, most excellently, our school's Ladies Race Day today, have rounded out my week.
So today's Fave Things is short and sharp and by the time you've finished reading this, I'll either be having a cheeky blow wave, frocking up, or sipping a champs with the ladies or perhaps kicking on at the after party. Cheers and happy Friyay indeed!
1. New work at my old work
This week, I returned to my old work for a short term project. With my boys now all at school and a new chapter in our lives beginning, I jumped at the opportunity to reconnect with my lovely former colleagues and tap into the skills I drew on regularly in my previous professional life (you can catch up on my work backstory here).
Having withstood an epic and sustained 45 minute pre swimming lesson tantrum the previous day from one of the kids, I returned confidently knowing that there was nothing this new/old work could throw at me, that I hadn't already dealt with in the previous 24 hours. Wrangling kids gives you skills alright!
Wearing Nancybird frock from last summer with CHLOE wedges, Mimco shades, Mariana jewellery earrings and COACH satchel.
All in all it was lovely to be back, and I'm looking forward to doing more in the weeks to come. As I can set my own hours to an extent, it means I can also balance my blog – which I love – and all the other things that make up my life right now. So yes, I'm feeling very grateful for that too.
2. Beauty Faves
In readiness for Race Day this week, I've been getting sorted on all fronts: waxation, brow tint, spray tan and nails. In other words, just another day at Shenanigans HQ. Just kidding!
Two things I've been loving in particular are Tropix – one of my favourite summer nail colours – which comes in both CND weekly colour and Shellac. I love how this bright pop of coral works with pinks, oranges, blues and black, especially with a spray tan.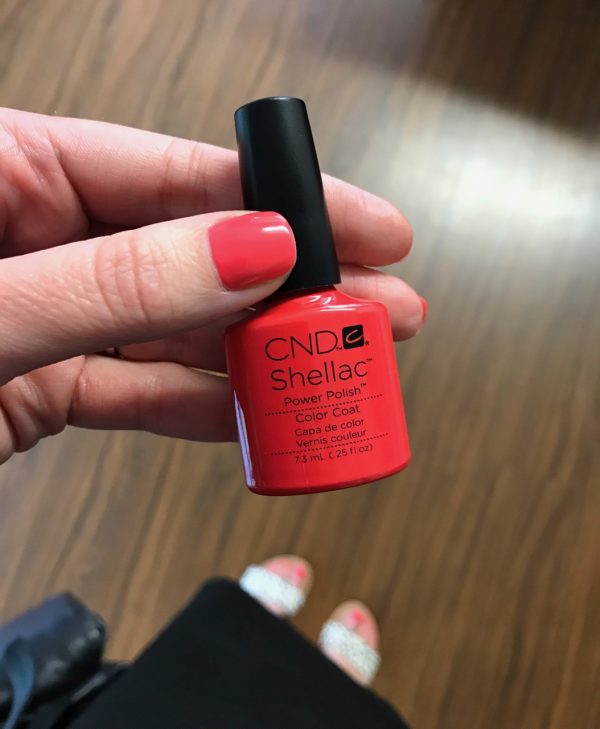 The other thing I've been loving is my Little Tanning Dress.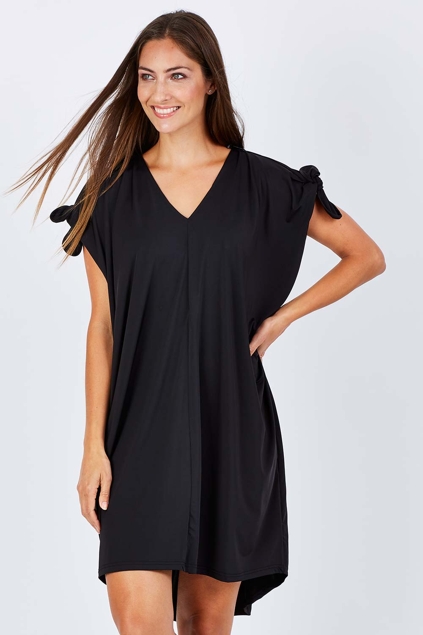 Emmy Short Tanning Dress, $49.95 from Birdsnest
I was given one of these a couple of years ago by the gorgeous LTD girls and it's the perfect frock to wear to and fro a spray tan because it was designed specifically for this purpose. It's easy to throw on, looks glam and you won't get spray tan on your other clothes. I especially love it for those times when I've got errands to do before or after my spray and I don't want to wear my old, faded black clothes that I used to wear for post tannery.
There are plenty of styles to choose from (which you can see here) but I've got – and love – this fabulous style pictured above in the maxi length.
3. FRANKIE 4 Footwear sockettes
I was given some FRANKiE4 sockettes recently and have been meaning to tell you how awesome they are. They don't slip or slide and feel fabulous all day long.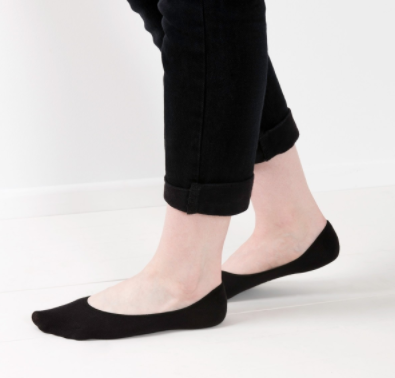 They come in grey or black and are awesome value at 3 pairs for $19.95. I'm seriously considering buying these for all my girlfriends this Christmas. Please look surprised if you're reading this post ladies!
If your current sockettes aren't cutting it, definitely check these babies out.
This post contains some affiliate links. You don't pay any extra and I earn a small commission. Read more in my Disclosure Policy here.
So over to you, what have you been loving this week?