Happy Friday! Well sort of, because its actually Thursday, but given tomorrow is the Anzac Day public holiday in Australia, I'm bringing forward tomorrow's post to today. And given the weekend starts tomorrow, today has a Friday vibe. Make sense? Stay with me!
Today, I am taking my lead from the fabulous Fraulein (I may or may not have watched The Sound of Music on the weekend) and celebrating a few of my favourite things from the week. It's a nice way to end the week, no?
What are a few of your favourite things this week?
1. Going to the Flicks
Last Saturday night, I went to the movies. I don't see many movies these days/years, so it was a bit of a treat, let alone going on a Saturday night. I was partying like it was 2005!
I hit the local arthouse cinema and saw The Grand Budapest Hotel.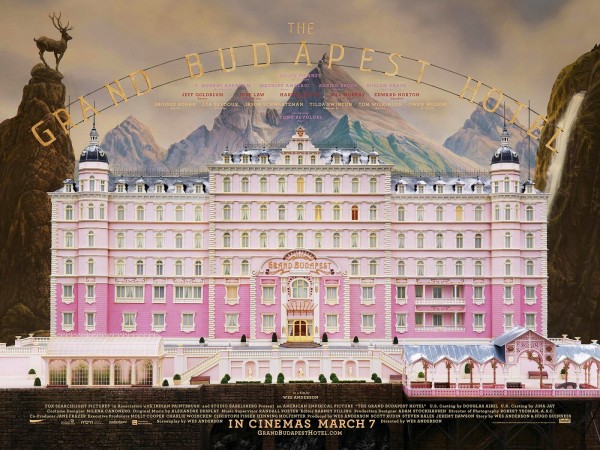 I had seen a preview when I went to see The Lego Movie, it's a Wes Anderson movie and Margaret and David were raving, so I expected great things. It was a lot of fun, a bit silly and entertaining and had a lush, theatrical style reminiscent of Baz Luhrman films.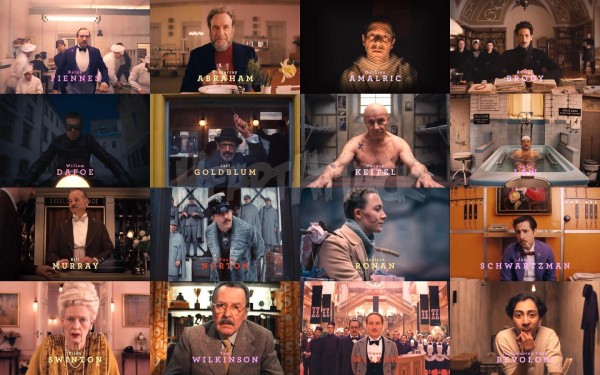 The all star cast was amazeballs too. Adrien Brody was supremely menacing, Willem DaFoe was freaking scary and Ralph Fiennes was as charming as ever. I don't, however, think it will be winning any major awards. Which is fine by me, because these days, I like my movies funny and quirky and it definitely delivered on both counts.
2. A Pretty Dress or two
When I finally got the kids back to school on Tuesday, instead of doing the grocery shop, I took a detour and hit my local Westfield. Coffee in hand and a surprisingly co-operative toddler in tow, I took a mindless stroll around and looked at lots of lovely things. Because I could. Then I walked past my local Marcs store and saw this dress. Sigh. Isn't she lovely? It's the Print Montage dress.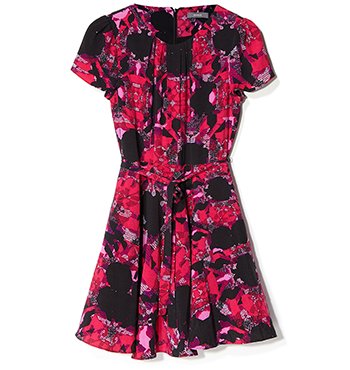 It is beautiful, don't you think? I love the feminine styling, the knock out print and can see this little number going from special occasions (we have a few 40ths coming up) and then making a seamless transition into my work wardrobe. It's pretty exy though at $249, so I'll be watching and waiting until a sale hits. Have you got your eye on something at the moment?
The other lovely frock I have my eye on is this lovely quilted yoke dress from The Bohemian Traders. Here is the gorgeous Emily of The Beetleshack wearing it.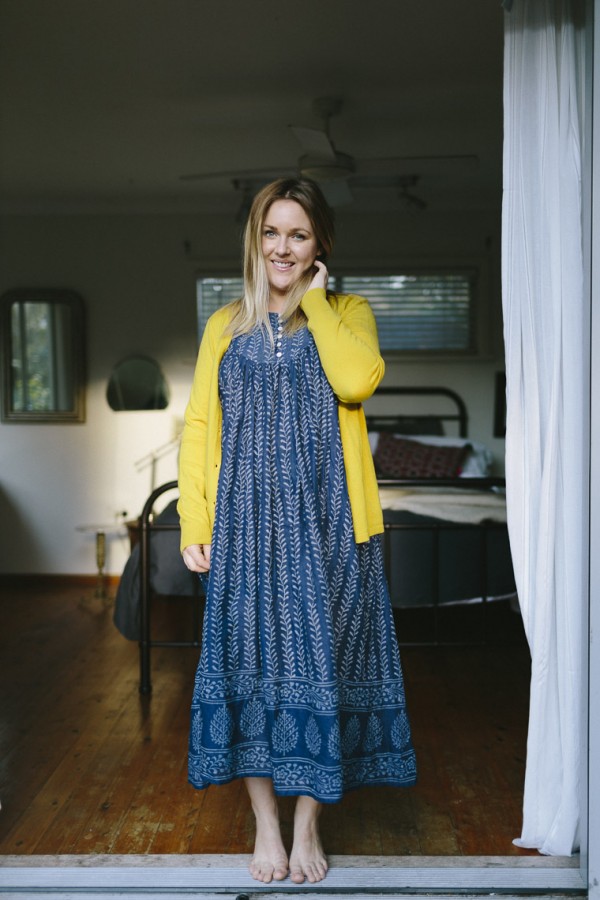 I could see myself wearing this with a denim jacket and a pair of boots this winter. Or sitting by the fire learning to crochet. It's just that lovely.
3. A Warm Welcome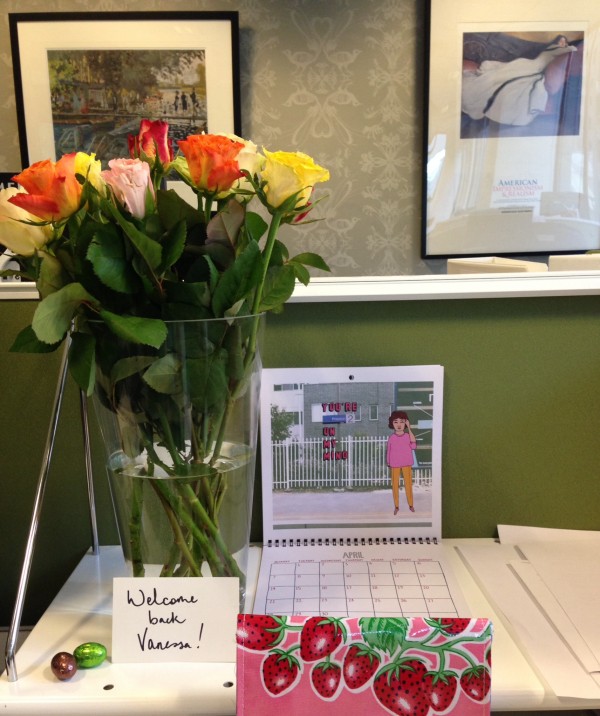 I returned to work this week to my former professional role in a very part time capacity. I've been working at this workplace for nearly 5 years and they have generously given me extended time off when I have had babies. Most recently, they gave me a few months off to settle my son into Prep. Did I mention they are awesome?
My return to work was lovely and I was so happy to be greeted with this welcome and a long chat over a cup of tea with one of my bosses about all the latest and greatest. At our team meeting at lunchtime, a lovely pear tart was presented in honour of my return. I may have blushed.
A personal touch and a warm welcome is not difficult to do but it really does mean a lot. I know others who have had really ordinary return to work experiences (myself included) and I just wish people would take a bit more care. It's not hard and a little kindness goes a long way. Rant over.
4. Nesting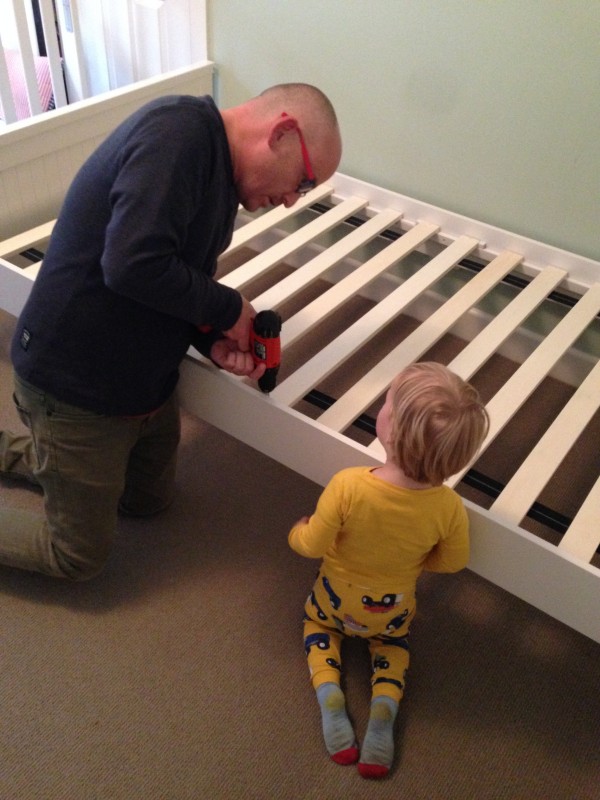 I love nesting! On the Easter weekend, we set aside an afternoon to make our youngest son's big boy bed. I really can't believe he is old enough to move into a bed and I would have delayed it as long as possible if he wasn't so tall and growing out of all his sleeping bags.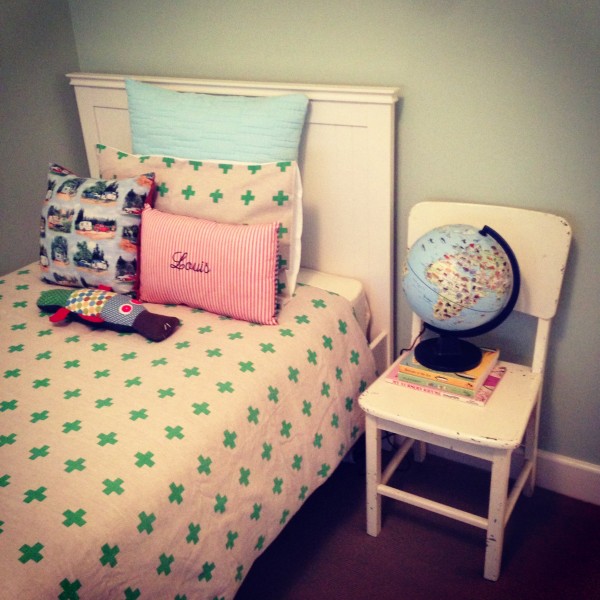 It was an exciting event for all the kids and they all pitched in to "help" Mr SnS while I worked on the styling and bringing the room together.
It's only the beginning but I was so happy to see it all come together – a recent Country Road duvet set, a St Albans rug we were given for our wedding over a decade ago, a Mookah platypus and a personalised cushion we gave our Master 2 on his first birthday, and a vintage fabric cushion from Fritz and Kitti.
It's a work in progress but isn't everything these days? Gone are the days when I could get a room finished before it became occupied!
They are a few of my favourite things this week? What are some of yours?