The more I watch and read, the more I find to watch and read.
Sometimes it's finding a new author and suddenly I want to read their entire back catalogue. Like my newish discovery of Elizabeth Strout.
Or perhaps it's about finding a subject matter or a period of history of interest or stories set in a particular – usually fabulously exotic – location.
Or sometimes, as I think is the case for me, it's just the diversity in all of those many and varied things.
I've had moments when I think I must have read all that I could possibly enjoy – I've read some brilliant books in the last few years – but then I always find something new and, occasionally, equally or even more fabulous. There really are SO many great books out there. How great is that?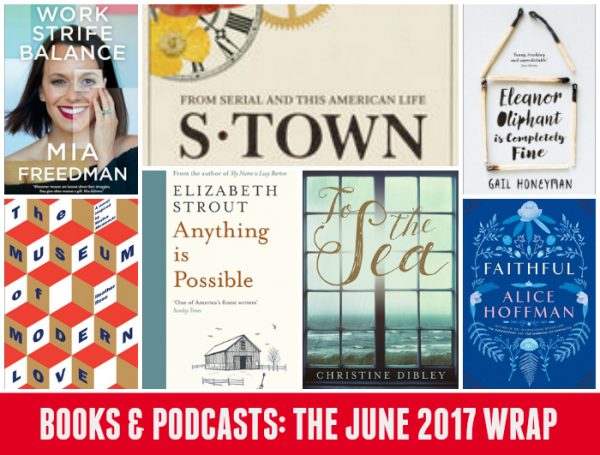 This month's reviews reflect definitely this fact.
I've read some really interesting books including contemporary fiction, topical non fiction as well as two wonderful books by Australian authors. They've all been quite different though and I hope you'll find something of interest below.
If you're looking for a new podcast, I've covered some ground in this department this month too. Unlike reading, thankfully, my new Podcast Passion is compatible with multitasking, exercise and errands outside the home. I like feeling productive while still listening and learning. The ultimate win/win!
Finally,this month, given I've read and reviewed so many different things – due in part to my Bali vacay – I've decided to break this month's post into two parts – books and podcasts today; TV series and flicks next week. How does that sound? I hope that's OK. Let's begin with some of the fabulous books I've been reading this month …
BOOKS
1. Work Strife Balance by Mia Freedman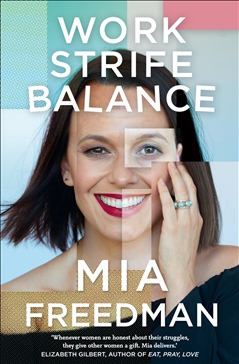 I know Mia has had her fair share of controversy lately – that's the understatement of 2017 –  but I really enjoyed this thought provoking and topical book. On some level, every parent I know is grappling with many of the issues covered in this book, particularly those relating to work and finding that elusive, if even achievable at all, work/life balance.
You might not love her, but I don't think you can deny that Mia writes passionately and, from what I can tell, openly and honestly about a wide range of topics, including her many failings. She really puts herself out there.
This is a book I want to discuss with girlfriends – not because I necessarily agree with everything – but because I think she covers many pertinent issues.
VERDICT: **** This would make a good gift for a girlfriend and would be a great, topical non fiction read for book clubs in this stage of life.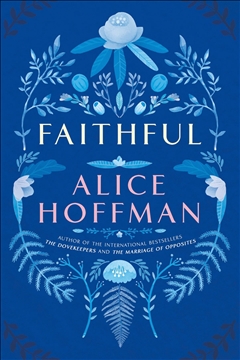 Faithful follows the journey of a teenage girl, Shelby Richmond, who survives a horrific car accident, in which her best friend is critically injured. As you can imagine, the trauma Shelby suffers is enormous and this is essentially a story of how Shelby experiences and survives grief and how she gradually finds her way.
That said it's not a depressing or intense book at all, but one that gently examines how a young life can be impacted by grief. Shelby finds her own way, in her own time.
This is an easy read, propelled by a well paced and not overly predictable plot – although it is a little fantastic at times – while also maintaining a sense of truth.
VERDICT: *** An easy read, ideal for holidays or a weekend away.
3. To the Sea by Christine Dibley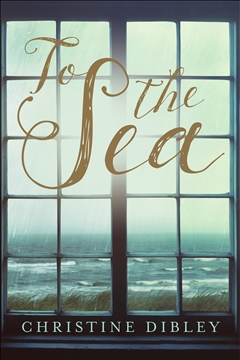 This debut novel by Tasmanian author Christine Dibley is a well written mystery set in the present.
It begins with the intriguing premise of a 17 year old girl simply vanishing. The police are called to investigate, and in doing so, they examine the extended family dynamics and uncover the family's history along the way.
Told from the perspectives of five different characters, To the Sea maintains a good pace pace and held my interest. I liked the way the author delved into the lives of each character in interesting detail, all of which filled out the characters well.
What perhaps sets this story apart from the usual Whodunnit are the elements of myth, history and Irish folklore which add ambiguity and atmosphere.
I really enjoyed this book – I love reading novels set in Tasmania it seems – and look forward to Christine Dibley's next novel.
VERDICT: **** A step up from the usual dysfunctional family/missing person mystery fiction.
4. Anything is Possible by Elizabeth Strout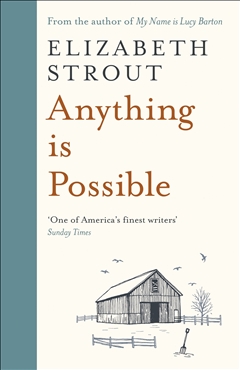 I absolutely loved My Name is Lucy Barton, also by Elizabeth Strout, which I read earlier in the year (you can catch up with my review here).
Anything is Possible is not exactly a sequel, but it does pick up the threads of many of the characters mentioned in My Name is Lucy Barton including Lucy Barton and her siblings, with each chapter a short story in and of itself. I enjoyed all of them very much, but particularly the chapter, Dottie's Bed and Breakfast, towards the end.
Where My Name is Lucy Barton gave fleeting details at times and let you infer the rest, Anything is Possible really examines, in some detail, the people, circumstances and views of each of the characters. They are all connected to each other too, living in the same small rural Illinois town, so there's that satisfying pleasure of seeing characters you know well, from another perspective, just as Elizabeth Strout did so brilliantly in her Pulitzer Prize winning novel, Olive Kitteridge. I love it when authors provide these alternative perspectives.
If you are looking for a straightforward narrative with a beginning, a middle and an end, this probably isn't the book for you. But if you love great writing, interesting characters and brilliantly insightful observations about people and their motivations, I think you will love this.
I really loved this and am confident fans of Olive Kitteridge will feel the same.
VERDICT: ***** You need to get hold of this book.
5. Eleanor Oliphant is Completely Fine by Gail Honeyman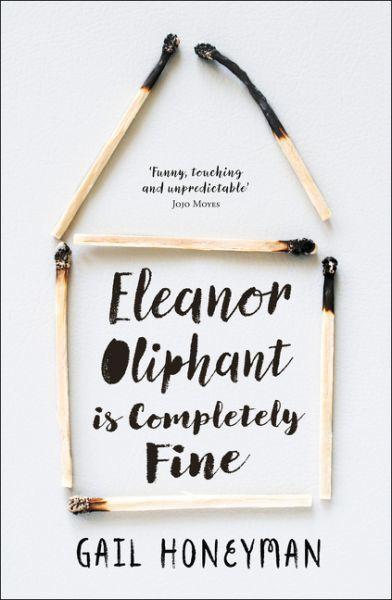 Eleanor Oliphant was highly recommended to me by my readers in the Style and Shenanigans' Book Discussion Facebook group – thank you to all of them!
This is not an easy book to describe and I certainly don't want to spoil anything so perhaps I'll summarise the plot this way: Eleanor Oliphant leads a very simple, ordered life – she goes to work, then on Friday nights she eats a Tesco pizza, drinks two bottles of vodka and doesn't speak to another soul until Monday morning. Every week is the same until an event disrupts Eleanor's very predictable life.
Eleanor Oliphant reminded me a little of The Rosie Project's Don Tillman and she is, like Don, an all round fabulous, loveable character who is not without her challenges. And you can really see how other people find her challenging.
There are also many, many moments when I laughed and giggled out loud – her visits to various beauty therapists in particular were absolutely GOLD. I found myself reading some of the more memorable scenes to poor Mr SnS while he tried to read his book poolside!
What distinguishes Eleanor from Don though, is that her story is a much darker one. Eleanor's backstory is slowly revealed, explaining much about her sadness, longing and loneliness. But oh how I adored Eleanor and loved her story, which was also full of kindness and warmth as well as sadness and longing.
VERDICT: ***** A story that is both very funny and dark, with fabulous writing and brilliant dialogue. Heartwarming and hopeful. Highly recommended.
6. The Museum of Modern Love by Heather Rose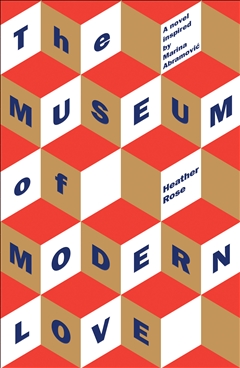 In a nutshell, The Museum of Modern Love is brilliant, brain bending and inspiring but not necessarily easy to read.
The story centres on the real life performance artist, Mariana Abramovic, who sat for 75 days at a table, facing one stranger at a time in her work, "The Artist is Present" at New York City's MoMA in 2010.
Heather Rose has created a cast of creative characters, each of whom has a burden of sorts, and follows their journey as they interact with "The Artist is Present" in various ways throughout the book.
I felt I had to seriously turn my brain on as I read – it's not an effortless or easy read and asks questions all the way through. It was possibly not compatible with pool side cocktails and regular interruptions, which is how I read it for the most part.
I was not immediately taken with the characters either – it took me a while to work out one of them was actually dead – but the narrative did gain momentum, particularly towards the end. It was also at this point that Heather Rose reached Next Level – in chapter 42 in particular – her writing was incredibly beautiful.
I found Mariana Abramovic herself absolutely fascinating and googled her like crazy as soon as I finished the book (there's a doco about her on Netflix too which I'll be watching stat).
This is not a run of the mill story but it is a very interesting and ambitious one, asking big questions about the purpose and process of creating art and an artist's legacy. These ideas and questions are of great interest to me, so I persevered but if these are not subjects to which you are drawn, you might find this hard going.
VERDICT: **** An original, thought provoking story, thoroughly researched and beautifully written in parts. It would generate some interesting discussion in book clubs too.
PODCASTS
I've listened to some fab podcasts over the last few weeks, my favourites have included:
This post contains some affiliate links. You don't pay any extra and I earn a small commission. Read more in my Disclosure Policy here.
So over to you – what have you been watching, reading and listening to this week?