Welcome to this month's reviews of everything I've been reading, listening to and watching lately.
As you'll see, it's a short and sharp bunch this month but there are some absolute winners so do read on – it's definitely a case of quality over quantity with all the November craziness going on.
I'm already compiling my January list of books to read – hello December birthday and KK – and series to catch up on too. There's nothing better after a busy year than to sink into the escapism of wonderful books and alternative realities. Sigh.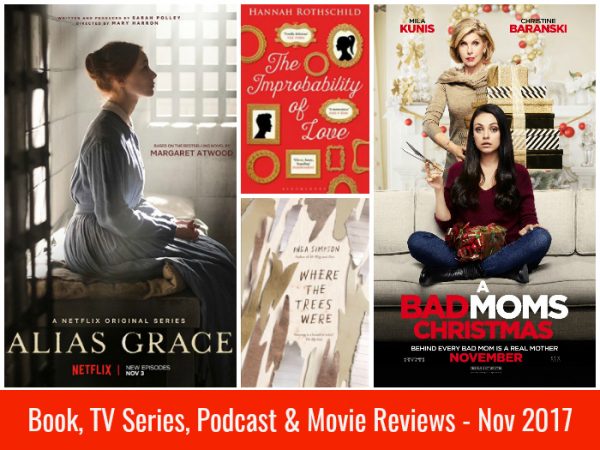 Books
Where The Trees Were by Inga Simpson
Where the Trees Were was one of my book club books last month. I hadn't finished it when we met and usually I'd bail because of the spoiler factor, but I was encouraged to continue following the discussion and the recommendations of those who had read it.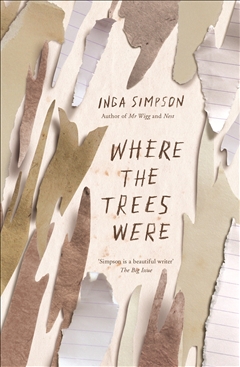 I did end up finishing it and I'm very glad I did. This is a really well written, nostalgic story of a shared childhood and it's legacy, shared by the now adults in the present.
The story alternates between the past and the present and whilst I did enjoy the stories of the past more than the present for most of the book – Inga Simpson's writing here was so poignant without being earnest – the slow bringing together of the past and present was ultimately satisfying.
This is a lovely book and I'm glad I read it.
VERDICT: ***
The Improbability of Love by Hannah Rothschild
I'm only 100 pages into this book and I wish I could get more time to read it as I can see it's a great story and well written but I'm struggling to get a run on with it at the moment.
What I can say so far though is that it'd make great holiday reading – it's not heavy but is interesting with well drawn characters, all connected through the painting, The Improbability of Love. I reckon it'd make a great movie too.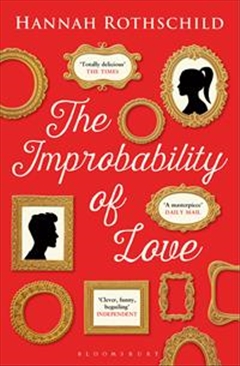 I'll report back when I've hopefully made it through. Hopefully sooner rather than later!
TV Series
I was dying to watch the latest TV series adaptation from Margaret Atwood after the excellent A Handmaid's Tale, so one weekend, we hunkered down and smashed out all 6 episodes of the new Netflix series – Alias Grace and I really enjoyed it.
Production wise, it's a very different style from The Handmaid's Tale. To start, it's based on actual historical events and it's a representation of that story in a dramatic format. It does have a compelling female protagonist at it's centre however, and her acting, like Elisabeth Moss' Offred, is excellent.
I won't give too much away but I found this very easy watching – hello 42 minute episodes – and compelling. Margaret Atwood doesn't like to give all the answers though so don't expect the ending to be tied up neatly in a bow. That's not how Margaret Atwood rolls – she's so clever –  and she gives her audiences a lot of credit too. There's no dumbing things down around here.
We've also watched half of the first series of Bloodline (also on Netflix) which is excellent but intense. Each episode is an hour or so too so we're finding it's taking longer to watch. It's unpredictable, tense and moody and not an easy watch – kind of like Ozark in that there's that ever present sense of foreboding. The performances – especially Ben Mendelsohn's Danny – are exceptional though. I'm looking forward to watching more, even if we wait until January when we have less on.
Oh Jamie Fraser, I'll never get sick of watching you and Claire in Outlander (on Foxtel). I have a few episodes to catch up on so I'm waiting to binge watch them when I get a window of opportunity.
Movies
Bad Moms 2
Like the hilarious Bridesmaids, Bad Moms 2 is definitely one of those movies that is best watched with a group of your best mates. It's your usual formulaic Hollywood comedy in the vein of The Hangover, but very funny in parts. I did find it on the swear-y side and much cruder and ruder than I remember the first one being, so consider yourself warned.
I loved all the Bad Moms' Moms – Christine Baranski and Kristin Bell's Mom in particular were rippers – and all the scenes with the good looking/actor brother from This is Us were very amusing. Waxing anyone?
On a completely different note, I'm off to see Wonder next week too and I can't wait for that too.
Podcasts
I've loved Mia Freedman's podcast No Filter  this month and in particular, her terrific interviews with Marian Keyes, Kerry Anne Kennerley and Tracy Spicer. They were all excellent and I'd highly recommend them, especially the one with Kerry Anne Kennerley. I know not everyone is a fan of Mia's but her choice of subjects and ability to conduct really in depth interviews are right on the money for me.
I'm also really enjoying Ester Perel's Where Should We Begin. It's a fly on the wall insight into couples therapy and is SO fascinating.
For my crime fix, I was also riveted by A Killing on The Cape (currently 4 episodes, with a new episode released every week), a crime series investigation by ABC News and The Black Widow episode on Casefile.
This post contains some affiliate links. You don't pay any extra and I earn a small commission. Read more in my Disclosure Policy here.
So over to you, what have you been watching, reading and listening to this month?