Welcome to this month's reviews post.
It's been another strange month here at Shenanigans HQ, as these weird #ISO times become the "new normal".
Like everyone else, we've been enjoying plenty of quality time on the couch, by ourselves and as a family, which is not something we've usually had a lot of time to do. As a result, you'll find some movie recommendations that are suitable for families later in this post as well as my usual wrap of everything I've been reading, watching and listening to in April.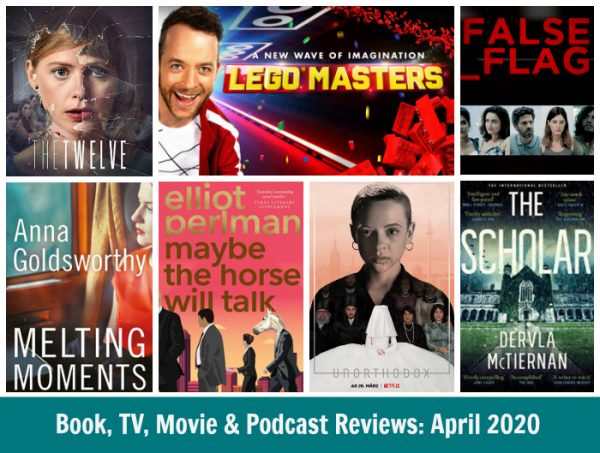 Books
1. Melting Moments by Anna Goldsworthy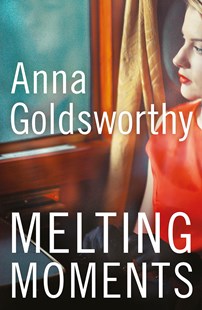 I devoured this beautifully written fictionalised memoir, reading the whole book in just a couple of days.
Melting Moments is the story of Rose and begins with her short courtship with her husband before the second World War, her years as a young wife and mother, through to the parenting of her adult children and her old age. Set in Adelaide and Melbourne over several decades, it beautifully captures Rose's feelings and sentiments, along with broader societal changes, with the passing of each decade.
Aside from being a very well written and paced book, I loved that Melting Moments captures some women of this older age so perfectly. I could see many of the older generations of women in my family in this portrait of Rose too – their pride, perseverance, resourcefulness, quiet determination and general brilliance. The author managed to capture this so perfectly with careful observations and details but without resorting to cliches, so when I read about Rose's pride in homemaking, her financial modesty, her longings and regrets, her experience of the stages of married life and devotion to the idea of husband as a provider, her joy in raising a family and her love of her well tended garden, I felt like I was reading a memoir about a loved one.
It was a pleasure to read this book.
VERDICT: *****
2. The Scholar by Dervla McTiernan
To mix things up, I decided it was high time for some crime and I really enjoyed this well paced crime thriller.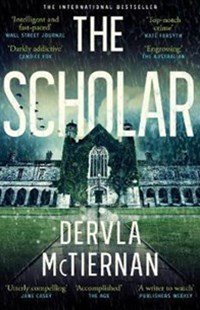 The Scholar is the second book by Irish author/Australia resident Dervla McTiernan. Like The Ruin, The Scholar features the devilishly handsome Cormac Reilly, but this time the story unfolds in Galway, where Cormac and his partner Emma are living and working. The story begins with Emma calling Cormac to the scene of a fatal hit and run in the car park of her laboratory, and it doesn't relax the pace from there, with each chapter providing another key piece of information or an unexpected turn of events.
Crime fiction can be fairly predictable and formulaic but I really enjoyed this effort, and couldn't see where it was going until close to the end.
And, like many of my favourite British police/crime TV series I love to watch, the combination of a mystery/crime to solve in an exotic locale – this time Ireland – is endlessly entertaining for me.
This is perfect #ISO/holiday reading. I can't wait to read the third book, The Good Turn, next.
VERDICT: ****
3. Maybe The Horse Will Talk by Elliot Pearlman
This book has been sitting in my To Read pile for a while, so I decided it was high time to see if Maybe The Horse Will Talk.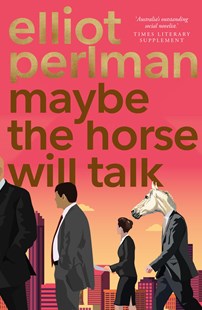 I've been a fan of Elliot Perlman's work for years, since his beginnings as a Melbourne barrister at a time when I was working in various courts in the city. I love that his writing is always heartfelt, sincere and tackles some of the big social issues facing Australians as only an Aussie writer can.
In his latest novel, Pearlman takes a good hard look at the prevalence and impact of sexual harassment in the construction industry as well as an in depth exploration of the desperation and anxiety that working in large, soulless, competitive workplaces (in this instance a corporate law firm) can create. As a Melburnian and as a former lawyer, I enjoyed these aspects of the story and could relate to so much – location and subject wise. I did wonder though how people without these experiences (or interests) would find this book, and the mixed reviews I read when I posted this book on my Instagram page reflected this "meh" vibe.
While I did really enjoy Pearlman's writing, his wonderful and often comedic turns of phrase and his cast of interesting characters – including the larger than life A.A. Betga – I can see how this book may not hit the mark with everyone. It's slow to start and I can appreciate that not everyone wants to read about the stresses of work in their relaxing time away from work. It is farcical and light in parts too though, and there's plenty of comedy in the character of A.A. Betga, but it may not hold some readers attention long enough to fully appreciate it.
It was also a little slow at the start, but once I was half to two thirds in, I couldn't put it down. I think this might have been because there was some heavy lifting in the plot department that needed to happen early though, to set up the strong run home.
I enjoyed this book but it may not be for everyone.
VERDICT: ***
TV Series
Lego Masters (Nine) is definitely the biggest news here at Shenanigans Central. The kids love this awesome show featuring the likeable, goofy Hamish Blake and the biggest Lego geeks ever. It's entertaining, fun and funny and inspires the kids for days and days of creativity.
We've also watched some great drama series this month, all of which we've devoured in a matter of days, in between all the other demands of #ISO life. Sigh.
Earlier this month we binge watched Unorthodox  (Netflix) in just a couple of nights. (It's an easy weekend binge with four hour longish episodes). Married at just eighteen, Unorthodox follows nineteen year old Esty Shapiro as she leaves her husband and tight knit Satmar Hasidic Jewish community in Williamsburg, Brooklyn for a new, unknown life in Berlin. The story is told in a series of flashbacks and current day events, and details the circumstances that have brought Esty to this point.
Unorthodox is compelling and unsettling, probably even more so as it's based on a memoir. The scenes of her life in Brooklyn – particularly of her courtship and wedding – are almost unreal and totally fascinating. Watching Esty navigate modern life in Berlin made me feel almost as awkward as Esty must have herself. On that note, the actress who plays Esty is just fab.
This is a great series and one I would definitely recommend. I did feel it ended a little prematurely though as a couple of major plot points were not resolved entirely, so hopefully there is a season 2 on the way. If you need a debrief, there's also a short film about the making of Orthodox which introduces us to the creators and the author of the original story.
We've also enjoyed some excellent international drama series on SBS on Demand.
Earlier this month we knocked over The Twelve (SBS on Demand) (big thanks to the SnS reader who recommended this to me). We really enjoyed this gripping ten episode series set in Ghent, Belgium which centres on twelve jurors (plus a reserve juror) from all walks of life brought together to decide whether respected headmistress Fri Palmers is guilty of murdering her three year old daughter Rose, and an older crime, the murder of her best friend Britt, many years before.
With so many characters, there are several storylines, many of which overlap as the jurors get to know each other. I loved this aspect of the plot. Many are dealing with their own moral and personal dilemmas and grief, which become evident throughout the trial and in the final deliberations. As well as this, through the court room scenes and a series of flashbacks, we deep dive into the complicated back story of Fri, her ex-husband Stefan and Britt, as witnesses are called and the evidence is set out before the jury. You do have to concentrate on this one though – as the actors speak Dutch, it's subtitles all the way. It's well worth the effort though and it'll have you guessing until the very end.
We also just finished the intriguing False Flag (SBS on Demand).
Set in modern day Israel, this is the story of five civilians unwittingly caught up in the abduction of the Iranian Minister of Defence in Russia. Or are they? This ten part series is excellent, and totally unpredictable all the way through. After watching the first four episodes over a couple of nights, we finished this last night with a five episode marathon. Again, there are subtitles as everyone speaks Hebrew, but it's well worth the effort and it's a cracking series. I can't wait for season 2.
We also finished two of our very favourite TV series this month: Homeland, earlier this week, in an epic season 8 and series finale and season 5 of Schitts Creek. Homeland finished extremely well – unlike Game of Thrones – with a very fitting and satisfying ending to this brilliant series. Serious props to the skilled writers and actors of this excellent series.
Thankfully, the final series of Schitts Creek – season 6 – is airing on Netflix this month, so we'll try not to binge so we can hang out with the fabulous Roses just a little bit longer.
Movies
We've been in TV Land most of the time lately but we have watched the occasional family movie on a Sunday afternoon.
My favourite was definitely Ride Like a Girl (PG). We all loved this incredible tale of the Melbourne Cup winning jockey Michelle Payne and this is such a great story of persistence and bravery which was as much about Michelle as her father Paddy and siblings. We watched (hired) this on Apple Movies.
We also watched Yesterday (M), a feel good movie which reimagines a world without The Beatles – gasp! Watching this flick is a great opportunity to sing along and enjoy their timeless music all over again. There was a tiny bit of swearing and some smooching but it was otherwise family friendly.
The kids also asked to watch Knives Out (M) as they are massive Cluedo fans. I liked but didn't love this movie and there were a few F bombs and Cluedo-esque murder scenes, so it was not really family friendly for kids our ages.
The kids also watched and loved the new Disney Plus Pixar movie Onwards and their obsession with The Fresh Prince of Bel Air continues.
Podcasts
I've been finding it hard to find the time and headspace to listen to podcasts in #ISO as I would usually listen to them on walks, in the car or doing housework. Like many of us, I'm not driving anywhere, the kids are with me for walks and I have no alone time generally speaking!
That said, several girlfriends recommended Brene Brown's new podcast Unlocking Us to me. I got a lot out of the episodes on Comparative Suffering and Over/Under Functioning and found them really interesting in these unprecedented times, so I can see why people love this pod. I can only tolerate it in short, 30 minute bursts though as I find the format of one person talking too much after a while. Her interviews are super long too which I can't manage at the moment with little people around and constant interruptions.
I'm still listening to Judith Lucy's pod, Overwhelmed and Dying although episode 3 was def not approps around the kids!
I checked in with my mates over at Too Peas in a Podcast too. Funnily enough, the episode I listened to mentioned me and an amusing trip to the cinema I had with Mandy and Kate!
This post contains affiliate links. You don't pay any extra and I earn a small commission. Read more in my Disclosure Policy here.
So over to you, what have you been reading, watching and listening to lately?