Well, despite the busy start of the school year, I'm pleased to say I've still managed to keep reading and have even managed a few movies this past month.
I know. I can't believe it either.
And to say I've covered a range is possibly the understatement of the year.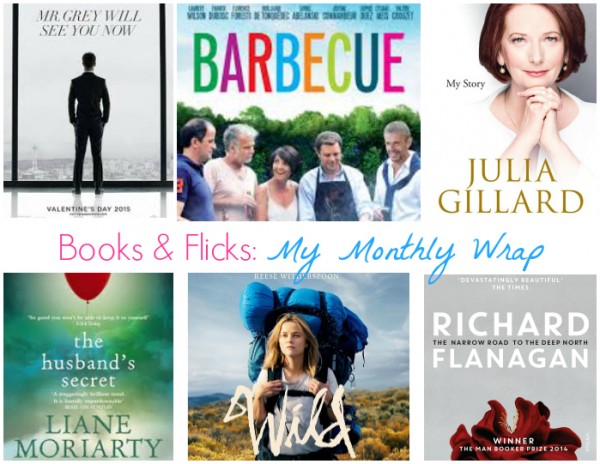 I've certainly seen a variety of movies this months at the cinema – early on in February I saw Wild, starring Reese Witherspoon; then there was the low key, discreet, sunglass wearing Sunday night visit to see Fifty Shades with the girls; and finally, earlier this week I got myself some culture and saw the French film Barbeque as part of the French Film Festival.
Let me start with that.
I've seen a few French movies in my time and not all of them have been enjoyable. With the exception of Amelie and anything involving Kirsten Scott Thomas (who I could watch in almost anything), the last few French flicks I've seen have been hard yakka. Slow, intense and with unpleasant and unresolved endings. It hasn't been good. And a bit depressing despite the great scenery and interiors. So that's saying something.
Barbeque, thankfully, was enjoyable, very funny and light although it did touch on a range of deeper issues.
It centres on Antoine, a married, fit 50 year old Frenchman who seemingly has it all, but is bored to death. Surrounded by a close group of friends, all of whom have their foibles, annoying habits and comical moments, he has a near death experience which changes him and gives him the excuse or perhaps the confidence, to start saying what he really thinks.
An easy movie to watch (although the dialogue at times was fast so you need to read the sub titles quickly to keep up), it was laugh out loud and full of fun characters and had some interesting things to say too about loyalty, friendship and being real. I loved it.
On a very different note was Fifty Shades of Grey.
Having read the books, I approached this movie from an adaptation angle (that's the line I'm following anyway) and I've got to say, some of what went on in the books made for excruciatingly awkward, clunky dialogue  – that scene where Anastasia meets Christian in his office has some of the worst movie dialogue ever and was just plain embarrassing for everyone.
Other than that, I actually thought it was reasonably OK. So, it's not going to win any awards, but it wasn't terrible either.
I did chuckle like everyone else in the cinema when Anastasia mistakenly takes Christian's reference to game playing to refer to his X Box. A light moment in an often intense movie.
While Jamie Dornan wasn't my cup of tea (a sentiment also held by fans of Serial apparently), Dakota Johnson was surprisingly good. I thought she tread the line between naivte and intelligence rather well, all things considered, and she was surprisingly likeable.
Having said that, I completely understand her mother, Melanie Griffiths refusal/reluctance to watch the film too. #awkward.
I thought the *cough* intimate scenes were done as tastefully as they could have been and were perhaps less gratuitous than an episode of Game of Thrones. I didn't think the film glorified B & D either – quite the opposite in fact.
On another note again, was Wild, based on Cheryl Strayed's memoir Wild – From Lost to Found on the Pacific Crest Trail, which documented her solo hike on the Pacific Trail from Mexico to Canada. It stars and was produced by Reese Witherspoon.
As much as I admired Cheryl/Reese playing Cheryl, I've got to say I found parts of this movie hard to watch (personal safety anyone?) and the last thing I would do personally, in the event of a crisis, would be to back pack solo in the wilderness. That aside, I found the relationship between Cheryl and her mother incredibly moving and felt the grief. It's a powerful film and a good one to see with girlfriends. Let's just say it was not a movie that challenged my aversion to camping though!
On the book front, I finished The Long Road to the Deep North by Richard Flanagan and read The Husband's Secret by Lianne Moriarty.
It was only after a great discussion at my book club that I came to see the ending of The Long Road to the Deep North differently. I initially felt really let down and frankly, annoyed by it. Further discussion revealed different perspectives. I won't say anymore as I don't want to ruin it for anyone!
The Husband's Affair was a compelling read but much darker and more serious than Big Little Lies by the same author, which I preferred. It raised some interesting moral dilemmas though and would be an interesting book to discuss at book club or with friends.
I've dipped into several non fiction books but haven't finished any of them. I'm currently a quarter of the way through Julia Gillard's autobiography, My Story, which has been surprisingly easy to read and unputdownable in parts. I loved reading about all the behind the scene shenanigans when K Rudd was PM, the events leading to her challenge and the sabotage that followed. It's a great read if you're looking for something to break up your non fiction.
So over to you. What have you been reading and watching this month? Anything you'd recommend or recommend avoiding?