Welcome to this month's Books/Flicks and Netflix wrap.
It's been a good solid month of reading around these parts.
I'm also pleased to report that I've mixed it up and read two fiction and two non fiction books this month.
Two of those were also written by Australian authors, so I reckon I'm well on the way to reading more Australian authors this year which I'm happy about.
The non fiction books in particular were excellent – I'd heartily recommend them both – but more on that below.
As the weather's cooled, I've also spent plenty of quality time on the couch actually watching Netflix and chilling. How good is it bunking down for the night in a quiet house, a scented candle burning and a glass of vino in hand? It might not be party town but bring it on I say!
So, without further ado, here's what I've been reading and watching this month. I'd love to hear what you've been reading and watching in the comments below.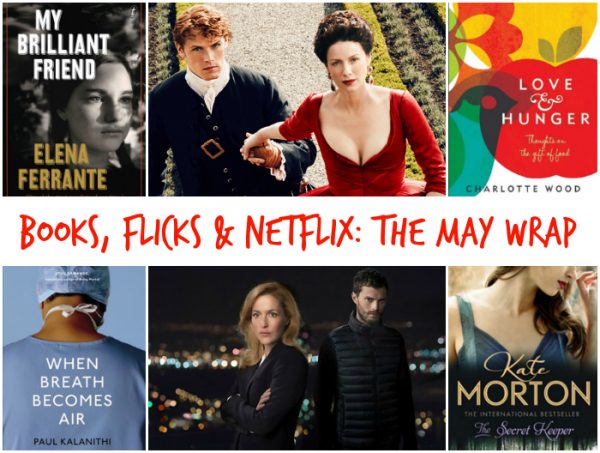 The Secret Keeper by Kate Morton
If you've not read a Kate Morton book before, let me give you the heads up. Kate Morton, who lives in Queensland with her young family, writes fabulous and detailed historical fiction novels.
They're generally set in England and centre around a mystery that is slowly revealed and eventually solved. They usually begin with a modern day character trying to unravel what has happened in the past and plenty of to-ing and fro-ing time wise.
The mysteries are always clever, the pieces carefully layered and constructed and you usually don't have any idea of what's coming.
The Secret Keeper was no exception – I literally went WOW when I got to the end of this book.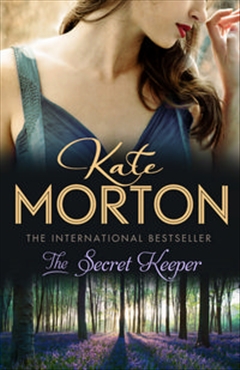 Set in the present and during WW2, The Secret Keeper is certainly an epic – it's not a short read – but it's an interesting story with one hell of an ending.
It didn't have the layered storylines of her most recent book, The Lake House, but it was a compelling story nonetheless. I preferred it to The Shifting Fog (which I reviewed here) but The Lake House is still my favourite Kate Morton so far. I've just borrowed The Forgotten Garden and The Distant Hours though, so stay tuned!
Love and Hunger by Charlotte Wood
A girlfriend gave me this book for my birthday a few years ago and I finally picked it up and read it.
And it was terrific.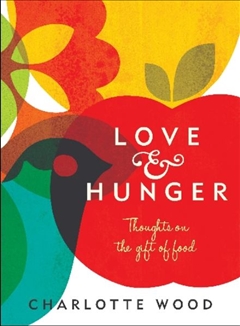 If the name rings a bell, Charlotte Wood's latest novel, The Natural Way of Things, recently won The Stella Prize. This is an earlier novel.
Essentially, it's a non fiction book full of lovely musings on the nature of food, cooking, hospitality and love – things I love and love contemplating.
I read one or two chapters a night and found it light reading but still thought provoking. I particularly enjoyed her chapters on cooking for the sick, offal and fussy eaters too.
It's also peppered with loads of great recipes and it'd make the perfect gift for a foodie or someone who loves hospitality.
Highly recommended for foodie types.
My Brilliant Friend by Elena Ferrente – Book 1 of the Neapolitan Series
Goodness. I'd heard so much about this book before I began as many of my readers had read it over the summer and recommended it to me.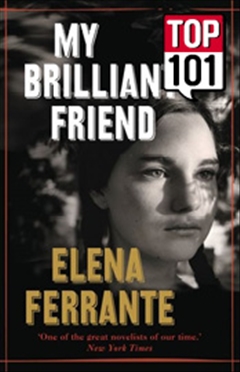 It wasn't what I expected though.
I enjoyed it but I was surprised by it.
I think I expected something sentimental, perhaps romantic even given it's a story of friendship set in Italy.
The friendship at the centre of the book – between teenage girls Lena and Lila – is a complex one. It's not your typical teenage friendship. Or maybe it is.
Instead, admiration, ambition, competitiveness, intensity and co-dependency define their enduring friendship.
There's nothing warm, fuzzy or overly emotional about their friendship. For example, I can't imagine these girls sitting on each other's bed doing each other's make up. They learn and practice their Greek together instead.
As for the writing, it's almost searing – there was a harshness and an unflinching honesty about it; an unapologetic analysis of the poor Neapolitan neighbourhood and the people living within it. As a result, I found it hard to get into but once I got going (and got used to the writing and characters), I was intrigued.
There's a cast of thousands (the various families and their offspring in the neighbourhood) but I liked that I gradually got to know everyone over the course of the book.
I'm looking forward to reading the next three books in the series to see what happens next.
When Breath Becomes Air by Paul Kalanithi   
A girlfriend (who is a nurse and a thinker) recommended this to me. She said it blew her mind. That it was a must read.
I was intrigued.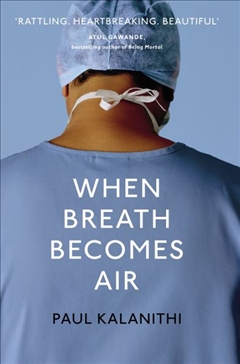 I don't read a lot of autobiographies but I do love a good memoir from time to time.
This was one out of the box.
Written by a neurosurgeon, who himself is diagnosed with cancer (and dies before the book is finished at 37 years old), it's a thoughtful and honest reflection on his life, study, work and ultimately, his calling.
I'm a bit squeamish when it comes to blood and gore but I found his stories of medical school, different types of surgeries and his love of neurosurgery absolutely fascinating. It's not an overly intellectual or a heavy book though – I found it very accessible – but it's definitely a thought provoking one.
I also found it quite surprising that the writer, Paul Kalanithi, is never bitter or angry. Instead his book explores the boundaries of biology and consciousness; the moral dimension of the doctor/patient relationship; what does a meaningful life look like; and above all else, how to live when you are dying.
The last chapter is written by his wife Lucy, after his death and is excellent as well. It's beautifully written not to mention very moving and inspiring.
This is an exceptional book and I highly recommend it.
Series/Netflix
I've gone totally Euro in my viewing lately. Besides The Voice, I feel like I've been on a European vacay of late, albeit a pretty dangerous and tension filled one!
As I mentioned last week, we just finished watching Series 2 of Broadchurch. I really enjoyed it and would recommend it if an English mystery with great acting and stunning coastal scenery is up your alley. Read more about it here.
We've also just finished Season 1 of The Fall, a 6 part series set in Belfast, Northern Ireland. The story follows the creepy serial killer (Jamie Dornan of Fifty Shades) and the cool as a cucumber DSI, played by the fabulous Gillian Anderson.
Here's the trailer (from You Tube) to give you a preview …
I didn't love it as much as Broadchurch and that's partly due to the fact that Belfast looks like one of the coldest, harshest and most dangerous places on earth (not booking a holiday there anytime soon obvs) but I'm enjoying the cat and mouse dynamic – we know from the get go who the killer is and watch him plan and carry out his um, serial killing.
Despite this, it's not as graphic or scary as you might think, although some eps are worse than others – most of the focus is on his family life (he is married with two kids – eek), the selection of his prey, his preparation for the killing and post murder behaviour.
It sounds a bit awful now I'm typing it, but it's suspenseful and intriguing. The misogyny and violence against women is disturbing though – this dude is a Sicko with a capital S. It won't be everyone's cup of tea and I'm only just coping. I think the joy in seeing him get busted (hopefully) is keeping me going.
That said, I could watch Gillian Anderson for days – she's just brilliant in this series and an even tougher nut than Broadchurch's DI Hardy.
In between everything else, I'm also watching Season 2 of Outlander. I've read four of the books in this eight book series and loved the first season, which aired last year on Foxtel.
I think fans who are obsessed loved the books were nervous about the adaptation but it's excellent and the leads, Catriona Balfe as Clare and Sam Heughan as Jamie, are absolutely spot on. Here's the trailer from You Tube:
Based on the epic novels by Diana Gabaldon, Outlander is a historical drama with plenty of love, gore, politics, war and treachery with some time travel thrown in to the mix. Some of the Scottish politics might be hard to catch in the series but other than that, it's a gripping and dramatic series, with the love story of Clare and Jamie at it's centre. Jamie Fraser Forever.
I've not yet watched Game of Thrones but I've read articles comparing both series, and from what I can gather, Outlander is similar with the very notable exception that the women in Outlander are much stronger, smarter, bolder and dynamic characters and the action is very much told from the leading lady's (the awesome Clare Fraser's) perspective.
If you'd like to come back to this later, feel free to PIN the image below …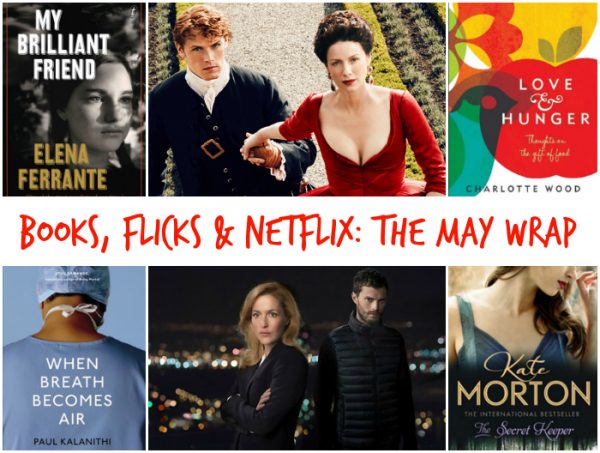 This post contains some affiliate links. You don't pay any extra and I earn a small commission. Read more in my Disclosure Policy here.
What have you been watching and reading lately? Anything fabulous we should know about?