Welcome to the latest books and flicks wrap here at Shenanigans Central.
You'll see I've decided to add Netflix in to the mix too as it's my latest obsession. I think I love chatting about what I've been watching almost as much as I love chatting about books!
Despite the busy start to the year, I've somehow managed to squirrel myself away for some much needed quiet reading time.
As much as I love reading, I also love having an excuse to relax and have a bit of peace and quiet. It's been hectic around here to say the least. The start of term 1 is hard core.
While I've managed to read a bit and have motored through Seasons 4 and 5 of Homeland (more on that below), without question, the most compelling thing I've read or watched over the last little while is A Little Life.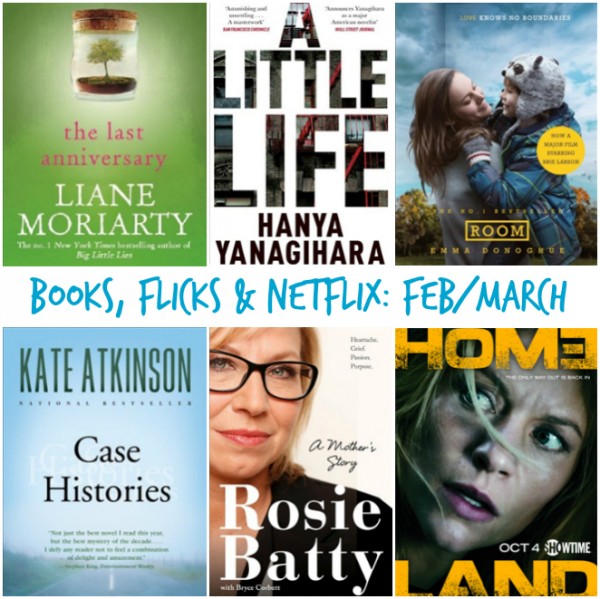 A Little Life by Hanya Yanagihara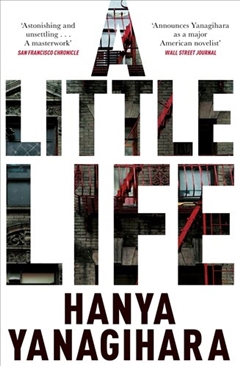 Firstly, a big thanks to the kind readers on my Facebook page who recommended this to me over the summer. From your comments, I knew this book would consume me and despite buying it in January before I left for Tasmania, I was waiting for the right time to read it. Have you ever done that?
Once the initial school rush had subsided, I knew I had the space to be consumed.
And consumed I was.
Without giving too much away, the story begins with four friends who are college graduates from the same New England University as they make their way in New York City. There's the talented artist JB; hopeful architect Malcolm who hails from the wealthy Upper East Side; Willem, an aspiring actor and son of Wyoming ranch hands; and enigmatic Jude, a brilliant lawyer and mathematician, whose origins are unknown despite the close ties of the group, who eventually becomes the central character of the book.
To me, A Little Life is a story about friendship which tells of the very best and very worst in people. It traverses the heights of love, loyalty and commitment and trawls the depths of trauma, cruelty and abuse.
It explores the limits of human endurance, the power of memories and the far reaching consequences of childhood trauma.
I was worried about reading what I'd heard was horrific and harrowing and was relieved to find the worst parts are drip fed throughout the novel and interspersed with the here and now.
Interestingly though, while it was not easy or pleasant reading in parts, I found what was happening in the present much more confronting and difficult to read in places.
Despite the themes, there was still a lightness in places and plenty of witty, funny dialogue. The relationships between and the history of the friends was fascinating too. I also loved all the details about the NYC art scene, architecture, maths and movie making throughout the book.
In parts achingly tender (I put it down at times and just pondered at the ability of the writer to capture these moments without being nauseatingly sentimental), the writing is exceptional. I also found Hanya Yanagihara's ability to articulate the deepest of sorrows impressive – she doesn't shy away from the horror but she is never gratuitous and manages to avoids sensationalism.
It's hard to put in to words what I loved about this book. So maybe I should say what it isn't.
It's definitely not a light holiday read.
It's not a book for people who shy away from unpleasantness, trauma or violence.
It's not a book I'd give someone without knowing something of their background, tolerance and sensitivities.
But it is an astonishing piece of writing and I thought it was absolutely extraordinary.
I described it to a couple of people as The Goldfinch on steroids, my favourite book of 2015 –  you can read what I thought of that here. I absolutely loved this book times one hundred and, despite it's length (coming in just over 700 pages), I immediately started to re-read it as soon as I finished it. I've also been googling reviews and reading everything I can about it since. You can read my favourite review by The New Yorker here.
If you are prepared for a book with extraordinary depth and feeling, that will have a lasting impact on you, this is a must read. It won't be for everyone though.
The Last Anniversary by Liane Moriarty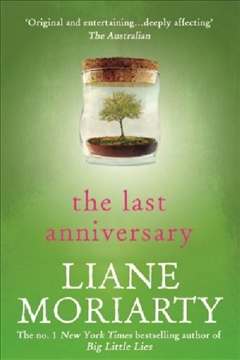 Like Liane Moriarty's other books, The Last Anniversary has the veneer of light, chick lit but deals with a real life issue.
I didn't think it was in the same league as Big Little Lies and The Husband's Secret – the other two Liane Moriarty books I've read – but it was an easy, engaging read.
Essentially a mystery, it is centred around the disappearance of two parents from an island off the NSW Coast, who leave behind a baby. The characters are likeable enough even though the circumstances and location all seem a bit unreal.
If you like a bit of mystery mixed in with humour, romance and life issues, this could be your next holiday read.
Case Histories by Kate Atkinson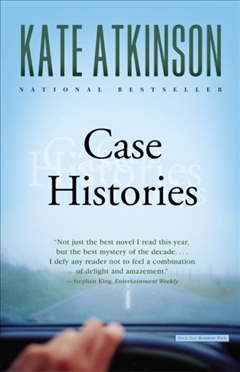 After reading and loving Life After Life by Kate Atkinson last year (you can catch up with my review of it here), I've been keen to read more of her work.
A girlfriend told me she'd enjoyed one of the Jackson Brodie books (he's a private investigator) so when I picked this up at the book store, I thought I'd give it a crack. While I'm not usually swayed by the endorsements on the cover, this one had high praise indeed, so I picked it up with high hopes.
Essentially, the first three chapters of the book detail three different murders/disappearances, all of which are somehow connected and supposedly cleverly entwined in the chapters to follow.
While the book was written well and there was a sense of mystery, the final resolution of the mysteries was not a great reveal at all. In fact, I was left with, "Is that it?". The ending aside (which was not particularly complex or clever and certainly not a patch on Kate Morton's The Lake House), it was an enjoyable enough read.
Given this is the first of the Jackson Brodie books, perhaps the more recent books will be more compelling. Have you read any of them?
I've also avoided A God in Ruins, the companion book to Life After Life, as I've heard it's not that exciting or as good as Life After Life – please tell me if you've heard or think otherwise!
A Mother's Story by Rosie Batty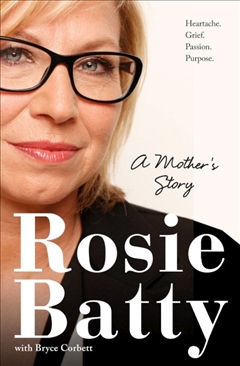 I can honestly say I never would have picked this book up had it not been on one of my book club lists this year. One of our members had read it and said it was a must read. I was hesitant, but I gave it a go.
And I'm so glad I did.
This is such a well written, honest, reflective and insightful book which details Rosie's life from her birth in the English countryside through to her life after Luke's horrific death, at the hands of his father.
Her ability to communicate and document everything that led up to and contributed to the events was impressive – her family background and early trauma from the death of her mother; both her and (Luke's father) Greg's isolation from friends and family that allowed Greg to ingratiate himself into her life and her house; and the hopelessly flawed legal, police and child protection systems (and importantly, their lack of communication with each other) which were extremely frustrating to read about, let alone experience.
I did not know the details of Luke's death before I read this book as I had actively avoided any news items detailing them. It was all a bit close to home and I did not think I could not bear it.
Reading Rosie's account was confronting and horrifying and I was holding my breath up to this point, in anxious anticipation. But again, she somehow managed to tell what happened in an honest and raw way with enough detail but not too much. Still, I put the book down after I read it and sobbed.
While it is not easy to read in parts, this is such a brave and important book.
I've seen, read and heard a lot about family violence, having worked with many families who've lived with domestic violence in my former professional life. Rosie's story is important for many reasons but for me, mostly because it shows that family violence affects us all – even the educated, the middle class, the successful and at times, the perpetrator doesn't even need to share the same home. If you want to understand family violence and see an example of how it can slowly escalate, this is an excellent resource.
Rosie Batty, if you ever happen to read this, you have done an amazing community service in writing this book. I admire you so much and I know how much you loved your son.
Flicks – Room
Several years ago, I read the extraordinary book Room by Emma Donoghue.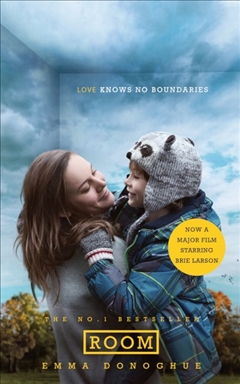 When I heard it was being made into a film, I was uneasy – would it be sensationalised? Would it be a poor version of this exceptional book? How could a child actor do justice to Jack?
Then I read a review which detailed the author's repeated and stubborn refusal to sell the film rights and how she eventually agreed to a film being produced with her own screenplay. Thank goodness she did – she was subsequently nominated for an Academy Award for an adapted screenplay for this script.
In the wrong hands, this film would have been a horror – literally, a horror movie. With Emma Donoghue's careful and sensitive adaptation though, the movie was as extraordinary (and of course, shocking and upsetting in parts) as the book. It was never gratuitous or sensational but always full of feeling – the good, the bad and the terrible.
The acting was amazing, with Brie Larson, who played the mother, deservedly winning the Oscar for Best Leading Actress.
The young boy who played Jake was incredible too.
I won't give away too much more but if you haven't read the book – I'd recommend it highly.
If you loved the book and are worried about the usual "book is always better than the movie" factor, you'll be in for a pleasant surprise.
Netflix 
Friends, I've been gorging.
We watched all twelve eps of Season 4 of Homeland in less than a week. We'd watched seasons 1 and 2 on TV a couple of years ago but lost the thread in season 3 but managed to see the finale.
It was only when our friends Colour Me Anna and The Baker raved about it that our interest was piqued again. And man, they were right on the money as I absolutely loved it.
Set in Pakistan and full of twists and turns, Season 4 was one hell of a roller coaster ride. Claire Danes was awesome and as for Peter Quinn, he is the bomb dot com.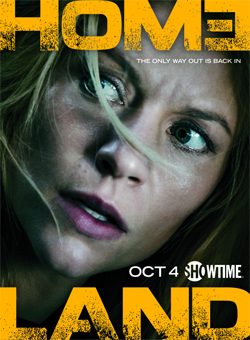 After obsessing and googling about how we could access the recently aired Season 5, we managed to arrange to have Apple TV installed on our main TV (not desperate, much) so we purchased and then watched the season – all twelve eps – in 6 days. It was again excellent, thrilling and unpredictable, but like real life, there were no happy endings. It will take me a while to get over this *insert sad face*
We've also started Season 4 of House of Cards, but have only watched 2 eps. I can't say I'm loving it so far – the hatefulness and negativity of Frank and Claire is right up there. We will persist though, if only for Claire's fabulous wardrobe, now my obsession with Homeland was been satiated.  Anyone else further along? Thoughts?
What have you been reading and watching this month? Any of the above? Recommendations for things we should be reading or watching?