Welcome to this month's wrap of all things books, movies and TV series!
It's been an interesting six weeks since my last review post, insofar as it's been a mix of both the summer holidays (much reading; no Netflix) and the busy-ness of the start of term (no reading, plenty of TV).
As well as that contrast, I've also found myself floating between Paris and the villages of France (The Little Paris Bookshop), the streets of Barcelona (The Shadow of the Wind) through to Croydon in the 70s (Magda), Frankston now (Black Rock White City), the south west coast of Tasmania (Past the Shallows) and Sydney suburbia (The Fence) not to mention downtown NYC (SUITS) and the 'burbs of California (Santa Clarita Diet).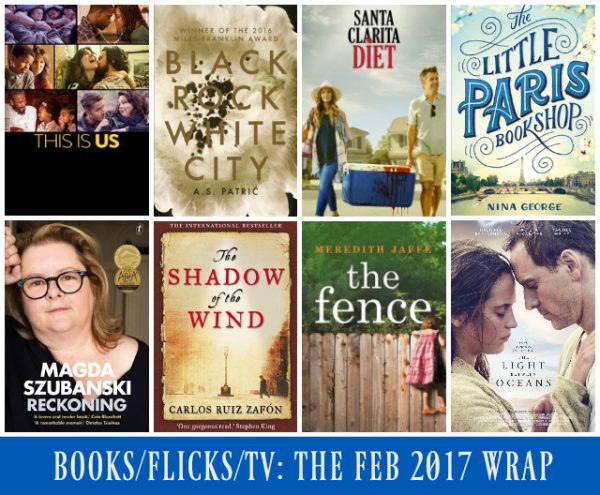 The topics have varied enormously too – from the experiences of newly arrived immigrants and refugees through to gothic horror, satire, grief, zombies and the super sharp Harvey Specter and all things Pearson Spectre Litt.
It reminds me once again of why I love reading and watching the box – I love the endless opportunities to escape the everyday and explore all sorts of new and different experiences, people and places.
But enough of me waxing lyrical. Here are this month's reviews …
The Little Paris Bookshop by Nina George
This is such a lovely book and a book with wide appeal given it's Parisian setting, quirky French characters and witty dialogue.
The novel centres on the middle aged Jean Perdu, who runs a literary apothecary – a brilliant concept up there with The Rosie Project's Don Tillman's standardised meal system –  in a book barge on the River Seine in Paris. Jean lives a quiet life, keeping to himself while he sells books and writes his brilliant Encyclopedia of Small Emotions, but he is not a happy man and the narrative follows him as he comes to terms with a profound loss from twenty years ago.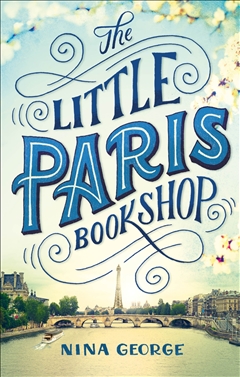 I enjoyed this book very much and thought it was a well written and easy to read story full of great dialogue, endearing characters and thoughtful observations. There's something whimsical about it which I loved too.
It's not just a light fluffy read though. This book is very much an exploration of the extent and impact of grief and loss in a person's life. Jean Perdu's journey, and the lives and losses of the colourful characters he meets along the way, give us an opportunity to explore how different people live with grief.
This is a great holiday read but one of surprising depth. I'd also recommend it for book clubs as there is plenty to discuss here.
VERDICT: ****
Black Rock White City by A.S. Patric
I had no idea what to expect when I picked up Black Rock White City.
What I discovered was a very interesting book indeed.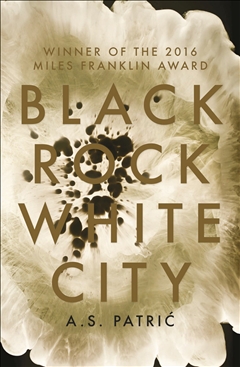 Set in the outer bayside suburbs of Melbourne, Black Rock White City tells the story of two Bosnian refugees, Jovan and his wife Suzana, former academics in their homeland, now working as a cleaner and a janitor. Jovan and Suzana are trying hard to make a new life in a new country but all the while their devastating past permeates every minute of every day.
Alongside this, is the mystery of Dr Graffito, whose graffiti and random acts of violence become increasingly malevolent and disturbing at the Cheltenham Hospital where Jovan works.  Without giving anything away, these parallel story lines come to an impressive crescendo at the end of the book.
Plot aside, this is a hard book to describe. On the one hand, it's such an interesting and well written book but it's not an easy, comfortable read.
Some of the passages – particularly those dealing with the trauma and pain of their former lives in Bosnia – are simply superb. A.S. Patric really isolates and articulates the details of the intensely overwhelming grief this couple are living with and the impact of that grief on their daily lives but it's never wordy, melodramatic or cliched.
Other passages – usually those involving Jovan's co-workers – provide telling but uncomfortable examples of racism in contemporary Australia.
I won't say too much more but I did love the ending – the last couple of pages were very powerful. In recent memory, I can't think of a stronger ending to a book.
VERDICT: ****
I wasn't particularly excited about reading this book – it was the first book for the year in both my book clubs – but wow, I enjoyed it so much. In fact pretty much everyone in both my book clubs really enjoyed it and it made for excellent discussion.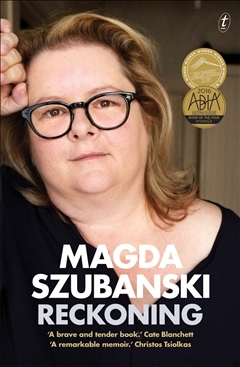 I've pondered what I loved about it so much and I think it's because there was so much going on on so many levels – stories within stories; so many different ideas and themes, from stories of growing up in outer eastern suburbs; the complexity and impact of parents' histories and their impact on her; to her own coming of age and coming out, as well as her struggles with her confidence, mental health, sexuality and body image.
I could relate to so much of the Melbourne centric content – the outer Eastern suburbs, the high school days at Siena, the shows she appeared in – all of which I watched in real time including her official coming out on The Project a few years ago. I loved all of these references.
Her parents' histories and the impact of their experiences was absolutely fascinating too. Her Dad's role in WW2 in Poland was particularly interesting while understandably confronting for Magda too.
I found this to be a very easy to read, surprisingly well written book with truckloads of issues to discuss. I'd recommend it to anyone but particularly book groups.
Oh and here's a hot tip – if you love an audio book, Madga herself narrates her own book. The girls who listened to her said it elevated the book to a new level and was absolutely wonderful.
VERDICT: ****
Past The Shallows by Favel Parrett
Set in a small fishing town on the south coast of Tasmania, Past The Shallows is the story of three young boys – brothers – who live with their distant and neglectful father following the death of their mother. It's really the story of their loss and grief, the bonds of brotherhood and the will to survive.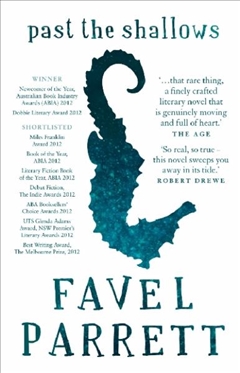 This book was always going to be hard for me to read – those three boys reminding me of my own – but this was such a powerful story, reminding me a little of The Eye of the Sheep, which I also loved. The story is told by the two younger brothers, and I thought the writing captured their feelings, thoughts and behaviours very convincingly.
There's palpable longing, tenderness, grief and regret in this story and I'd defy anyone to read it without shedding a tear or three, so if you're looking for a light read, this is not the book for you.
It's a beautiful piece of writing though.
Favel Parrett's writing is poetic and evocative and the descriptions of the rugged coastline, the water and the landscape were particularly beautiful.
I won't say too much more but this story had a big impact on me.
VERDICT: ****
I decided it was time to break up all the war, grief and trauma with a light fiction read, so I picked up The Fence. I also loved the cover!
This novel had a very promising beginning and I had high hopes, but for me, it descended into an examination of a neighbourhood dispute between a likeable enough elderly couple and a young family under pressure on the other side.
While I quite liked the older couple – particularly the lady's monthly gardening column – I found their neighbours pretty intolerable. I know you don't have to like all the characters to enjoy a book but given there were so few characters, this definitely impacted upon my enjoyment.
I'm also aware that this was supposed to be a satirical piece of writing but I'm afraid it was all a bit lost on me.
In the end, with no one seeming to have the basic social skills of empathy and friendliness, I found the characters pretty dreadful. As for the neighbourhood shenanigans, for me they weren't entertaining – they were just plain depressing.
VERDICT: **
The Shadow of the Wind by Carlos  Ruis Zafon
Many people have recommended this book to me of late – saying it's one of their favourite books of all time. I began it with high hopes and Could Not Put It Down.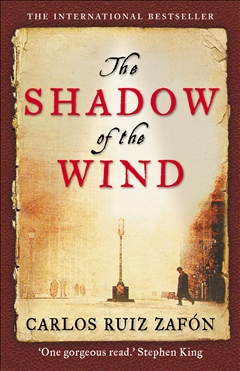 It's hard to find words to describe this wonderful work of fiction – it's not like anything I've read before. It's a gothic horror, a mystery and a love story rolled in to one and is filled with larger than life characters and layers upon careful layers of plot that builds and will have you turning those pages.
It's set in Barcelona too and the city is as much a character in the book as any person.
I loved the protagonist Daniel, his kind father and his friend Fermin. I won't say too much more but if you're looking for a book that you can lose yourself in, definitely add this to your list. I've also subsequently found out there's a prequel and sequel so I'll be adding those to cart stat.
VERDICT: *****
TV Series
I've been a bit overwhelmed in the TV Series department lately – there's so much going on!
There's been a bit happening over at Foxtel – I've been watching the new episodes of SUITS Season 6 and Big Little Lies started this week too, so I'm pumped about that but it's another show to remember to watch each week. I won't say too much about either for those playing catch up but so far so good.
Over on free to air, I've been watching Series 6 of Homeland on Channel Ten but I must say, it's weird not bingeing and I keep forgetting to watch them when they're airing so we've been playing catch up a bit too. Like SUITS Season 6, I thought the first episode wasn't great (QUIN!) but they've quickly redeemed themselves. Ep 2 of Homeland was a ripper.
Meanwhile, I've also been watching This Is Us, also on Channel Ten, which I'm really enjoying. This is such a refreshing show on so many levels and I can't wait to see where it goes. I'm also loving TenPlay when I forget to watch them or I'm out that night. You can catch up on both these series on TenPlay here.
Over on Netflix, the only series I've managed to watch in full is Santa Clarita Diet with Drew Barrymore. It's another Netflix Original series like House of Cards and Stranger Things. Here's the trailer …
With ten half an hour episodes, this is an easy series to knock off in a couple of weekends. I thought it was very funny but the humour is definitely on the dark side – think zombies, blood and guts. Drew Barrymore and her husbo are terrific as suburban realtors Sheila and Joel as is the neighbour's son Eric.
I do confess to having to get out my GoT cushion again too – I literally felt nauseated in some scenes – so consider yourself warned.
Flicks
I absolutely loved and would highly recommend Lion. I've discussed it here in more detail.
I also saw The Light Between Oceans which was a very faithful adaptation of the book by the same name. I thought it was excellent but definitely recommend taking the tissues!
Just want an easy, entertaining or page turning holiday read?
I've listed Ten Great Holiday reads in this post.
Wondering what my fave books were last year?
You'll find my Favourite Books of 2016 here.
Looking for a new TV Series to watch?
You'll find my Ten Favourite TV series in this post.
Interested in joining the Style and Shenanigans Book Discussion Group on Facebook?
We'd love you to join us! Join here.
This post contains some affiliate links. You don't pay any extra and I earn a small commission. Read more in my Disclosure Policy here.
What have you been reading and watching lately?