Welcome to the latest review wrap of everything I read, watched and listened to in July.
If I had to summarise it all with one word, I think I'd have to choose GRIPPING.
I'm always amazed how much great stuff is out there – still to be watched, read and listened to – and this past month, in particular, so much of what I found was absolutely fascinating, stunningly beautiful, heart wrenchingly sad or just plain confronting.
This month I covered the American Civil War, death, true crime, a frightening dystopian future and new reflections on history and the slavery of the past. It might not sound like a barrel of laughs but I can assure it was all pretty riveting.
As you can imagine, I've had to come up for air in between, so there was some much needed light relief in the mix too – stories about friendship and interviews with inspirational and creative people.
With the cold and bleakness of Winter and that need to really hibernate and hunker down, it's felt kind of appropriate to cover the big issues though. Does anyone else feel like that at this time of year?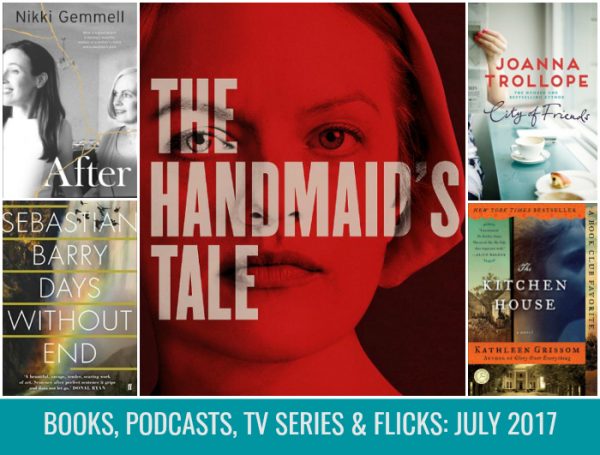 Books
1. Days Without End by Sebastian Barry
This is such an extraordinary book – and it was recently longlisted for this year's Man Booker Prize – but far out, I was holding my breath the whole way through. Talk about tension.
Set just before the American Civil War, it follows the story of two young men who meet as teenagers, both homeless and destitute. The go on to serve in the Indian wars and the Civil War together and fall in love along the way. Their love for each other is central to the story but understated – there's a lot more going on here.
Days Without End is also a story of friendship and loyalty and the times in which they find themselves – the brutality of the war, life as a soldier, the racial and political conflict, the fates of the poor and oppressed.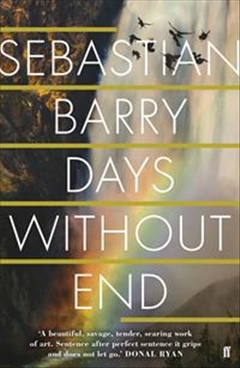 What I found so striking about this book is it's extraordinary language. It's incredibly evocative and powerful. I'll admit it took me a chapter or two to get used to the narrator's voice, but once I found the rhythm, I was completely transported. Mesmerised. Sebastian Barry has an impressive capacity to conjure up another time and place with characters carefully drawn and a plot that will have you holding your breath until the very last.
It's a book that made me very happy to be living in 2017. Sort of.
VERDICT: ****
2. City of Friends by Joanna Trollope
I picked up City of Friends at the airport in Bali on our way home. I was looking for something light, easy to read but interesting enough to keep me turning those pages.
My verdict? Well, it was easy to read fiction and wasn't overly onerous. I did find it a bit frustrating though which wasn't part of the brief!
Although it covered some topical and relevant issues for women, particularly those in their 40s and 50s, I thought it lacked depth and authenticity. Disclaimer though – this just might be me being too serious and applying A Little Life standards of friendship to a book about, well, friendship. That said, I think this would have wide appeal though for Joanna Trollope fans who are looking for an easy, topical book. Just don't expect a major literary masterpiece of great depth.
Maybe I'm not a Joanna Trollope fan after all.
VERDICT: **
3. The Kitchen House by Kathleen Grissom
This was one of my book club's books for the month and a book I knew nothing about which was quite refreshing.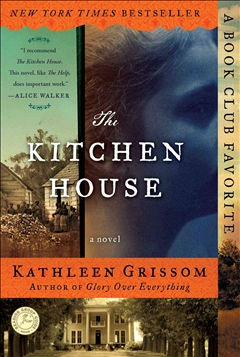 I found it quite a riveting read too. The story centres on a young  – 7 year old – Irish girl who arrives at a wealthy tobacco plantation in North Carolina and is taken in by a family of African American slaves. She's alone in the world and left to navigate a whole new life, with all it's complexities. Over the following decades, life, fortunes and relationships on the plantation change culminating in death and destruction.
I enjoyed this book and would recommend it. It had a Gone With The Wind feel about it too. The ending was a bit abrupt for my liking but I'd be happy to hear what other people think.
VERDICT: ***
Goodness, where to start with this searingly honest, raw and impressive piece of writing?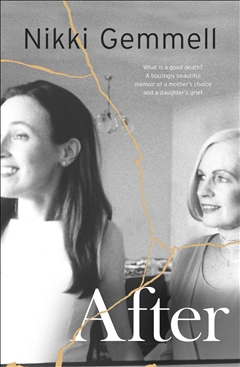 After is a probing and searching work in which Nikki Gemmell struggles to come to terms with her mother's sudden death. In the process, she examines, with brutal honesty at times, their complex relationship and the enigma that was her mother, Elayn.
Nikki doesn't spare anyone in this – she lays it all out and I was, at times, stunned with her frankness. It was breathtaking in parts. I actually could not believe what she committed to print in parts. I can't imagine many people would have the bravery – and perhaps inclination – to expose themselves and their families in this way.
This really is a fascinating book on many levels though – not just the mother/daughter and family dynamics explored and laid bare, but also the related topics of euthanasia, ageing, and what it means to live – and die – well. It made me think and reflect a lot on what constitutes 'a good death' – if there is one – as I read it.
As an aside, as soon as I finished this book, I immediately listened to Mia Freedman's excellent interview of Nikki Gemmell on No Filter (a friend had told me about it before I read the book). Mia asks Nikki all the questions I wanted answered and had a very similar response to the book too. It really was the perfect debrief.
This is a thought provoking and insightful exploration of mother/daughter relationships, elderly suicide/euthanasia, chronic pain, quality of life and caring for the elderly. I think this would be a very topical and relevant source of discussion for book clubs too, whether or not you're a fan of Nikki Gemmell.
VERDICT: ****
Podcasts
I listened to so many fab podcasts this month. I'm absolutely loving finding new and interesting things to listen to as I do boring domestic tasks.
My favourites this month were Trace, the new crime docu-series on ABC Radio National. There are only four episodes so far (plus one bonus ep), so it's not a huge time commitment but it's absolutely gripping. It's very similar in style to the U.S's SERIAL.
This led me down the slippery slope of true crime podcasts, as you'll see with what follows.
I then listened to several episodes of Casefile True Crime, a new true crime podcast which are longer episodes – many around the 1-2 hour mark – with detailed reporting of the investigations into crimes committed both in Australia and the U.S. The in depth and detailed accounts of the investigations are fascinating and, at times, horrifying and chilling, such as in the Daniel Morcombe, Anita Cobby and Mr Cruel episodes.
Like TRACE, what sets this series apart from some other crime series is the careful way details of the victims and their families are included, so we never forget that real people, with real lives and families were at the centre of everything. The gory details are not provided for titillation's sake. The accounts of the crimes are factual and not gratuitous, which I've found refreshing and respectful. It also makes them easier to listen to because some of these crimes are beyond horrendous.
Also in true crime, I listened to a few episodes of Australian True Crime with Emily Webb and Meshel Laurie. I thought the episodes "33 Reasons I have PTSD " with former police officer Narelle Fraser and the one featuring former Victorian Police Homicide Detective Ron Iddles were both excellent.
I also turned to the Brits and listened to BBC's Beyond Reasonable Doubt, a 7 part series into the death of Kathleen Peterson for which her husband – a novelist and local columnist – was subsequently charged. This case gained great notoriety and became the subject of great media interest and a French documentary, as the trial took place. It was in a similar vein to SERIAL but the episodes are shorter and I thought there was a lot of unnecessary re-capping and summarising at the start and end of the episodes. It was also on the sensationalist side which I didn't love.
To mix things up, I listened to some Conversations with Richard Fidler. I particularly enjoyed his excellent interviews with Mia Freedman, historian Sheila Fitzpatrick and forensic psychologist Tim Watson-Munroe and the one about mercenaries and private armies. Fascinating stuff.
I also laughed as I listened to the latest episodes from Chat 10 Look 3. It was Annabel Crabb who put me on to TRACE podcast.
I also listened to a couple of No Filter episodes – the Nikki Gemmell interview I mentioned above, which I'd highly recommend, and another where Mia Freedman was interviewed by Leigh Sales.
Another new discovery is Revisionist History with Malcolm Gladwell which is fascinating too – again, I have Annabel Crabb to thank for putting me on to that.
Finally, I also listened to several short interviews with Australian authors (Kate Morton, Hannah Kent, Caroline Overington, Jackie French) on the Australian Writers Centre podcast. Most of those I listened to were a few years old but I enjoyed them nevertheless.
TV Series
I finished 'Anne with an E' on Netflix which I loved but which was a much darker and, at times, sinister version of the earlier Megan Follows version. I thought the end of the final episode strayed well past any semblance of the Anne I knew and was a bit bizarre actually. Otherwise, I absolutely loved it and thought the acting (and casting) was excellent.
Like many others, I was also riveted to The Handmaid's Tale on SBS On Demand, based on the Margaret Atwood book of the same name. It only took us a few nights to knock over this ten part series. It definitely gathers momentum so persist if you're confused – or horrified – at the end of episode 1. I also though it's a fabulous adaptation of the book.
I've also been enjoying watching the Season 7 of both Game of Thrones and SUITS, both on Foxtel. Apparently there are some excellent GoT podcasts – if you recommend one, I'd love to hear it. I'm absolutely loving GoT – this season is short so it's been straight into the action – and the much anticipated meeting between Jon Snow and Daenarys was as fabulous as I'd hoped. It is incredibly gratifying, after 6 seasons, to see some of my favourite characters meeting for the first time. I'm LOVING it.
We've also watched Jane Campion's Top of the Lake on Foxtel in preparation for Season 2, Top of the Lake: China Girl which comes out in August. Set in a fictitious town in the south island of New Zealand and starring Elizabeth Moss (Handmaid's Tale, Mad Men) as Detective Robyn Griffin, this is a missing person case set in a small town. The scenery is also absolutely stunningly spectacular so it's reminding me a little of Broadchurch in this sense. I did enjoy it but it was a bit slow in parts. Elizabeth Moss is mesmerising though and the supporting cast is also very good – David Wenham and Holly Hunter in particular.
Flicks
I took the kids to see Despicable Me 3 in the holidays. It was actually enjoyable thanks to the hilarious 80s loving villain and killer soundtrack. Phew.
I also saw Sofia Ford Coppola's The Beguiled which I absolutely loved.
I didn't know much about the plot which was great – especially since it's a remake of a Clint Eastwood film – so I was absolutely riveted throughout this film. I did know that it's set in America's South during the American Civil War and begins when an injured Yankee soldier is discovered and then taken in to be cared for by seven Southern ladies in the mansion of it's mistress, Nicole Kidman, who is running a school for girls of sorts.
It's slow paced but gripping as the tension steadily builds, scene by scene, frame by frame. I won't say much more other than I thought the performances were all excellent and there were some very amusing moments in amongst all the tension. The scene with the apple pie was GOLD. There were also a couple of bloody bits but it was just another day at the office for GoT fans.
At just over 90 minutes, it's the perfect length too and well edited.
Story aside, this has to be one of the most beautifully shot films I've seen. Every frame, every detail, every angle is stunningly beautiful with a palpable eeriness and tension. It's just exquisite, especially the opening sequence.
Funnily enough, Sebastian Barry's Days Without End was the perfect companion piece too, providing a bit of history and a personal account of the Civil War from the Yankees side which was handy before I saw it.
This post contains some affiliate links. You don't pay any extra and I earn a small commission. Read more in my Disclosure Policy here.
So over to you – what have you been reading, watching and listening to this month?